Written on March 2nd, 2014 by
Simon Slade
It's no secret that a lot of teenagers and adults struggle with acne. According to the American Academy of Dermatology, an estimated 50-60 million Americans have active acne.
Those who deal with acne are often obsessed with how get rid of it because of the embarrassment and the emotional and physical pain it causes. Acne can also result in bad scarring later in life if not dealt with properly early on.
Adults with acne and the parents of teenagers who have it are willing to pay for information and solutions to this ongoing problem.There will always be people who fight acne, so there will always be people looking online for solutions and remedies.
For these reasons, blogs about acne care are popular. Topics can include reviews of medicines, alternative and natural treatments, tips for covering outbreaks, and a wide variety of e-books.
What Does Google Trends Have to Say?
The best place to start with finding a good niche is to use Google Trends. It will show you the demand for your topic worldwide. From the image below, you'll see that there is an increasing demand for this topic since 2009. The searches should continue to increase, making this a really good niche if you'll build a high-quality website.
Acne Niche Keywords
Since Google trends has shown you that acne treatment is a popular niche around the world, it's time for some further research through Traffic Travis. If you don't have a copy of the software, download Traffic Travis here for free. It will help you look for profitable keywords in your niche. I searched for 1,000 keywords that are related to "acne" and got the following results:


From the list above, you'll see good keywords with high search volume and low competition on paid traffic.
I'm looking for a keyword with search volume of at least 500 and low competition on paid traffic. I have chosen the keyword "natural remedies for acne scars" because it satisfies the conditions mentioned (monthly search volume = 889 global count, 590 US count plus low competition). See the values on Traffic Travis below:

Determining Search Competition with Traffic Travis
Traffic Travis not only gives you information on the search volume for a keyword, but also important data on the SEO competition. From this, you can determine how difficult it would be to rank for a keyword using organic traffic.
If you analyze the keyword "natural remedies for acne scars," you'll see that the competition rating for this is medium difficulty. It would be a little difficult to rank organically for this keyword: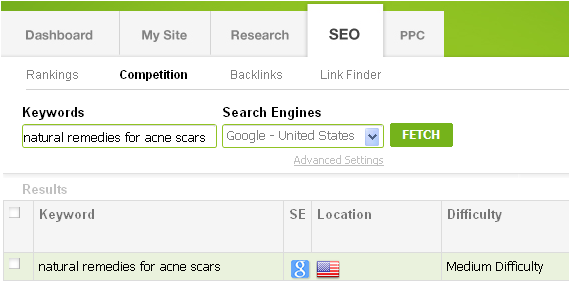 Clicking on the "View details" link gives you more information on the top websites that are ranking for this keyword, and why it is difficult to rank for the keyword "natural remedies for acne scars."

From the image above, you can see the factors that Google used to put these websites at the top ranking. The keyword "natural remedies for acne scars" has medium difficulty because the top websites are authority sites (i.e., WikiHow, Health India). However if you look at the PR column, most have low PR (0 and 1; the highest has a PR value of 3) and the backlinks to page (BLP) column shows that the top site only has 935 links. Also, none of the top sites has meta tags (titles, descriptions, H1 tags). So, it is still very possible to rank at the top for this keyword if you added tags, created backlinks and let your website age.
Conclusion
Choosing a great niche is usually the most common area affiliate marketers struggle with. I've provided you an example of a good topic for affiliates: acne. This is a very profitable niche, but it's competitive (that shouldn't surprise anyone!), so you need to drill a little deeper to find a sub-niche.
In thise case, I looked into acne scars, particularly natural remedies for curing them. This has a high search volume and medium competition rating. I suggest that you find more long tail keywords in this sub-niche or other sub-niches, because the people using those keywords are more specific about what they want, and therefore they're more likely to buy your products.
To rank as one of the top sites, you need to do proper on-page and off-page optimization. Being accessible via social media — using Twitter and Facebook to your benefit and connecting with the people who are experiencing this problem — would also help. Use Twitter to talk about topics within your niche but also show your personality and share snippets of yourself too. Also try to find like-minded communities and blogs and start commenting there too. Don't spam — offer real and genuine advice so that people notice you. Soon those people will be interacting with you and visiting your blog.
If you are interested in this niche, I have done some research for you to help you find some really good keywords. You can download the acne keywords ZIP file here and add some of these keywords to Traffic Travis in your own acne project. I have also done SEO competition analysis for some keywords you could export to your acne project. If you don't have a copy yet, download Traffic Travis for free here . Then, you'll be able to add the keywords and do further analysis.
Thanks so much for reading this post! Please share this article using the Facebook or Google Plus buttons :)