Written on March 9th, 2014 by
Simon Slade
Who wants to get older? More importantly, who wants to look older? No one.
According to USA Today, baby boomers spent USD $80 billion on anti-aging products in 2011, and that number is estimated to increase to $114 billion by 2015.
The first rule of marketing is to find a large demographic. Aging baby boomers now number 70 million people reaching the, "I don't want to look any older" stage of life.
Even those who aren't afraid of aging still want to age gracefully.
Anti-aging spans a huge market online. Everyone has something they're self-conscious about, and companies are working hard to make products that help people with these concerns.From wrinkles to hair loss to skincare, anti-aging is a market in which nearly every everyone will eventually find themselves spending some money.
What Does Google Trends Have to Say?
Anti-aging is a super hot money niche. Let's use Google Trends to examine the search patterns for the keyword "how to look younger" (see below):



The search volume for this topic is increasing year after year because many people place great value on staying young. There is certainly a very high demand for anti-aging products.
I even found that there is a specific science for anti-aging, called life extension science. It looks at how to slow down or even reverse the aging process.
There are many subtopics you could choose, including diet or nutrition, physical fitness, skin care, hormone replacements, vitamins, and supplements and herbs, all of which make for an extremely lucrative global industry. The global market generates about $250 billion each year for anti-aging products and services.
If you find an affiliate product for people who are trying to stay young, you could get a lot of traffic and sales from your website.
Anti-Aging Keyword Analysis
Searching for good keywords in the anti-aging niche is easy with Traffic Travis. You can get a list of 2,000 anti-aging related keywords in less than 15 minutes if you're a Traffic Travis professional user. With the free version of Traffic Travis, you can get up to 200 keywords in each search. You just need to enter a search term, like you see below:

You'll see data on the global and local search volume, paid traffic competition, average cost per click, SERPS, and KEI values. Using the list, you can look for long tail keywords with buyer intent. Choose keywords with high search volume and low paid traffic competition:

Determining Search Competition With Traffic Travis
To find how difficult it would be for your keyword to rank organically, use the SEO competition tool. Looking at the list Traffic Travis generated for me, I'm choosing the keyword "ten years younger naturally." It has a high search volume and low paid traffic competition.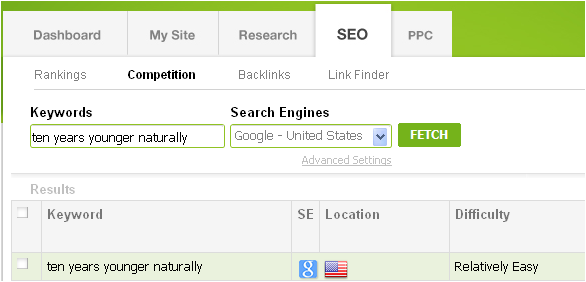 To find the data on your competition, click the "View Details" link at the last column. It will tell you how the top 10 websites ranking for your keyword are optimized.

The image above shows you the top 10 sites for the keyword "ten years younger naturally". The top websites are authority sites (including The Telegraph, Examiner, and ABC News). However, if you look at the PR column, most have low PR (0 and 1, the highest has a PR value of 4) and the backlinks to page (BLP) column shows that the top result has 0 backlinks. Also, none of the top sites has meta tags (including titles, descriptions, H1 tags). Because of this, it's very possible to rank at the top for this keyword if you do onpage optimization by adding the correct meta tags and build backlinks from relevant websites.
Conclusion
Anti-aging is a very good niche since there are so many people who are concerned with looking good as they age. There are so many approaches to the issue that you can easily find sub-niches using Traffic Travis.
If you are interested in this niche, I have done some research to help you find some really good keywords. You can download the anxiety keywords ZIP file here and check the difficulty of some keywords which were analyzed using the Traffic Travis SEO competition.
If you haven't already done so, download Traffic Travis for free here . Then you'll be able to add the keyword research file above and do further analysis.