Written on August 1st, 2014 by
Simon Slade
Did you know there is a tool in Traffic Travis that lets you check up on all of the backlinks going to your (or your competitor's) site? Well there is and the Traffic Travis backlink checker is pretty awesome.
Working in SEO, you probably obsess over backlinks like the rest of us: how to build them, where to build them, making sure they are indexed, double checking the quality and about a million other concerns. Traffic Travis's backlink checker makes your life a whole lot easier and hopefully will lessen any link-related stress issues you have.
Here's how to check backlinks with Traffic Travis and what you can do with this strategic information.
How to Check Backlinks with Traffic Travis
Getting at the valuable backlink data for a site is as easy as cracking an egg with Traffic Travis (get your free copy here) so you have no excuses when it comes to knowing what your backlinks are up to.
Step 1
Once Traffic Travis is open and you have selected your project from the drop down menu, click on the "Link Analysis" tab.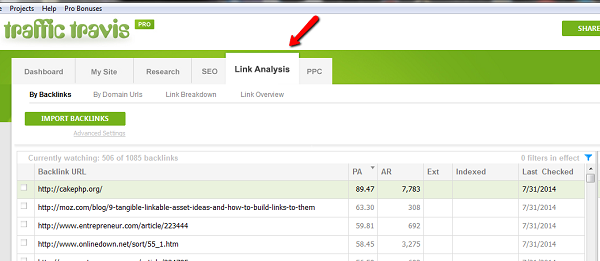 Step 2
Next, click on the "Import Backlinks button."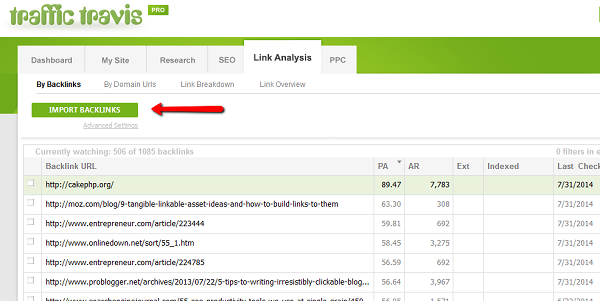 Traffic Travis will then analyze the URL you have set up in your project and pull all of the backlinks associated with it. This is not domain wide, but simply for that page, which gives you the ability to laser target your research.
The information this import automatically pulls is:
The backlink URL
Page Authority (PA)
Alexa Rank (AR)
Date last checked
The following are also available:
External Pages linked to (EXT)
Indexed: when Google indexed the backlink originally
You must select these fields in the "Advanced Settings" section. You can access that by clicking the link right below the "Import Backlinks" button.
Use this breakdown to quickly and easily look at the strongest backlinks for your site or your competitor's site. From there, it's much easier to emulate those success with similar sites.
Step 3
Click the "By Domain URLs" sub-menu and you will be able to look at the different URLs you have imported backlinks for.

This is the same information presented in the "By Backlinks" report, just organized in a different way. This screen is best used when you have imported multiple sets of backlinks and need to jump between them.
Step 4
Click on the "Link Breakdown" sub-menu next and you'll be treated to even more information about your backlinks.
The "Link Breakdown" report shows you information about your backlinks grouped together by the following criteria:
Page Rank
TLD (.com, .net, .org, etc.)
IP address
Anchor Text
Looking at the information in this format, you can quickly see where a majority of your links are concentrated. Use this tool to see whether you should diversify your link building or expand your anchor text variations, whether you have too many backlinks coming from a single IP address and so on.
On the other hand, if you are analyzing a competitor's site, you can use this information to see the characteristics of their backlink profile without having to sort through all the data manually.
Step 5
Finally, if you want a complete overview of the domain's backlinks, just click on the "Link Overview" sub-menu.

This screen will show you:
The domain
Total links
Total linking domains
Total linking IP addresses
How many .edu/.gov backlinks
This is a the ultimate view of your site or your competitor's site. From here you can decide whether you want to look at the home page or maybe narrow your research to an inner URL. You can also quickly look at these stats compared with other sites and get a feel for what the niche is doing as a whole.
Backlinks Analysis Made Easy
I don't know about you, but I don't have time to be manually looking at backlinks and tabulating the results myself.
When you're in research mode and are digging for that profitable niche, you need to get information about your competitor's backlinks at the click of a button, and these reports let you do that. Likewise, if you're not ranking for a certain keyword or stacking up against your competitors, this is one of the tools that will help you figure out why.
Beyond the competitive analysis goodness this tool brings to the table, it's the perfect way to make sure that the links you're creating are sticking and Google is picking them up. Otherwise, it's time to rethink your linking strategies and find the leaks in your ship.