Written on June 23rd, 2015 by
Simon Slade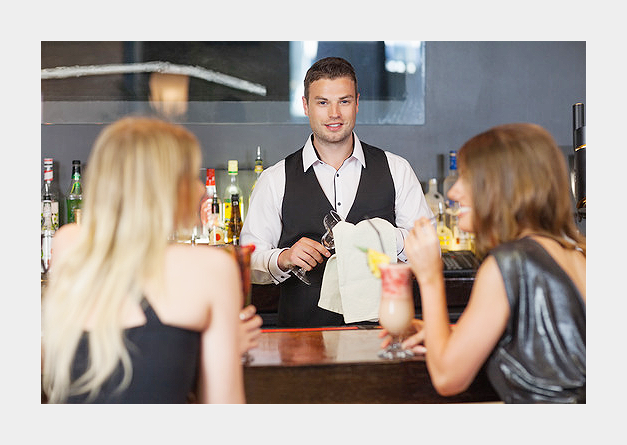 Guys and gals with bartending skills always find themselves welcome at parties. And unlike many hobbies, knowing how to tend bar can help you get a decent job. It's no surprise that it has become a major niche online.
With a broad audience, including everyone from the aspiring actress trying to pay the bills to the well-to-do gentleman looking to make his next soirée a little classier, the opportunities for bartending websites are immense. Bartending schools and information products need affiliates to promote them, and there are more physical products than you can shake (not stir!) a drink at. A popular site in this niche should have no trouble making money.
Somebody Cut These Searches Off!
The main downside is that searches for "bartending" have been falling over time. But as I've said before, a decline in searches for the central keyword doesn't mean the world is losing interest in the whole niche.
​Screenshot from Google Trends.
This niche (or at least this keyword) does well in January, and from June to August. Its worst months are usually December and February.
Time to ID Some Keywords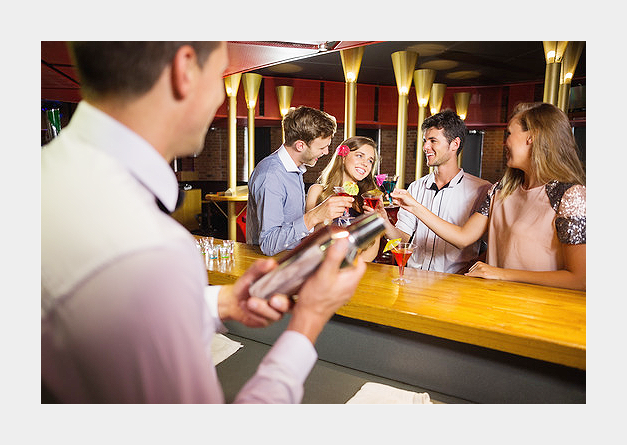 Excuse me, can I see your KEI?
Now that I'm interested, I'm going to use the Traffic Travis Keyword Research tool to get basic info on 1,000 keywords. That way I can see if this niche is worth the trouble.
Don't worry, though—I won't turn this into a game of "99 Bottles of Beer on the Wall!" Let's just take a look at the three that jumped out the most:
1. Bartending
Global searches: 12,100
Average CPC: $3.20
Global KEI: 12.73

I don't expect "bartending" to convert particularly well, so I would avoid the pricey PPC ads. It might be worth an organic SEO campaign if Traffic Travis's Competition tool rates it no worse than difficult. (We'll get to that later.)
2. Bartending School
Global searches: 33,100
Average CPC: $2.76
Global KEI: 112.83

"Bartending school" appears to have low competition relative to the number of searches. I would also expect it to convert acceptably well.
3. Mixology
Global searches: 90,500
Average CPC: $1.41
Global KEI: 1,788.26

"Mixology" is the art of preparing and inventing cocktails. If you like to target keywords on the strength of their KEIs, then you can't pass this one up! It also has more searches and a lower CPC than either of the other two keywords we've looked at.
There's a lot of potential here. Time to see what Traffic Travis's SEO Competition tool thinks about the competing websites.
Bar Fight: The Competition for Bartending Keywords
1. Bartending Analysis
Difficulty: Relatively Easy
Top competitor: Local websites

Google gives local websites priority for this keyword, meaning you mainly have to outdo regional competitors, not global ones. The downside of ranking locally is that you will only get searches from people in your area, and not from across the globe.

2. Bartending School Analysis

A few websites have managed to rank for this keyword on a large scale—perhaps globally. For the most part, though, it appears to be dominated by local bartending schools. Brick-and-mortar businesses once again have the advantage.
My screenshot below doesn't necessarily show this local edge, because I'm getting some duplicate results from my proxies. Run a quick search on Google to see what I'm talking about.

3. Mixology Analysis
Difficulty: Very Difficult
Top competitor: IMDb

This keyword has some bad luck, in that companies unrelated to bartending have decided to use "mixology" in their name. There's also a TV series named Mixology that appears at the very top.

I would only target this keyword as part of niche-specific long-tail phrases.
Easy Keyword #1: Home Bar Accessories

I recommend this keyword for all of you dropshippers and Amazon affiliates out there. The competing pages come from fairly powerful websites, but most have little to no optimization for this exact phrase, and half of them have fewer than 20 backlinks.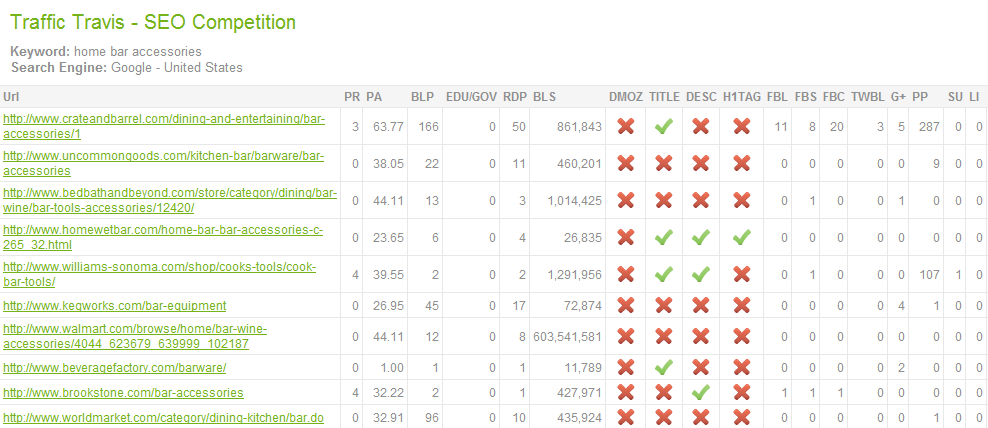 You should be able to rank fairly high with effort and patience.
Easy Keyword #2: How to Be a Bartender
Difficulty: Relatively Easy
Top competitor: Thrillist

It looks like nobody has optimized for this keyword. Those who come closest have gone for the better-written phrase "how to become a bartender." I applaud their English, but getting the exact match here might be worth it.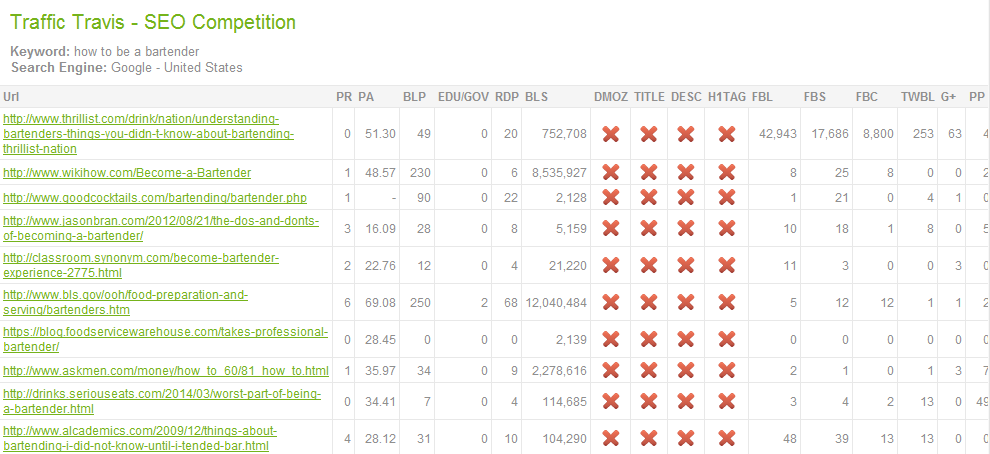 It should take no more than good on-page SEO and a couple of backlinks to rank for "how to be a bartender."
Should I Open a Tab to Build a Bartending Website?
The bartending niche has plenty of relatively easy keywords and intriguing sub-niches. That means you can avoid the worst of the competition while you start gathering a following. If you have a passion for tending bar, then it's worth a shot.
​You! Yes, you in the back! Why haven't you gotten the free version of Traffic Travis yet? Go do that so you can see all 1,000 keywords I researched for this week's post. These instructions will show you how to use the file.