Written on May 29th, 2015 by
Simon Slade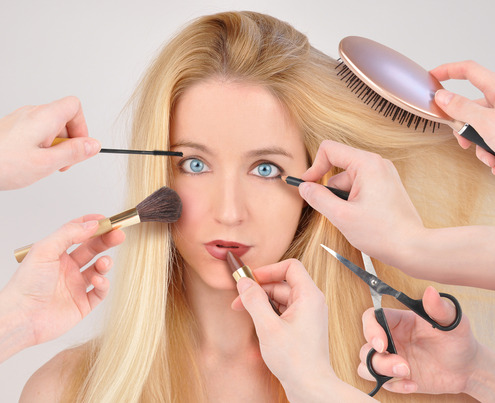 Humanity has aspired to be beautiful since the first cavegirl put a flower in her hair. It doesn't appear that we'll stop anytime soon—by 2017, we will spend an estimated $265 billion on beauty products like cosmetics, hair care and perfume every year.
That is an enormous global market.
If you want to sell or market products online, then you have a chance to tap into that market. You could get a chunk of that $265 billion, working from home in your pajamas . . . and I don't think it's overly ambitious to point out that a market that size could support a lot of millionaires.
Beauty Trends
The Google Trends data makes this look like a truly universal and evergreen niche. Searches come from all across the world, from the UK to Pakistan to Malaysia.
​
Traffic has even begun trending upwards in recent years. This is probably due to rising demand in Asia, the Pacific and Europe.
If you start building a beauty business online now, it looks like you could expect steadily climbing profits for a long time.
But does all of this interest translate into lots of valuable keywords? Let's go to the Traffic Travis Keyword Research tool to find out.
Keywords with Nice Figures
"Beauty" has 301,000 searches per month. That means nearly 10,000 people search for the keyword "beauty" every day.

Of course, while that's a lot of traffic, only a portion of the people searching for it are interested in beauty products. Others want a definition, or perhaps even a philosophical essay. Product-selling pages probably get low conversion rates from this keyword.
"Lash extensions" would probably convert at a much higher rate. And since it has over 22,000 searches per month, it would be well worth a challenging SEO campaign.

As for long-tail keywords, consider "natural hair products." It has over 18,000 searches and should convert fairly well. It would truly come into its own if you went for the natural or organic beauty sub-niche.

Now the real question: How hard would it be to rank for these keywords? And if these ones aren't easy, what keywords are?
The Online Beauty Contest
Traffic Travis gives "beauty" its highest difficulty rating.

​
More than half of the ranking pages have .edu and/or .gov backlinks, and every page comes from a powerful, authoritative site. I would only recommend this keyword to the most ambitious SEOs.

"Lash extensions" only has a moderate competition rating.
However, I think it's got this rating because Google has ranked several low-powered local sites near the top. That means ranking for this keyword in your city would be easy. At the same time, ranking globally would be extremely tough, because you'd have to beat other global competitors and outdo top local sites at the same time.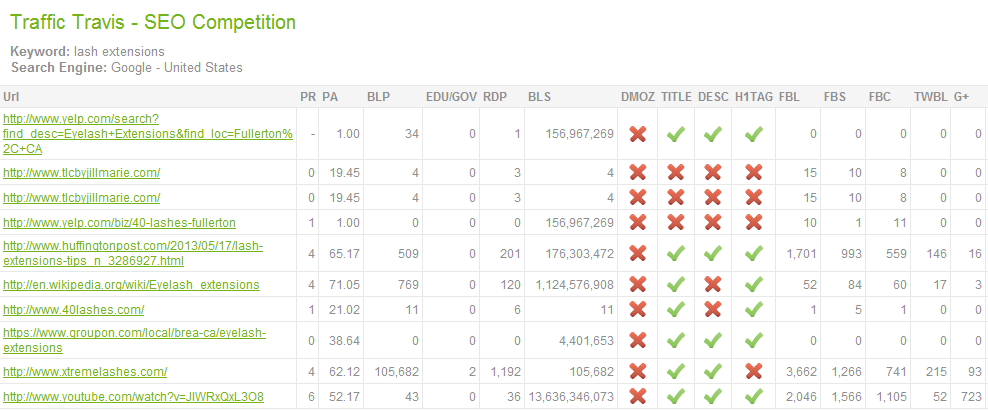 Brick-and-mortar businesses should definitely target "lash extensions." Online-only companies might want to look for alternatives.
"Natural hair products" also gets a medium difficulty rating.

This time, Google has only ranked global competitors, and medium seems like a very accurate difficulty rating. Most of the top pages have performed extremely well in only one or two areas—they come from high-authority sites, they have a lot of direct backlinks, or they have optimized extremely well. None of them can say all three.

That means every site on this list has a weakness. And if it isn't too weird for me to quote Arnold Schwarzenegger on a blog post about selling beauty products . . .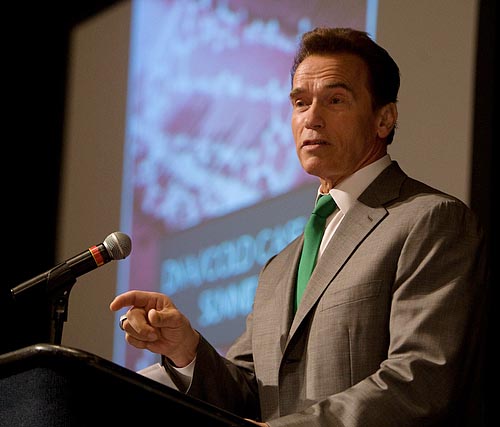 "If it bleeds, we can kill it! In a fiscally responsible manner, of course."
Speaking of the former Governator, "beauty tips for men" looks like a fantastic keyword: 2,400 searches and an easy rating.

This is the sort of topic that most people just don't think to write about, and the end result is light competition that the average SEO could easily terminate. The page in the #4 spot has no direct backlinks and no exact-match optimization. #7 comes from a website with a grand total of 113 backlinks—and it hasn't done any better with its keyword use!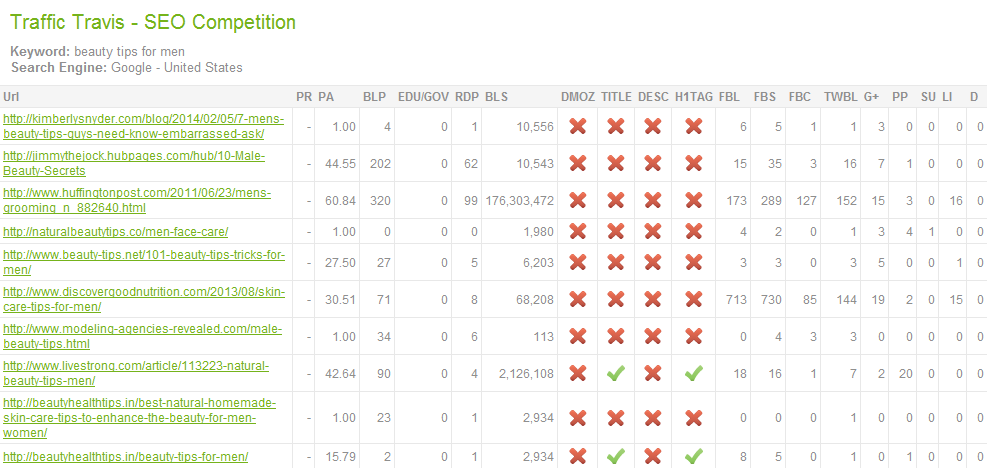 "Best organic shampoo" would go great with the natural hair products sub-niche. With the 4,400 searches and an easy rating, you could quite effortlessly use it to give your opinions on a few different brands and then send customers to buy them via your affiliate links.

But that's not the only good news. The competition looks just as easily crushed if you targeted "beauty tips for men."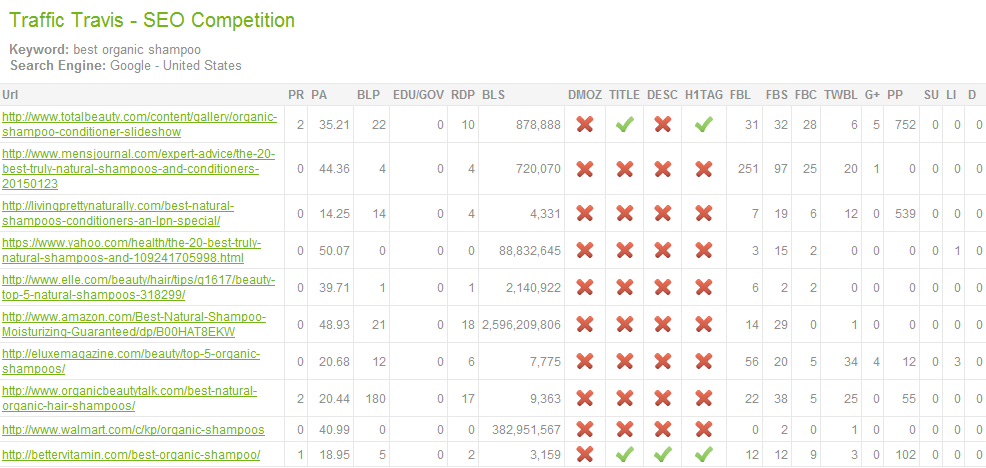 One of the Best-Looking Niches I've Seen
I can quite honestly say that this is one of the best-looking niches I've ever seen. It has dozens, if not hundreds, of easy and relatively easy keywords with plenty of searches.
It also has plenty of sub-niches: ethnicity-specific beauty (black, Asian, etc.); tips for both genders and different age groups; natural, organic and vegan products; hair care and skin care; the list goes on and on.
If you pick a specialty that has low competition and write some great content, I have every reason to believe you would dominate Google for several high-volume keywords. And there are tons of products to sell!
What are you waiting for? Go build a beautiful website!
​This week's keywords are available for download here. Follow these instructions to download them and import them into your copy of Traffic Travis. Don't forget to hit Like and leave a comment before you go!