Written on March 16th, 2014 by
Simon Slade
Blogs on physical fitness are always popular. Simply put, a lot of people want to get in shape, now more so than ever. One good niche within this market is bodybuilding.
Bodybuilding is for those who want to go beyond just shedding a few pounds. The bodybuilding.com forum alone has almost 8 million members.
However, bodybuilding isn't easy. There are a lot of different techniques and regimens and some work better for different people. There are also safety and health issues involved. Bodybuilders eat special diets that require high amounts of protein and carefully balanced carbs. They focus on building muscles mass with specific exercises for each part of the body.
The Internet is a powerful resource for aspiring bodybuilders. After all, they want to know the fastest, safest, healthiest, most effective ways available to get great toned muscles and keep them. They're also willing to pay for the best protein powders, supplements, and information on the latest body-building techniques and exercise equipment.
Lets study this niche and find some good keywords to use for a bodybuilding website.
What Does Google Trends Have to Say?
In the bodybuilding market, many people choose this route for personal satisfaction. It's basically about fulfilling an emotional need, and there's a strong motivation bound to that. Like most kinds of sports and hobbies, you'll find the bodybuilding niche filled with committed buyers with a passion for what they do. Looking at the Google Trends report for the keyword "get muscle," you'll see that there is a steady increase in the search volume for this keyword since 2007: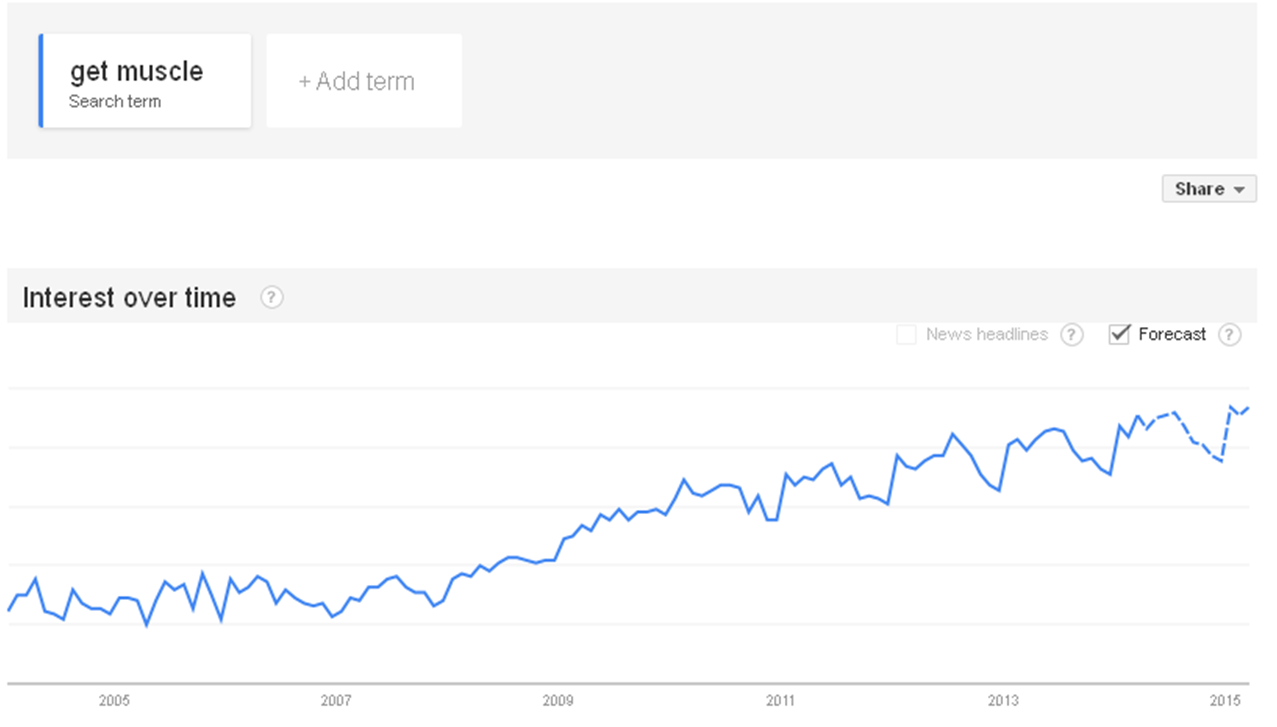 If you know how to choose profitable keywords in this niche and use a good SEO tool, you can rank on Google and drive a lot of good traffic to your website. Fortunately, it's not hard to find keywords and we don't have to rely on guesswork. All we need to do is do some research on forums and use Traffic Travis to get the information that we need.
Bodybuilding Keyword Analysis
The Traffic Travis keyword research tool is very useful in many ways. If you use the professional version, you can easily gather up to 2,000 keyword ideas in your niche. You can get up to 200 keywords in each search if you have the free version. All you need to do is enter your search term, as you see below:

Traffic Travis will give you data on the search volume, the difficulty on paid traffic (competition), cost per click, number of SERPs, and KEI values.

You can add keywords to your list for further investigation by ticking the box beside the word in the results list and clicking the icon "Add".
You also have an option to save the list as a PDF or CSV file.
Determining Search Competition with Traffic Travis
If you don't want to use paid traffic and would like to find how difficult it is to rank for a keyword organically, turn to the SEO competition tool in Traffic Travis. From the list of keywords above, I selected a subniche based on the keyword "women bodybuilding." It has a high search volume (14,800 results globally and 5,400 local, U.S.-based results), with low paid traffic competition to boot.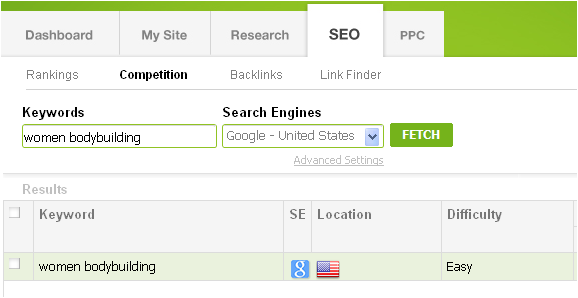 If you click the "View Details" link found at the last column, you can access important data on your competition and discover how to outrank them.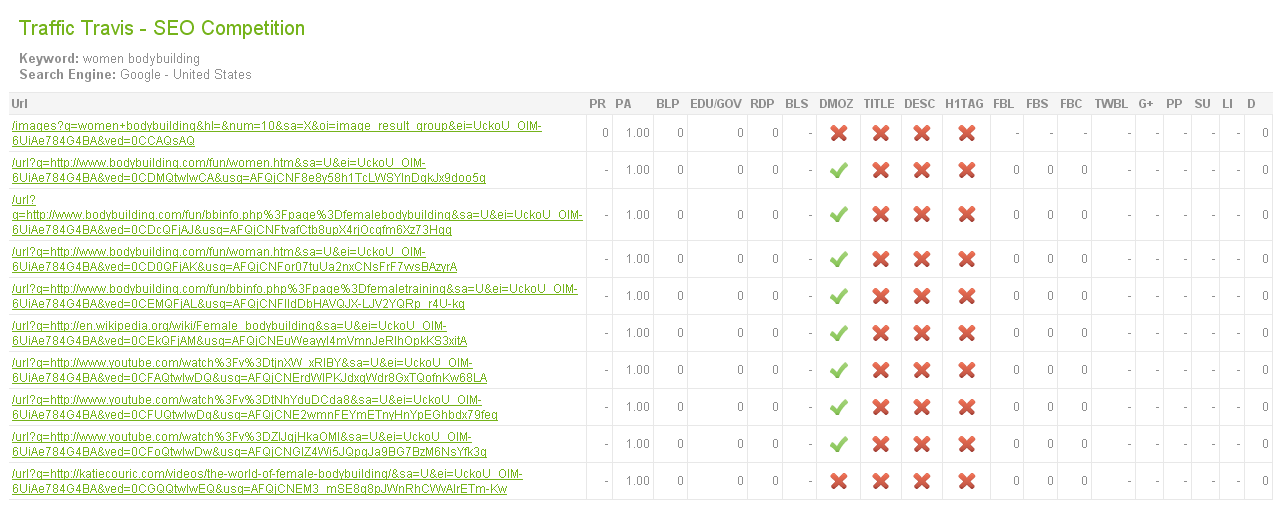 You'll find from the image above that the keyword "women bodybuilding" is relatively easy to rank for. The top websites have low PR with no backlinks to page (BLP). The top sites don't use meta tags. If you submit your site to DMOZ, add your keyword as tags and build backlinks from relevant sites, it would be possible to secure the top position for this keyword.
Conclusion
Bodybuilding is a highly lucrative market. Selling bodybuilding programs and supplements can be a successful venture if you do the research, learn your market and develop a successful plan of action. If you already have a passion for the health and fitness industry, especially as it pertains to bodybuilding (which can also include aspects of weight loss, weight gain and diet and nutrition programs), then this might be the best way to pursue your passion while earning a profit. You can opt to sell your bodybuilding supplements on your own, or develop an affiliate or reseller program. You can also choose to sell others' bodybuilding supplements through a health franchise such as GNC.
If you would like to develop strong marketing campaigns online and offline for a bodybuilding niche, use Traffic Travis keyword research on the topic and data on SEO competition.
Promotions and a social media campaign can help drive business to your site. If you use the data on Traffic Travis and do extensive research, you can establish yourself as a credible expert in this niche, which can help you build a strong community and fan base for your business.
Download Traffic Travis for free to get more information on this and other niches.