Written on April 3rd, 2014 by
Simon Slade
Personal health and alternative medicines are always popular in the online market. Everyone wants to be healthier. Today more than ever, people are concerned about their body and how to improve their health. According to the National Center for Complementary and Alternative Medicine, Americans Spend $34 billion on alternative medicine. Nearly 40 percent of Americans are integrating complementary health interventions into their health care and personal health practices.
When people want information on how to become healthier, one of the first places they check is the Internet. People search information on diets and treatments that have worked well for others.
One sub-niche on alternative medicine is detoxification. This niche involves diets, supplements, treatments and products that promote good health without resorting to medications. It's all about flushing harmful toxins out of the body and leaving the individual feeling healthier and full of energy.
What Does Google Trends Have to Say?
From Google Trends, you'll see that there was a sharp increase on the search term "body detox" in 2008. The search volume slightly decreased from 2009-2012 but it increased again on 2013. The forecast indicates interest in this niche should continue to increase, which means there's plenty of potential if you wanted to create a website based on the topic.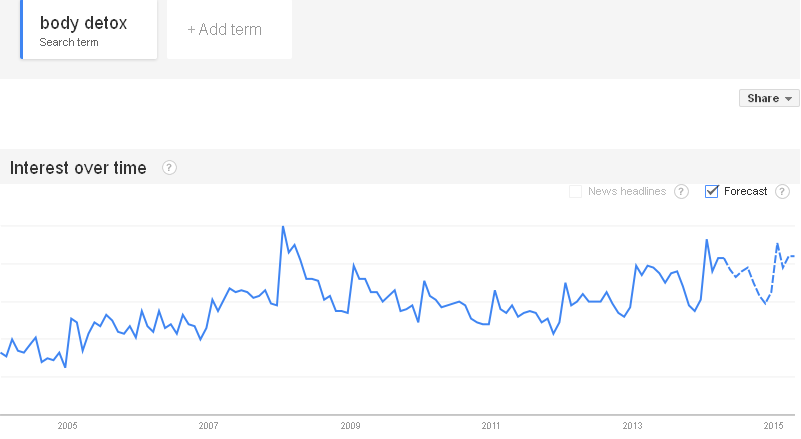 Body Detox Niche Keywords
To look further into this multi-billion dollar niche, let's use Traffic Travis. All you have to do is type in the keyword and the software gives you 200 related search terms — 2000 relevant keywords if you have the professional version:

Traffic Travis will give you a list of keywords and data on the search count, competition, CPC, SERPs and KEI values like the one you see below. Ideally, you should choose keywords with high search volume (at least 1,000 per month) and low competition:

Determining Search Competition with Traffic Travis
You can also use Traffic Travis to choose keywords for organic search engine optimization. The software will show you how difficult it is to rank for a keyword naturally by using the SEO competition tool.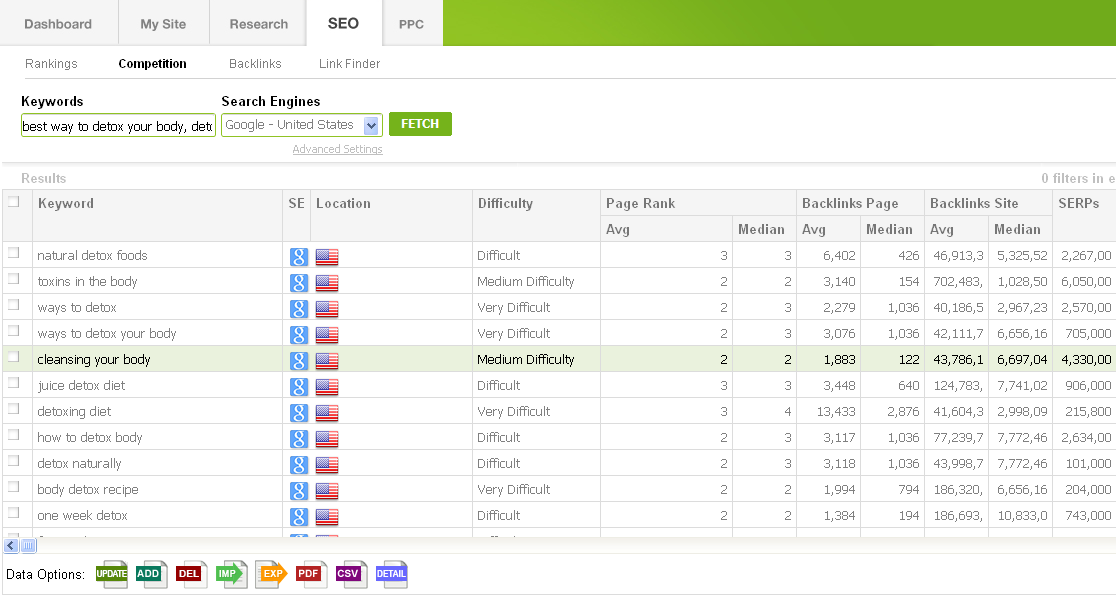 As you can see from above, most of the keywords on body detox are difficult to rank for organically, but Traffic Travis gives you another helpful tool: a way to see how your competition is ranking for particular keywords. To check the data on the top sites for a keyword, click the "View Details" link at the last column. Let's look at the keyword "cleansing your body" as an example:
The Traffic Travis analysis shows you some of the factors that affect rankings, like the number of backlinks to page (BLP), backlinks from education or government websites (EDU/GOV), meta tags (title, description, H1 tags), social media (Facebook, Twitter, Google+, etc) and other important data.
The keyword "cleansing your body" has medium difficulty because the top websites are authority sites (i.e., Doctor Oz, WikiHow) with high backlinks to the site (BLS). However if you look at backlinks to page (BLP), you'll see that some of the top sites have zero values. In addition to this, most of the top sites have no meta tags (titles, descriptions, H1 tags). If you built backlinks from authority sites (EDU/GOV), used meta tags and promoted your site on social media, it would be possible to rank at one of the top positions for this keyword.
Conclusion
Body detoxification is a great niche to get into. It is always hot with lots of products to promote. You can also add an Amazon store and promote a must-have detox accessory (such as a juicing machine).
From the Traffic Travis SEO competition results, it's safe to say that this niche is very competitive. You need to do more research to find a sub-niche or use other long-tail keywords. By going to forums and joining discussions, you'll find topics you could include on your keyword list.
I have done the preliminary keyword and SEO analysis on this niche. You can download the body detox keywords ZIP file here and the SEO competition analysis for some keywords which you could export to your body detox project.
If you don't have Traffic Travis, download Traffic Travis for free here.
Like what you see? Share this article using the Facebook or Google Plus buttons. :)