Written on March 27th, 2014 by
Simon Slade
Enjoying the great outdoors is a tradition with many families. You can truly have a great time with friends and family, enjoying the great outdoors, participating in all kinds of great activities, and getting away from all the stress of day-to-day living. One of the top outdoor activity is camping and hiking. There are more than 16,000 campgrounds in the US and some 13 million people go camping each year. People love to fish, hike, roast marshmallows over the fire, tell ghost stories around the embers, and sleep under the stars (or in a camper or tent, as you will).
According to the Outdoor Industry Foundation, outdoor activities contribute $730 billion to the U.S. economy each year. People also want to know the best camping locations, what the rules and regulations are, the best kind of equipment, what plants to be wary of and other safety issues.
Let's take a look at camping and hiking as a sub-niche of outdoor recreation and find some good keywords through Traffic Travis. With a good blog focused on all things on camping and hiking, you can establish yourself as an authority on the matter and be the go-to source for product recommendations and information.
What Does Google Trends Have to Say?
Camping enthusiasts spend a lot of money each year buying the right camping gear including stoves, tents, sleeping bags, back packs, food, lamps, and other products. Camping and hiking gear could be a profitable drop ship business, as well as a lucrative choice for affiliate programs through Amazon and other sources. For anyone who is not an experienced camper, determining what to bring along will most likely not come as second nature. It can be difficult to anticipate everything you may need on that big camping excursion.
From the Google Trends report for the keyword "camping" you'll see that the peak on search volume on this niche is on July, and that there's a drop-off in interest in the winter: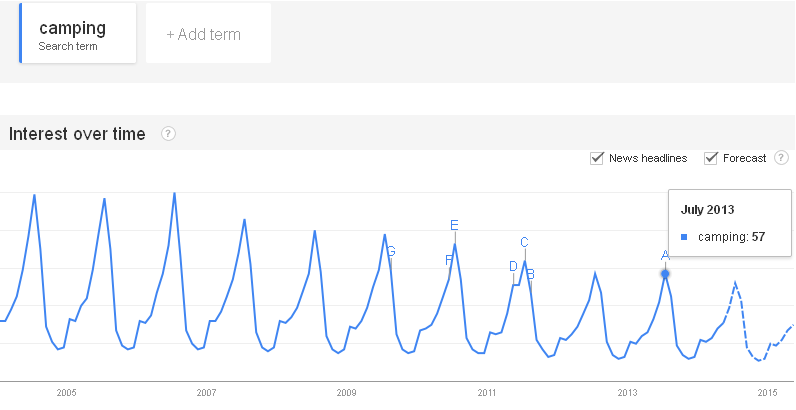 What you can do is prepare for the peak season and promote your products a few months before summer. That way, you'll be able to optimize your sales.
Camping and Hiking Keyword Analysis
The Traffic Travis keyword research tool is very useful in many ways. If you use the professional version, you can easily gather up to 2,000 keyword ideas in your niche. You can get up to 200 keywords in each search if you have the free version. All you need to do is enter your search term:

Traffic Travis will give you data on the search volume, the difficulty on paid traffic (competition), average cost per click (CPC), number of SERPs, and KEI values.

Choose keywords that have high search volume (at least 1,000 searches per month) and low PPC competition. Click the "Add" box to include these keywords in your list for further research.
Determining Search Competition with Traffic Travis
Traffic Travis gives you information on how difficult it would be to rank for your keywords organically. All you need to do is analyze your keyword list using the SEO Competition tool. You can easily find out the keyword difficulty, PageRank, backlinks, SERPs, search count, KEI and CPC (see below):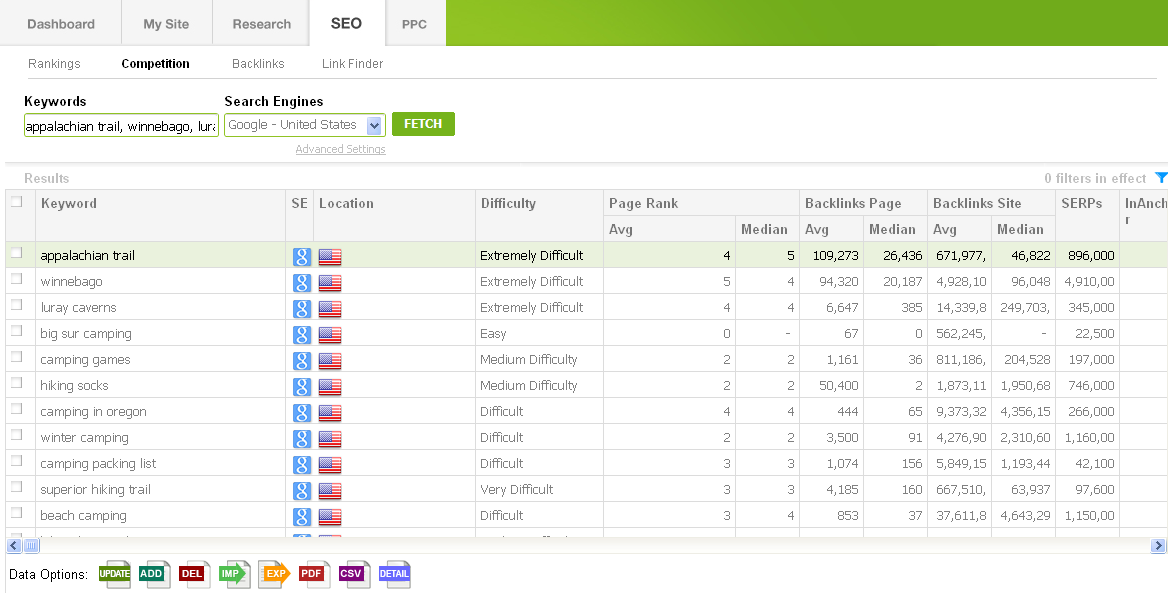 Analyzing one of the keywords, the SEO competition tool shows that "backpacking essentials" has a medium difficulty.
If you want to optimize your page and rank well for this keyword, click the "View Details" link at the last column. It will show you more information on your competition, which you can use to find out how to outrank them.

In this example, the top site for "backpacking essentials" has fewer than 300 backlinks to the page (BLP) and is not using meta tags. So to rank well for this keyword, you need to build more backlinks to your page, submit your site to DMOZ, use tags and promote your website through social media — all things you would normally do to rank a page anyway.
Conclusion
If you love to camp and hike and would like to share in this experience with like-minded individuals, choose this niche for your website. There is a lot of information that people are routinely searching for, and you could establish yourself as an authority on your chosen topic. Traffic Travis helps you find good keywords with low competition. More importantly, it shows you how to out-do the top sites ranking for your keywords thanks to the SEO Competition tool.
If you would like to build a camping and hiking website, I have done some research for you using the Traffic Travis Keyword Research and SEO Competition tools. If you don't have a copy yet, download Traffic Travis for free to get more information on this and other fantastic niches.