Written on June 23rd, 2014 by
Simon Slade
When deciding what niche you want to launch your next campaign in or looking at keywords to target, one of the first things you should consider is competition.
Solid competitive analysis will be the cornerstone of your online marketing campaign and can make or break your future results. Rush through this and you might find yourself in the middle of super competitive niche and no matter what you do, your competition has you crushed.
Don't bring a knife to this online gun fight! Do proper competitive analysis and make sure you have a fighting chance to get some rankings and make some money.
One Bear, Two Hikers
It's easy to look at established sites in your niche and think, "There is no way I'll ever be able to beat those guys!"
Before you get too down on yourself, I want you to remember the story about the bear and two hikers…
Two hikers are out in the woods and see a bear coming towards them. Not wanting to be on the lunch menu, they both start running as fast as possible. One hiker says, "What's the point? We're never going to be able to outrun this bear!" To which, the second hiker says, "I don't need to outrun the bear. I just need to outrun you!"
Cold blooded? Sure. But it illustrates a perfect point when considering your online competition.
You don't have to be perfect. You don't have to run a site that has 10,000 indexed pages, 1 million likes on Facebook and Matt Cutts' admiration.
Instead, you just have to be better than the next couple of websites. So, the weaker the competition in your niche, the less you have to do to own that no. 1 spot.
That's not to say you should mail it in, so to speak, when it comes to providing value to your visitors, or deliver an overall sub-par experience just because your competition doesn't have a clue. Set high standards for yourself or you'll find that people might come to your site, but they aren't going to stay.
What Exactly is Low Competition?
There are so many factors that go into ranking a website that it's hard to nail down specific numbers that identify a level of competition.
Plus, competition is all relative. If you have a huge authority site with millions of back links, you can take on websites for keyword rankings that others might not even bother with.
Since you already know your site's strengths and weaknesses, the next step is to size up your competition. You'll want to look at things like:
Page Rank.
Back links (to the exact page and to the domain as a whole).
Number of search engine results for the search.
How many times the keyword is listed in the title tag.
And many others.
If you have plenty of time you don't mind wasting, then you can do all of this by hand. Otherwise, use your free copy of Traffic Travis and break open the "Competition Checker" module.
Competition Checker
Our tool looks at dozens of factors for the keywords you specify and provides an easy-to-understand difficulty ranking starting at "very easy" and going all the way up to "very difficult."
In order to access this report:
Click on the "SEO" tab on the Traffic Travis main menu.
Select the "Competition" listing in the sub menu.
Input your keywords in the "keywords" box.
Select the search engines you want to fetch results from.
Hit "Fetch" and wait for awesomeness.
The output will look like this:

As you can see, all of our dog training keywords came back with a "Difficult" ranking except for "Labrador training" which was "Medium Difficulty."
Now, this is only judging the difficulty of your chosen keywords and is not considering the ranking sites in relation to yours. So, even if a keyword comes back as difficult, you can look at the specifics of that ranking and see how it stacks up to yours.
Depending on your site and SEO ability, you may or may not want to go after these keywords, but at least you know going in!
Advanced Options
By tapping into the advanced options, you can do several things:
Decide whether you want the report to return 10 or 20 pages of search results.
Choose to populate the "InTitle," "InAnchor," "Search Count" and "CPC" fields.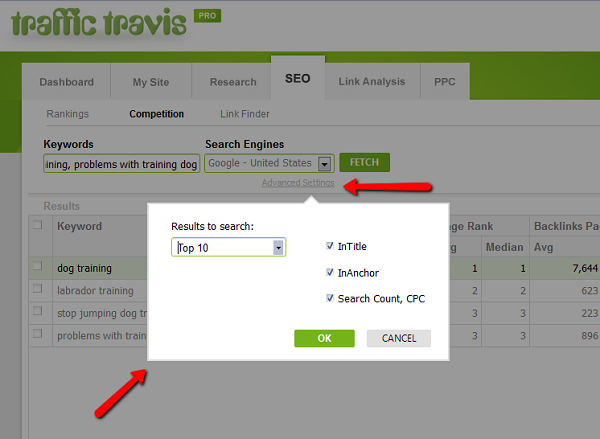 Data Options and Downloading Reports
Your reports don't have to just live inside of your Traffic Travis software. You can easily export them to use elsewhere, with clients or however else you need.

From the bottom of the competitive analysis page, you can do the following by clicking on the corresponding icons:
UPDATE: Update the report's information if you haven't run it in awhile.
ADD: Add selected keywords to the report without having to reset it.
DEL: Delete the currently analyzed data.
IMP: Import data from outside file.
EXP: Export selected keywords to file.
PDF: Export report into PDF format.
CSV: Export report into spreadsheet format.
DETAIL: Save Detailed reports to.
Starting is the Most Important Part
Maybe you hate competitive analysis, or maybe you're like me and would do it all day long if it was socially acceptable.
No matter how you feel about it, it's vitally important and should be given your complete attention and plenty of time. However, don't make the mistake of constantly analyzing and never taking action.
At the end of the day, you're going to have gather as much information as you can and make a decision whether or not to proceed. You'll have some failures and some successes, but you'll learn from each one.