Written on June 13th, 2010 by
Simon Slade
Hi guys,
Here are the 10 lucky winners to our Traffic Travis Professional Giveaway...
Dawd Lane
Jo Daubney
Ricardo Plehn
Carroll Thompson
David Smith
Rob Laidlaw
Steven White
Jon Seaton
John Foley
Dereck Hackett
Congratulations to you all!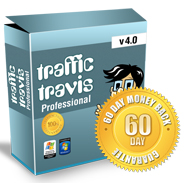 Thank you to all those who entered. If you weren't a winner this time, you can purchase your own copy of Traffic Travis Professional today.
The Traffic Travis Team