Written on May 20th, 2015 by
Simon Slade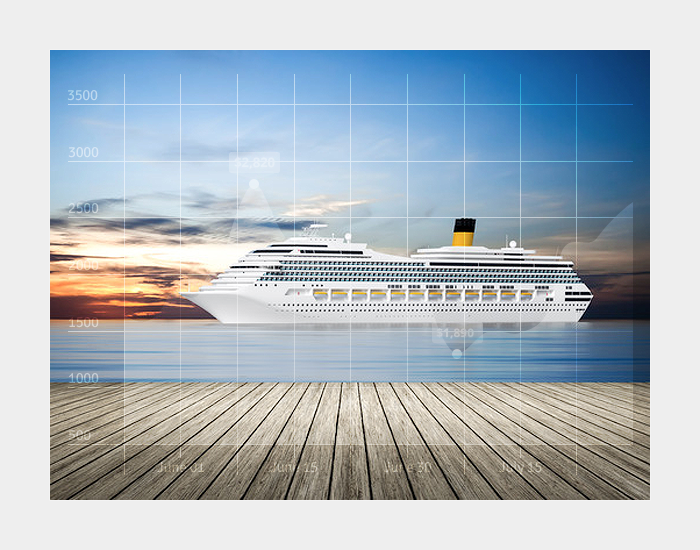 Who doesn't want to go on a beautifully appointed cruise ship and sail through blue, crystal-clear seas in the tropics? More importantly, who of you reading this wouldn't want the commissions from selling pricey cruise tickets—and the opportunity to write off your high-seas vacations as business expenses?
Welcome to the world of a cruise affiliate.
How You Can Make Money Writing about Cruises
There are boatloads of cruise affiliate programs. While the commissions aren't big percentage-wise ​(think around 3%), that stills translates into a decent chunk of change when you're talking about something that costs hundreds or even thousands of dollars.
Best of all, if you go on cruises and review them for your website, you should be able to claim the price as a business expense when tax time comes around. (Just be sure to check with an accountant first!)
I'm sure the competition will be steep, as cruise lines are exceptionally good at marketing themselves. You may also need to display a high level of professionalism to get into the affiliate programs.
All of that is worth it because the traffic is through the roof. If we can find some good keywords, then this could be an awesome niche.
Search Trends for "Cruises"
Google Trends reveals that this niche has a unique seasonal pattern. Searches peak in January and have a second high in July, but drift to a lull in April and sink to the bottom in December.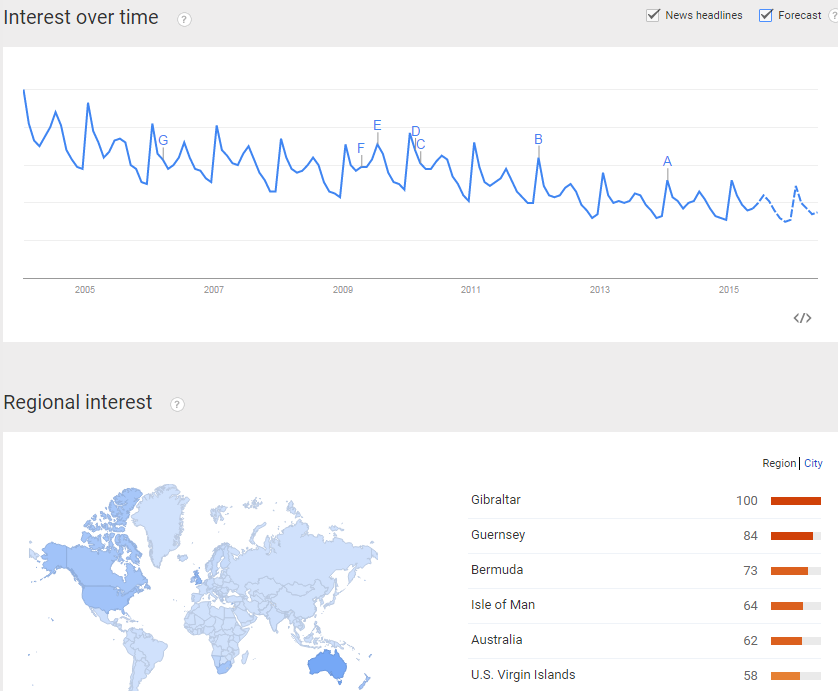 You'll only do about half as much business in December as you will in January. At least the wait between them isn't long!
Interestingly, island nations and territories have disproportionately high interest in cruises. Perhaps those locations are stuffed with tourists who didn't do much planning before their vacation.
Keywords Ho!
With 368,000 searches every month, "cruises" is one hell of a keyword.

​
I expect the organic competition to be the highest I've seen all year. However, given that the cost of a PPC ad is only about $2.50, it probably doesn't convert particularly well. I already think we're better off avoiding this one. Still, I'm too curious to not analyze it.
Let's just look at a couple of other high-volume keywords first.
"Mediterranean cruise" has 49,500 searches and a much higher CPC.

That means serious business, especially because the customer has an idea of what they want. They might buy a ticket at the first website they click on. If you rank in the top three for this keyword, you can expect well over 10,000 visitors every month—enough for even a mediocre marketer to make multiple sales every day.
"Last minute cruises" has over 90,000 searches, but a remarkably low CPC. You'd think a keyword like this would be worth a major bidding war. After all, there is a high chance that someone searching for a last-minute deal will want to buy something.

Has "last minute cruises" gone unnoticed by the major players?
What Are the Odds of Ranking?
No surprises with "cruises"—Traffic Travis rates it as extremely difficult.

​
The major cruise lines and a few websites devoted entirely to cruising have steamed past all of the competition. All have done at least some on-page optimization, and some have over a million backlinks. My advice to you: Unless you run a well-established cruise company or travel agency, don't even try for this one.

"Mediterranean cruise" is easier by two orders of magnitude.

​
While you'd still have to beat similarly powerful sites to rank, you'd only be up against their specific Mediterranean cruise pages. You'd stand a decent chance of outranking them if you made an entire website about Mediterranean cruises.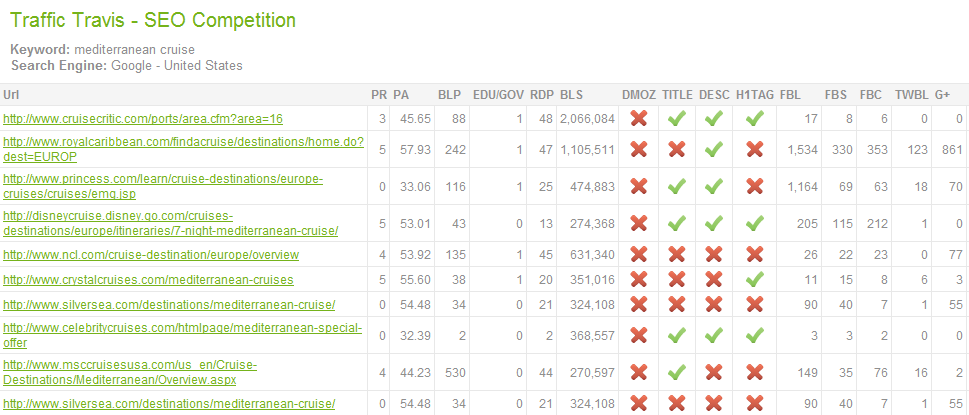 "Last minute cruises" also has a difficult rating, but I think it really has gone unnoticed by the big fish.

Several pages have fewer than 10 backlinks and little to no content optimization. If you have a decent SEO budget and can find a way to hook up visitors with some great last-minute cruise deals, then you absolutely should go after this keyword!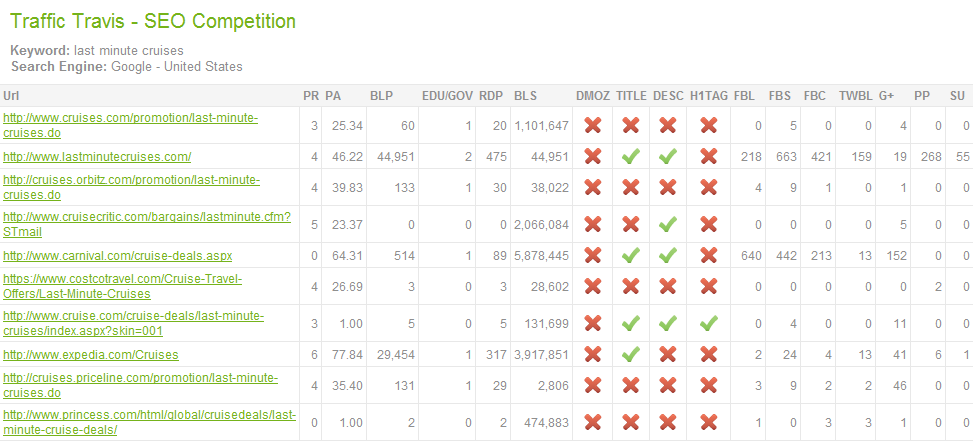 There are some amazing easy keywords as well. "New England cruises" is one—it has a very respectable 3,600 searches.

The competition is similar to that for "last minute cruises," but the competitors have put even less effort into optimizing and promoting their pages.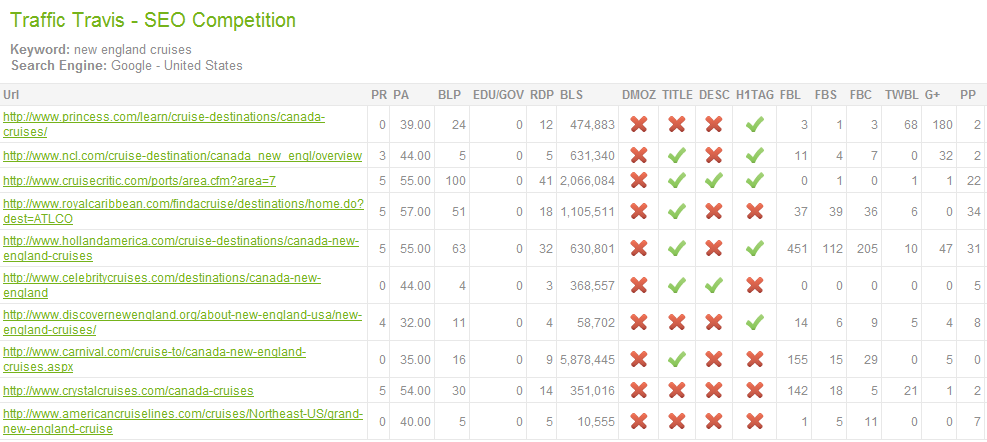 Even better is "cruises from Miami," which has 14,800 searches.
Most pages that rank for this keyword are talking about cruises from Miami, but they have ignored the potential of this precise phrase. Several also have only a handful of backlinks. If I were to build a cruise website, this would probably be the first keyword I targeted.

A Treasure Ship Ready to Sail
While a handful of the industry's titans dominate most of the search results, they have gotten lazy about numerous keywords. A high-quality new website could blow them out of the water, stealing dozens of powerful keywords from them.
Some niches look like they could make money. I believe that if you played this one right, it could make you an Internet millionaire.
Want to see all of my keyword research in your own copy of Traffic Travis? Simply download this file and follow these instructions on how to use it. If you need help getting started with affiliate marketing, then check out our sister website, Affilorama. And don't forget to share this article with any friends who might be interested!