Written on April 9th, 2014 by
Simon Slade
The old saying is that "diamonds are a girl's best friend." Whether it's true or not, the diamond industry is huge. Diamonds aren't just for engagement and wedding rings (though they're certainly a popular choice): you'll find them in tennis bracelets, pendants and other necklaces, and earrings. They are perfect for a birthday, anniversary, Sweet Sixteen, or Christmas gift.
Tradition says a man buying an engagement ring is supposed to spend the equivalent of two month's salary. Certainly that's not a hard and fast rule, but a diamond is supposed to be forever. However much someone spends on a ring, it's an investment. Buyers need to know they're choosing the right stone, and that's where you come in.
You can provide them with the information they need to make a good decision regarding cut, style, and quality. You can also point them to places where they can buy high-quality diamond jewelry. But first, you need to build a website that focuses on the right keywords.
What Does Google Trends Have to Say?
Diamonds are a massive industry. Antwerp, the world's diamond hub, has a turnover of USD $39 billion annually. In 2012, Antwerp traded US $51.9 billion worth of diamonds. Armed with that information, it's time to show you how you can create and monetize a website based on the diamond industry.
Let's analyze "diamond" using Google Trends to check the search patterns for this keyword: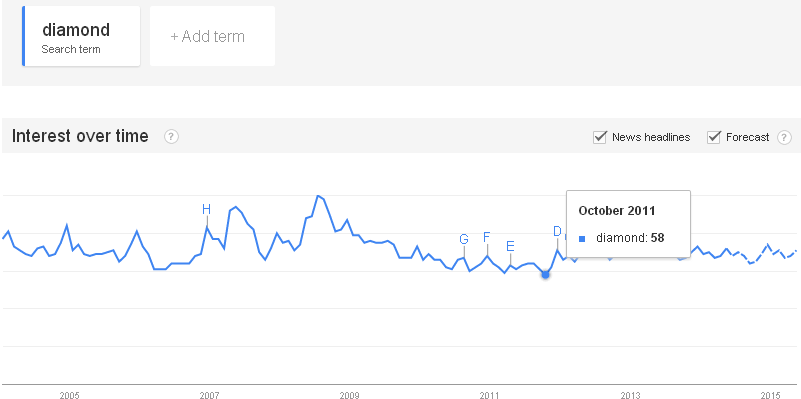 The keyword "diamond" has a search interest of more than 50 percent, which indicates its continual high popularity. The lowest point in recent history was October 2011, where the search value hit a low of 58 percent. Even during the economic downturn diamond interest remained high. Notice the spike in July 2008, when search interest hit its peak.
Diamond Keyword Analysis
Traffic Travis helps you search for good keywords in the diamond niche easily. All you have to do is type in the keyword and it will give you a list of 200 related keywords. If you're a Traffic Travis professional user, you get up to 2,000 keywords per search.


The Traffic Travis keyword research tool provides data on the global and local search volumes, paid traffic competition, cost per click (CPC), SERPS and KEI values (global and local). Look for keywords with buyer intent, high search volume and low competition:

You can add keywords to your projects by clicking the "Add" icon on the data options. Save your data as PDF and CSV files.
Determining Search Competition With Traffic Travis
Traffic Travis has an SEO competition tool that shows you how difficult it is to rank for a keyword organically. Use the SEO competition tool to check the difficulty of keywords as well as spy on your competitors: You can find out the Page Rank, number of back links (to page and to site), and SERP results to give you an advantage in your own campaign.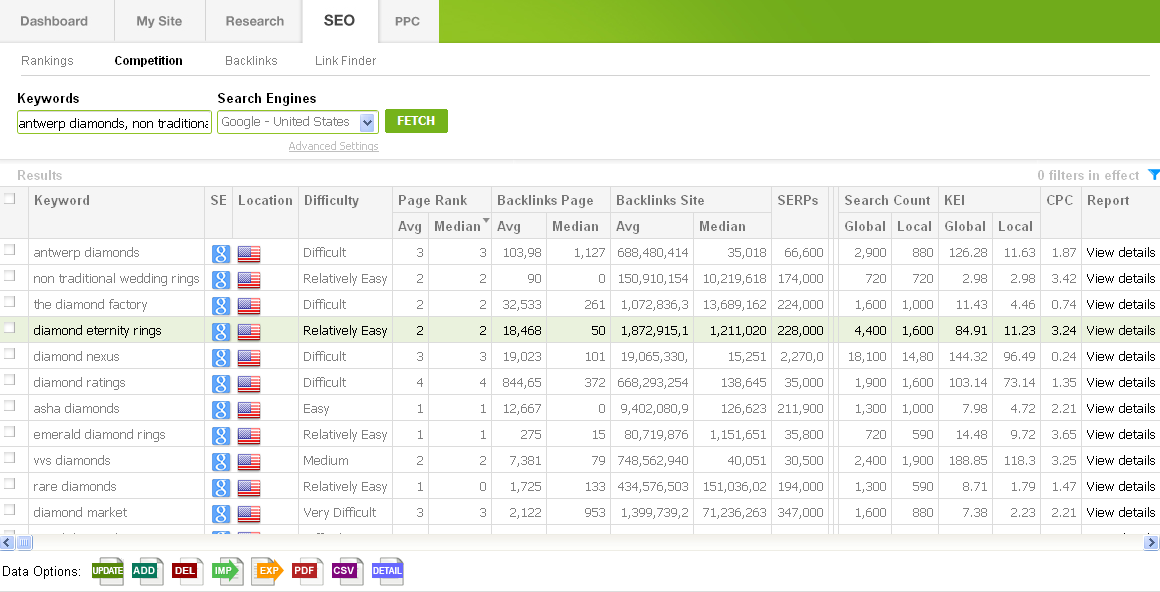 To find the data on your competition, choose your keyword, then click the "View Details" link at the last column. It will give you information on the optimization on the top 10 websites for that keyword. In this case, I am choosing "diamond eternity rings" because it has a high search volume (4,400) and is relatively easy to rank for.

Looking at the data above, the most of the top sites have low Page Rank and low back links to page (BLP) values. Also, almost all of the top sites do not have meta tags (titles, descriptions or H1 tags). If you invested the time to do proper on-page and off-page search engine optimization, it would be very possible to secure a top ranking for this keyword.
Conclusion
The diamond industry is a very good niche because of its multi-billion dollar value and the high level of interest from Internet searchers who want to know more about diamonds before they make an investment. There are also a lot of keywords you could use to optimize your pages, since a lot of diamond related keywords are easy to rank for organically. Build a professional-looking website with high-quality, original articles with good images that match your content, and you could have a highly profitable online business in the diamond jewelry niche.
If you would like to analyze this niche further, I have already done some research to help you find good keywords. You can download the diamond keywords ZIP file here and check the difficulty of keywords analyzed using the Traffic Travis SEO competition tool.
If you haven't already done so, download Traffic Travis for free here.
Thanks for reading, and I hope this helps you build your website in this lucrative niche!