Written on April 17th, 2014 by
Simon Slade
When families are planning their yearly vacation, Disney's theme parks are often the first choice, and not just for the kids. In Florida alone, more than 50 million people visit Disney World every year. If you build a blog about Disney parks, you can help families get the best Disney experience possible.
Planning a vacation can be very stressful because there are a lot of things to consider. One of the biggest concern is often how to get the most value for money. You have to choose what hotel to stay in, what rides will be the most exciting, and how to go about your tour. First-time Disney goers may want to know whether there are express passes so they don't have to wait in line so long, and meal deals where they can save money on food. If you provide answers to these questions, you can help these people plan their perfect Disney vacations and reduce their stress levels.
What Does Google Trends Have to Say?
Travel is one of those "evergreen" niches for online marketers. Let's look at the Google Trends graph for the keyword "Disneyland tickets." There is an increasing search volume for this term each year: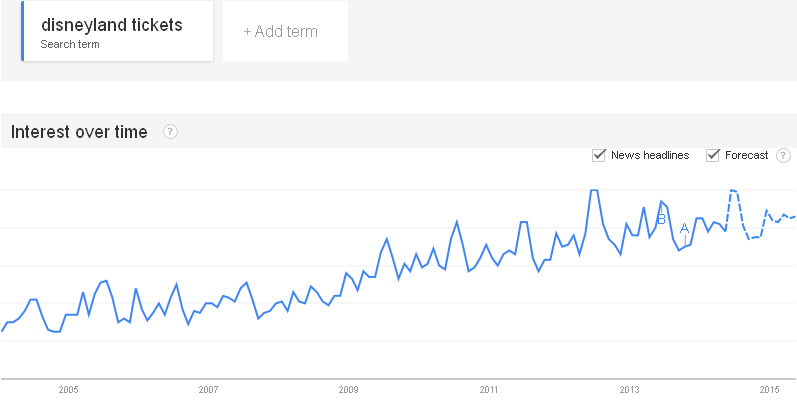 It turns out that plenty of people can't get enough of the the most magical place on earth. If you enjoy writing about travel, fun-filled vacations, and all the wonders you can discover at Disney theme parks, then this could be one of the topic of your website. It's very possible to earn good revenues in this niche if you know how to choose and optimize your keywords.
Disney Vacation Keyword Analysis
There are many keywords that you could use for your website. Traffic Travis gives you a list of related keyword terms to use in your articles. This enables you to take aim at your target audience and convert visitors.
To begin, simply type in the term in the Traffic Travis keyword research tool:

The software gives you a list of 2,000 Disney-related terms if you're a Traffic Travis professional user. The free version offers 200 related keywords per search.
Beyond keywords themselves, The data includes the global and local search volume, paid traffic competition, average cost per click, SERPs, and KEI. You can explore keywords related to Disneyland vacation packages, or even Disney merchandise. These keywords show buyer intent and people searching for these keywords are prepared to spend.

Looking at the list, you'll see keywords relevant for people planning their Disney vacation, like "Disney tickets," "Disney cruise," "vacation packages" and "Disneyland hotels," among others. If you optimize your pages on keywords for people who are ready to buy, then you can build a profitable vacation-related website.
Determining Search Competition With Traffic Travis
The SEO competition tool of Traffic Travis tells you the difficulty rating of a keyword to rank in search engines organically. Let's examine the keyword "Disney vacation club reviews," shows a high search volume (1600 searches per month) and medium difficulty.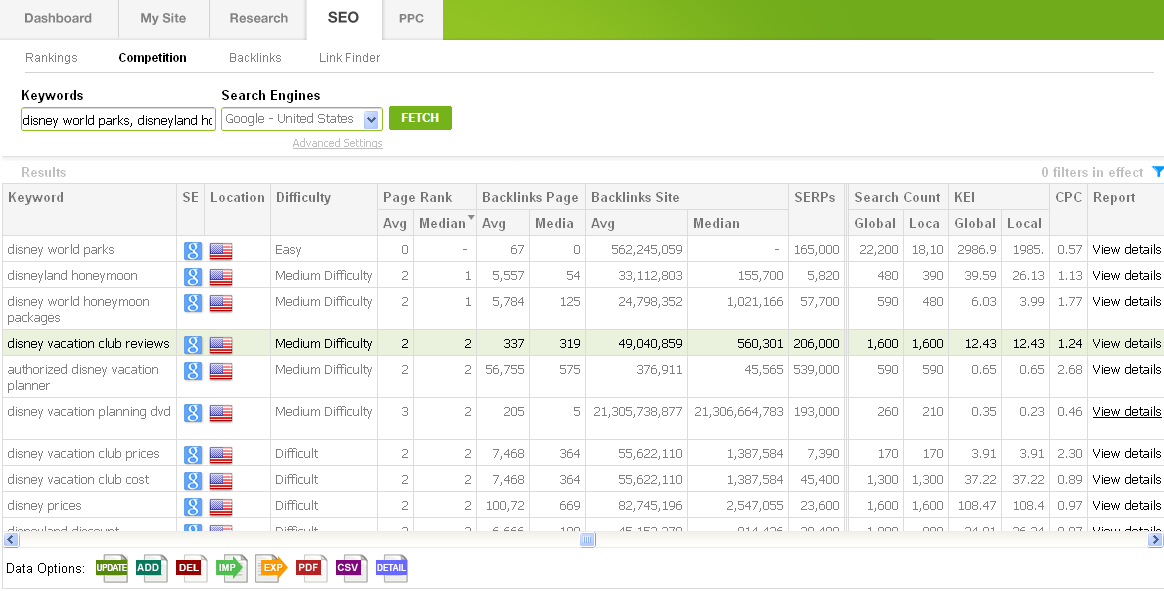 Traffic Travis also gives you data on your competition. If you click the "View Details" link at the last column, you can see how the top 10 websites ranking for your keyword are optimized (or not):

For the keyword "Disney vacation club reviews," the top sites have low backlinks to page (BLP is less than 800) and most have low Page Rank (the highest has a PR value of 4). Moreover, only one site has meta tags (title, description, H1 tag). If you spent time properly optimizing the page by building backlinks, promoting your website and adding meta tags, you could rank well for this keyword.
Conclusion
Even amid a struggling economy that's just pulling out of one of the worst recessions in decades, people are spending like crazy on Disney vacations. This is really an exciting niche for your website because people are always interested in Disneyland and other parks, with increasing search volume per year. There are also lots of affiliate programs that pays affiliates big to promote Disney.
Look at the competition for organic traffic and choose buyer intent keywords to optimize for your website. Using Traffic Travis to figure out where you can beat out the competition helps make sure your website is at the top of the list when people begin their search!
If you are thinking of starting a website on this niche, I have done some research for you. You can download the Disney vacation keywords file here and check the difficulty of some keywords analyzed using the Traffic Travis SEO competition tool.
If you want to do research and analysis on your own, download Traffic Travis for free here.