Written on April 22nd, 2015 by
Simon Slade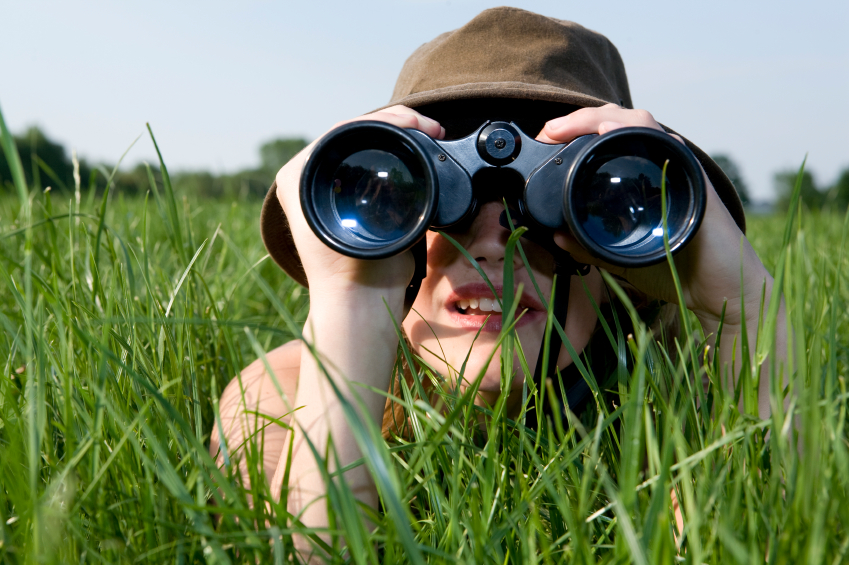 Domain Authority, or DA, is a metric created by the SEO giant Moz. It estimates the odds of your site ranking on Google by measuring factors like the number of backlinks you have.
You can skip the next section if you already know all about DA. Otherwise, read on ...
How to Use Domain Authority and Page Authority for SEO
Why does Domain Authority matter when you can just see how well you're ranking on Google? Because it gives you an estimate of your ranking potential, not just your current rank.
Page Authority and On-Page Optimization
Let's say you have a website with a respectable DA of 40. You've also found three keywords that have set your mouth watering like the Big Bad Wolf's when he sees the Three Little Pigs. You decide to open up Traffic Travis and go to the SEO Competition tool.

The first keyword, stick houses, looks nice and easy.

You see the column that says PA? That stands for Page Authority, which works just like DA, except for only one page on your website.
The higher the DA of your website, the higher the PA of your pages will probably be. (This is because more people will probably like/tweet it and link to it from their websites). If a page has a lower PA than your DA, you can probably outrank it in the search engines.
The fact that matters most after these authority ratings is on-page SEO—how effectively you use keywords. In the screenshot above, green checkmarks show that a site has used good on-page SEO for the keyword in question.
So, what does it all tell us?
Identifying Keywords You Can Definitely Rank For
From the screenshot, we see that the top-ranked page has a PA of 1.00. It only appears to have achieved its ranking because it comes from a high-authority site (Pinterest) and because it has optimized well for the keyword "stick houses."
Other pages have a PA ranging from the teens to the high 50s, but they have not optimized for the keyword well. That's why they're losing out to something with a PA of 1.00.
The result: Since your imaginary site has a DA of 40 and you plan on optimizing for this keyword, you could easily beat the competition. You would beat the high-authority pages with your optimization and the optimized pages with your authority.
Identifying Keywords You Might Rank For
The next keyword, being built of bricks, looks much harder to blow down ...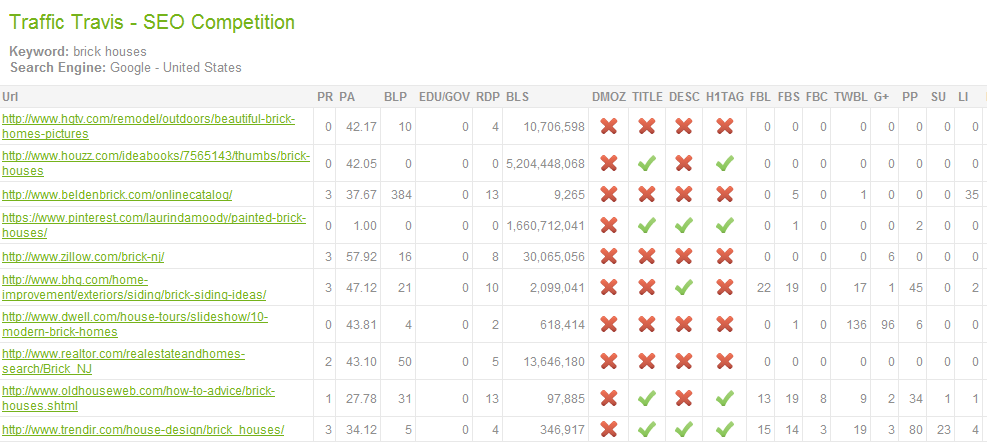 As you can see, many of the ranking pages have a PA of about 40—very close to your own DA. Some of them have also done a good job of optimizing for this keyword. Since they're approximately your equal in authority, you'll have to do a better job of optimizing your page and backlinking strategies to outrank them.
Identifying Keywords You Should Avoid
Finally, just to throw off wolves like you, "straw houses" looks like it would tip right over—but it's actually made of steel.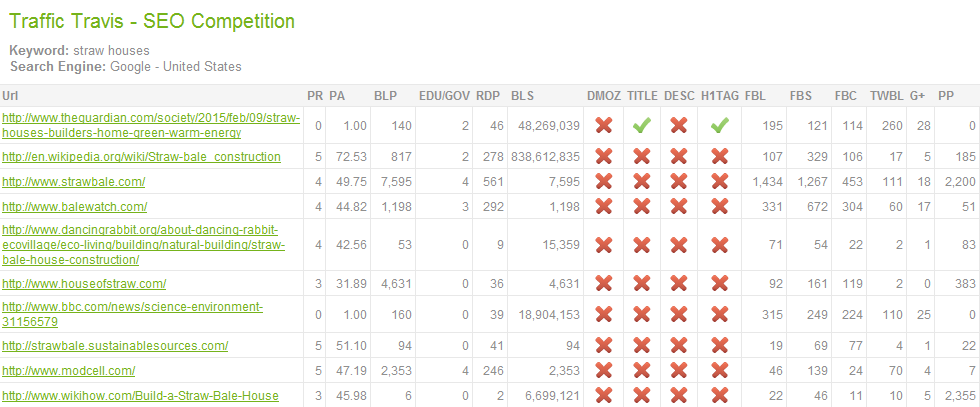 It takes a while for Moz to update its DA and PA rankings. You might look at the site on top here and see that it has an authority of 1.00, but that number will skyrocket in no time. Traffic Travis shows us that it already has 140 backlinks (including two from .edu and .gov websites!).
While the other websites may not have optimized specifically for the phrase "straw houses," a quick glance at the URLs shows that they are talking about the subject. And nearly all of them have a PA higher than 40.
For a website with a DA of 40, ranking for this keyword will definitely take a lot of work. You can't expect to displace the other pages here just by using your keyword effectively.
Now you understand how to use DA to figure out whether you can rank for a keyword. The question is, can your site rank for keywords about Domain Authority itself? Can you beat Moz and get traffic from a keyword its experts invented?
Is DA Trending?
Google Trends suggests that back in 2004—and possibly even more so earlier—everyone and their uncle wanted to know about Domain Authority. Searches fell off over time, though, and in the summer of 2010 they reached an all-time low.
After lying fallow for a while, the niche started to grow again, and the number of searches per month has risen consistently since 2012. The future looks good.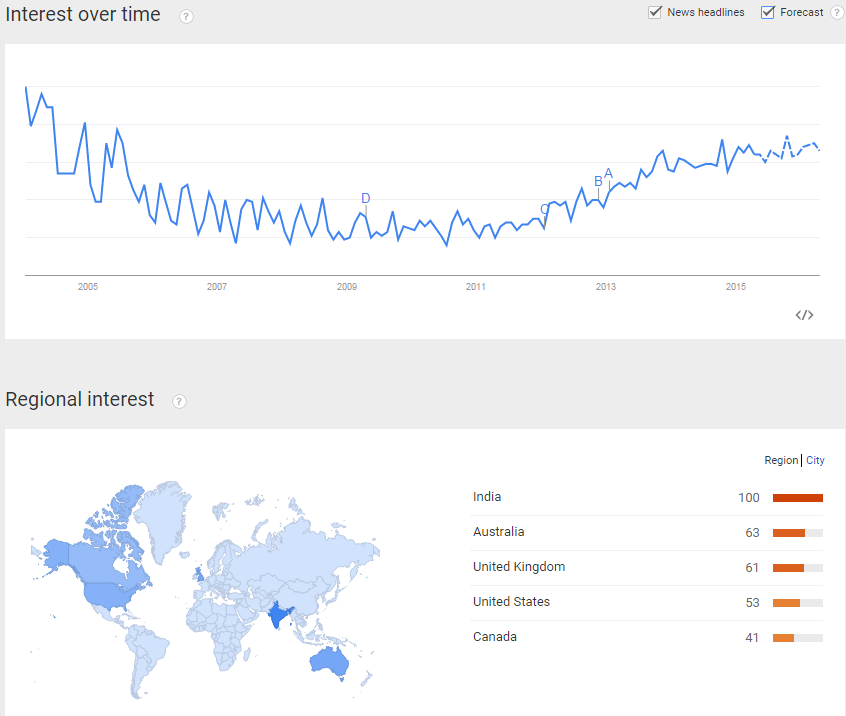 From what we've seen here, we can make a few predictions about the SEO competition.
We can expect entrenched old competitors who've spent more than a decade optimizing for this keyword.
We may have to compete against newbies drawn by the recent upward trend.
Finding good keywords won't be easy—but those we find should be worth the trouble!
High-Traffic Domain Authority Keywords
"Domain Authority" itself has 6,600 monthly searches and extremely low AdWords competition. Don't let that will you into a false sense of security, though—most PPC advertisers know better than to step into the ring with Moz!

​
If you decide to try to rank for it, focus on writing informative articles (like this one!). Most searchers want basic information about the keyword.
"Domain Authority checker" has equally low PPC competition. While it only has two-thirds the number of searches, it has a significantly higher global KEI. That means it should be easier to rank for (and will therefore probably give you more traffic).

You could turn this keyword into cash by advertising something that checks DA. For example, Traffic Travis will tell you the DA of any website you create a project for, and we'll pay you to advertise it.
DA and PA go hand-in-hand. And luckily, Page Authority has 2,400 searches per month and the same lack of AdWords competition is the other two keywords.

Low PPC competition and high search volumes are great. But does your site have the DA to overpower the competition?
The Competition for Domain Authority Keywords
The Traffic Travis SEO Competition tool rates "Domain Authority" as difficult to rank for. That's actually much easier than I expected, given the age of this keyword!

The competition has optimized well, and taking the top position from Moz is out of the question for just about any website less powerful than Google or Wikipedia. Yet most of the ranking pages only have medium-low to moderate PA. Measure their authority scores against your own and decide if your site could rank for this keyword.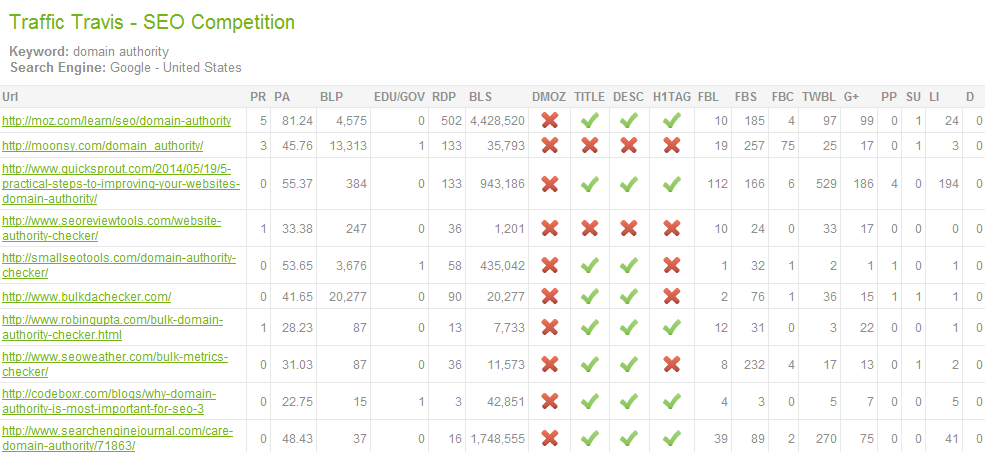 "Domain Authority checker" is also difficult, but it looks a bit easier: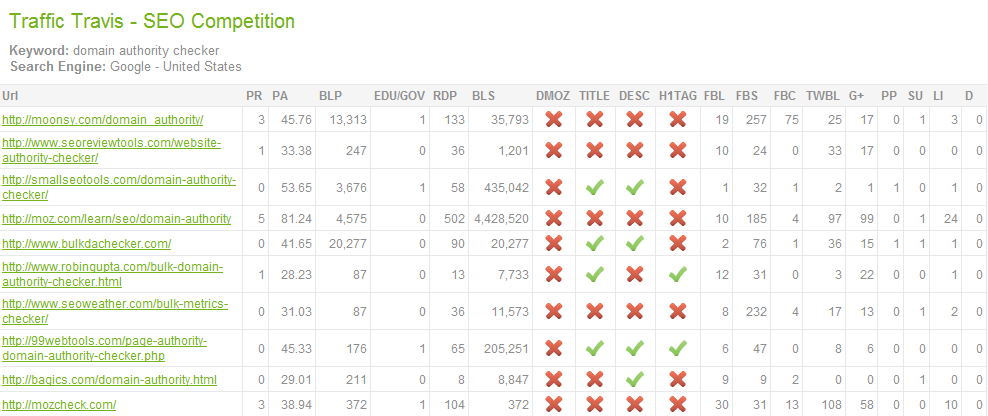 Since Moz only ranks as no. 4 for this keyword (the site hasn't optimized for it well), you actually have a shot at beating it at its own game! I would definitely recommend this keyword if it interests you.
Page Authority has the same difficulty.

The competition looks much like that for our first keyword. Reaching the bottom of the first page of Google results actually looks quite easy—one page did it with a PA of 16! With that said, don't expect to rank in the top four without a fight.
If you don't have an authority site yet, then don't worry. I found a few nuts that seem easier to crack.
"Authority backlinks" has 880 searches and a relatively easy rating.

You could easily write an article explaining how backlinks affect PA and DA to get some easy traffic from this keyword. From the looks of things, even relatively low-authority sites can rank for it if they optimize well.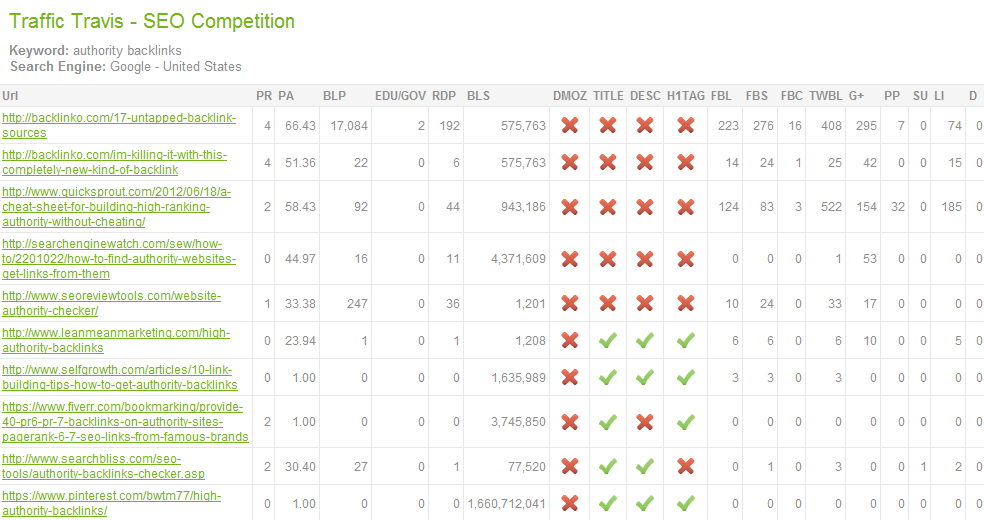 "Check my Domain Authority" looks like a much easier version of "Domain Authority checker" (though it has fewer searches to match).

The competition just hasn't optimized for it. If you incorporate DA-checking software into your website and target this exact phrase, then you will probably reach the top spot without too much effort.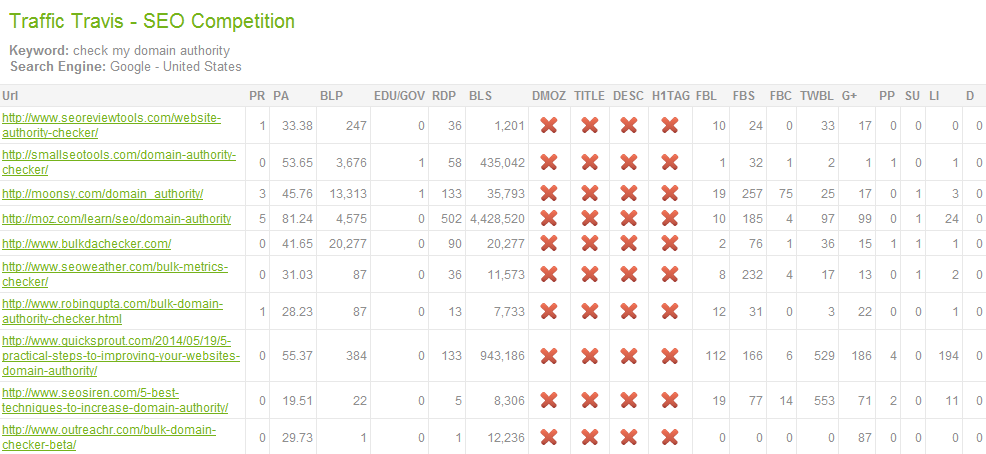 Can My Site Beat Moz?
While you probably can't beat Moz for the keywords it has chosen to target, there are several DA-related keywords with hundreds or even thousands of searches that they have not claimed. Other websites have already jumped on the opportunity. But many of them have low authority ratings—and that means you have a fair chance at claiming their spots for yourself.
I would only devote a few articles to the topic rather than a whole website. These keywords could get you lots of traffic now, but remember that Moz could always decides to throw its weight around and knock you down a peg in the future. Still, the fast traffic it could get you could certainly make it worthwhile.
Click here to download my keyword research on Domain Authority (instructions for using the file are found here). ​You can also download Traffic Travis for free at http://www.traffictravis.com/register if you haven't done so yet. Don't forget to share your thoughts in the comments before you leave!