Written on March 4th, 2015 by
Simon Slade
The latest version of Traffic Travis (version number: 4.2.0.6239) has just been released! Please update your copy of Traffic Travis now. You can download Traffic Travis for free.
Sometimes, you just want to research a specific set of keywords. You're not looking to find new keyword suggestions because you already have the ones you want, you just need the data.
We get it. Which is why we're excited to introduce the new "Exact Matches Only" feature of the keyword research tool.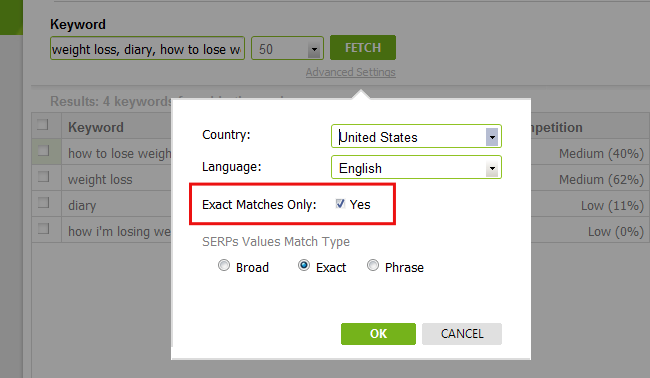 This function will allow you to find data on specific keywords, without any unnecessary keyword suggestions filling your search results. In this post, you'll discover all the ways it can be useful for you, as well as step-by-step instructions for doing it yourself.

Why Do I Need "Exact Match" Keyword Research?
Before this update, the Keyword Research tool was mainly used to find new keyword ideas with relevant data such as search volumes and competition.
For example, if I wanted ideas for dog-training keywords, I could enter relevant dog-related words (up to 5 words for free, or up to 800 words with Traffic Travis Pro) and run my search.
Traffic Travis would then use the words I'd entered to generate related keywords that I could use (up to 100 generated for free, up to 2,000 with Traffic Travis Pro), each with the relevant data.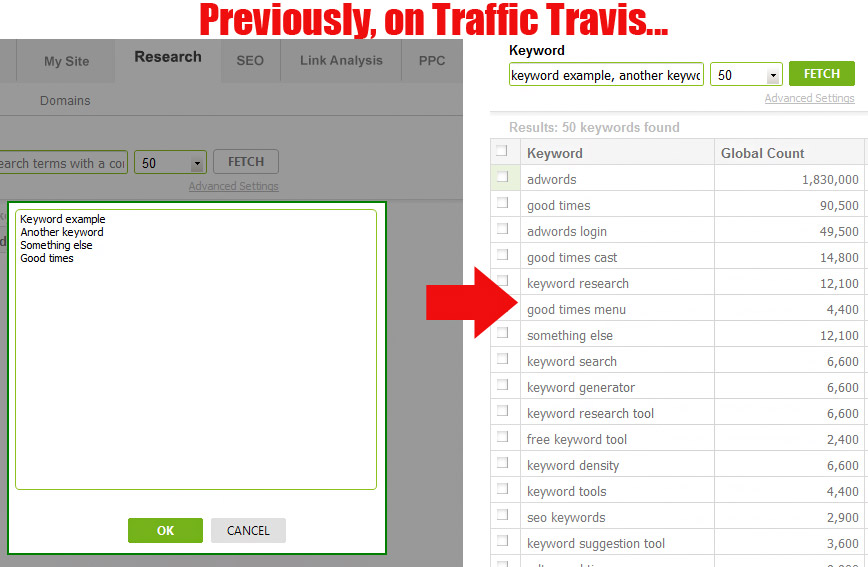 That's all good and well for finding new keywords, but sometimes you just want data for a specific set of keywords. That data is hard to find when there's a sea of other suggestions in your search results to wade through, which is where the "exact matches only" function comes in.
Here are a couple of situations where you'd need an exact keyword search:
Scenario 1: You Have a List of Keywords Already; You Just Need the Data
You might already have a list of keywords and you just need the data that'll sort the strong from the weak. With a regular keyword search, you'd enter a smaller number of words to make room for all the suggested keywords, even though you're not currently looking for these suggestions (as you can see in the image above).
With exact matches only, you can enter more words (up to 100 for free, or up to 10,000 with Traffic Travis Pro), and your results will be exactly what you asked for: the data for those words, without any new words crowding your results.
Scenario 2: You Want Updated Data on the Keywords You're Already Targeting
Let's say a page from your site is already targeting a series of keywords, and you'd like fresh data to review. Perhaps you're considering running an ad for that page and you want to know which keyword will be best to target. Maybe you're just wondering if those keywords are still getting the search volumes that they used to.
Whatever the reason, you just want data on those keywords. You can copy them from the "My Site" tab...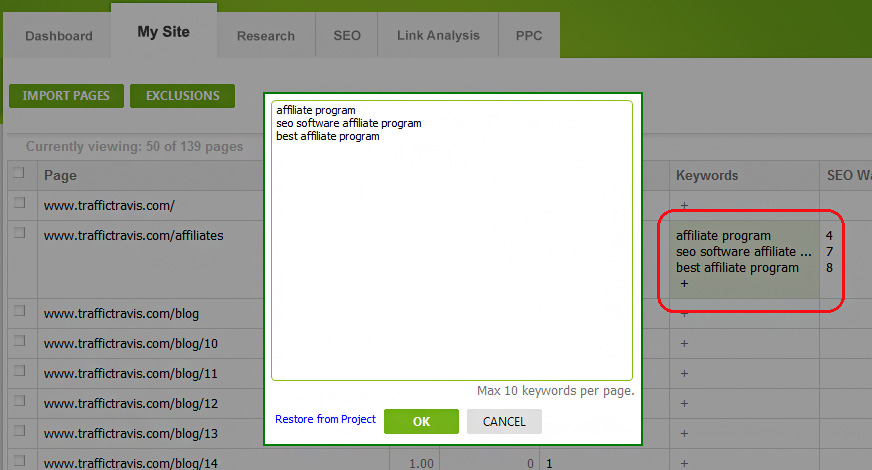 ...or type them in if you know them from your content, and run an exact search. With a regular search, you'd have to find those words amongst the suggestions in the results.
With an exact-match search, you'll quickly and easily see the data for those keywords, as they'll be the only keywords in the results!
Scenario 3: You Want All Available Data on More Than 1,000 Keywords
If you were to do exact match keyword research in the Google Keyword Planner Tool, you'd have a maximum of 1,000 keywords per search. To do more than that, you'd have to run multiple searches.
If you had 10,000 keywords on your list, for example, you'd have to run 10 separate searches and put all the data together.
With Traffic Travis Pro, you can enter all 10,000 keywords into the one exact match search and it will run them all through for you. Neat and tidy, and super easy.
You'll also find additional data within the one search. In the Google Keyword Planner Tool, you have to run separate searches for US search volumes and global search volumes. The results for those searches won't include SERPs or KEI values.
In Traffic Travis, you get data for both global and US search volumes, as well as SERPs and KEI values, all in one search. It's basically a mega-search providing you with all the results you need for up to 10,000 keywords in one go.
How to Research Exact Match Keywords
It's super easy to run an exact-match search on your keywords. Here's the process in 3 simple steps:
1. Select "Exact Matches Only" in the Advanced Settings
To set yourself up for an exact match search, click on "Advanced Settings" below the "FETCH" button. You'll see the option for "Exact Matches Only" in the pop-up box. Tick the checkbox next to "Yes" and then click "OK."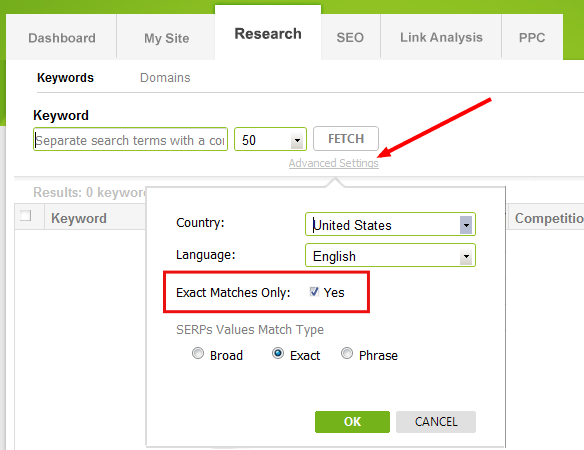 2. Enter Your Keywords into the Keyword Research Text Box
You might have a document with a list of potential keywords, or maybe you'll be pulling them from the "My Site" tab in Traffic Travis. Whatever the source, copy and paste the keywords (or type them in if you're just adding them as you go) into the text box in the Keyword Research tool.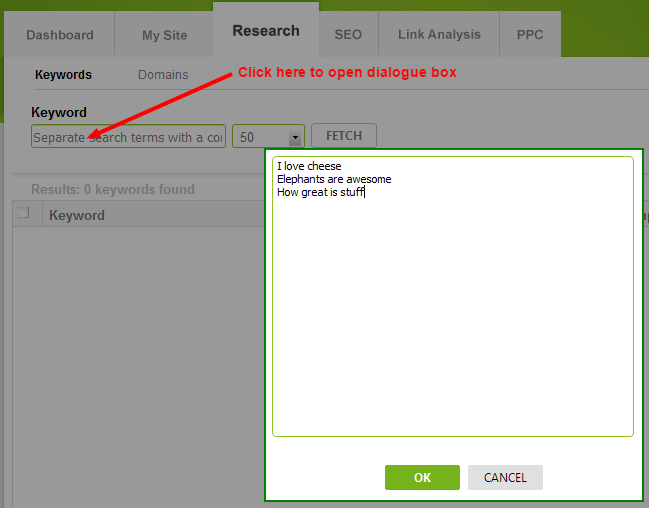 Remember, you can add up to 100 keywords for an exact-match search in the free version of Traffic Travis, or up to 10,000 keywords in Traffic Travis Pro. Then, click "OK."
3. Fetch Your Results!
Now when you click "FETCH," you'll get data for the keywords you entered, and only the keywords you entered. This data includes global search volume, US search volume, competition, average CPC in your currency, SERPs value, KEI global and KEI local for each of your keywords.


Now it's time for you to go and try it out for yourself! Remember, if you have any questions, you can always contact Traffic Travis support.