Written on March 27th, 2015 by
Simon Slade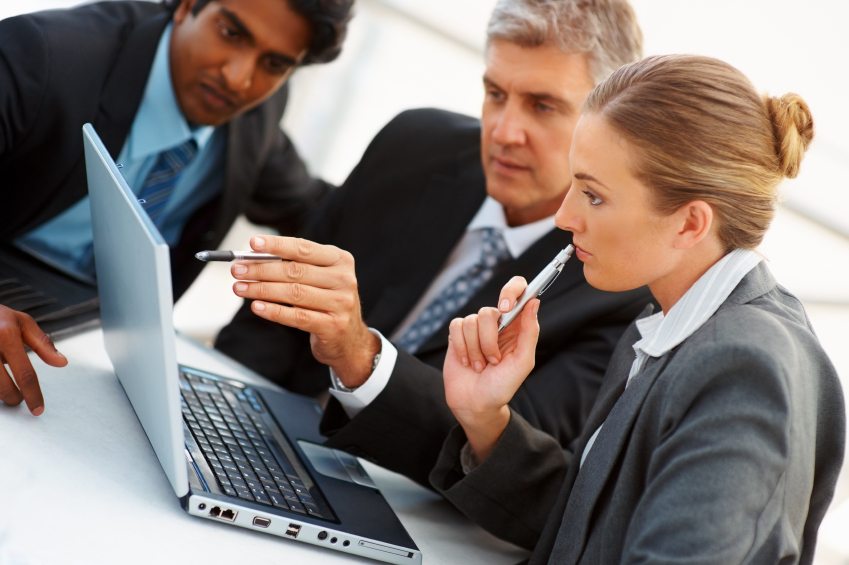 I've come across some tough keywords and some tougher niches lately. While researching "best SEO," the keyword "SEO news" popped up. Traffic Travis rated it as very difficult to rank for.
I thought, well, anyone can find a niche full of easy keywords with enough time. But what if you wind up stuck with a tough niche? What if, for example, a fledgling SEO news website asks you to take them to the top of Google?
With no idea as to whether I would find anything, I decided to jump in and put my skills to the test. Here are the results.
Step 1: Decide Whether the Niche Is Worth the Effort
If the public is losing interest in a niche, it might be better to pull out before even investing in keyword research. I decided to stop in at Google Trends first, as always.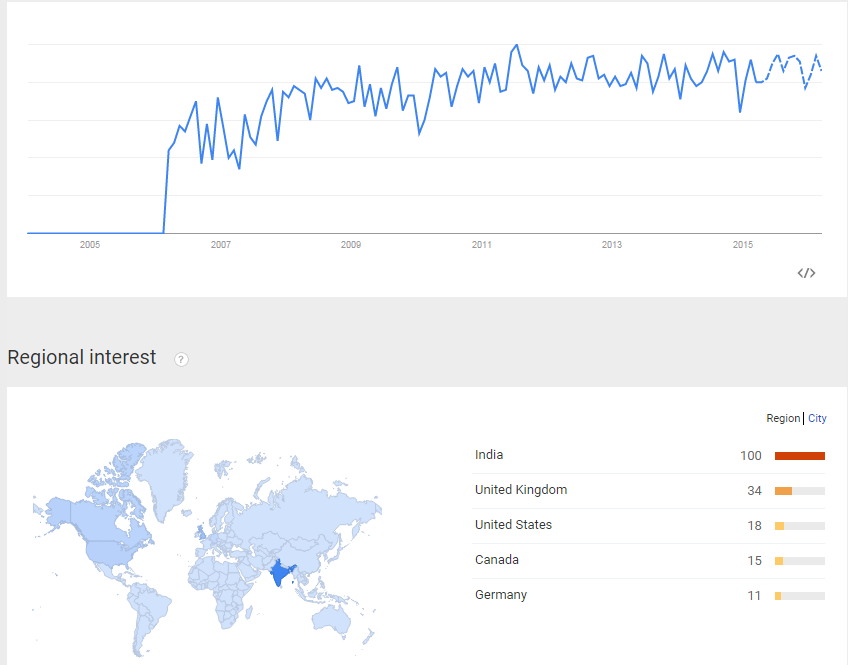 ​
Good news for our imaginary client: the interest in this niche has stayed steady for years now. While it experienced its highest levels of traffic in April 2010, the overall levels have stayed the same or even improved since then. It appears SEO news websites will continue to get traffic for a long time to come.
Step 2: Find Relevant Keywords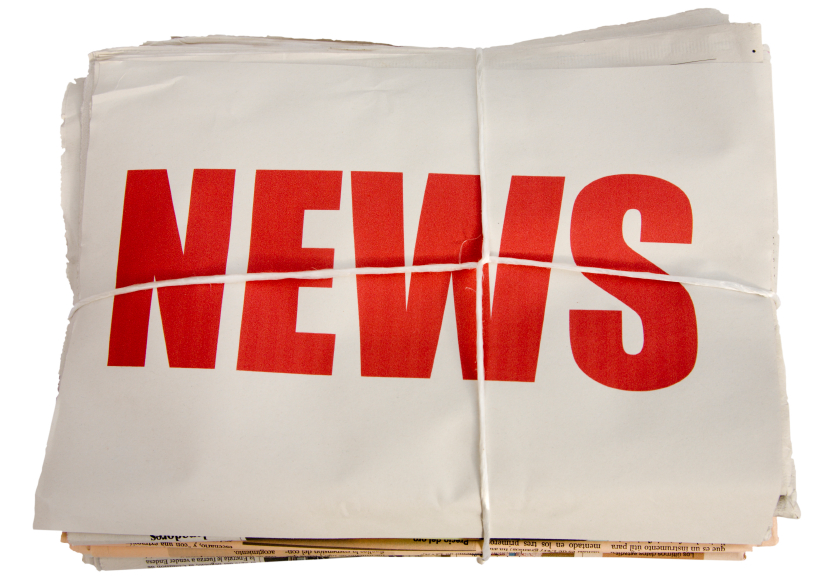 I've researched plenty of SEO niches, and just entering a couple of keywords in Traffic Travis has resulted in almost exactly the same results every time. That's because I always use broad match. Today, I want to find keywords more targeted to SEO news and not just about SEO in general.
First, I'm going to give the program some new ideas to chew on by going to Ubersuggest. This website shows related phrases that people have searched for on Google, even if only one person has ever searched for them.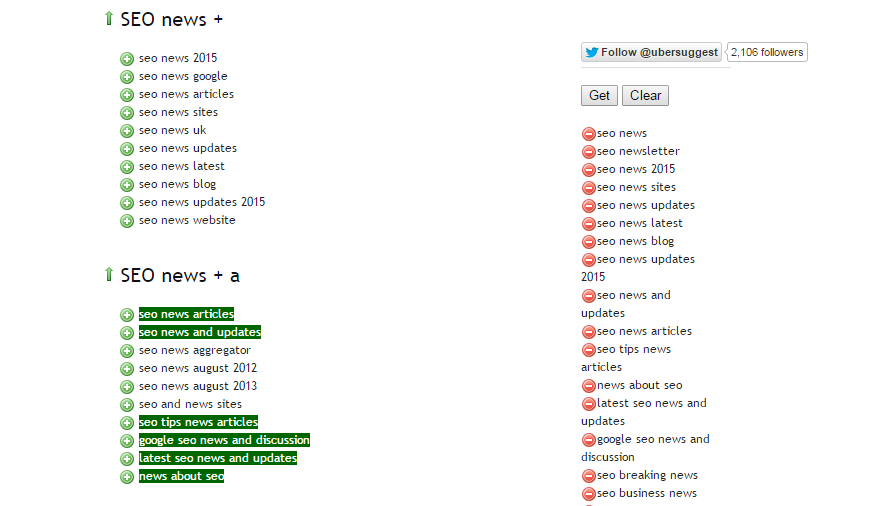 Tossing some of these obscure but on-topic keywords into the mix should net me more relevant suggestions during my keyword research.
Next, I'm going to select "phrase match" rather than "broad match" in Traffic Travis. This should bring up more closely related terms.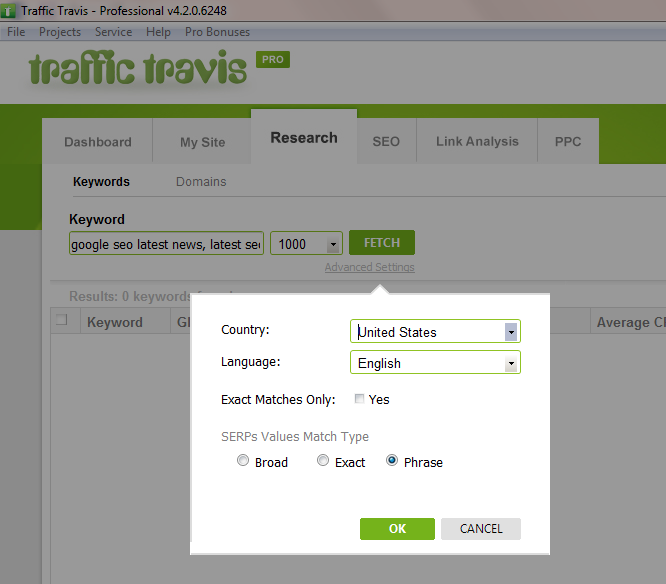 ​
Step 3: Identify Relevant Keywords with High Search Volumes
After completing my research, I filtered out any keywords that did not include "news" and ordered the remainder by the number of searches per month. The results did not look great. As you can see, only six of the 1,000 keywords I researched both included the word "news" and had more than 100 searches per month.

Our main keyword, "SEO news," is the only truly relevant keyword with more than 1,000 searches.

We already know that we will have to fight hard to rank for SEO news. However, since it has 6,600 searches per month, my first piece of advice to any website in this niche would be to try to rank for it. The high quantity of targeted traffic will make the effort worthwhile.
"Search engine news" has low competition on AdWords and 720 searches per month. Even if it has tough organic competition, it could make a great keyword for PPC campaigns—at least as long as Google doesn't jack up the price.
Okay, what about the things that an SEO news source would cover? Updates like Panda are probably the biggest news in the business.
The keyword "SEO updates" targets people looking for that kind of information. It also has a solid 1,600 searches.

Since I've at least managed to find a few relevant keywords with decent search volumes, I think I'm ready to move on to the SEO competition tool. Let's see what we're up against.
Step 4: Analyze Organic Competition
As mentioned before, "SEO news" has a very difficult rating.

You'd have to fight through Entrepreneur.com, Yoast, and Moz—among others—in order to reach the top. Just reaching the first page would probably require about 20,000 backlinks combined with good on-page SEO.

My advice to anyone in this niche: try to rank for it, but expect a long, slow battle. Focus on other keywords for more immediate traffic. Consider this your long-term investment.
"Search engine news" also gets a very difficult rating.

The competition looks a little lighter than that for SEO news, but still, it will probably take too much work for those 720 searches per month. I would stick to running PPC ads for it.

SEO updates has a very difficult rating as well, but I would seriously consider this one.

While the competitors are mostly high-authority sites, many of the ranking pages have lackluster on-page and off-page SEO. Reaching page 1 certainly wouldn't be impossible. Just take a look at entry no. 5: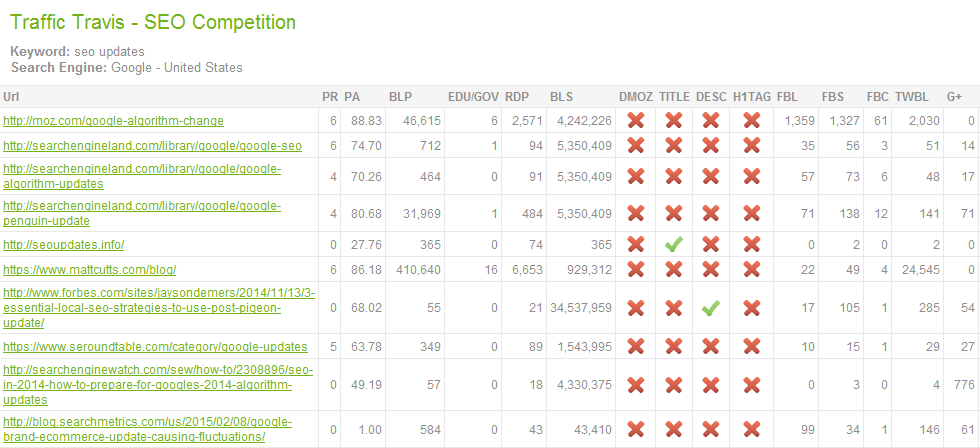 All in all, though, my initial results look pretty bad. I spent a while searching through them and didn't find anything particularly appealing.
After a while, I decided to stop relying so much on machinery and start doing a little good old-fashioned brainstorming. I asked myself, What news stories will stay relevant throughout the year?
The answers that came to my mind were the latest SEO changes, as well as forecasts and expectations about SEO in 2015. So, I ran searches on AdWords for both of those and found out that while "SEO changes" doesn't have much traffic, "SEO 2015" has 1,600 searches per month.
I went back to Traffic Travis and found out that "SEO 2015" only has a medium difficulty rating. Finally, something really worth going after!

None of the top 10 pages has any serious exact-match optimization going on, and most only have backlinks numbering in the low triple digits. Combine quality on-page SEO with a few powerful backlinks and you will have a fair shot at showing up on page 1.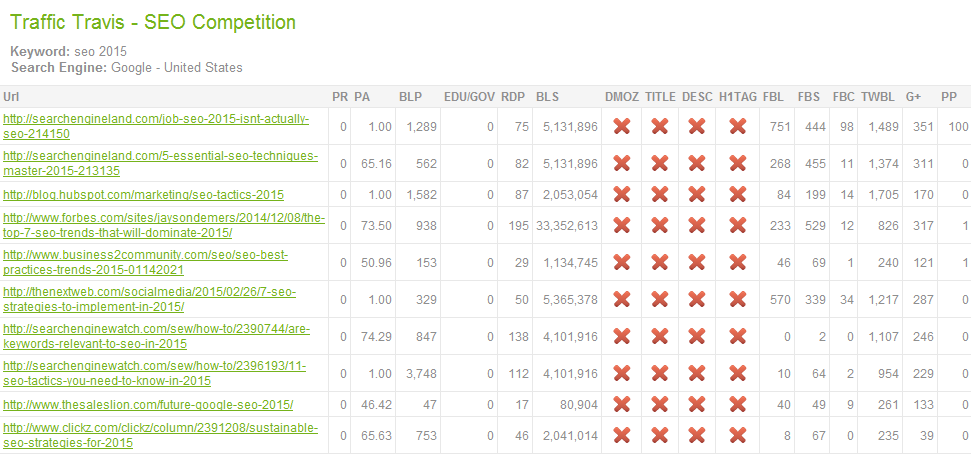 Step 5: Expand Your Research
In niches like this one, you can't just rely on keyword suggestion tools. Even the combined might of Traffic Travis and Ubersuggest aren't always enough when your competitors are swarming like flies all over those big, juicy, obvious keywords. Success will require creativity on your part.
Think carefully about the things that your target audience will want to read. Come up with as many different angles as possible. For example, an SEO news site shouldn't just focus on keywords involving SEO; it should branch off into things like keyword analysis, backlink building, and so on.
I've only shown this process up to the point of finding that first good keyword. If you want to succeed here, keep widening your search. You will eventually find plenty of great keywords.
If you really do work for an SEO news site, then you can download my research to save yourself a lot of time. Just follow our knowledgebase's instructions on importing keyword data to use the file. As always, you can download Traffic Travis for free here—but feel free to share this article to pay us back!