Written on December 12th, 2014 by
Simon Slade
We have a great niche this week: free SEO tools. This niche holds a tremendous amount of interest, as programs like the free version of Traffic Travis can make a huge difference for anyone trying to set up a website on a limited budget. As we all know, that's just about everyone who's building a website!
Hold Up—How Do You Make Money by Giving Something Away?
People love free things. Of course, nobody can make a living just by giving things away. The way to make money in this niche is to get people to try the free version of something and then upsell them to a better, paid version—such as Traffic Travis Pro.
That makes keywords like this one extremely valuable for our affiliates. If you've joined our affiliate program, you can make good money by marketing the free version of Traffic Travis as a free SEO tool.
So, how badly do people want free tools for search engine optimization?
Global Interest in Free SEO Tools
Google Trends shows that interest in free SEO tools appeared from nowhere in February 2006 and has held people's attention ever since. Searches peaked in March 2010, and while interest has faded a bit since then, it's just as high now as when the niche first appeared. It seems to have leveled out.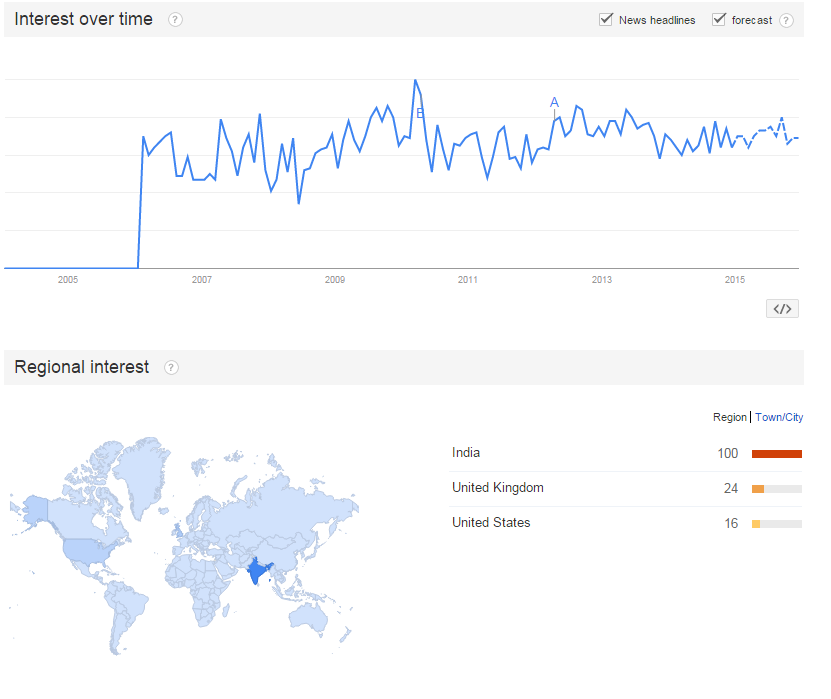 This appears to be a textbook evergreen niche. The number of searches fluctuates from month to month, but always stays reasonably high. Things have changed little over the last eight years and that makes it excellent for building a long-lasting, year-round business.
Compared to the rest of the world, India seems obsessed with free search engine optimization tools. The US and UK make up only a small percentage of searches in comparison. This should be good news for our Indian readers!
What Kind of Search Volume Are We Talking?
Every month, "free SEO tools" has 1,000 US searches and 3,600 global searches. The CPC competition is pretty steep, but not nearly as bad as some of the primary keywords for other niches we've seen recently.

One of the great advantages of this keyword is that it includes another that is almost as good: "free SEO." This has 1,900 global searches per month.
You can combine this keyword with a ton of long-tail keywords, as seen below. Most of these are of limited value, but you could easily add some or all of them as secondary keywords to pick up some extra traffic. You could also write articles focused on each long-tail keyword in order to optimize several totally unique articles for "free SEO."

"Free keyword tool" definitely caught my eye during the initial research phase. It only has medium AdWords competition, and it has a global count of 2,900 and a US count of 1,600.

As with "free SEO," it also makes a great element in long-tail keywords, such as "free keyword tool online."
There are a good number of high-volume keywords and a few low-competition keywords. It won't be easy to break into this niche, but it won't be impossible, either.
What Does the Competition Look Like?
Traffic Travis gives our primary keyword a competition rating of extremely difficult. Trying to rank for it would pit you against such daunting adversaries as Microsoft and Moz.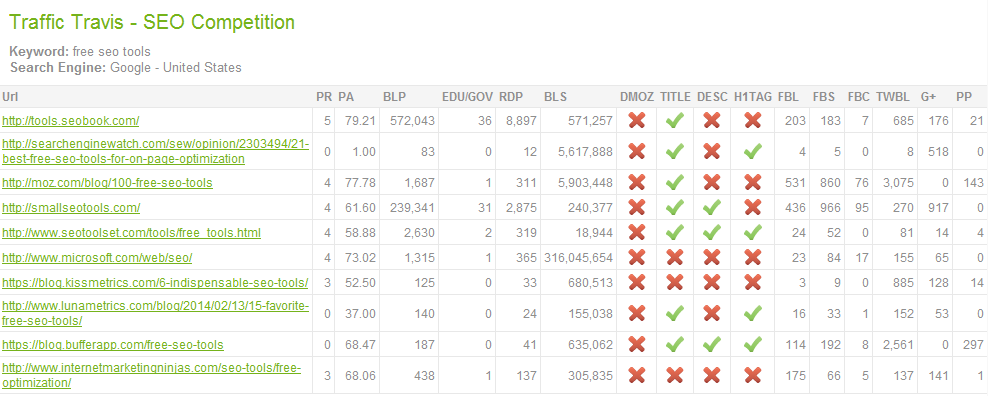 However, a few of the pages that are sitting pretty on page 1 don't have especially high Page Authority. It may be possible to claim their spots here if you have an authoritative site.
"Free SEO" looks almost exactly the same—the top-ranked pages have just switched their order around a little bit.


"Free keyword tool" is at least slightly easier. Fewer of the top 10 sites have optimized their pages specifically for this keyword. However, they do have extremely high Page Authority ratings.


"Best SEO tools" has 1,900 global searches every month. While Traffic Travis considers it difficult to rank for, I look at it and see that the number one page only has 54 backlinks and hasn't even optimized its description for the keyword. This doesn't make it a great choice for the beginner SEO, but you can probably grab one of the top spots if you know what you're doing.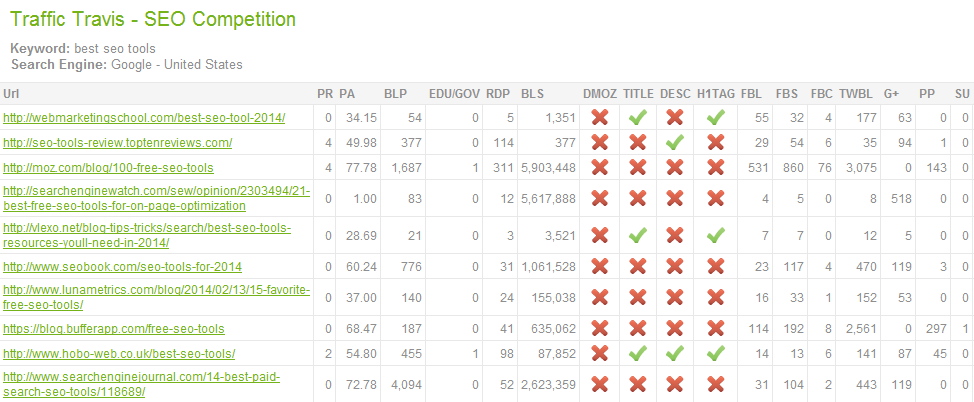 Not all of the keywords are hard to rank for. "Cost effective SEO" has a rating of easy and many of the ranking pages don't even have one indexed backlink. It would be a great keyword for marketing a free SEO tool. However, it only has 480 global searches.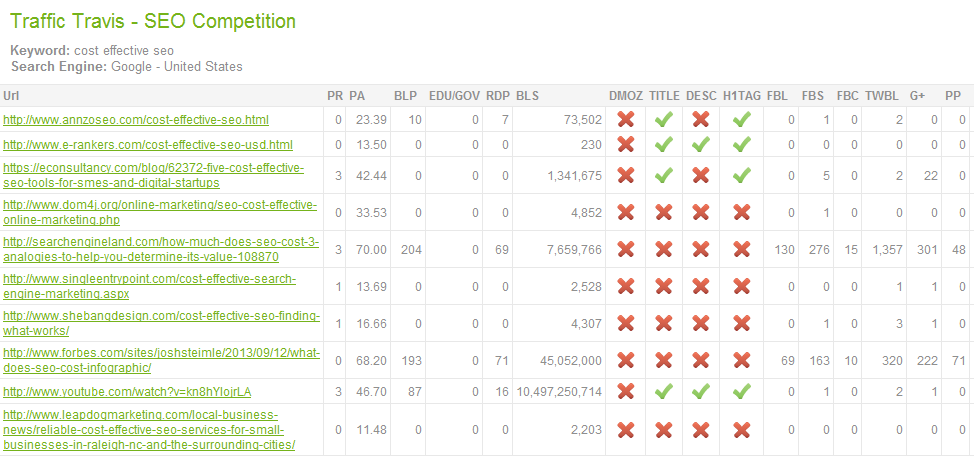 Most of the keywords look like these. There are some with tons of searches and plenty of competition and a handful with a few hundred searches per month but very little serious competition.
Can I Actually Make Money Marketing Free Tools?
It looks like a lot of websites have already established themselves as powerhouses in this niche. Somehow, though, numerous pages with low Page Authority have managed to climb all the way to the top of the search engine results.
It may well be possible to rank for some of this niche's coveted keywords with a little effort and patience. It would also be reasonably easy to pick up a few extra visitors per day by grabbing a handful of the low-competition keywords that are still out there. I would recommend this niche for intermediate to advanced SEOs.
If you feel up to taking a crack at this niche, then why not join the Traffic Travis affiliate program? You can earn very good money for referring customers to us and get paid every time one of them buys the Pro version. We'd be happy to have you on the team!
Need some help getting started? Click here to download my research on free SEO tools. If you need any help uploading it or figuring out anything else you're having trouble with in Traffic Travis, then visit the Traffic Travis knowledgebase.