Written on May 14th, 2015 by
Simon Slade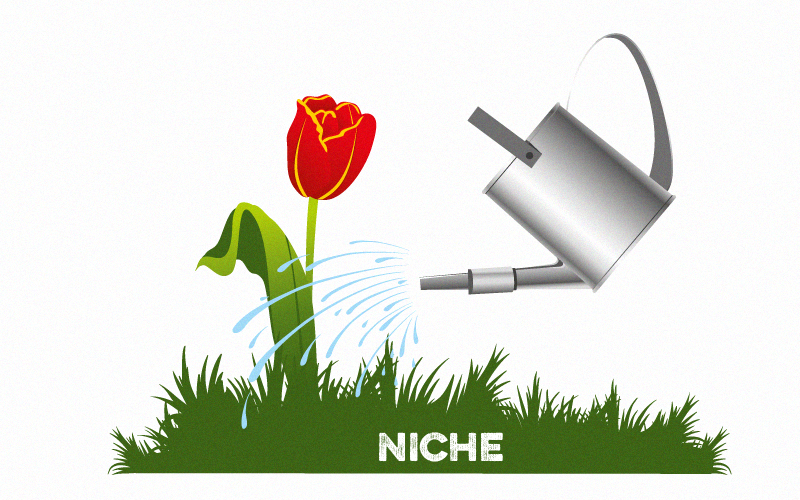 With summer starting in the northern half of the world, most gardeners are wrapping up the planting season and preparing to fend off weeds and pests. Hopefully, that means that those of you who are gardeners are about to have some more free time on your hands — because you'll want to rush off and start a new website once you read our keyword analysis!
How to Make Money off a Gardening Website
There are plenty of ways to make money off of a gardening website. The fastest and easiest would be to promote any of the myriad gardening products on Amazon (over 285,000 results for "gardening") or ClickBank (about 250 results) as an affiliate.
You could also try dropshipping or reselling tools, seeds, or even live plants if you feel up to it. If you have a truly green thumb, you could try using your knowledge to sell plants you grow yourself.
But first, let's make sure that you can get enough traffic to make your efforts worthwhile.
Search Trends for Gardening
Google Trends shows that searches for "gardening" have a marked seasonal pattern. Each year, searches peak in April or May, then quickly descend into a lull that bottoms in December. Just like with the fishing niche, they slowly pick up again in January.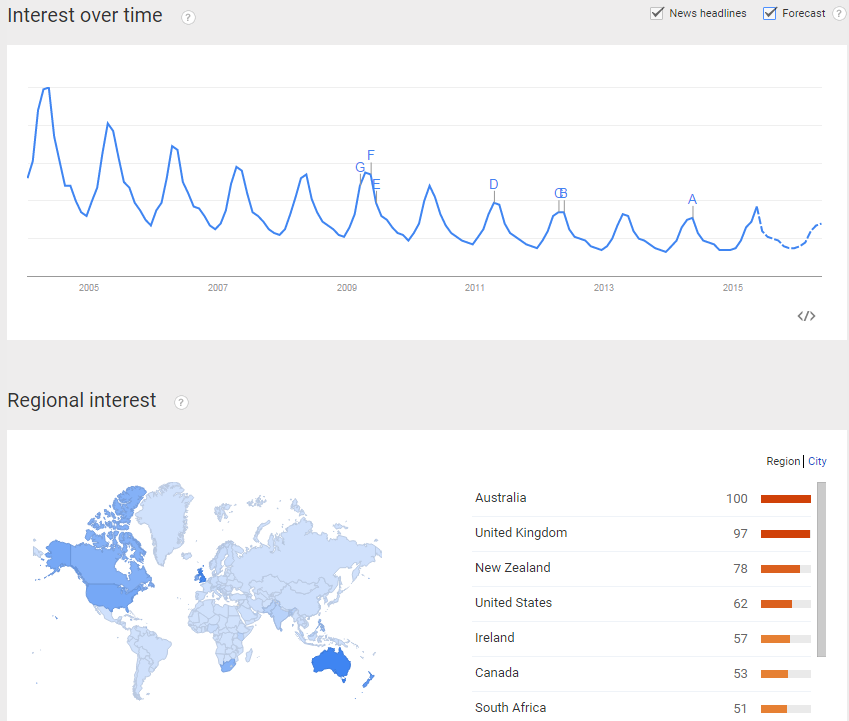 The number of annual searches for "gardening" has certainly declined over time. However, the fact that numbers are falling for this extremely general keyword doesn't mean that interest in the niche is disappearing.
Other keywords appear to be doing rather well. Take "how to grow tomatoes" as an example. It's doing much better now than it was in 2004, and attracted more searches last year than it had the year before.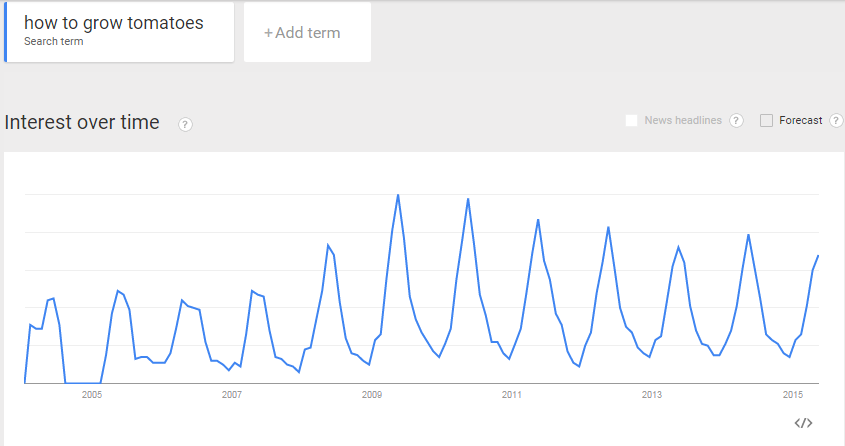 Gardening might not be the newest sexy trend. However, it's something that people have done ever since they got sick of hunting and gathering. You can expect it to create business as long as green things grow.
Gardening Keywords
Certain that I'd found a profitable niche, I decided to go to the Traffic Travis Keyword Research tool. I entered the first few keyword that popped into my mind and ran a search for 1,000 keywords. It immediately turned up a few very promising phrases.
"Gardening" averages over 60,000 searches per month and still has a global KEI of over 14. It only has moderate AdWords competition as well. Still, with so many searches, I will be shocked if Traffic Travis's SEO Competition tool gives it a ranking difficulty rating any lower than difficult.

​
In addition to having the fairly positive search trend we covered above, "how to grow tomatoes" has over 12,000 searches. It also has lower advertiser competition than "gardening" does and a higher KEI to boot. In addition, it works nicely as a long-tail keyword.

"Vegetable garden planner" has 3,600 searches and a great KEI, both worldwide and specifically in the U.S. I like it as another long-tail keyword, too. However, I am a bit worried by the paying competition, as the CPC is comparable to that of "gardening."

Weeding Out the Bad and Cultivating Prize Keywords
After saving the keywords to my project and analyzing them in Traffic Travis's SEO Competition tool, I took a more detailed look at the selection. I was surprised to find that a good number of keywords scraped from Google involved activities that are illegal in many parts of the world. After *ahem* weeding them out, I located the three keywords from above.
It's not surprising that "gardening" has an extremely difficult rating. Like I said before, it just has too many searches to pass up.

Nearly all of the top pages are highly authoritative and thoroughly optimized. However, if your site converts well, then two dollars per click might not be half-bad. You should certainly consider adding gardening to your AdWords campaign.

"How to grow tomatoes" looks as good as promised. TT gives it a relatively easy rating.

While the competitors are powerful websites, most have made little to no effort to optimize for an exact match of this phrase. Half of the ranking pages have fewer than 25 backlinks.

"Vegetable garden planner" has a medium difficulty rating.

It looks like the pages in spots no. 9 and no. 10 would be quite easy to displace, but after that, things get tough. Don't expect to rank in the top 8 unless you're a very experienced SEO.

Garden accessories could be great things to sell from your website, as they are a lot less worrisome to ship than live plants or seeds. It's also a fantastic keyword with 6,600 searches and an easy rating from Traffic Travis!

The top competitors are major websites, but they haven't paid too much attention to ranking for this keyword. I have no doubt you'll climb to the top if you build a quality website around garden accessories.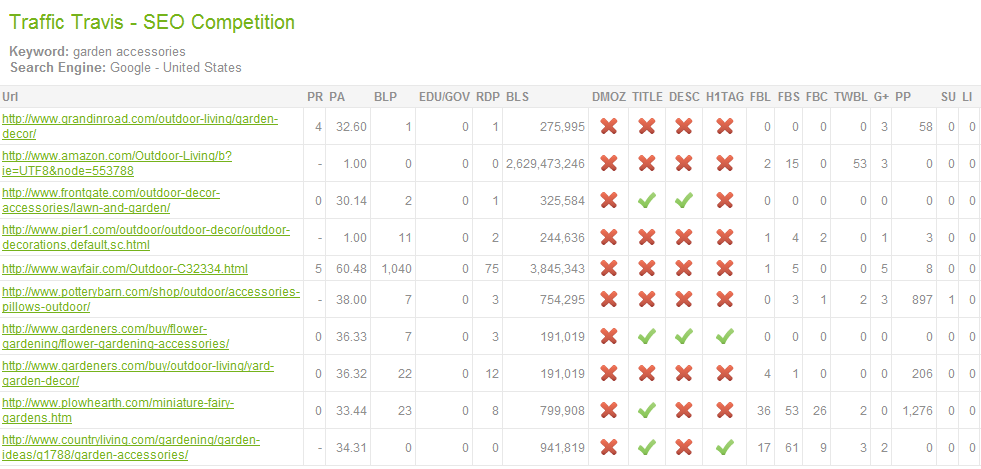 Here's another easy keyword: "shade loving flowers." It has 1,600 searches. If you don't mind the risks and regulations involved with shipping seeds or live plants, you could certainly do that, or you could just write informative articles about these kinds of flowers.

None of the current top 10 pages are doing a perfect job of answering the searcher's question—they've either gone too specific by discussing only perennials or annuals, or too generic by talking about shade-loving plants in general. Optimize precisely for this keyword, cover both annuals and perennials, and you should have little trouble ranking.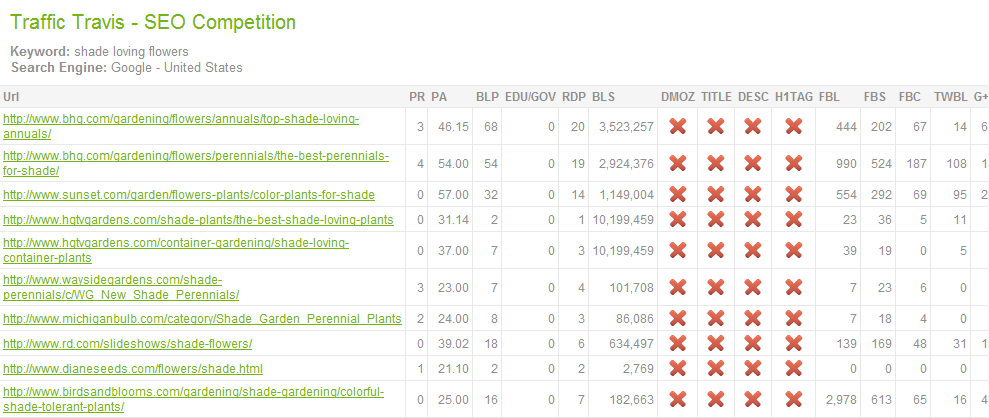 A Bounty Awaiting Harvest
This niche has a vibrant collection of easy keywords with well over 1,000 searches. If you decide to try your green thumb on a gardening website, then I'm sure you'll grow a thriving business in no time.
You can download Traffic Travis's keyword analysis of nearly 1,000 gardening terms here. Of course, you have to have your own copy of TT to view the files, so sign up for the free version if you still haven't. Instructions on how to use the file are available here.
Don't forget to hit the Like button before you go!