Written on February 25th, 2014 by
Simon Slade
Google Authorship markup should be a vital piece of your SEO marketing strategy and, when done correctly, will help you get more traffic and better rankings.
But what is it exactly?
The SEO mantra of "Content is King" has been beaten into marketers to the point of becoming a cliché. We all know by now that creating original, unique and engaging content is what Google wants. But not everyone follows the rules and nothing burns worse than seeing the fruits of your hard work being plagiarized by someone else.
Google Authorship is the fix! This system allows you to link your Google+ social media account with the work you have created.
Once set up and verified, your new content will appear in the search engine results with your Google+ profile photo, a byline and how many people are in your Google+ circles.
Technical Explanation
Google Authorship is one form of "rich snippets" that the search engine pulls from content on the web.
Snippets are the few lines of text below a page's listing on the search engine results page (SERP) that help a searcher know more about the site before clicking through. Rich snippets provide more detailed information that can help the searcher answer their query.
For example, a rich snippet for a hotel may provide the average customer ratings, while one for a restaurant may have its hours populate in the search result.

Authorship simply allows your published work to be linked to your Google+ account so that your image, byline and other data about you populate in the search results.
Benefits of Google Authorship
There are many benefits to implementing the Google Authorship markup on your site. Some are directly related to SEO and others will help your traffic and conversions in general.
Claim Ownership
Google wants to rank original content higher than plagiarized content. The problem is sometimes Google doesn't know who created the content first and copy cats can, and do, sometimes outrank you.
Google Authorship plants your flag on your content and lets Google know who created it. From then on, anyone who dares to plagiarize it will not rank as high as you because Big G can easily see that they have copied the work.
Branding
Whether you are trying to build your personal brand or one for your business, Google Authorship can help.
Having your image, name and link to Google+ profile predominantly displayed alongside the SERP snippet of your content will go a long way to establishing your credibility as an expert in your field. It also humanizes and personalizes you to your readers. All things being equal, most people will want to read content from and ultimately do business with a real person rather than a faceless website.
The SEO benefits of this level of branding will come in the form of increasing your network and having more people link to you. The more they share your posts on Google+ and other social media sites, the wider your audience will be.
Increased Conversion Rates
Multiple studies have shown that posts with Authorship markup receive better click-through rates than those that don't. They will often be clicked on before higher-ranking sites just because they stand out from the plain text of other listings.
Statistics, case studies and A/B tests are all fine and well, but give this the human eye test. Which one of these listings would you click?

Since we know that time on site, bounce rate and other measures of engagement are factors in Google's ranking algorithm, the SEO benefits of Authorship markup's higher click-through rate are overwhelmingly clear.
Indexing
There are a host of tools and tactics out there to help you get your content indexed faster. What's the point of creating awesome content (that may link back to your other awesome content) if Google takes forever to find it?
Google's algorithm bots have a hard time spidering and indexing Facebook posts and Tweets, but since Google+ is Google, that content gets indexed very quickly. Authorship markup makes that process go even faster, so your content is seen in the SERPs, read by your audience, and linked to all that much quicker.
Improved Social Signals
Over the last couple of years, Google's search algorithm has been incorporating more and more social signals when it determines ranks. It's looking at your popularity and user engagement across social platforms to gauge how important your are and how much you are considered an expert in your field. Or more simply put, Google looks at how much can it trust your content.
As we mentioned above, Google doesn't have full access to Facebook and Twitter content, so guess where it pulls a lot of social signals data from?
That's right, boys and girls: Google+!
Authorship Limitations
Setting up authorship will not wash away all of your SEO sins.
If your content is low quality, if you engage in spammy tactics or if you otherwise try to game the system, having Google Authorship enabled won't help.
Authorship helps you get validated as a credible source in Google's eyes and indexes your pages faster. It may be included in the ranking algorithms in the future, but isn't now. Like most things with Google, there is no magic bullet to shoot straight to the top of the SERPs.
How to Set up Authorship
In order to get the benefits of Authorship, you'll need to set it up properly.
For starters, make sure you have a complete Google+ profile.
You'll want a clear and recognizable profile photo, as that is what will be pulled in the rich snippet. Yes, you can be creative and use other images instead of the standard head shot, but make sure it's something that you want representing you as a person. Don't use your company logo.
Next, make sure a byline with your name appears on your content pages and that it matches your Google+ profile. So, if your byline lists you as "admin" or "John" but your Google+ profile is under "John Smith," update the byline.
Also make sure that you are only including the Authorship markup on the appropriate pages.
This code is to show off original content you created and that you have a byline for. You typically don't want it on your homepage, product pages or listings (if you're a real estate agent, for example), as those pages don't have direct content from you. Think more along the lines of blog posts.
Then, verify that you have an email on the same domain as the content. If you don't have an email address on that domain, you can do the following: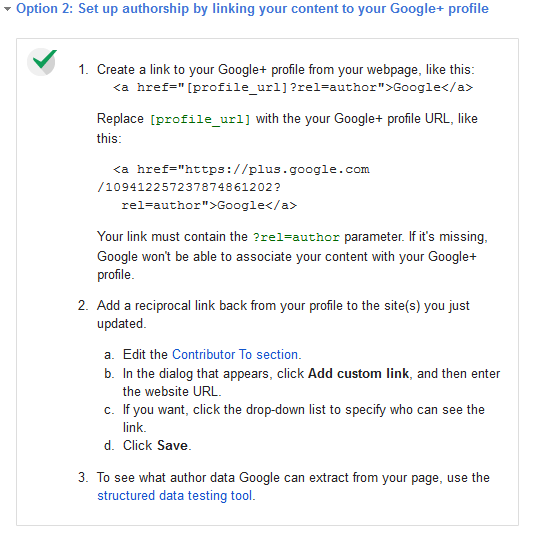 Once you have verified your email, return to the Google Authorship page and finish up. You can test the markup code to see if you've been successful in setting it up by using this Google Webmaster Tool.
As usual, if you're a WordPress user, there are plenty of plugins that will help you easily integrate your content with Authorship markup. Here are some of the most popular Google Authorship plugins. Also, many SEO plugins like WordPress SEO by Yoast come with Authorship functionality.
There are also plenty of themes that allow you to easily claim your content through Authorship markup. Our favorite is Affilotheme. It's easy to set up and has a ton of other SEO functions built right in.
If you've tried all of these options and still aren't seeing the results you want, it's time to troubleshoot. Check out this great post and infographic at SearchEngineLand.com if you need help diagnosing your markup issues.
Authorship Updates
Starting in October 2013 Matt Cutts, the head spamfighter at Google, began hinting that there would be a reduction in the amount of Authorship rich snippets that would be shown in the SERPs.
Like any other SEO tactic, low-quality sites had abused the system a bit and were claiming authorship where and when it wasn't needed, just to get the SEO benefits. In December 2013, and more notably in January 2014, there was an estimated 15 percent reduction in the authorship marked up results shown.
It's just a little harder now to get your site listed with the authorship markup, but if you have quality content, you should be fine.
Another change that flew under the radar was that Google Authorship started showing up in image searches as well. This further expands the reach and benefits of the program.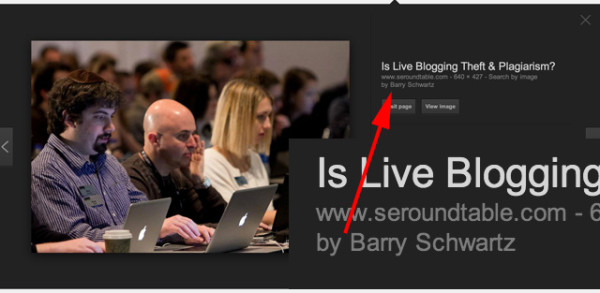 While we can expect tweaks and changes to the Google Authorship system, there is no denying its importance on our SEO, traffic and businesses.
Going back to our mantra of "Give Google What it Wants," authorship provides a great opportunity to do just that. Create original and engaging content, claim it via the Authorship system and reap the rewards.
If you're squeamish about linking your social media profiles to your content, it may be time to rethink your outlook on content creation, marketing in general and your business as a whole. Why would people trust you and do business with you if you're not willing to raise your hand and say, "Yes, I created this content and it's awesome"?
Google your targeted keywords or use a tool like Traffic Travis (download your free copy here) to see what your competition is doing. Are they using Authorship markup? Are they trying to engage customers onsite and on social media platforms?
If they are, then you need to as well. Don't just try to match them; beat them!