Written on November 28th, 2013 by
Simon Slade
Every Internet marketer knows about the powerful insights that Google Analytics can provide, but many overlook another Google tool that can dramatically help your SEO campaigns. Google Webmaster Tools is free and easy to use, and gives you the best chance of understanding what Google wants from your website.
Using Google Webmaster Tools (GWT) correctly can give you insights about your website, marketing efforts and traffic that you won't get from Google Analytics. Much like Google Analytics, though, GWT has a variety of functions and tools that you must master to find the SEO gold you're looking for.
The data that GWT gives you is very in-depth and can often be very technical in nature. If that's not your cup of tea and you are just looking for some quick SEO tweaks, Traffic Travis (download your own copy for free here) has a feature that can scan your site for SEO errors and tell you how to fix them.
Here's an overview of Google Webmaster Tools that will allow you to fully utilize this powerful tool suite to improve your site and campaigns. If you're an advanced user or need more in-depth help, try Google Webmaster Tools Help.
The Benefits of Google Webmaster Tools
Basically, Google Webmaster Tools helps you see your website as Google sees it. It allows you to:
Submit your site to Google
Check for technical problems that may be stopping Google from indexing certain pages
Check on links pointing to your site
See popular keywords for your site
Understand the potential of keywords you are ranking for
Check for malware or other intrusive technologies affecting your site
... and much more. When you understand how to turn this data into actionable items, you will have better chances of getting your content indexed quickly and of getting better rankings.
However, simply submitting your site to GWT and acting on information you find there does not ensure you will "beat" the search algorithms. This isn't a loophole or trick that will allow you to skirt the rules and rank high for super-competitive keywords.
Think of Google Webmaster Tools like a doctor whom you have constant access to. The doctor can tell you the current state of your health and what you need to do to improve it, but if you don't follow his or her advice, your health will suffer. No number of tests and scans will keep you healthy if you leave your doctor's office and smoke, eat bad food constantly and don't work out.
Getting Started
Like most Google tools, signing up and starting is simple.
You will need to create a Google account and then go to http://www.google.com/webmasters/tools. There you will be prompted to add your first site.
Verification
Before you can get access to the data GWT shows for your site, you will need to verify that you own it. You wouldn't want a competitor or hacker to have access to this kind of data, would you? That's why you have to jump through some hoops to verify your ownership of the site.
Google provides a variety of options for verifying your site. Uploading an HTML file is the recommended method of verification and it's relatively simple to do:
GWT will give you a blank HTML file with a name specific to your verification process
Upload that to your server via FTP
Confirm you have uploaded it by visiting the page it has created
Return to the GWT interface and click on the "Verify" button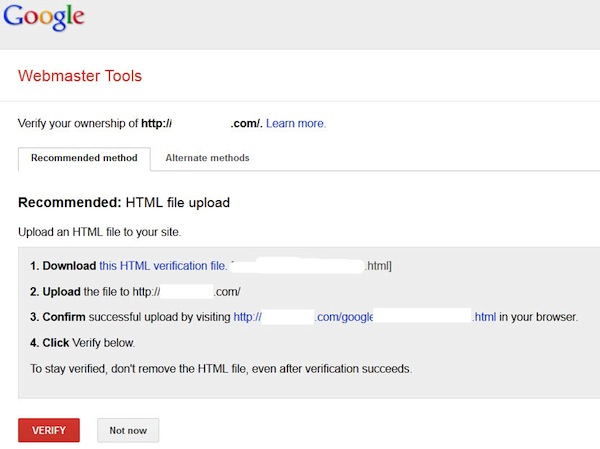 If, for some reason, that did not work or you do not want to verify your site via file upload, you have other options:
HTML tag: GWT will provide you with a meta tag that you then insert into the head section of your site's homepage.
Domain Name Provider: You can select your domain name provider from a dropdown list on GWT. They will then give you a unique verification token and instructions on how to use it based on your provider.
Google Analytics: Since you're interested in website data enough to learn about Google Webmaster Tools, it's safe to assume you have a Google Analytics account. If you're an admin on the GA account then you can also verify this way.
Google Tag Manager: If you have a Google Tag Manager account, you can also use this to verify your site.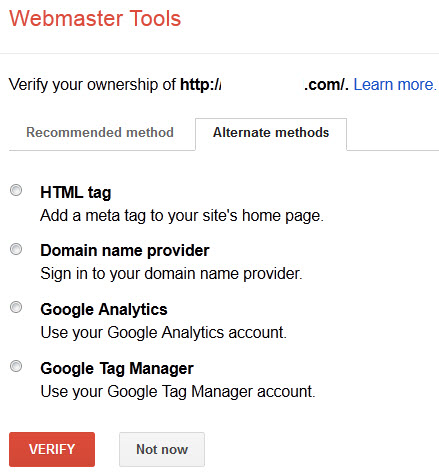 Start Getting Data
Once you have verified your site, you can access the data that Google Webmaster Tools has for your website. The first thing you will see is your dashboard: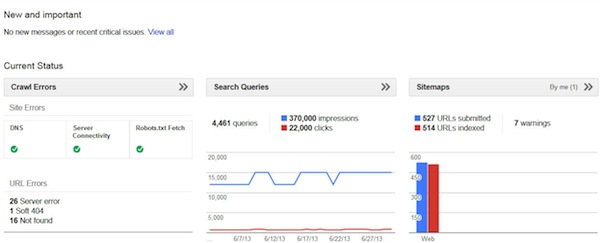 As you would expect, the dashboard gives you a quick overview of the most important things going on in GWT.
Settings
In the far right corner of the page, you will see the settings "cog" icon, which opens up into a dropdown menu. This menu allows you to set up many preferences and options that will be pivotal to your GWT use.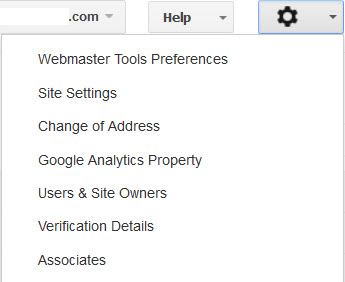 Preferences: Set your preferred language, whether or not you want to be contacted by email and what issues you want to be contacted about.
Site Settings: From this submenu selection, you can:
Choose the country you are trying to target users in
Tell Google whether you want your site to show up with the www. or not
Set the rate at which Google's spiders will crawl your site. Usually, the only reason to limit this rate is because Google's bots are crawling your site so often that it's affecting its performance.
Change of Address: If you are moving your entire site to a new domain and want to tell Google about it, this is the place to do it.
Google Analytics Property: This is one of the handiest options in the settings menu. You can link your GA and GWT accounts so you have access to Webmaster Tools info through Google Analytics.
Users and Site Owners: Here you can edit who is allowed access to your GWT account and what they can do.
Verification Details: This area lets you see any verification issues as well as your successful attempts.
Associates: If you want to connect other Google accounts to your GWT account, you can add them here. The other accounts won't be able to see GWT data, which they would if you made them admins, but they can perform other functions like setting up a YouTube channel for the site or posting on Google+ for your site.
Once you have set up your account the way you want it, you can start diving into the data. The left-hand menu breaks down all of the important sections; let's go through them:
Site Messages
Google uses Webmaster Tools as its preferred way to communicate with website owners. At the very top of your dashboard, you will see if you have any new messages. You can access them directly from there. You can also click on the "Site Messages" submenu and access all of them.

These messages range from routine maintenance issues to warnings about potential malware or other intrusive programs that may be hurting your site. They aren't all bad, nor will Google send you a message saying, "You've upset us with your spammy links, so we've gone ahead and knocked you back to page 100."
Search Appearance
This section is all about how your site looks in the search engines. On the main menu, if you click on the "I" icon, this image will pop up and break down the various elements that can accompany your search engine listings. They are:
Title
Snippet
Sitelinks
Search within a site
URL
Event – Rich Snippet
Author Information
Structured Data
This subsection gives you information about the structured data on your site like breadcrumbs, hcard, schema.org information and other formats.
Data Highlighter
This area lets you help Google figure out some structured data on the site without requiring the code to actually be implemented.
HTML Improvements
This section is where you can discover some great SEO tips. GWT will inform you here if you have any issues with your title or description tags. They could be too long, they might not be unique or they could have other issues that may be affecting your rankings or click-through rates.
These tags are more than just content you put into your site's code to rank higher. They are the content that real human users read when they are scanning through the search results. If they are too long, not unique or poorly written, you're not telling a potential user the best story about your site.
By clicking through any of the errors found here, you can get more insight into where the errors are and what you can do to fix them.
Sitelinks
Sitelinks are the subsection links that show up below your main URL listing in the search engine results.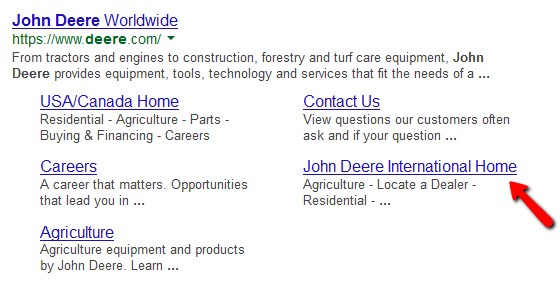 Having these means that Google sees your site as an authority for whatever search term was entered. But Google decides which links to put here, and sometimes a link might show up that you don't want there.
In this GWT area, you can specify which pages you want removed from the sitelinks listings. You can't tell Google which ones you do want listed there; that would open up the system for too much abuse. Also, a page that has previously been "demoted" can return to the sitelinks listings after 90 days. If you demote a page, make sure to keep an eye on this section.
Search Traffic
Search Queries
Get ready for pure SEO gold here, friends! GWT gives you a look at the top keyword searches that brought up a page from your site in the search engine results page.
This section is important because it shows you the following data for each keyword:
Total number of impressions
Number of clicks
Click-through rate
Average position
By looking at this data you can see not only which pages rank highly, but which ones have the best click-through rates as well. There are tons of actionable data points here. For example:
If a page has high click-through rate but a lower average position, then it may be worth promoting the page with more SEO efforts. You're presenting something real users want to read about; it's just not ranked very highly.
If a page has a low conversion rate, then you can look at the title and description tags and see if you can update those to better appeal to the searcher.
If you have implemented Google Authorship or some other schema.org type of structured data, you can look back through the timeline and see if your click-through rate has increased.
You can also see the same information by page instead of by keyword, giving you even more insights.
Links to Your Site
This area shows you the external sites that link to your site the most. It also shows the pages on your site that are linked to the most.
Google doesn't show you every link here. Otherwise, clever SEOs would be able to figure out how to better game the system. However, it still gives you some good insights into your external linking.
Internal Links
Here you can see the top 1,000 pages on your site sorted by the number of internal links. A great way to follow through on this data is to find pages with no internal links going to them and then make sure they get some internal links.
Manual Actions
If your site was manually reviewed by Matt Cutt's webspam team, this is where you would get the notice. It will inform you that you've gotten a manual action and why.
There are a variety of reasons why you may have ran afoul of the webspam team. Here's a post showing videos from Matt Cutts and friends explaining each one.
Google Index
Index Status
The Index Status section of Webmaster Tools lets you get an update on how many pages on your site are showing up in the Google Index.
If you have accidentally blocked the Google spiders from large sections of your site or if you're worried that your site has been de-indexed, this is the place to find out.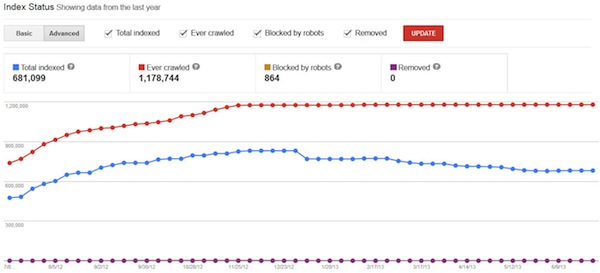 Content Keywords
If you want to see what keywords Google thinks your site is about, the content keywords section will tell you. It lists the most common keywords found by the bots when they crawl your site.
If you notice that the keywords in this section have nothing to do with your site, you need to investigate further. This could mean that someone has hacked your site and is trying to hide keywords on it. Likewise, it could also mean you aren't creating content that is on topic, and that it needs to be rewritten.
Remove URLs
Sometimes it becomes necessary to remove a URL from the Google index. For example, maybe you have gotten a legal notice that your content is violating another company's trademarks or copyrights.
You'll want to delete the page or use a 301 redirect to make sure the page is not crawled in the future. That doesn't mean it will be deleted from the index, though. Use this section to make sure the page disappears forever and you stay on the right side of whomever you have made upset.
Crawl
Crawl Errors
In this subsection of the Crawl menu, you will be able to see if there are any errors when the Google spiders come along. It logs activity for 90 days and is vital if you think that something is stopping Google from properly indexing your site.
The timeline will help you see if the issue has been slow and gradual or if something happened all of a sudden. Then you can go back and see what changes you made to your site around that time and track down the problem.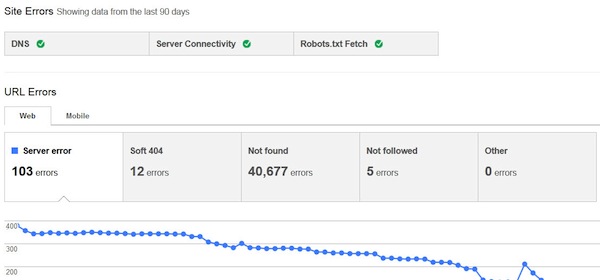 Crawl Stats
Good site speed is important for keeping your users happy and coming back, as well as better rankings in the search engines. The Crawl Stats subsection will show you stats on how fast the Google bots are going through your site.
If the data shows that they are taking a longer time than average to download a page or crawl through your site, then you might have a problem that needs to be addressed. Look at what you have changed on your site and what may be increasing the size of your files or changing the way in which content is presented.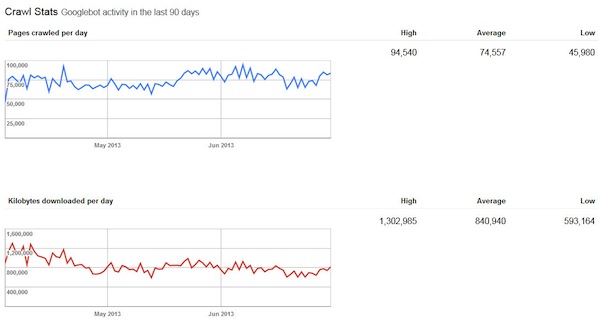 Fetch as Google
If you're worried about your pages not displaying correctly or think that something external is inserting content into your site via malware, then this section will help you see if you're right.
This tool allows you to see your pages like Google sees them. You'll get the http response, date and time, html code and the first 100kb of visible text from the page.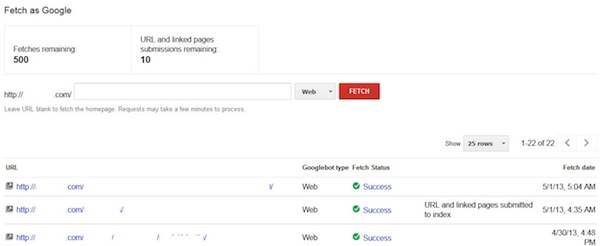 Blocked URLs
If you're looking to block the Google bots from certain pages on your site, you need to use this section here. You can test out changes to your robots.txt file and see how they affect your site.
This is serious stuff that can dramatically affect how Google indexes and sees your site. Make sure you know what you're doing and why you're doing it before you make any changes.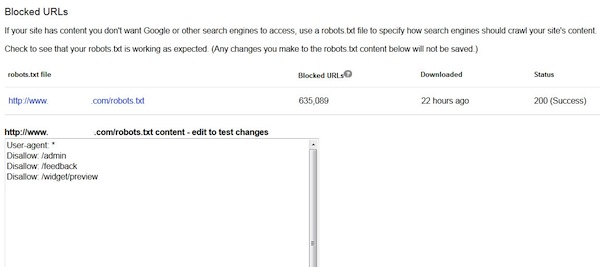 Sitemaps
From this section, you will be able to submit your XML sitemap here and then check on the stats. When you submit your sitemap to GWT, you're giving their bots easier access your site. When you update something on your site and the sitemap gets updated, the bots will come to see what has been updated.
If there are errors with the sitemap or other access issues, you will see them here.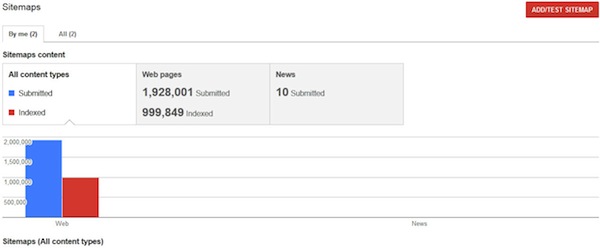 URL Parameters
In this section, you can tell Google which specific URL query string parameters you don't want them to look at when counting your URLs.
This section is barely used since most sites employ canonical tags, so it's not something you will be using much unless your site doesn't have these common tags.
Security Issues
If your site has been hacked, malware is found or there are other security breaches, then GWT will alert you in this section.
Other Resources
This section changes periodically but always contains useful tools and links to other Google products and services. These all tie into your role as a webmaster and compliment the data you will derive from your use of GWT.
​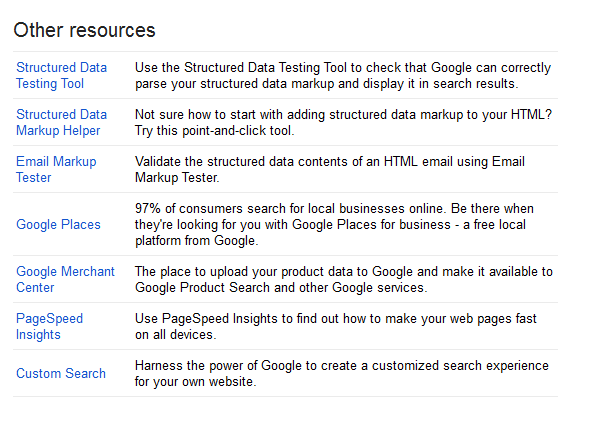 Labs
This is the section that Google uses to test out new functionality and tools for Google Webmaster Tools. This section also changes as Google "promotes" a tool to the regular GWT area or as they find a tool no longer necessary.
Just like anything else in Internet marketing, you can't let yourself drown in data and get paralyzed by analysis. Google Webmaster Tools gives you more information and data than you can probably take, so don't get overwhelmed by it. Break it down section by section and find out where you get the most value. Make sure to stay on top of changes to the system as they update, add and remove subsections and tools.
The more confident you become with this suite of free, powerful tools, the more insight you will have about how Google sees and reacts to your site.
Your new found mastery of Google Webmaster Tools is just one usefull tool in your Internet Marketing toolbox. If you want to hack through all the noise and get the information you need now, you'll need even more tools. Traffic Travis helps you quickly get to the real data you need to make your campaign a success.
Download your free copy of Traffic Travis now and arm yourself with the best SEO tools out there.