Written on September 12th, 2013 by
Simon Slade
Green energy is a hot topic. According to the Dow Jones' Factiva service, there has been an increase of about 950% in mentions of "solar energy" in print publications since 2002. Increasing numbers of national and local governments around the world are legislating for the increased use of green and alternative energies. Private citizens are also looking for ways to incorporate green energy solutions into their own homes, from things as simple as energy-saving lightbulbs through to complete DIY solar kits.
What Does Google Trends Have To Say?
Before building a website in any given niche you should determine whether it is evergreen, short-term, or something else altogether. The nature of a niche helps shape how you develop your marketing and promotion strategy. For example, in a seasonal niche (say "Halloween costumes") you need to pull out all the punches just before that niche its zenith; you wouldn't go gangbusters on a Halloween costume site in January, would you? Conversely, evergreen niches are ripe for the picking at any time of the year.
Here's the Google Trends for Search graph, demonstrating search interest in "green energy":

We can see that search interest in green energy reached a peak in 2009, and has declined somewhat since then. This decline in search volume occurred because conventional energy prices fell after the global financial crisis (you might remember that gas prices fell significantly around 2009, and have started climbing back up since). However, with energy prices for oil, gas, and electricity once again set to go through the roof we can expect that consumer demand for alternative energy sources will grow once more.
The future looks bright for green energy, so this is a niche with plenty of potential. Now we just need to find some quality keywords to target.
Green Energy Niche Keywords
The first step in doing keyword analysis is (strangely enough) locating an initial list of keywords. To do this I'm using the keyword research tool within Traffic Travis, which you can download for free here. With the free version of Traffic Travis you can find up to 200 keyword ideas in any given search; with Traffic Travis Pro you can find up to 2000.
Using the keyword research tool really is as simple as entering your niche topic or seed keyword and then clicking on the fetch button: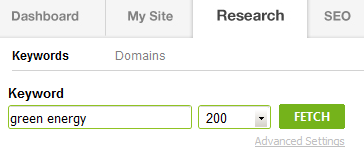 Traffic Travis will then get to work and return to you with a hearty list of keywords (click the image to see an expanded view):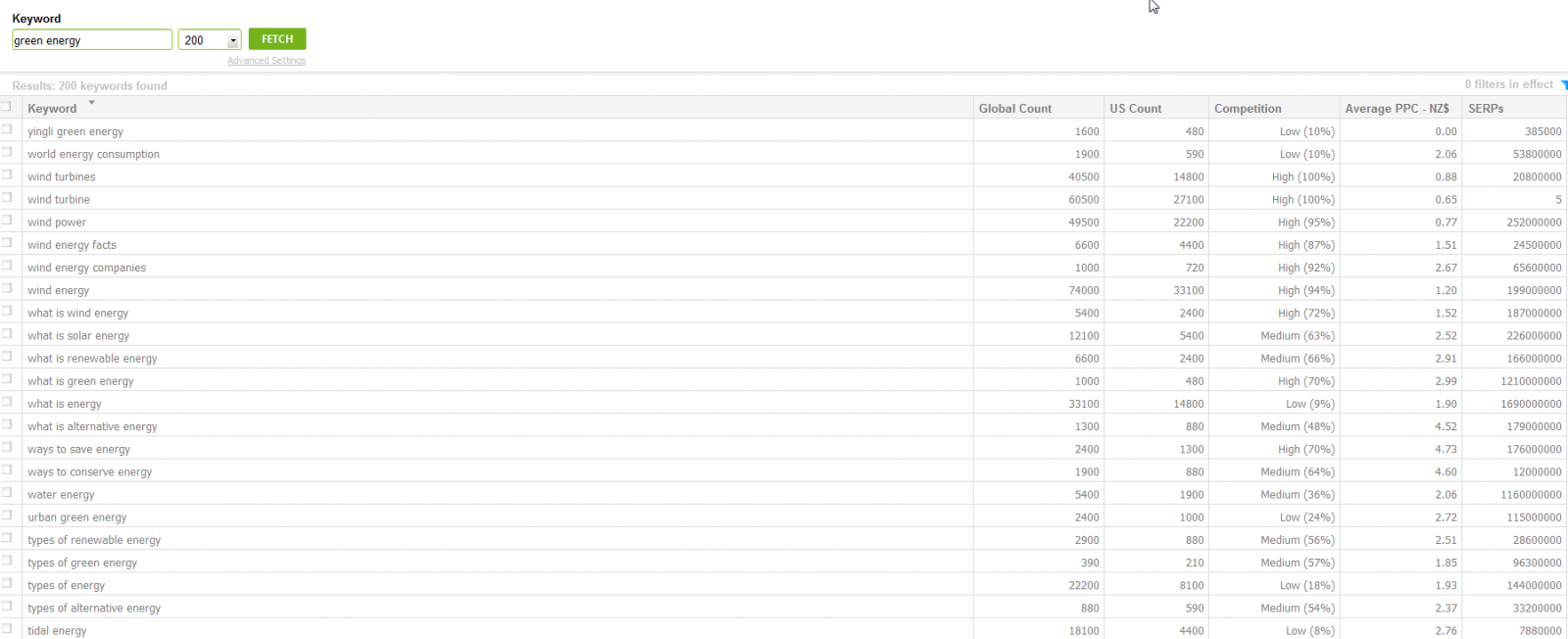 You can see a whole bunch of different keywords here, as well as relevant data like global search volumes. What I'm always on the lookout for are proper long-tail keywords (i.e. more than four words in a phrase) that have high search volumes.
Here are a couple of good examples—just click on the images to see an expanded view:


Determining Search Competition With Traffic Travis
I have found some "attractive" long-tail keywords with Traffic Travis within a few minutes of completing my search. However, it is crucial for anyone who focuses on organic search traffic (rather than using PPC, etc.) to have a good idea of the SEO competition in his or her niche.
Doing this is as simple as entering the keywords found using the keyword research module into the SEO competition tool in Traffic Travis. You can either enter a small number of keywords at a time or add the whole list of 200 in one go. If you plan on doing this, then you will need to configure a reliable spread of proxies (this is basically an intermediary server that lets Traffic Travis make multiple requests to Google at once).
Once the SEO competition tool has worked its magic you can scroll through and look for "easy" or "relatively easy" keywords. These are low-hanging fruit that you should be able to rank for with basic on-page SEO and link building.
Traffic Travis has analyzed "solar energy pros and cons" and concluded that this keyword would be relatively easy to rank for. Considering this keyword is a proper long-tail phrase and has a monthly global search volume of approximately 3,600 keywords, it would be a great keyword to target.
You can also drill down further using the SEO competition tool and explore the on-page optimization and link building of the top 10 results for any given keyword (click to expand the picture):

This gives me even more confidence that I could rank for "solar energy pros and cons," even with a new website. I can see that many of the top 10 Google listings for this keyword don't even have an optimized meta title, meta description, or H1 tag. Furthermore, there are results here with a Pagerank of 0—this all points to a seriously lucrative opportunity!
Conclusion
Anxiety is a very good niche and there are a multitude of people who suffer from this disorder. There are so many angles and degrees to which people are impaired by this disorder that you could find sub-niches using Traffic Travis (ie curing anxiety in teenagers has a high search volume and medium competition). If you are interested in this niche, I have done some research for you to help you find some really good keywords. You could download the anxiety keywords ZIP file here and import to Traffic Travis into your anxiety project. If you haven't already done so, you could download Traffic Travis for free here. Then you'll be able to add the keyword research file above and do further analysis. Thanks so much for reading! If you found this helpful, please share this blog post using the Facebook or Google Plus buttons :)
There is clearly a lot of interest in green energy and renewable sources of electricity. This is reflected in the large list of keywords I found using Traffic Travis (there are also many potential sub-niches you could target as well).
Many of the keywords in this niche do have significant search—and PPC—competition. It isn't exactly suited to beginners, but if you have some online marketing experience and know how to do SEO then there are plenty of lucrative phrases to target.
If the green energy niche interests you, or if you have already made inroads here, then I've got something very special for you. I've taken the 200 keywords I found initially using Traffic Travis and then run them through the SEO competition analysis module so you don't have to. This is a massive time-saver for you, and will get you taking action quickly. Download the keyword list ZIP file here and then import it into Traffic Travis. Follow these instructions to do so.
If you haven't already done so, then download Traffic Travis for free here as well; you will need it to do your own keyword research and make further analysis of the keywords I provided you with.
Thanks so much for reading! Please join the discussion below if you have any comments to add or questions to ask. Don't forget to share this blog post using the Facebook or Google Plus buttons either.