Written on May 7th, 2013 by
Simon Slade
​
How would you like the opportunity to win a free copy of Traffic Travis Pro… and become a paid writer for the Traffic Travis blog? This is your chance to expand your market reach further than you ever thought possible.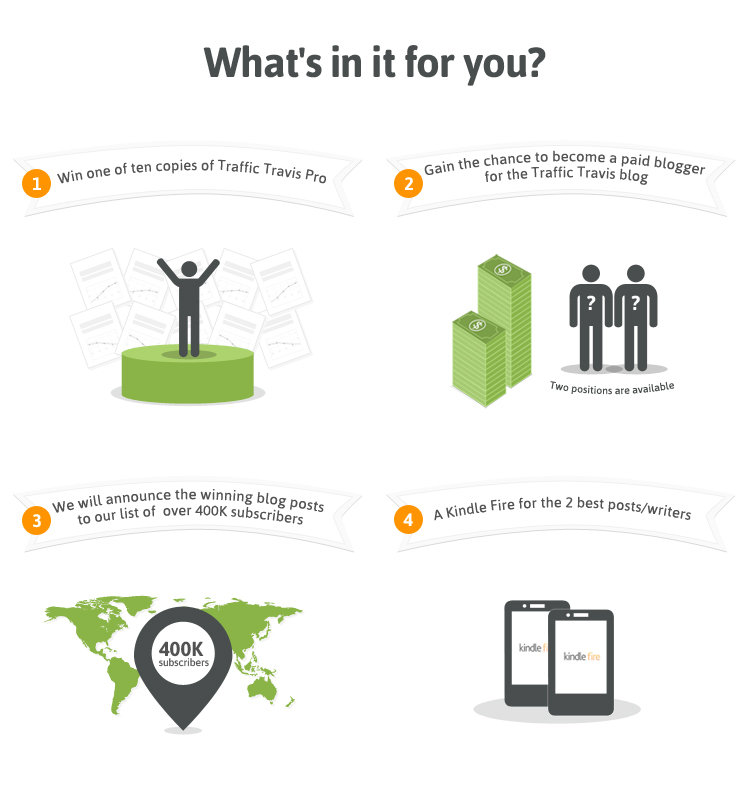 How to enter:
Write an engaging post on your own blog/website that demonstrates one feature of Traffic Travis, and how that feature improves an aspect of your inbound marketing. Write the best post you possibly can, because the chance to become a paid writer for Traffic Travis depends on the quality of your writing.
Feel free to use images and video as well – enrich the experience your readers receive.
Link your post back to the Traffic Travis website (http://www.traffictravis.com)
Send an email to support@traffictravis.com with your name, email and link to your blog post for review.
Application close on May 31st 2013. Winners will be notified by email.
It really is that simple!
What are you waiting for? Start brainstorming ways that Traffic Travis helps your inbound marketing, and then get blogging; it could be the most profitable post you ever write.
If you're stuck for ideas, you could write about...
How Traffic Travis makes finding links easier
Using the Page Warnings tool of Traffic Travis to ensure your on-page SEO is impeccable
Uncovering profitable campaigns with the PPC tools
Any other feature of Traffic Travis that you find useful for your inbound marketing
Even if you're new to blogging you should participate – the ten copies of Traffic Travis Pro are going to be randomly awarded, and as the old adage goes you "need to be in it to win it". So what are you waiting for? Get writing now!