Written on February 14th, 2014 by
Simon Slade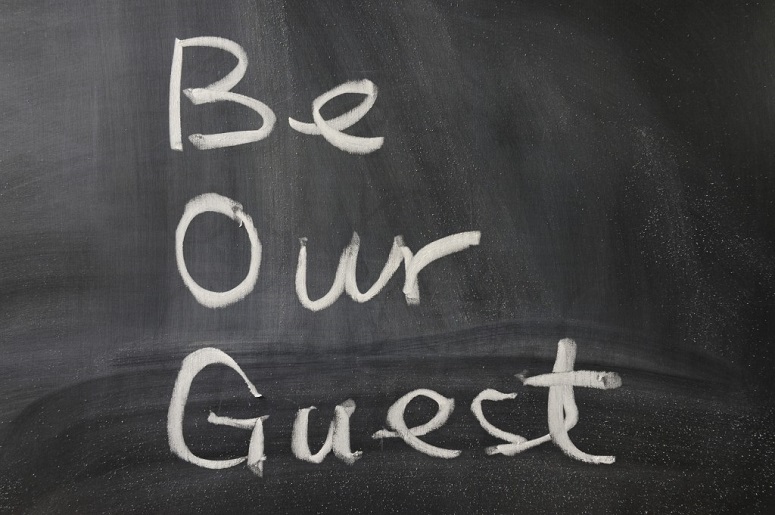 Guest posting as an SEO tactic got a bullet to the head in late January 2014 with Matt Cutts' announcement that most guest posts are viewed by Google as "too spammy."
Like any other SEO tactic, guest blogging had its day in the sun. It was all the rage in 2012 and 2013. You couldn't go on a forum, open an inbox or talk to anyone in online marketing without some new guest blogging/link-building system, product or service being shoved down your throat.
But things have changed, as they always do in the online space.
Guest blogging for the sole purpose of building links and increasing your SEO is no longer going to cut it, according to the top lightning rod at Google.
However, that doesn't mean this tactic is devoid of value if done correctly.
Despite the "new rules" guest posting is being saddled with, your business and brand can still profit from high-quality, well-researched and strategic posts on other blogs.
How Guest Posting Should Work
When done correctly, guest posting is a great thing.
You approach a big-time website in your industry (or one related to it) and pitch them a high-quality piece of content that their readers will devour. They get free and valuable content, their readers are more engaged and you get more interested readers coming to your website.
If you've done your job well, their readers will become your readers and hopefully fit nicely into your monetization plans.
The SEO benefit comes in the form of the link from their site to your site. Assuming you're guest posting on a big-name site, it will most likely have a higher page rank and domain authority than yours. The link juice flows and you're one step closer to High Rankings Nirvana.
The Downfall
Where there is a well-intentioned SEO tactic, spammers are sure to follow. Like other "loopholes" and tricks before it, the abuse of the guest posting system was sure to lead to Google taking notice.
This isn't Google just being a thorn in internet marketers' sides or trying to rain on our parade. Google makes its money by selling ads and will make a whole lot less money if people stop coming to the site because Google is serving up low-quality, spammy results.
Enter Matt Cutts' announcement on January 20th, 2014. He brought the gavel down and said if you're using spammy guest posting as an SEO tactic or are allowing paid guest posts on your site, it's time to stop.
While some in the online space acted like this was a lightning bolt from the heavens, the signs have been pretty clear that change was coming. In 2012, Mr. Cutts started talking about the abuse of guest blogging and how it would come to an end. In 2013, Google heavyweight John Mueller said smart marketers would make any links they get from guest posting no-follow.
Guest Blogging is Not Dead
Even with Google's algorithm devaluing spammy guest post links, there is no reason to stop using this tactic all together for your business.
As Matty Boy says, "There are still many good reasons to do some guest blogging (exposure, branding, increased reach, community, etc.). Those reasons existed way before Google and they'll continue into the future."
Press releases got a similar slap a while back, yet businesses continue to still write and distribute them. Email has long been the domain of spammers, but that doesn't mean you shouldn't build a list and market to it.
You just can't use guest posting on other people's sites purely for the SEO advantages. You need to do it correctly.
Guest Posting Done Right
If you can let go of guest posting only for SEO and want to reap the other benefits it offers, then here's how you do it right.
Determine Your Goals
Before you embark on this strategy and invest your hard work, resources and time, know what you want to gain from the process.
Since we're not looking to get links or increase our SEO, your goals are probably going to be more along the lines of one or all of these:
Position yourself as an expert in your industry
Getting more traffic directly from the post
Expanding your social reach and network
Making strategic business connections
Find the Right Opportunities
Once you know what you want to accomplish, you can go about making it happen by hunting down the best guest blogging opportunities.
Start doing some research and look for sites that are important in your niche or a closely related one. Use Traffic Travis (download your free version here) to research the big players in the niches you are looking to gain traffic from. Take a look at the backlinks, the competition and which keywords your competitors rank for so you get a better feeling for their quality and place in the ecosystem.
You also want to check for an engaged readership. Look at the comments on other posts. Are there a lot? Do the readers care? Finally, check whether the owner of the site is active on social media and has a decent following.
If you're having problems getting going, search for something like this:
Your Keyword + "submit a guest post"
Your Keyword + "guest post by"
The Pitch
Now you're ready to pitch your guest spot to the website owner. But don't just fire off a half-cocked email or contact form submission.
Dig into the site, the owner and the audience and really make your pitch irresistible. Make yourself intimately familiar with the guidelines for submissions so you're not shooting yourself in the foot from the get go.
Look at other guest posts on the blogs you want to write for. Have they done well? What kind of post does best on their site?
Finally, make yourself known by commenting on other posts, engaging site owners on social media and letting them get to know you a bit. Give before you ask for something, and you'll be surprised at how far you get.
What Bloggers Want
Ramit Sethi is a New York Times bestselling author and runs a blog with more than 500,000 monthly readers. It's safe to say he knows a thing or two about writing, blogging and this whole online marketing deal.
He gets bombarded with requests for guest posting so much that he actually wrote a piece on what he looks for in a guest poster. He recommends:
Being an up-and-comer blogger. Established authorities usually want to identify the next big thing and typically love new people with new ideas.
Bring something new and fresh to the table. There is no value in some big shot blogger letting you post some rehashed mess you stitched together.
Have content that is backed up by research. Include charts, data, quotes from experts and anything else you can get your hands on that validates your points. Anyone can string together some paragraphs solely constructed with their opinions.
Furthermore, remember that bloggers are busy people. When you pitch them, give them a short and concise email hitting on the major points. Have you ever opened a huge email and just not read it because it looked like it had more text than the Bible? Yeah, so have big-time bloggers.
Don't write something and then submit a request for submission. When you make your pitch, include a couple of ideas fleshed out with succinct bullet points and let the blog owner pick which one you'll write for the site.
Finally, make sure whatever you submit for the final product is 100 percent ready to go. Bloggers and website owners are like most people: They are lazy. They don't want to have to do extra work, so make sure you handle the following:
Your formatting matches the site.
You have included all relevant links.
You have uploaded the images to your server or some other external source.
You also send all images attached in the email.
You have proofread your piece.
Go Get 'Em
Like anything else in this world, if you're going to take a shot at guest posting, make sure you take the time to do it right.
If you didn't know before Matt Cutts' post that paying for links and providing low quality content to shady websites was wrong, then you know now. Don't waste your time, effort and money trying to game the system when you can reap much better rewards by just putting some work in.
Now you're armed for guest blogging success! Get started today by downloading your free version of Traffic Travis and researching potential guest posting opportunities.