Written on April 24th, 2014 by
Simon Slade
Hair loss affects 50 million men and 30 million women all around the world. It is a multi-billion dollar industry. You can provide the products and information for people who have problems on hair loss with your blog and monetize it, if you know how to choose keywords.
You've probably seen every idea to prevent baldness on television. People try comb-overs; use sprays that conceal thinning hair, toupees to cover bald spots, and apply gels and creams directly to the head; and take pills and supplements to encourage hair growth. Some people even undergo grafts to take hair follicles from other parts of the body and place them on their heads. Given so many options, which of these works, if any? People are very cautious about hair loss products, and this works to your advantage. If you promote products that are effective, then you could take advantage of the demand in this market.
What Does Google Trends Have to Say?
The hair loss industry is big business. Google Trends show that the keyword "hair loss" is in demand and has high search volume (lowest is 79 percent):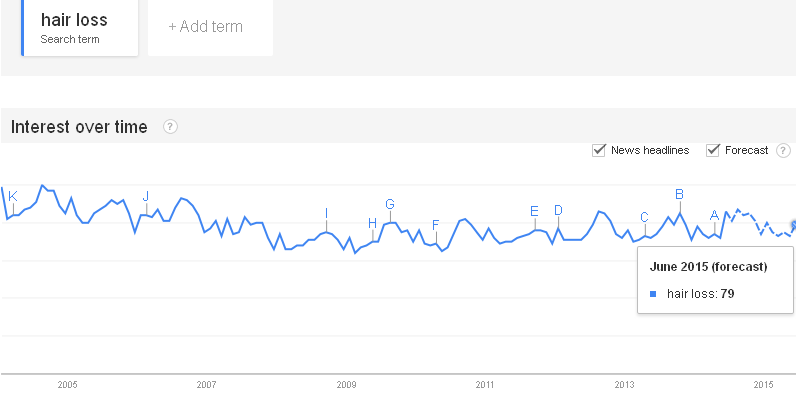 People who have hair loss problems are always looking for the best products. This is one of the evergreen markets which earns throughout the year and has really great potential.
Hair Loss Keyword Analysis
Traffic Travis has a keyword research tool you can use to find keywords that are most profitable for your website. The professional version gives you 2,000 keyword ideas while the free version offers 200 keywords per search. Enter your search term as you see below:

Traffic Travis will give you data on the global count, competition on paid traffic, average cost per click (CPC), SERPs and KEI values.

From the list, choose keywords that have high search counts (at least 1,000 searches per month) with low PPC competition. Add these keywords to your list and do further research.
Determining Search Competition with Traffic Travis
When choosing keywords, you want to check out how difficult it is to rank for them organically. For this, use the SEO competition tool in Traffic Travis. The software shows you the difficulty, page rank, backlinks, SERPs, search count, KEI and CPC of your keywords:
Let's analyze the keyword "how to stimulate hair growth," since it is relatively easy to rank for. To find more about the top sites for this keyword, click the "View Details" link at the last column. It will show you more information on your competition and find ways on how to rank at the top:

The top site for "how to stimulate hair growth" only has 61 backlinks to page (BLP). As you can see, all of the top sites are also not using meta tags. If you build relevant backlinks to your website and do proper on-page optimization, then it is possible to rank well and succeed in this profitable niche.
Conclusion
Hair loss is a highly profitable market. You can break into this lucrative niche through Traffic Travis. If you choose good keywords with high search volume and low competition, and use the SEO competition tool to find strategies to outrank your competition, then it will be easier for your website to rank and stand out.
If you are interested in the hair loss niche, I have done some research for you using the Traffic Travis Keyword Research and SEO Competition tools.
Download Traffic Travis for free here and you'll be able to look into the data I've gathered and do further research on this evergreen market.