Written on February 5th, 2015 by
Simon Slade
Writers love nothing more than writing about writing (just look at the
works
of
Stephen King
for proof). After all, it's one of the best ways to get paid for talking about your job. If you have blogging experience, you can turn that know-how into cash by teaching others how to blog.
Turning How-To's into Money
Most people who want to learn how to blog want to make money doing it. That's easy enough to do with affiliate marketing, so all you have to do is explain how it works for them. You can also make a tidy sum for yourself by referring them to training programs like Affilorama Premium.
So, now that we know how to make money in this niche, we just need to take a look at the keywords. Let's see what Google Trends and Traffic Travis can find for us.
Rising Interest in Developing Countries
First, the Google Trends analysis for the keyword "how to blog":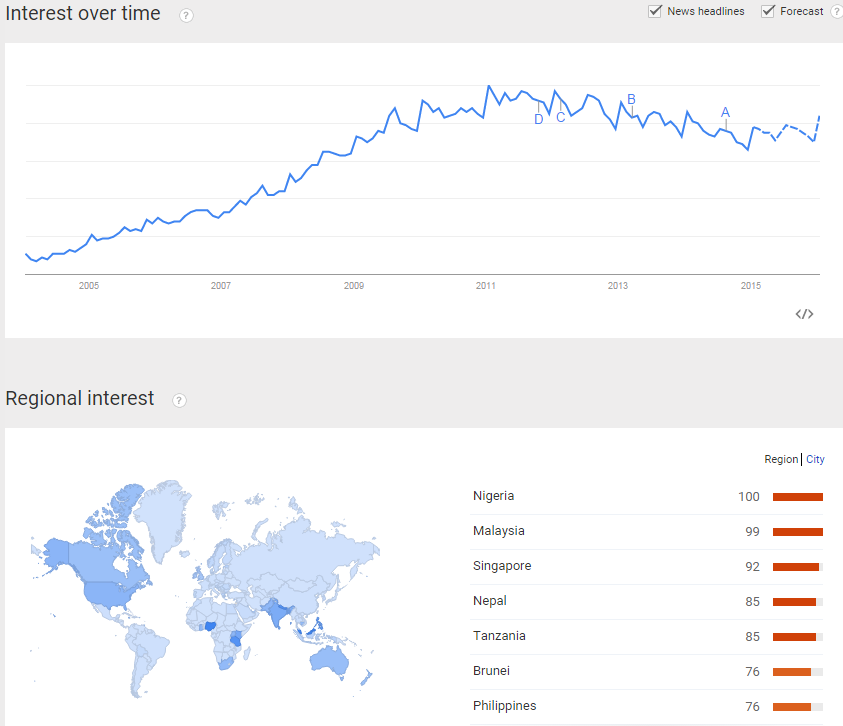 Interest has slowly fallen since 2011. However, people in developing nations and small countries are becoming more and more interested in it, creating new markets. I believe globalization will keep this keyword relevant for a long time to come.
Strangely enough, this does have noticeable seasonal patterns. Traffic usually plummets in December and peaks in January. The months of January through March and July through September are typically the best.
Blogging Keywords with Huge Search Volumes
Just in case we have any new readers in the audience, the following information comes from the Keywords tool in Traffic Travis's Research tab (see below).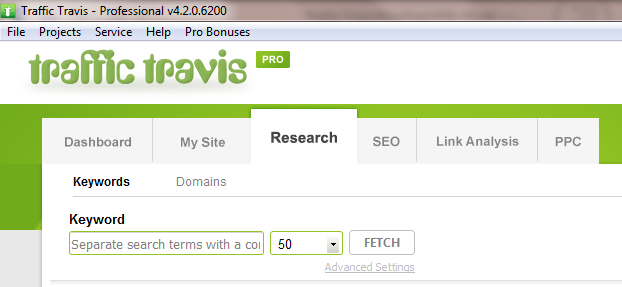 ​
I provided TT with four seed keywords and asked it to fetch 1,000 broad-match results. It came back with some spectacular results.
"How to blog" has an astounding 14,800 searches per month. The medium AdWords competition and low (for a keyword of this caliber) CPC suggest that it should be pretty easy for something with so many searches. However, I'm worried about the high number of SERPs.

"Blogging for beginners" has 2,400 searches. Less impressive, sure, but the AdWords bidding war is much lighter and the KEI is more than four times higher.

"How to make money blogging" is a beauty of a keyword phrase. Just look at it—8,100 searches per month and an elegant long-tail structure that encompasses at least four or five great keywords. It also has lower AdWords competition than the other two keywords, although the CPC is higher than for "blogging for beginners."

These keywords look great, but hold your horses. We need to review the organic competition before we start pumping out SEO articles.
Some Bad Keywords, Some Awesome Ones
Once I had some promising keywords, I added them to my Traffic Travis project and moved over to the Competition tool in the SEO tab.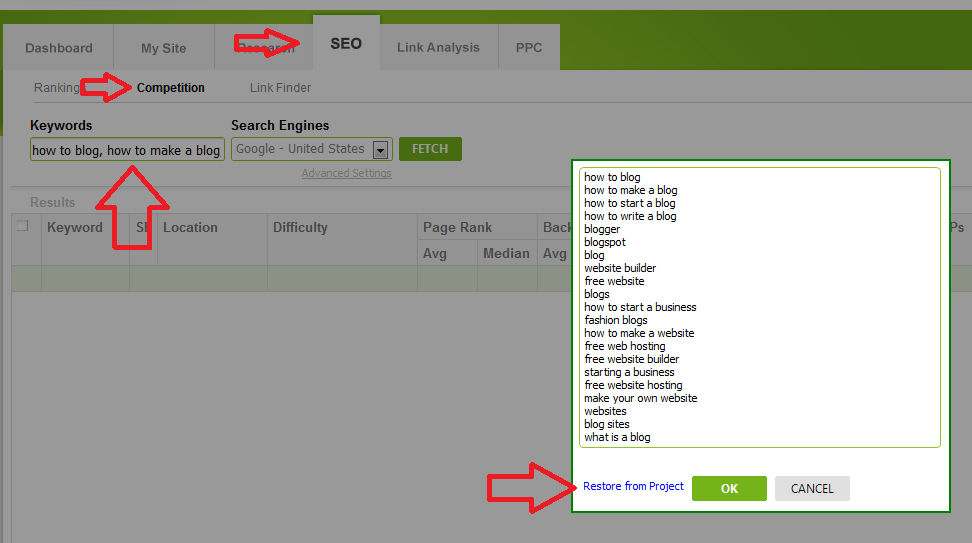 Things went poorly at first. Seeing "how to blog" pop up with a very difficult rating took some of the wind out of my sails.

I scrolled over to the far right and clicked on "View details." TT gave me more bad news: Almost all of the top pages are highly competitive authority sites. Still, most of them haven't optimized for this keyword, so they do have at least one weakness.
Blogging for beginners rates as difficult and looks very similar overall. The top pages have very high authority ratings but have done little to optimize for this specific keyword.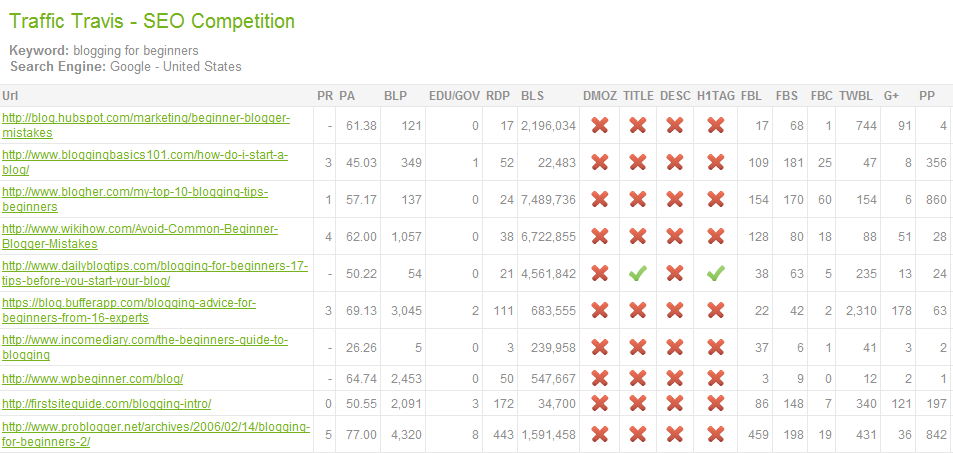 Traffic Travis also gives "how to make money blogging" a rating of difficult. The competitors have fewer .edu and .gov backlinks than those for the other two keywords, but they have performed more careful on-page optimization.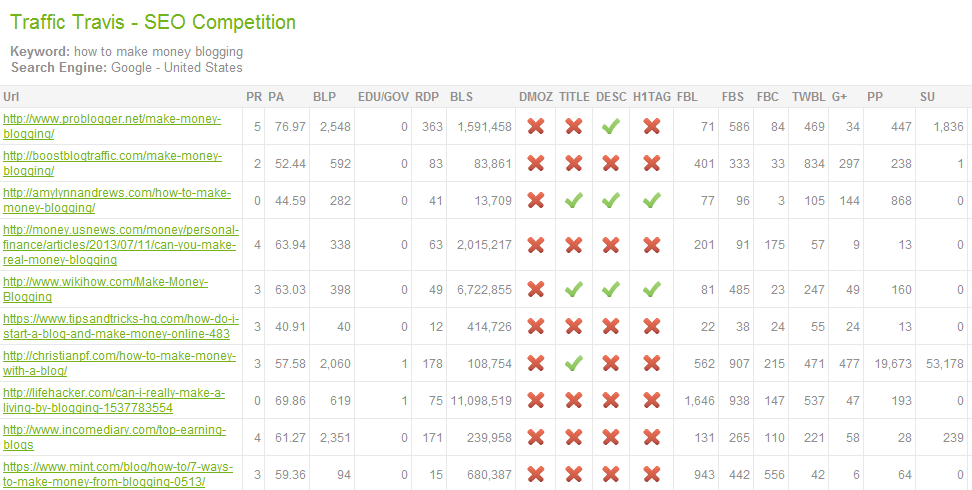 Okay, so I wouldn't recommend going after those three keywords. That doesn't mean the niche is a bust. In fact, I'm confident we'll find something great.
Take a look at "how to be a blogger." 1,600 global searches and a relatively easy rating.
Most of the top pages have very few backlinks going directly to them (see the BLP column) and they've done almost nothing in the way of exact-match optimization.
"How to become a blogger" looks even better at 2,900 searches and the same difficulty rating. If anything, the competition looks easier to beat!

I grabbed an extra treat for you guys: the Google trends data for these two keywords. Both reached all-time highs just last month!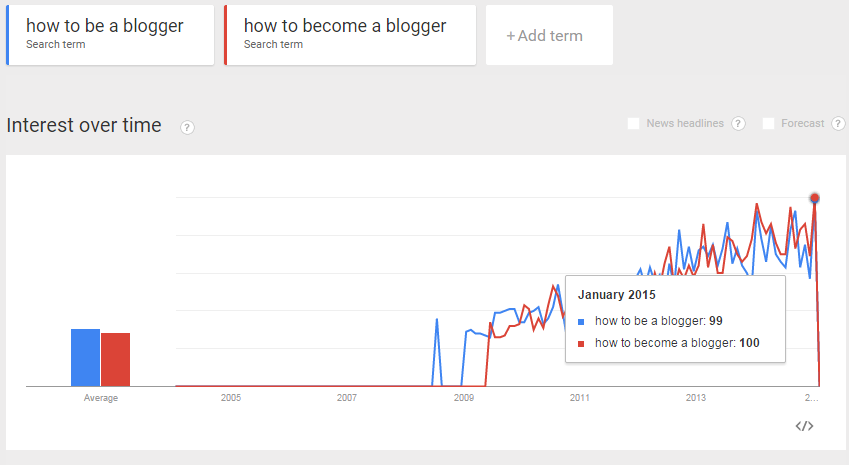 Get out there and grab these keywords before the competition kicks in!
There's More Where That Came From
I have only touched the surface here. The fact that I found two very promising keywords so quickly tells me that you can easily find more if you look.
Monetizing for this niche is a no-brainer. If you already have experience blogging, you don't even need to do any research to get started. Become an Affilorama affiliate, find some secondary keywords in Traffic Travis, and go make some money!
You can get the free version of Traffic Travis here. Once you have it installed, download the 1,000 keywords I researched relating to "how to blog" and upload them according to these instructions. Good luck!