Written on March 10th, 2015 by
Simon Slade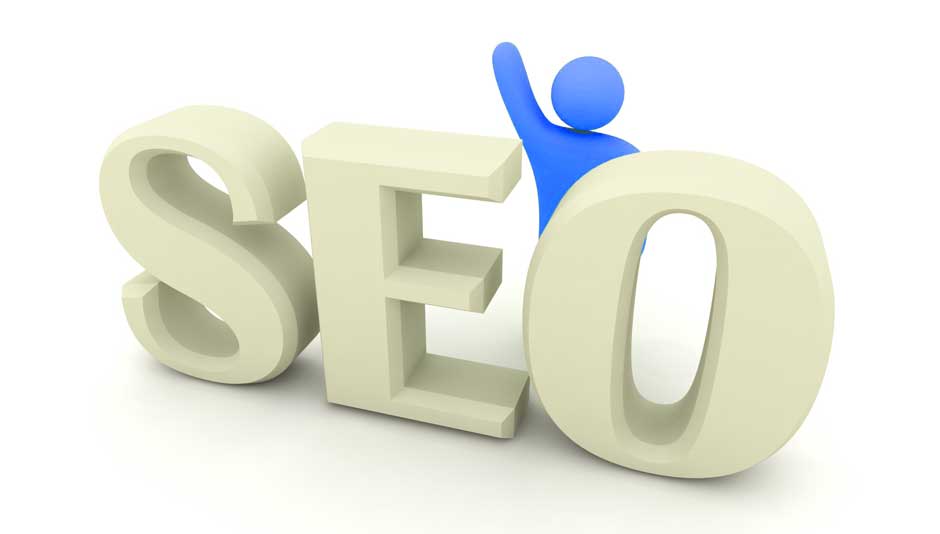 Thousands of people are searching for the best SEO money can buy. Thousands of others are looking for info on the industry's best practices. That's a lot of traffic that could be going to your site — but how can you use keywords with "best" in them without sounding like a scam artist?
The Secret
What would your first instinct be on seeing "best SEO" pop up in AdWords or in Traffic Travis? Probably to write something claiming that you're the best in the search engine optimization business, right? That's what came to my mind.
Most people won't believe you if you do that. They want somebody trustworthy to tell them that somebody else is the best.
Don't go around calling yourself the king of SEO. Instead, call yourself a neutral third party.
Use keywords with "best" in them to write good, informative articles that recommend other people's products, services and websites. You will quickly establish the sort of trust that gets visitors hitting that coveted "like" button. And you just might be able to sneak in the occasional affiliate link along the way...
Should I Bother Using Best SEO?
Google Trends shows us that "best SEO" has steadily gained traffic over the years, though it appears to be leveling off right about now. At the very least, it does not look like it will lose traffic anytime soon.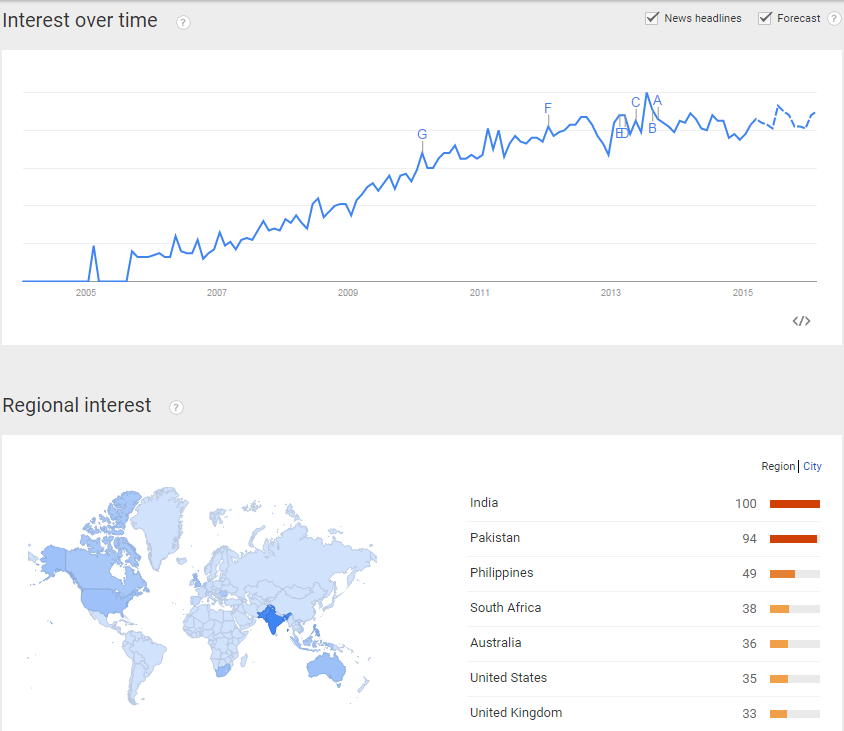 This keyword frequently does well in July. The worst dips in traffic (predictably) tend to take place in December.
Overall, you can expect this niche to do well all year round.
The "Best" Keywords
Using Traffic Travis's keyword research tool, I ran a search for 1,000 keywords related to "best SEO." It didn't take long for phrases to start catching my eye.
Our primary keyword has 1,600 monthly searches. The AdWords competition appears to be quite intense, so we should not expect good news from the competition analysis. On the plus side, it's very easy to incorporate into long-tail keywords, so you may get traffic from this keyword while you focus on other ones.

"Best SEO company" includes our main keyword and has far more traffic — 4,400 searches. Its competition looks much worse, though.

Since these don't look that promising, I decided to sort by average CPC and look for the most relevant phrases I could find. I eventually settled on "SEO news."

"SEO news" has more searches than either of our other keywords. You can also easily tack the word "best" onto it and include it in your title. Finally, it has little to no AdWords competition, so it should take less effort to rank for than the others.
All right, we have our candidates. Let's see what the Traffic Travis SEO competition tool has to say about them.
Best SEO Keyword Analysis
"Best SEO" scores a difficult rating—not too awful for a niche's core keyword.

The competitors are pretty tough, but most of them are not optimizing for this keyword. You could probably get on the first page of Google with a Page Authority of 40 and careful exact-match optimization.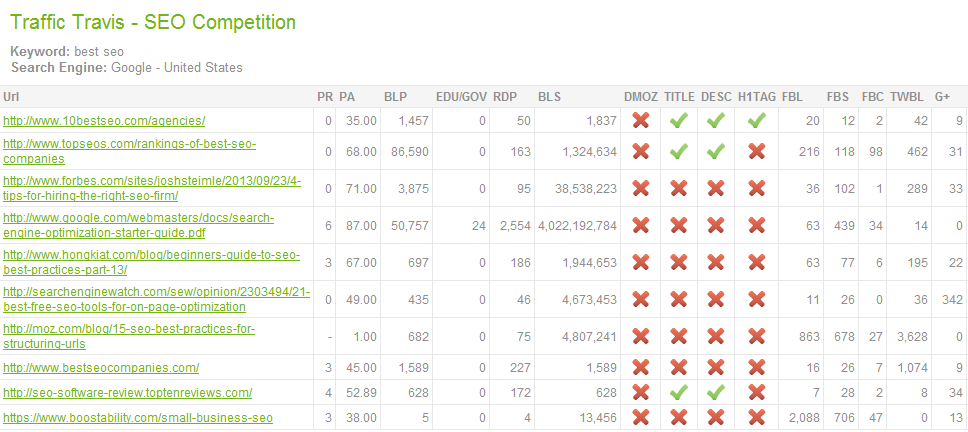 ​
"Best SEO company" brings up a lot of the same Google results. However, even fewer websites are optimizing for this keyword, so Traffic Travis has given it a rating of medium.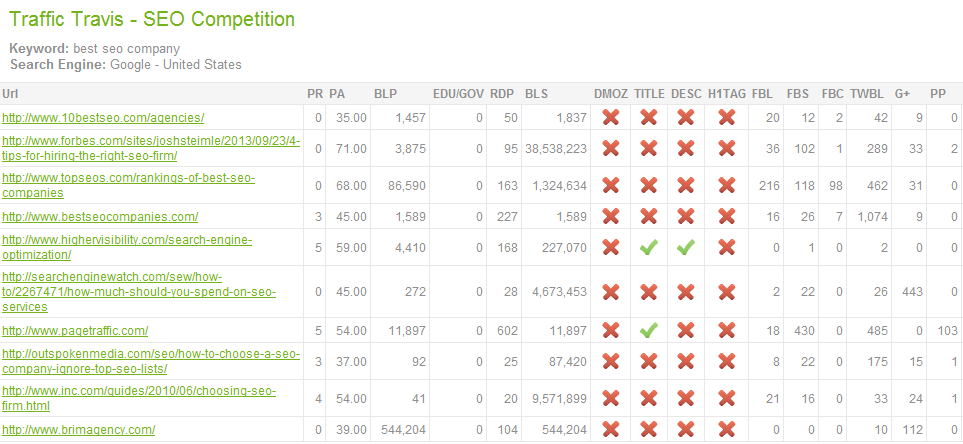 This keyword is a bit harder to size up. I wouldn't be surprised if you got on the first page with a PA of about 30 if your on-page work was spot on. Don't quote me on that, though.
"SEO news" looks much nastier. I should have known better than to use CPC bids as a measurement of competition!

The first page of Google results is dominated by renowned authority sites. Even though they aren't doing much to optimize for "SEO news," they don't need to when they have, in some cases, hundreds of .edu and .gov backlinks. I wouldn't go after this one.

Luckily, this niche does have a few low-flying keywords that make easy targets. Here's an idea on how to use one: Write a journalistic article ranking the best SEO analysts in the country.

"SEO analyst" has an easy difficulty rating and 1,600 searches. Most of the competing pages have a negligible number of direct backlinks, so you wouldn't have to fight too hard to overtake them.
​
You could also go after "SEO jobs." It has a relatively easy rating.

Local results cover the first page of Google—you can see in the competition screenshot below that several the top pages are based in Los Angeles. (Los Angeles is where my proxy is based, not where I am.) If you can write from a local angle, you'll have a great chance of at least ranking in your area.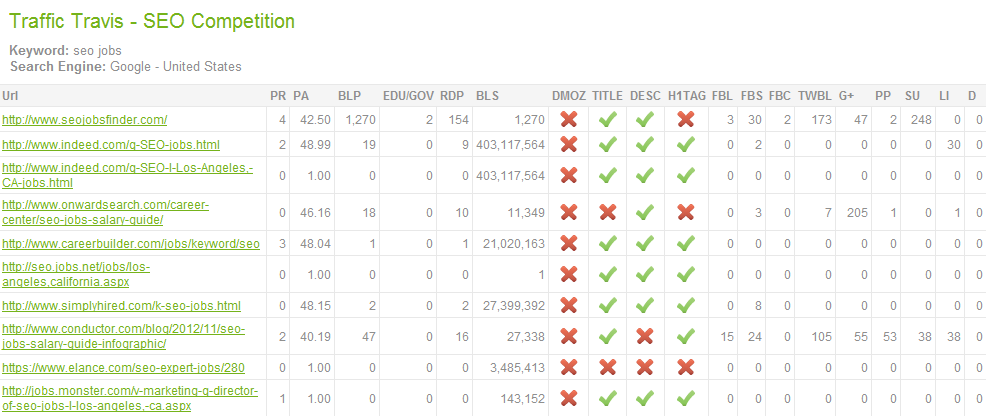 You could easily hit two keywords at once by writing about something like "The Best SEO Jobs in the Country." Get creative and you may well get great results from this keyword.
Is This the Best Niche for Me?
This niche has plenty of promising keywords. They're also remarkably versatile. You could use them to sell a product, advertise your own business, or simply provide high-quality information that is likely to get shared.
If your website focuses on SEO or online business, then you should definitely consider incorporating one or two of these keywords. You may even want to dig a little deeper and see if you can find phrases that reflect the unique character of your website.
To help you get started, I have uploaded my research on the best SEO niche. As always, you can find instructions for using the file here and download Traffic Travis for free here. Thanks for reading, and don't forget to leave a comment!