Written on October 1st, 2015 by
Simon Slade
The latest version of Traffic Travis (version number: 4.2.0.6429) has just been released! Please update your copy of Traffic Travis now. You can download Traffic Travis for free.
PDF reports aren't so useful if you want to populate several different data, and CSV reports show only raw data. Neither shows project data perfectly, nor do the reports come already linked so you can navigate the data easily.
We get it. Which is why we're excited to introduce new HTML reports.

We've enabled HTML reports for all main tools: MySite, SEO Rankings, SEO Competition, Link Analysis and AdWords Competition. In addition, we've incorporated a bundled overview report of project data.
Why Do You Need HTML Reports?
So far, you have been able to generate reports in CSV or PDF format. CSV reports are very good if you want to perform some additional manipulations with data. PDFs have the advantage of being a universal file type, and they're already formatted for easy reading and even printing.

That's all well and good for generating separate reports, but sometimes you might want to create a bundled report that incorporates navigation as well as details of the summary data. In this case, it's better to use our new HTML reports feature.
Here are a couple of situations where you'll benefit from HTML reports:
Scenario 1: You Want a Complex Project Report With Navigation by Details
Before, you had to export details manually for each row of data: for example, the page warnings in My Site section, or rankings history in SEO Rankings. But now you can simply press one button, select a report, complete with details, and save it as bundled zip file. The zip file contains linked HTML files that make it easy to navigate and analyze detailed data from broader categories.
Scenario 2: You Want Upload a Report to a Web Server or Send it via Email
Sometimes you need to present data to your clients in a simple way. The new bundled overview project report in HTML is the best choice to do this. It's easy to upload the report to your web server and send the link for the main file to your clients. You can even use the Traffic Travis Email Scheduler to send this report automatically.
How to Generate HTML Reports
To generate HTML reports, you just need to press the HTML button in whichever section of the report you need. The HTML button looks like this:

In some tools, an additional popup will ask you to select which report type you want to generate: one without details or one with details.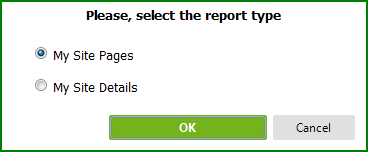 Once Traffic Travis generates the report, you will see something like the following, with hyperlinks to additional information: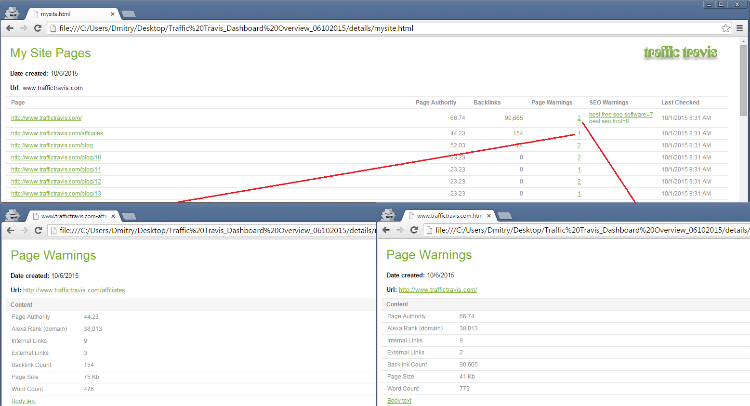 Now it's time for you to go and try out this new feature for yourself! Remember, if you have any questions, you can always contact Traffic Travis support.