Written on March 13th, 2015 by
Simon Slade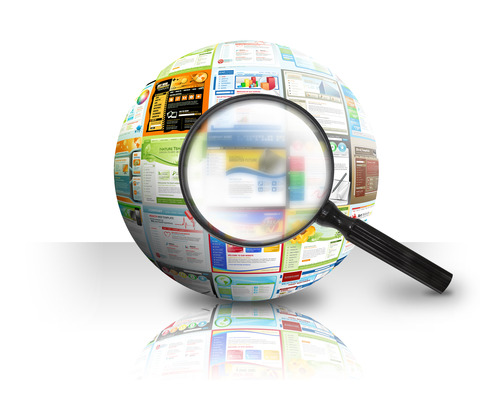 During my keyword analysis of the best SEO niche last week, I came across the promising keyword "best SEO company." With 4,400 monthly searches and moderate organic competition, it seemed like a sub-niche that might hold some valuable secondary keywords. I decided to take a closer look.
Before I get into my findings, I should probably cover the basics for those who didn't read last week's blog post.
Keywords like "best SEO" seem hard to use at first. However, they are far more versatile and easier to use than you might think!
The key to using keywords like this is to focus on building trust. Provide honest reviews of other companies and services that you think qualify as the best rather than trying to sell yourself as no. 1. Your readers will love you for it.
Of course, a clever marketer might also slip some affiliate links into those recommendations...
Now, on to today's niche!
Will People Still Be Searching for "Best SEO Company" Tomorrow?
Let's see what Google Trends has to say.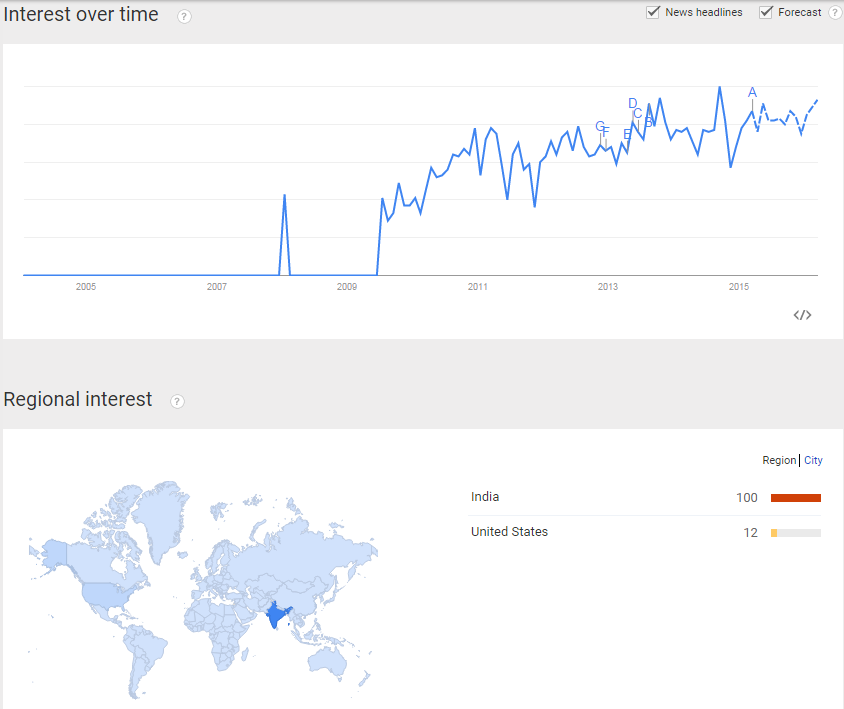 This looks good. Traffic reached an all-time high as recently as September 2014, and Google predicts that it will continue to climb in the near future.
The niche is characterized by sharp rises and falls in traffic. There appears to be no rhyme or reason as to when these fluctuations occur—the worst months tend to take place during the winter, but they can hit just as easily in the summer.
You might have a couple bad months with this keyword, but overall, it should provide tons of traffic on a regular basis. With interest trending upwards, you can expect increasing return on your investment over time.
On a localization note, India has far more interest in this keyword than any other country. India-based SEO companies should give it serious consideration.
Search Volumes and Related Keywords
You already know that "best SEO company" has plenty of searches. Here's the Traffic Travis screenshot proving it:

Unfortunately, the AdWords competition is terrible. I wouldn't go after this keyword expecting to achieve quick success through advertising on Google.
"Best SEO services" could work well as a synonymous keyword. It has 2,400 searches.

The competition does look worse from what we can see here. However, I've learned to never judge a keyword until I've run it through the Traffic Travis SEO competition tool. What does the AdWords competition matter if the organic competition is low?
I want to point out that both of these are long-tail phrases that include keywords with over 20,000 searches. Take a look at the screenshot below.

Add in a few thousand searches for "best SEO" and it becomes apparent that both of these keywords are worth a lot more than they appear to be. If you could rank for all three obvious keywords inside one of them, you could get 30,000 impressions per month—from one article! That's something worth fighting a tough SEO campaign for.
"SEO agency" intrigues me. It has 5,400 searches per month and exceptionally high KEI for a keyword in this niche, but an absolutely appalling price for CPC ads. It could have extremely intense or extremely low organic competition.

Enough speculation. Let's fire up the SEO competition tool!
Keyword Analysis
"Best SEO company" comes up with a rating of ... difficult? Wait, what?! It had a medium difficulty rating just last week!

Here's last week's screenshot for proof:

It's possible that Traffic Travis gave me an easier rating last week because I didn't ask it for a couple of the details, such as InAnchor or InTitle. This week's extra info may have contributed to its higher difficulty rating.
Well, that's just embarrassing. Let me see if I can find something else to blame it on real quick.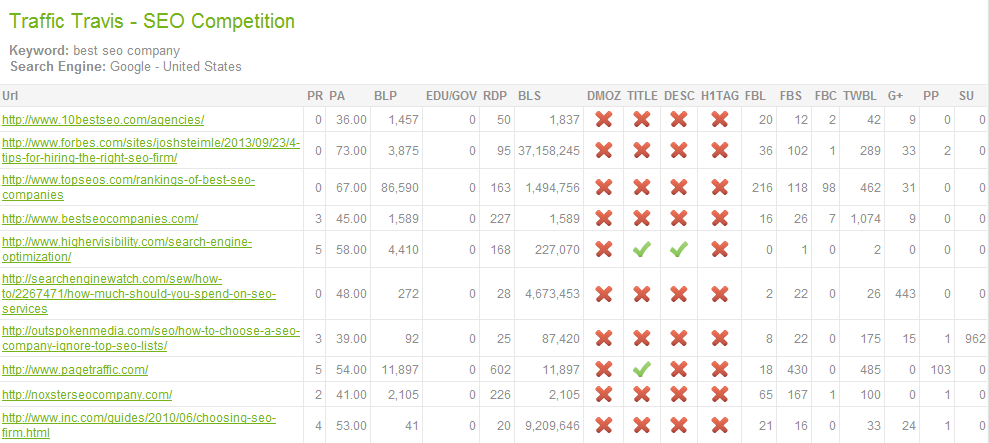 This week's analysis.
A couple of things have happened in the last week: Moz has updated its Page Authority ratings, Google has shifted its rankings around a bit, and some of these websites have gotten more backlinks indexed. For example, the topseos.com page (result no. 3) has more than 170,000 more backlinks than it did last we checked! This just goes to show how quickly a promising keyword can get snatched away.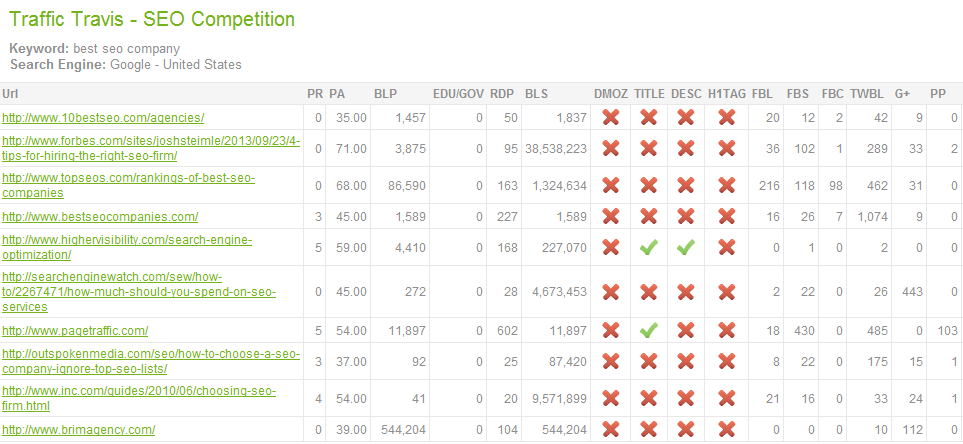 Last week's analysis.
​"Best SEO services" also has a rating of difficult.

The reason why becomes obvious when you look at the SEO competition—the top three pages are the exact same as for our primary keyword. The amount of exact-match optimization across all 10 competitors also looks about the same.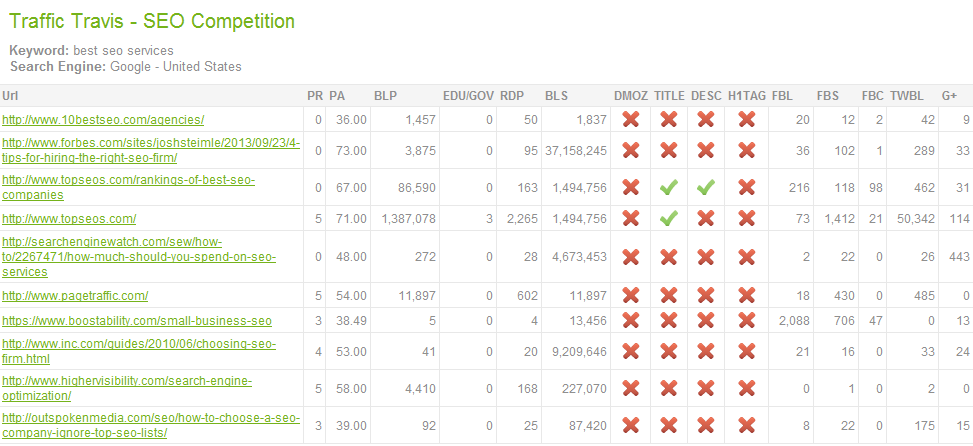 I knew that the competition for SEO agency could be bad, and it's bad. TT gives it a rating of very difficult.

Still, the competitors could do a much better job of using the keywords in their titles and H1. I wouldn't rule out the possibility of overtaking them. Just keep in mind that climbing the rankings will require a LOT of backlinks.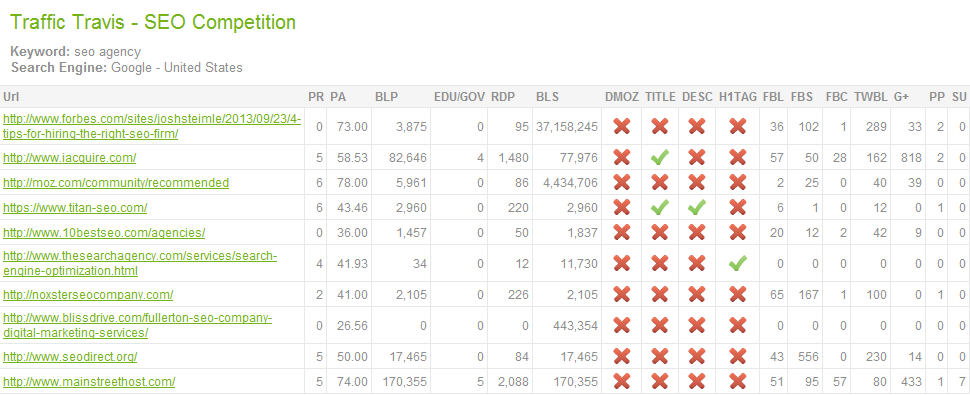 I checked "SEO services" and "SEO company" as well. The former had a rating of difficult, and the latter a rating of very difficult. However, both featured a lot of local results, so you might be able to rank pretty easily with good local SEO.
If you'd like to get a closer look at these keywords and the other ones I've discussed, you can download my research and use it in your own copy of Traffic Travis. Instructions for using the file are available here.
After filtering out keywords with fewer than 1,000 searches per month, I have to call this a tough niche. Nothing with an easy or relatively easy ranking grabs my attention—at least, nothing that I haven't already talked about in previous articles.

​
Will Only the Best SEO Companies Rank?
"Best SEO" turned out to be a pretty good niche, and "best SEO company" was an easier keyword—at least last week. I thought that we would find a few easier keywords here as a result. Now, I think I should warn you away from this sub-niche unless you really are one of the best in the optimization business.
If you do have a big budget and years of experience to back you up, then these could be worth it. Remember, by optimizing effectively for "best SEO company," you would also be optimizing for "best SEO" and "SEO company." Those 30,000+ impressions could quickly translate into over 10,000 monthly visitors if you manage to fight your way to the top.
At the very least, we've learned two valuable lessons here: a seemingly good keyword can become challenging in a matter of days, and a decent keyword does not necessarily signify an easy niche. It just goes to show that you should test the waters before jumping in.
Ready to perform your own keyword analysis? Register for a free copy of Traffic Travis. Don't forget to hit the Like button if you found this article helpful!