Written on November 28th, 2014 by
Simon Slade
Many people use Traffic Travis to run their own keyword research service. You may already be running one yourself. Even if not, you've probably thought about giving it a try.
Establishing your expertise in this field can be difficult. The best way to do it is by having a high-ranking website where clients can find you, as this instantly proves that you are good at your job. However, by going up against other SEOs, you're pitting yourself against some of the harshest possible competition.
There are very few promising keywords related to keyword research. Most either have extremely high competition or a limited number of searches per month. We recommend this for advanced SEOs only—but of course, you should only sell yourself as a professional researcher if you are already skilled in this field!
With all of that said, here's what you should NOT do when trying to establish your keyword research service.
1. Limit Yourself to the US or UK Market
Google Trends shows some very interesting regional patterns for keyword research. The Philippines, India, and Australia are all more interested in it than the United States and the UK.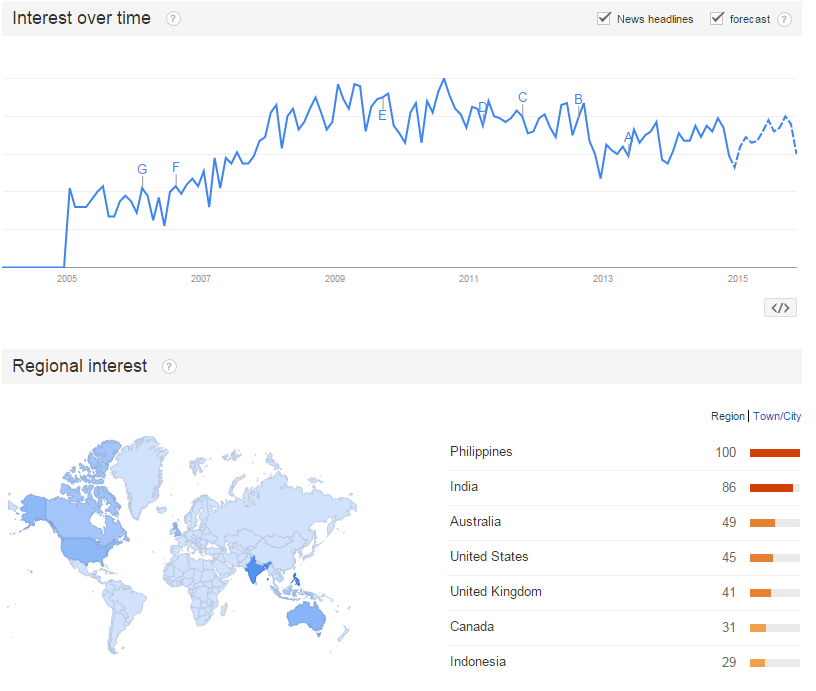 As usual, we have focused on the US, but our results were not great. You may be able to find better options if you focus on the English-speaking Pacific market.
Other noteworthy information about interest in this niche: It reached its peak in August, 2010. Interest does not seem to be seasonal and highs and lows can occur in any month. The glory days were from 2008 to 2012, when everyone and their uncle wanted to learn more about keyword research, but interest is still strong and Google has predicted a promising future for it.
2. Optimize for the First Keywords You Would Search For
We had hoped to find some promising keywords along the lines of "how to do keyword research," but even a quick glance at these more obvious keywords shows that others have already thought about them.

We decided to look for some long-tail keywords with high search volumes. Virtually all of these had high AdWords competition.
One of the first that came to our attention was "search engine optimization SEO," which is a nice four-word keyword with 18,100 global monthly searches. The PPC competition is very high, though, and it is little hard to optimize a page for this while using correct grammar.

"Keyword research tool" seems like a bit of a better choice. It contains our primary keyword and has 8,100 global searches per month. It could be a good choice if you are an affiliate for an SEO research program, but the AdWords competition for this is very steep as well.

Most of the keywords that have low PPC competition are related to specific programs. Quite a few are misspellings of AdWords, or are things related to Google Analytics. It is no wonder that the competition is low in these cases—Google itself will always grab the top two or three positions for itself.
If you are okay with appearing lower on the first page, it may be worth creating some tutorials for these programs. People who have trouble with the standard training may try what you have to offer instead.
3. Try to Rank for the Most Popular Keywords
The top-ranked websites for this niche's best keywords have tight control on their positions. It would take an incredible effort to fight through the crowds of powerful websites vying for these keywords. Most keywords with high search volumes are best avoided.
"Keyword research" has 12,100 global searches per month, which is enough to get any SEO's mouth watering. However, it has a competition ranking of extremely difficult—as close as Traffic Travis gets to saying "impossible."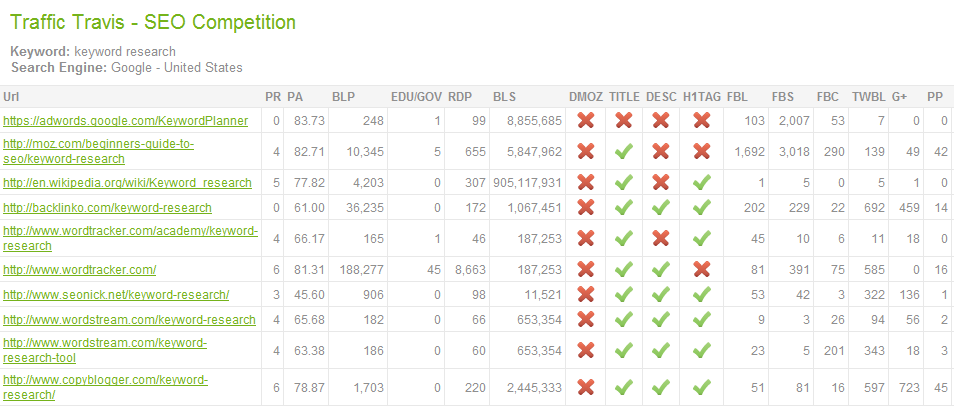 "Search engine optimization SEO" also has an intimidating ranking: very difficult. The cost per click is an absolutely terrifying $20.39 and most of the top-ranked pages are such heavyweights as Wikipedia, Moz and Google itself. None of them has an exact match for the keyword phrase, but it's easy to see why and I would not count on an exact match getting you a better ranking.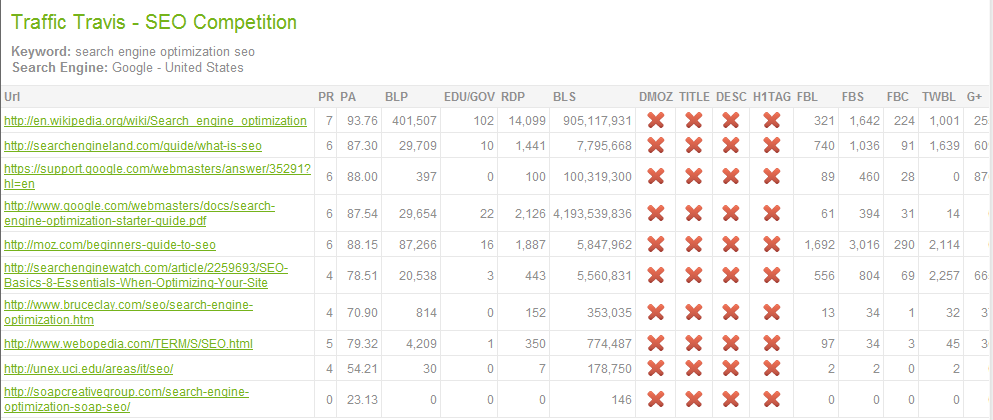 It is worth noting that these keywords have very high global KEIs. They may be much better choices outside the US.
"Keyword research tool" ranks as very difficult as well and has a CPC of more than $6. Surprisingly, many top-ranked pages do not have exact matches. A master SEO might be able to rank a new website for this keyword.

So far, so bad, right? Let's take a look at some of the Google program options.
"Google Analytics alternative" has some harsh AdWords competition, but is relatively easy to rank for organically. It has 1,300 global searches per month. If you serve as an affiliate for an Analytics alternative or something that you could market as one, then give this keyword a shot.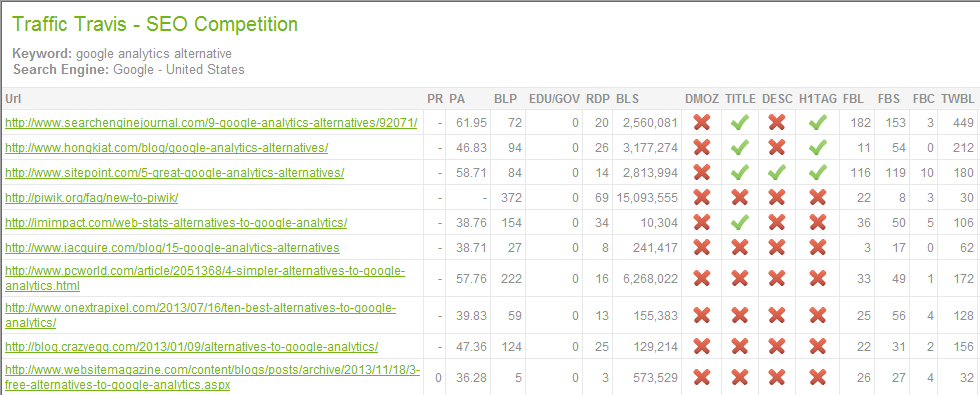 "Google Analytics training" has similar PPC competition and the same difficulty ranking. It also has nearly three times as many searches per month. You might never place in the top three, but even the fourth-best website should get a decent amount of traffic with that many monthly searches.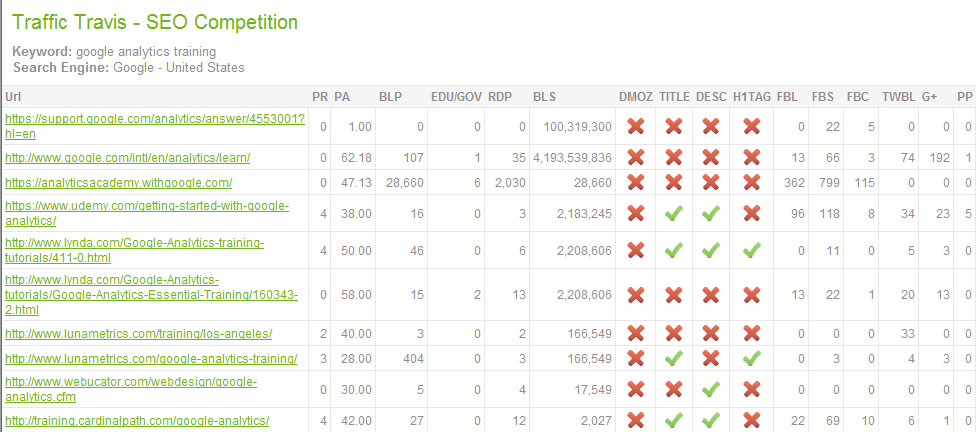 There are some great keywords that are relatively easy to rank for but have low monthly searches. Examples include "keyword research service," "high volume keywords" and "Google Analytics consultant." These are much more useful general-purpose keywords for an SEO company, but they will not provide a ton of traffic.
Is the Keyword Research Niche Worth Trying?
Keyword research is a brutally difficult niche. From what I've seen here, I can only recommend pursuing it if your SEO knowledge rivals that of Matt Cutts, if you have a high-priced, high-converting product that will justify exorbitant CPC costs, or if you're willing to take the time to optimize your site for numerous low-powered keywords.
However, there may be a better way. We have seen hints that other countries might have more promising markets. You may also be able to find a better angle with a keyword that we have not thought of.
I have attached the Traffic Travis competition analysis for the 1,000 keywords I reviewed for this post. Click here to see the data for yourself and go here if you have any questions about Traffic Travis. Remember to download the free version of TTv4 if you don't have it already.
Have some better ideas for optimizing a site for keyword research? Be sure to let us know. We are always happy to hear from you!