Written on May 1st, 2014 by
Simon Slade
A solid keyword tool is a must have for any serious Internet Marketer.
The amount of time you will save by using a keyword tool like the one found in Traffic Travis (get your free download here) is immeasurable. Collecting and analyzing this data by hand would be extremely time consuming and would drastically limit your ability to research multiple niches and keywords.
You need something that can pull all of the data you need, organize it in a way that doesn't make you want to gouge your eyeballs out trying to understand it and give you clear and actionable insights.
Otherwise, you could be in danger of sabotaging your campaign even before it begins.
The Importance of Proper Keyword Selection
Keyword tools are about more than just picking the keywords that will produce the best results. They make it easy for you to analyze huge amounts of data on a superhuman level.
Doing it all by hand would easily lead to mistakes or just selecting the best keywords you have found so far because of the time you have spent. And this would be Internet marketing suicide.
You can't build a house on a foundation of sand. You can't start off a (healthy) relationship with dishonesty. You can start a diet by eating junk food. Beginnings are important and if you get this one wrong, you're dooming your chances of success.
Just think about all of the vital aspects of your campaigns that depend on your keyword research and selection.
Domain selection: Even if you're staying away from exact match domains these days, you will work some version of your keywords into your domain or URL (categories, post/page names, etc).
On-Page SEO: If you pick the wrong keywords, your meta tags are going to be targeting all the wrong terms.
Content: We all know that "Content is King" and that you have to create high quality information for your users to absorb in many forms (copy, video, images, infographics, emails, etc). Just imagine all of those hours (or money you spent to outsource the work) wasted!
How External Keyword Tools Work
The sheer volume of keyword data out there is beyond comprehension. In order for any tools to work, they have to be able to access the large search engines' databases of keyword information.
The most common source of this information is the Google AdWords Keyword Planner (previously called the Keyword Tool). This was originally intended for paid advertisers to be able to look up keywords, competition, volume and so on.
You can access it yourself, but it's not exactly designed to pull the information you are specifically looking for. For example, it lists out competition data but that is in reference to the paid search market, not SEO competition.
Additionally, Google and other search engines don't have the best user interface. It becomes time-consuming and difficult to search for keyword variations, delete duplicates and keep everything in order. Even an Excel god would have issues keeping everything in line.
So, external keyword tools like the module inside Traffic Travis pull all of the data from the search engines and then present it to you in an easy-to-understand format while ditching all of the useless information.
Traffic Travis Keyword Tool
The "Research" module of Traffic Travis is where you will find our keyword tool. Use it correctly and you will soon consider an indispensable tool in your marketing arsenal, just like we do.
Here's how to use our keyword research tool to the fullest:
Discover Good Keywords
Even after using a keyword tool to gather your list of potential targets, you'll still be left with a deluge of information to wade through. So, how do you decide if you should pursue a keyword or not?
Traffic Travis offers a wide variety of filters and advanced features to help you sort through all the junk and find the keyword gems.
Here's what we look for when filtering through keywords:
Low Competition
You want to find a keyword that doesn't have a whole lot of competition. However, there isn't a set number that defines high or low competition.
It will vary by the niche, the industry and even your experience/resources. For example, if you're an expert SEO working for a giant company with a huge marketing budget, what others might consider a lot of competition you'd laugh at!
To help simplify all of this, Traffic Travis uses a multitude of factors to come up with its competition rankings. It gives your keyword a ranking starting at "very easy" all the way to "very difficult."



Good Search Volume
You want to find keywords that get enough volume to make your SEO efforts worthwhile. The more traffic you can get, the more likely you are to convert users into paying customers.
But, the highest-searched keywords often have the stiffest competition. Balance these two factors when looking for terms to target with your campaigns.
Finally, consider your end goals, because you may not need a lot of volume. If you're promoting some affiliate email submit offer that pays out $1 you're going to need a whole bunch of traffic to make some real money. On the other hand, if you are helping a plastic surgeon get more clients that pay $5,000+ to be augmented, you're not going to need a ton of traffic.
Likely to Convert
In that situation, you won't care about volume as much as you'll care about conversion rates. Basically, how likely is the searcher going to do what you want them to do?
People who are looking for general information about plastic surgery will search for different terms versus people who are trying to find prices for a specific surgery in a specific location.
Relevancy
Sticking with the example above, if your doctor client specializes in nose jobs, keywords about liposuction or even generic plastic surgeon keywords won't convert as well.
We only want to target keywords that are directly related to the way we are trying to monetize the site. Just because someone wants a nose job doesn't necessarily mean they might want liposuction. Don't waste their time and yours by targeting keywords that aren't 100 percent relevant.
Use Different Search Methods
Another way that Traffic Travis helps you find better keywords is by letting you use different match types during your search.
There are three different match types you can use:
Broad-matched keywords don't allow you to be very specific. Anything even loosely related to your keyword will populate here. If you search for "red widgets" a broad match result could contain both or either word plus more and in no particular order. Results could be "best red widgets," "widgets from Endor," "red flag monkey widgets" and so on.
Phrase-matched search results will deliver fewer terms than broad but the keywords are more targeted. You are sure to have your keywords in the final result plus extra words. So, following our "red widget" example, phrase search results could be "red cheap widgets" or "red widgets in Chicago"
Exact match keywords will give you the exact keywords in the exact order plus additional keywords before or after.
To select which match type you want your results to be in do the following:
From the main dashboard, select the "Research" tab.
Click "Keywords."
Click on "Advanced Settings" and you'll be able to select the match type you want.

Localization
Often you will find a need to perform a search from a certain location in order to get the best search results.
This often comes up when you are working on SEO for a client in another country or on your own campaign that is targeting another country or language.
Under the same "Advanced Settings" menu you can adjust these settings to fit your needs.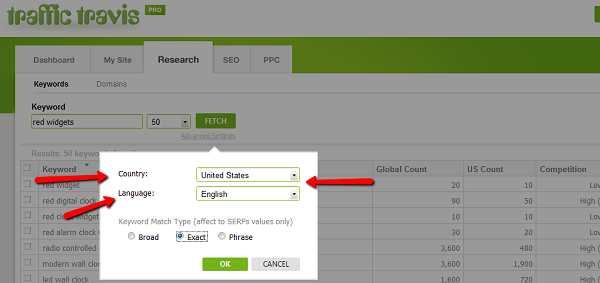 Start Digging
If you're serious about Internet marketing then you need to get yourself a keyword tool to make your life as easy as possible. But don't make the mistake of thinking that just because all keyword tools get their data from the same places that they are all the same.
Make sure you consider the user experience, exporting options, ease of use and advanced features when selecting an external keyword tool. Also, make sure you're not using a stand-alone keyword tool.
There is a lot of analysis and work you need to do with your keywords after you find them. So, why use a stand-alone keyword tool and doesn't help you get the rest of the information you need? You'll end up having to export your work and use (or possibly pay for) two tools!
Here at Traffic Travis, we know that our keyword tool is awesome, which is why we offer a free download to let you try it out. The best part is that the keyword tool is just one of dozens of tools that will help you run a campaign, from research to link building.
Finally, make sure you don't end up spinning your wheels with endless analysis of keywords. Personally, I love keyword and niche research, and it's easy to let the hours get away from you when you're hunting down your next big opportunity.
Analysis is great, but take action! Take your time researching to make sure you're starting off in the right spot, and then get working on the next steps!