Written on January 9th, 2015 by
Simon Slade
Local SEO has become tremendously valuable. According to this Business 2 Community article, nearly half of all Google searches bring up local results. This has opened a huge and growing market for SEOs like us.
Say you were visiting Washington, D.C., for the first time and needed to find a place to spend the night. Odds are that you wouldn't just drive down the road looking for a place with a vacancy sign. You would type in something like "Washington DC hotels" and get search results like this: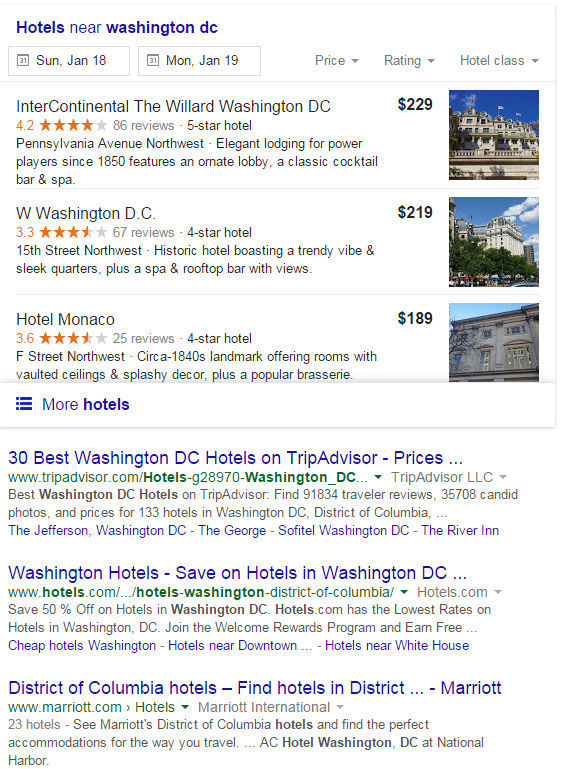 I don't know about you, but my first instinct is to click on More Hotels and find one with good ratings and the right price.
All of the hotels that ended up there did so by using good local SEO. You can bet good money that this brings them a lot of targeted traffic.
Brick-and-mortar businesses need to take advantage of this if they want to maintain a competitive edge. As word gets around, more and more of them are climbing onto the bandwagon and looking for skilled SEOs like you to help them gain as much business as possible. Here, I'll prove it to you:
Interest in Local SEO Is on the Rise
If you've read our last couple of blog posts, you've probably noticed a pattern: most major SEO niches have lost a significant amount of traffic since 2012. We finally broken that string of bad luck. Google Trends shows that interest in local SEO reached a new high in March 2014. It only seems to be climbing!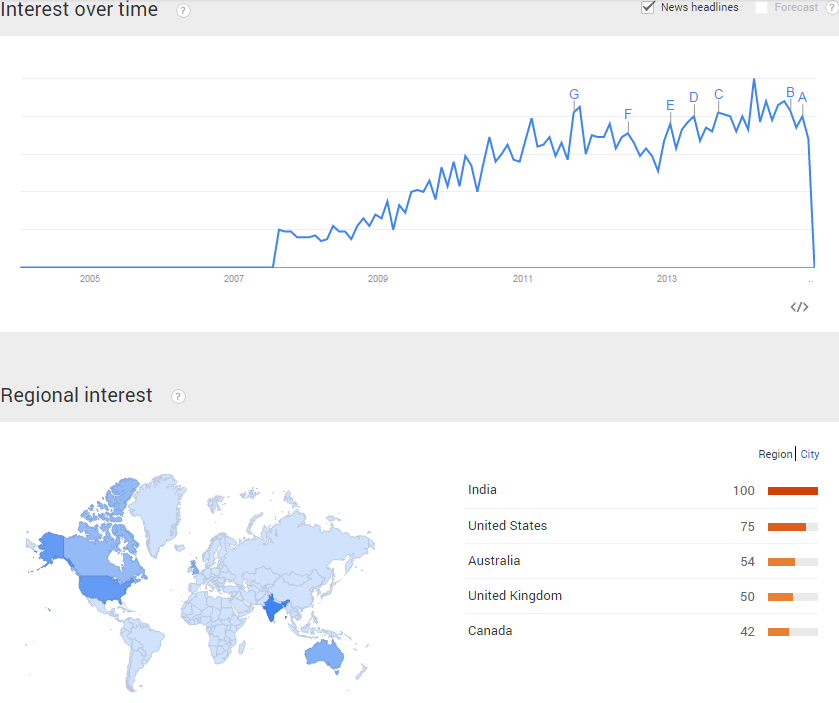 Unlike other SEO niches, this one also does not consistently lose traffic around December. Interest seems to go up and down at random, but it's doing a lot more rising overall.
I feel that it's important to also look at which cities are the most intrigued by this niche.

If you live in the American Southwest, then you can have a field day with this niche! India also has a couple of cities obsessed with this aspect of SEO (as always). Additionally, SEOs in New York and Chicago can expect plenty of local customers if they take this angle.
With an enormous global market that only seems to be growing, the local search engine optimization niche is ripe for the picking. Get your piece of the pie now — before someone else jumps in and eats it for you.
High-Traffic Keywords
This niche has an obvious Holy Grail: "local SEO."

With 6,600 global monthly searches and 3,600 of those in the US, taking the top page for that keyword alone might give your website eternal life. That whistle-inducing CPC suggests that it will take an epic quest to get there, though!
"Local SEO services" has the advantage of working as several keywords in one. Its 2,900 monthly searches make it even more desirable. However, the competition may be tougher yet.

​
New York City is the sixth-best location in the world for this niche. If you run your optimization business there, you might want to target keywords like "SEO company New York," which has 1,600 searches and only medium competition on AdWords.

City-specific keywords are extremely valuable in this niche. A huge number of people want to know how they can rank in their city in particular, rather than how they can use local search engine optimization in general. You might also consider looking at keywords involving particular countries, states/provinces, counties and so on.
Beatable Competition
I felt a thrill of excitement when Traffic Travis finished the analysis for "local SEO" and this came up:

Medium Difficulty? That's all but unheard of for a keyword with so many searches!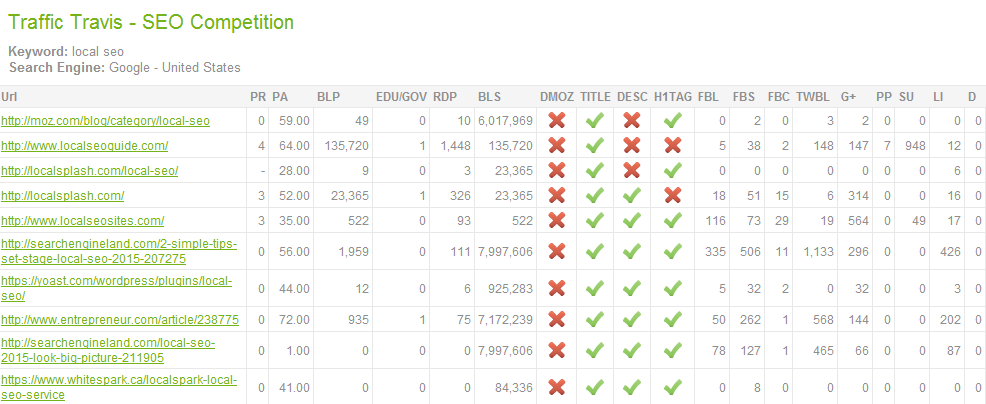 It doesn't look so great when you see all of those green checkmarks, but don't let that scare you off. Four of the top 10 pages have 12 or fewer backlinks! While most of these do get some strength from appearing on popular websites, they're nothing a focused SEO can't overcome.
After reading that good news, I scrolled down to "local SEO services." It had a medium difficulty rating as well! The top pages have more backlinks, but they've also done a shoddier job with on-page SEO.


"SEO company New York" flipped my AdWords-based expectations on their head with a rating of Difficult. However, the challenge presented by the competition is quite hard to gauge.


Clearly, some of these pages would take a titanic effort to displace. No. 10 has a page Authority of 75 and four .edu/.gov backlinks. No. 1 puzzles me, though—eight backlinks? A PA of 24.55?
If nothing else, that's a great example of how good local search engine optimization can cut through the competition. Google has most likely given them a favored position due to having things like a local address and phone number on their website. Just one more reason to get involved in this niche!
In any case, "Nashville SEO" looks more promising. At 2,400 monthly searches and a medium difficulty rating, I would consider it a worthwhile target.

The top eight pages are pretty well-established but could be doing a lot better. Notice that many of them don't have a single backlink going directly to the page.
I found quite a few other keywords with medium or even relatively easy difficulty. With interest climbing for the niche as a whole, I would recommend grabbing as many of these as you can now, even if they don't have a huge number of monthly searches. They may well have much higher search figures in a year or two.
You can download the rest of my keyword research here. Don't know what to do with a TTSCX file? Read the instructions here—or, more importantly, download Traffic Travis for free if you haven't yet.
The Verdict
This is a fantastic time to launch a website in this niche. While you will have to work to get to those top rankings, you have a very real chance of reaching page 1 on Google for some extremely high-traffic keywords.
I have only scraped the surface here. Research keywords for local SEO in your area before diving in—you may find that you're sitting on top of a goldmine!