Written on April 10th, 2015 by
Simon Slade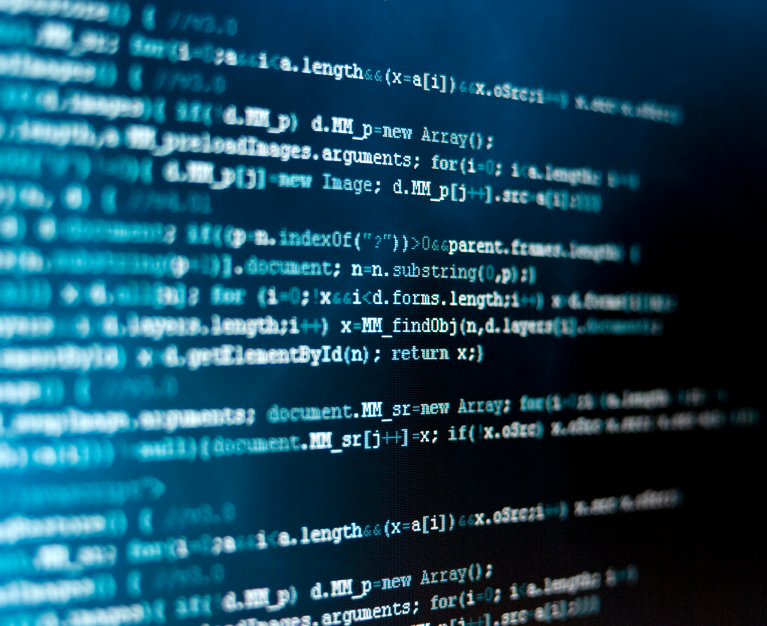 People pay good money for a detailed SEO audit for any of a variety of reasons. Some simply want a third party to verify they've done everything right. Others previously set up a website without even knowing what SEO was and have just discovered why they aren't getting any traffic.
A real expert SEO can perform an in-depth audit with few or no tools. They can get down to code level and scour a site for any and all mistakes in the hopes of dramatically improving its ranking.
Of course, that takes years of training and practice. Most of us who offer optimization services don't have that level of knowledge. Luckily, the My Site tab in Traffic Travis can identify nearly all of the problems that an expert would find—and without the risk of human error.
So, with nothing but a copy of Traffic Travis and some basic SEO knowledge, you too can perform an SEO audit.
Since auditing websites is a great way for you to make money off of your copy of TT, I decided to search for some good keywords that you could use to advertise your services. Here's what I found.
The Market is Growing
Interest in this niche first popped up in 2009. After a dramatic decline that made it seem like a doomed fad, the number of monthly searches leveled out, then began to rise steadily. It has grown almost continuously since 2012.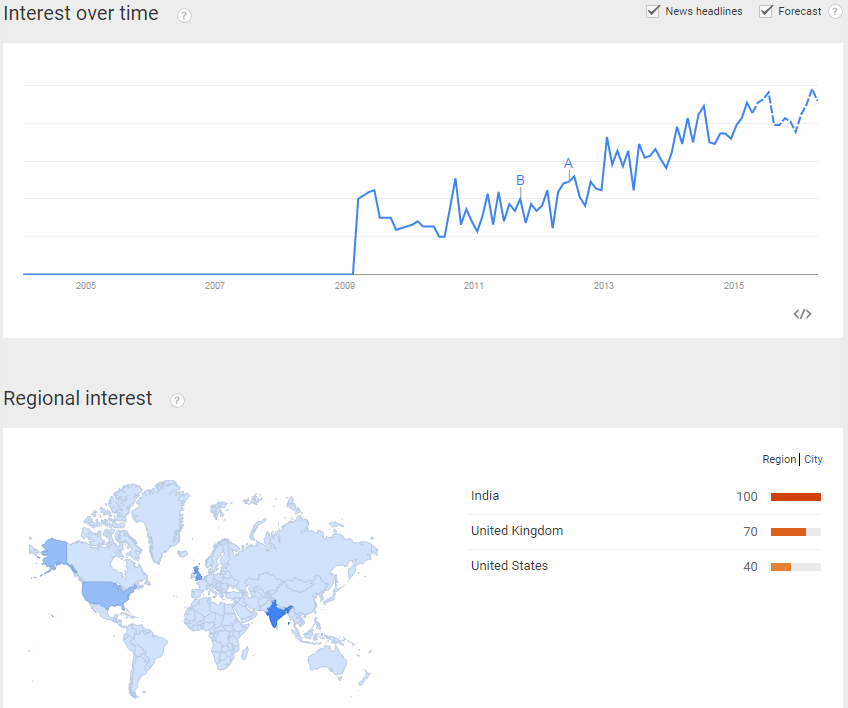 ​
According to Google Trends, countries outside of India, the UK, and the US pretty much ignore this keyword. If you cater to one of those three countries, though, then you should seriously consider giving it a shot. You just need to find some good keywords first.
Keywords Worth Investigating
"SEO audit" has 3,600 monthly searches. I'm sure the competition will be pretty high, but hey, you can't plant a field until you've dug out all the rocks.

For those of you who don't want to perform an audit yourself, "SEO audit tool" could be a good choice. It has a respectable 880 searches per month. You could easily use it to advertise Traffic Travis and cash in on the fat commissions from our affiliate program.

​
If 880 just isn't enough searches for you, how about "SEO check"? It has over 12,000 searches per month! I bet the majority of people searching for this keyword want an SEO audit and just couldn't bring the fancy terminology to mind.

Keywords Worth Pursuing
Things started out a little rough in my SEO competition research. Still, I did find some good phrases.
As expected, "SEO audit" has a difficult rating.
Most of the competitors have moderate Page Authority ratings, with about half in the 30s or 40s. Many have thoroughly optimized for the keyword. You'll have to work hard on both your on-page optimization and backlinking to outrank them, but you could certainly pull it off with time and determination.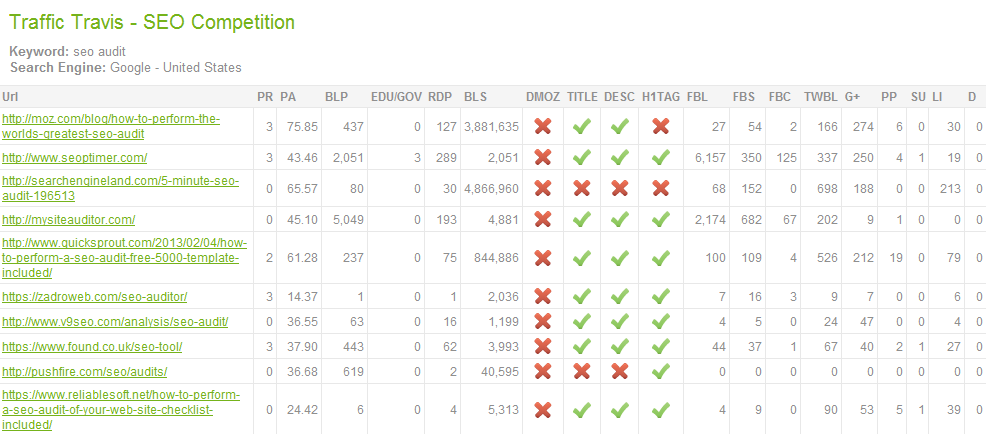 TT gives "SEO audit tool" a rating of difficult as well. However, I think it looks much easier.

Most of the competitors have lower PAs and have optimized less carefully. Just look at entry #3 with its single backlink and PA of 14. You could beat that, right?

"SEO check" also has a difficult rating.

While the top pages haven't done nearly as much keyword optimization, they are more authoritative. Ranking will take some effort.

As promised earlier, I did find some better keywords. "Website audit" has a relatively easy rating—and 1,600 searches.

While many of the competitors have high authority ratings, most have optimized poorly and have only a handful of direct backlinks and social signals.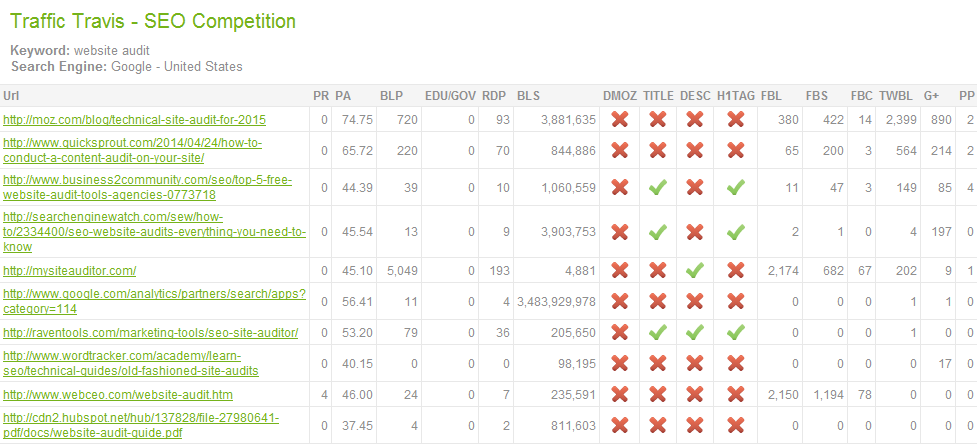 In addition to going after keywords with "audit" in them, you should consider phrases related to the things you will audit. For example, I'm confident that a huge market for mobile SEO audits will emerge in the near future (if it hasn't already).

"Mobile SEO" has over 1,000 searches per month and a medium difficulty rating. The niche still has plenty of space for ambitious websites.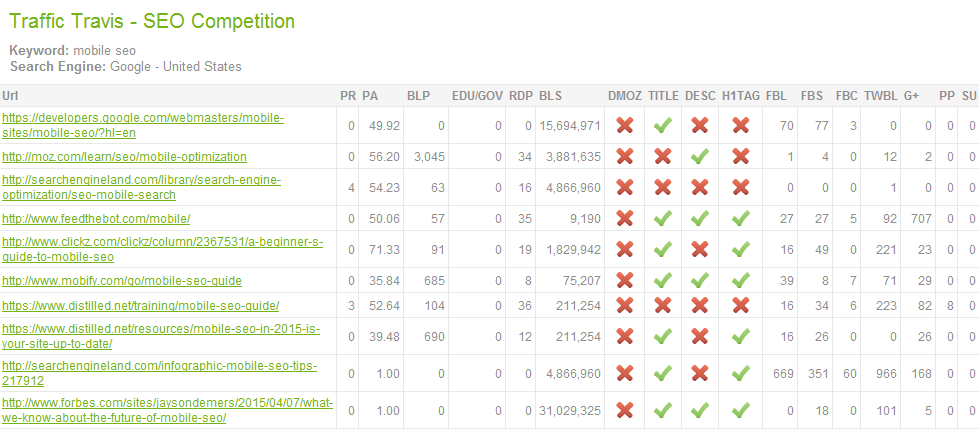 Ought I to Audit?
This niche still has room for newcomers. Yet with traffic rising, more and more businesses will sit up and take notice. Those empty seats on the front page of Google could fill up fast!
Get in there now and you will have a fighting chance of establishing yourself as an authority. Don't sit on the sidelines as the competition continues to accrue organic backlinks and improve their SEO—dive in and beat them to it!
Get a head start on your research by downloading the competition data for 1,000 SEO audit keywords. If you're new to our blog, here's an explanation of how to use a .ttscx file with your free copy of Traffic Travis. Be sure to share your thoughts in the comments!