Written on February 12th, 2015 by
Simon Slade
On-page SEO plays a powerful role in ranking. A young upstart of a website can sometimes clobber powerful authority sites if it executes its on-site optimization perfectly. It should come as no surprise, then, that more and more people are scouring the web for tips on how to do it right.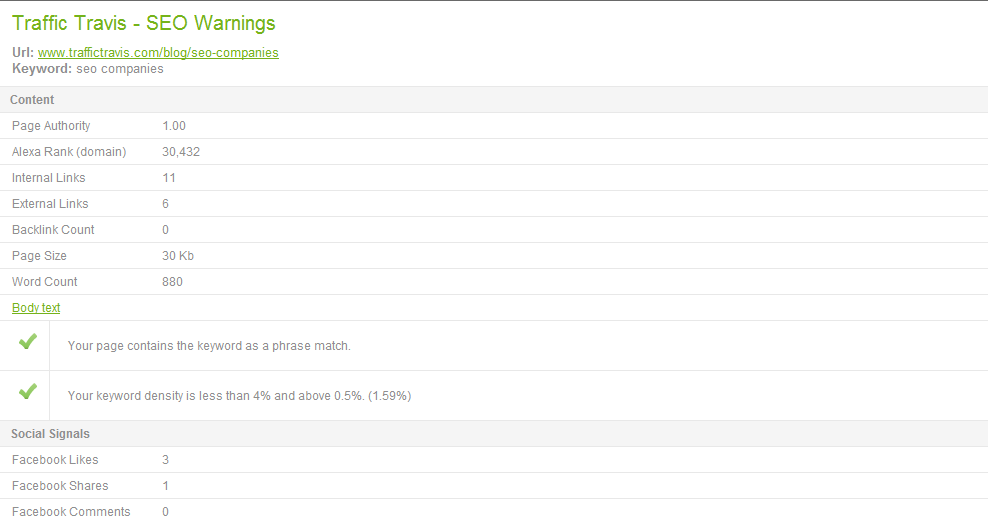 Traffic Travis reviews its own on-site optimization for a recent blog post.
If you already know a lot about on-page SEO, then you can easily make money online by teaching others how to do it. Just sell them guides or SEO programs (like our own Traffic Travis) along the way to turn a profit.
If you combine this with last week's niche, how to blog, you could have a really killer combination on your hands. After all, successful blogging requires good SEO. This could double the size of your audience—and the number of products you can successfully sell to your readers.
First, let's take a look at the market.
More Interest Than Ever Before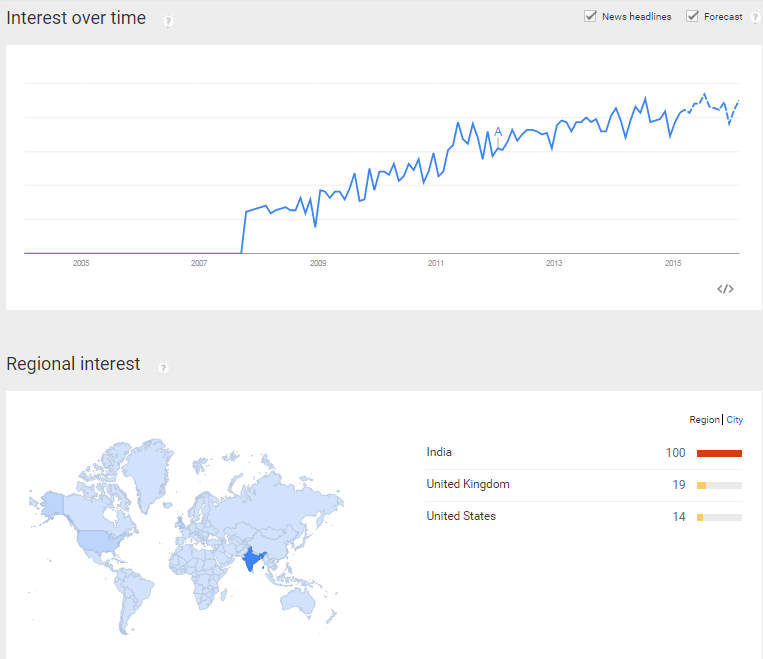 ​
Google Trends shows us that the search volume for on-page SEO has risen constantly since it first emerged in 2007. Beyond constant growth, it shows no predictable pattern. Like many SEO niches, it does poorly in December, but December 2010 was actually a record-breaking month.
Traffic reached its highest point yet this past July. Google predicts that we will see the highest-ever number of searches this summer. If you can rank for it before then, you can expect to be rewarded handsomely!
This is a textbook evergreen niche, boasting steady or growing traffic for years to come. How much effort will it take to get a share of that, though?
High-Volume Keywords in a Booming Niche
I decided to search for keywords about things that are directly connected to on-page SEO. People who could benefit from this knowledge will be looking for things like SEO lessons and the basics of writing optimized content, so a website focused on this niche could easily include articles on those subjects.
Our main keyword, "on page SEO," has 3,600 monthly searches and only medium competition according to AdWords.

Of course, Traffic Travis has shown us repeatedly that the AdWords competition does not predict the organic competition, so we can't read too much into this just yet. The low KEI suggests that ranking for it will not be a piece of cake.
"SEO copywriting" has 2,400 searches and could make a perfect complementary keyword. After all, copy is a huge part of on-page optimization. This keyword also has much higher KEI, making it far more promising.

"SEO tutorial" blows the other two out of the water—at least on first glance. It has far more searches, a lower recommended CPC bid, and a far higher KEI than either of the other two. But will it stand up to Traffic Travis's competition analysis?

Never Trust KEI
In case you didn't know, high KEI is generally seen as indicating low competition compared to the number of searches for a given keyword. As you're about to see, it doesn't always work very well.
Traffic Travis has decided that "on page SEO" would be difficult to rank for. Not too surprising, but still disappointing.

You'd have to beat some formidable competitors, including Moz, to rank for this. However, you do have a chance at breaking through to the top three—these guys have not done much exact-match optimization. Many also have fewer than 100 backlinks going to their ranking page.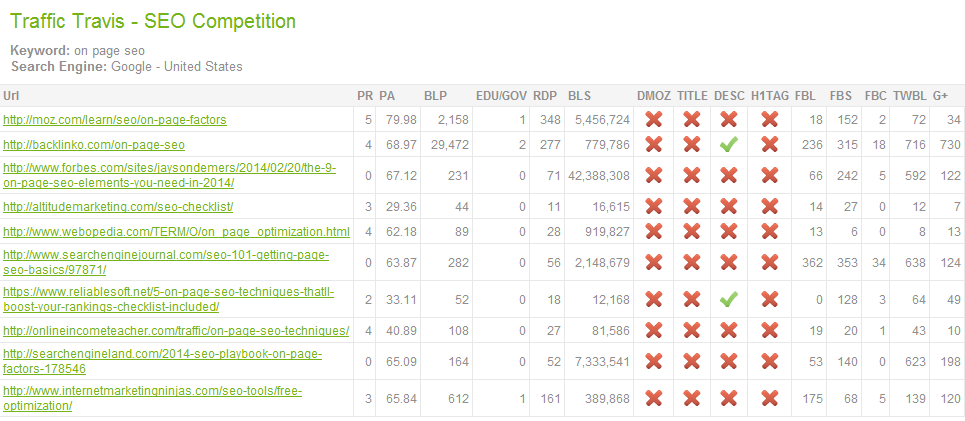 "SEO copywriting" actually looks worse, despite its higher KEI. TT gives it a rating of very difficult.
The top-ranked pages are fighting hard for their positions. You might take one of the bottom six with a decent backlinking campaign, but claiming one of the top four would require a monumental effort.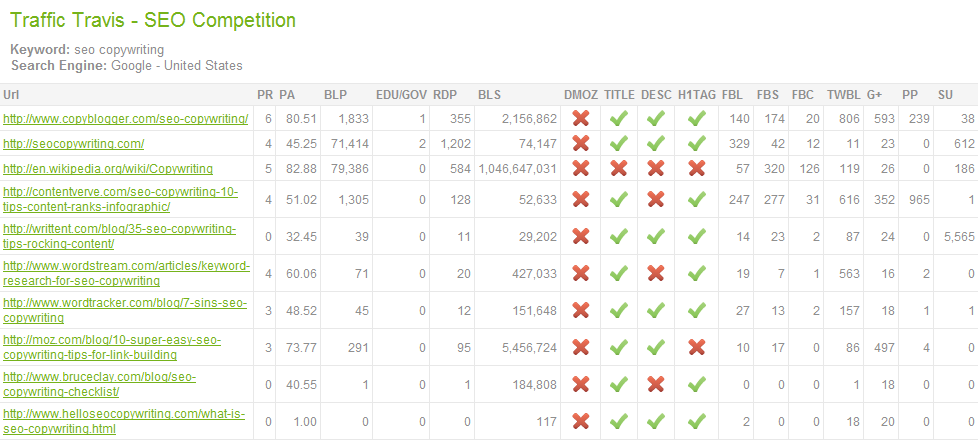 ​
Continuing its tradition of defying our expectations, TT gives "SEO tutorial"—the keyword that had the highest KEI—its worst possible difficulty rating.
When a Moz page with more than 41,000 backlinks ranks at ninth, you know you're in for a tough time! I would avoid this one entirely.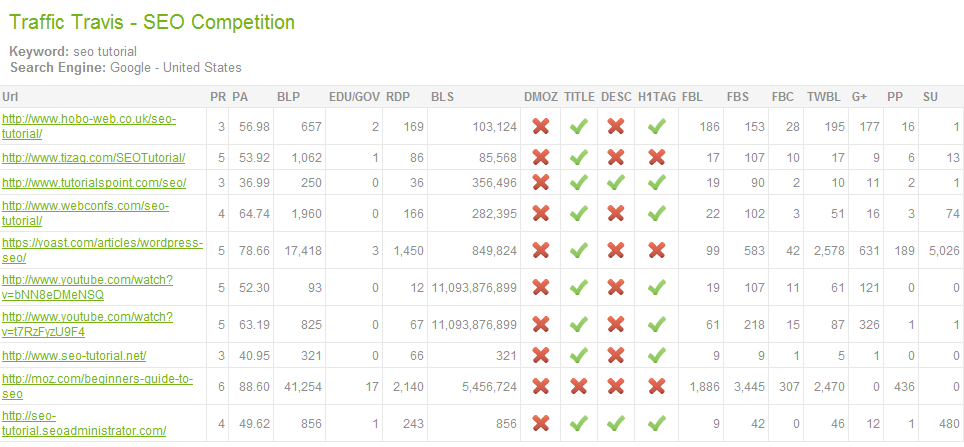 ​
From what we've seen, KEI and AdWords competition are poor indicators of organic competition in this niche. It's enough to make me wonder if I'll find anything good.
I've researched 1,000 keywords in Traffic Travis and don't want to spend forever sifting through low-quality keywords to get to the good stuff. Let's try separating the wheat from the chaff using Traffic Travis's filters.

First, I'll set the Global Count to greater than 990.
Next, I'll sort by keyword difficulty.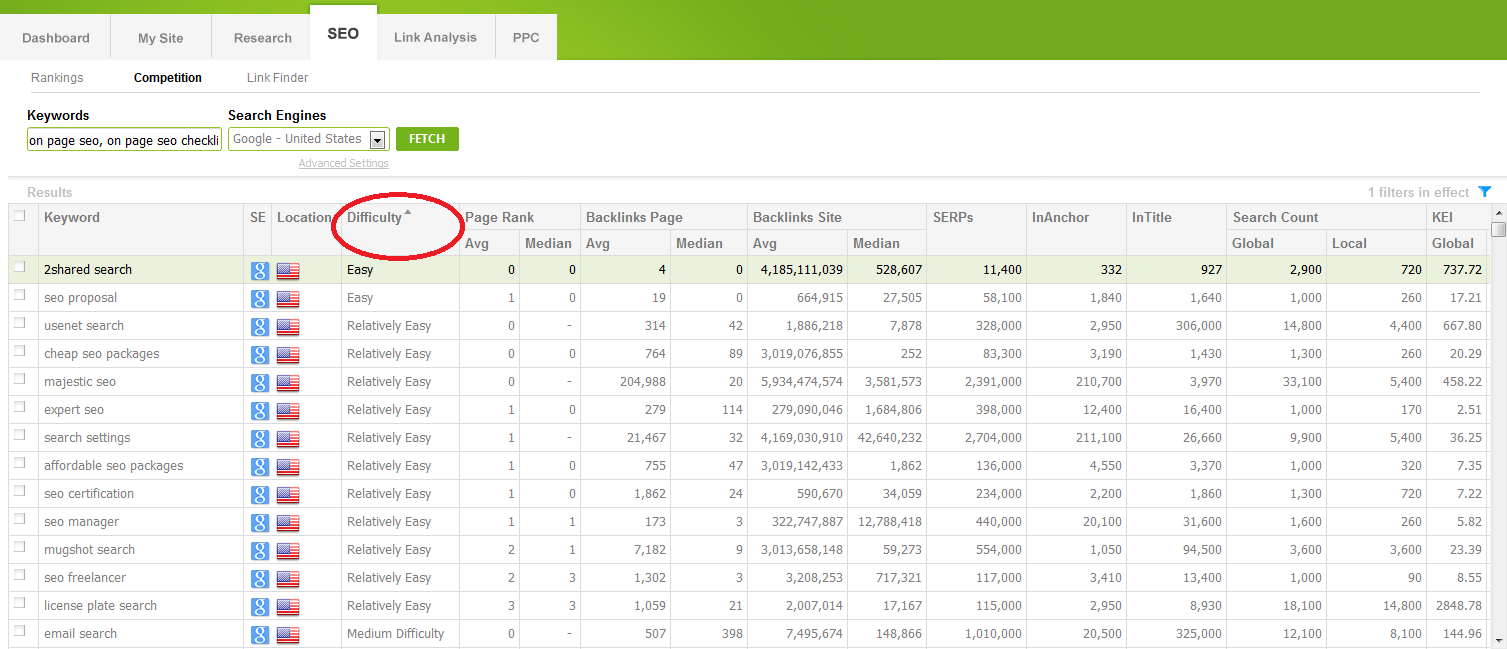 Now I don't have to waste a lot of time looking at easy keywords that have too few searches to be worth the effort.
Unfortunately, this didn't give me great results this time. Less than one screen's worth of easy and relatively easy keywords, as you can see above, and most of those only tangentially related to the topic. That's what I get for using a broad-match keyword search.
Some of the medium-difficulty keywords look decent. For example, SEO writing, which has 1,600 searches. In addition to being easier to rank for than SEO copywriting, it sounds less specialized. That makes it a less intimidating phrase to new bloggers and other beginners in the world of online writing.

While all of the competitors are established sites, most have performed lackluster on- or off-page SEO for their ranking webpage. Work hard on both and you will almost certainly claim a spot in the top three.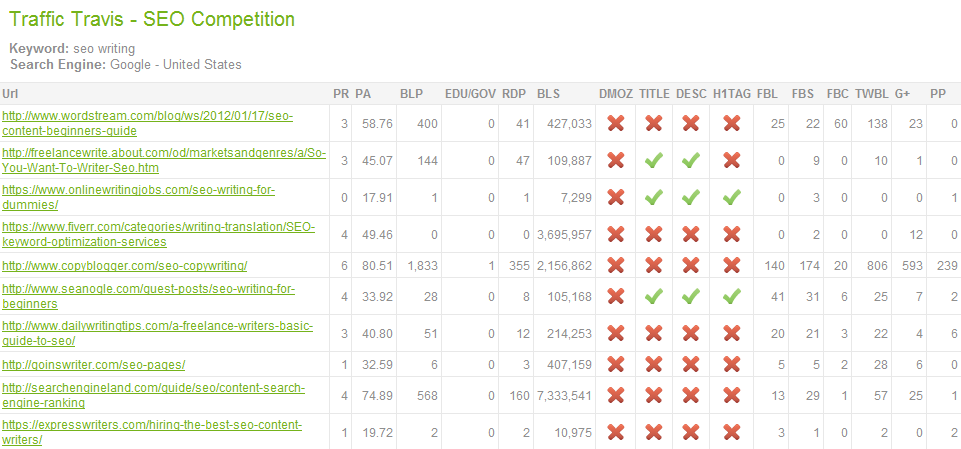 Should I Pursue This Niche?
I have to admit that I'm disappointed by my findings. Still, a growing niche like this will almost always have low-competition keywords with rising search counts. I'm sure you'll have better luck than I did if you research patiently.
I would only expect to rank for the keywords I have presented here if you are a skilled SEO. However, if you're already writing for a niche like how to blog and your audience would find this information useful, then you might still see high returns. Always remember that making your audience happy is the fastest way to make the search engines happy.
Planning to give this niche a try? Get started by uploading my on-page SEO keywords into your copy of Traffic Travis. I promise, it will save you a lot of time!