Written on September 16th, 2013 by
Simon Slade
I'm the first to admit that on-page SEO isn't really as "glamorous" as off-page SEO and social media marketing. However, on-page SEO has a crucial role to play in getting your website to the top of Google. In this blog post you are going to learn five different on-page SEO mistakes that you might be making, as well as simple methods for rectifying them.
Before we begin with the list, make sure that you have Traffic Travis installed (download your own copy for free here). Traffic Travis has this nifty little feature that automatically checks your website for on-page SEO errors, and then tells you how to fix them. Using Traffic Travis to help you tweak your SEO is going to save you a great deal of wasted time and energy, and ensure that you get the best results possible from your work.
Without further ado, let's crack into the list:
Not Having a Sitemap
One of the most glaring on-page SEO mistakes I see all too frequently is the lack of a proper sitemap. Once upon a time sitemaps were perhaps more important than they are now for high rankings, but they still play an important part in allowing search engine spiders to accurately crawl your site. Google's webmaster guidelines explicitly state that websites will benefit from having a sitemap and will not be penalized for having one in any instance.
On-page SEO benefits of sitemaps include:
Better crawling of new pages, which hopefully means that your content gets ranking in Google faster
Smaller sites can benefit by reminding Google that you have content worth being checked by search spiders
Faster indexing for complex websites and content types
Automatic page importing in Traffic Travis!
There are a few different ways of creating and configuring a sitemap; whether or not you can use a given method depends on how you have built your website. Under no circumstances will you ever need to manually code a sitemap—this isn't 1997 anymore! If you have a WordPress site, then whichever SEO plugin you have installed should have the functionality to automatically produce a sitemap.
If you have a static site and use Google Webmaster Tools then try the free XML Sitemaps generator here. Using this tool is as simple as entering your site details and then adding the produced sitemap to your Google Webmaster Tools account: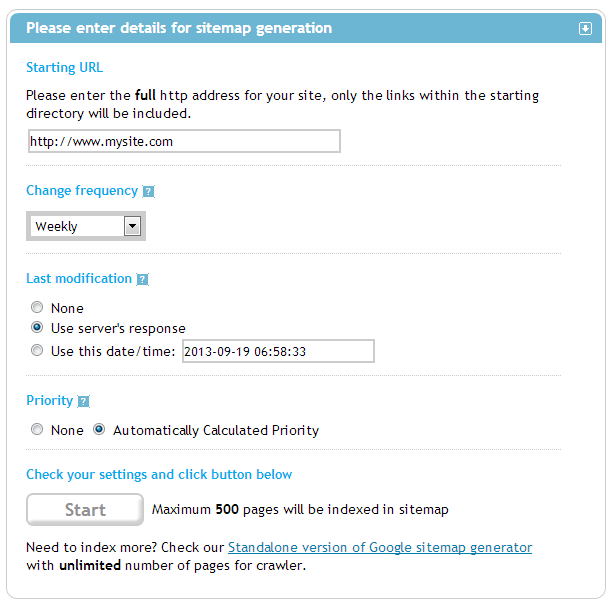 Missing Social Share Buttons
Not having social sharing configured on your website is a big on-page SEO error that you need to fix ASAP. All evidence suggests that the more social shares (also known as social signals) that your content generates, the better. If your website isn't set up to allow social sharing, then you may as well consider yourself stuck in the Stone Age.
The good news is configuring social sharing is extremely easy, especially if your website is built on the WordPress platform. With just a few mouse clicks you can have a fantastic-looking social sharing configuration like this: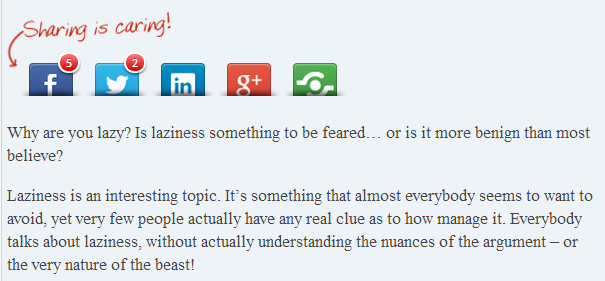 All you need to do to fix your lack of social sharing on WordPress is install any one of the hundreds of social plugins available—Slick Social Share Buttons is one of the best and it's free.
If you have a static website or use another CMS system, such as Blogger or TypePad, then use Share This to configure your sharing.
Using Duplicate Content
On-site duplicate content is one of the biggest no-nos in the SEO world. In case you aren't already familiar with the term, "duplicate content" refers to content that is exactly the same (or indistinguishable for all intents and purposes) to content that appears elsewhere on the web. Despite what you may have heard, the jury is still out on content that is duplicated on different sites. For example, many news websites syndicate the exact same articles from Associated Press or Reuters, seemingly without any penalty from Google. However, using the same content on the same website is a nail in the coffin for your SEO efforts.
You must make sure that every piece of written content you put on your site is unique and preferably written from scratch, as spun content just doesn't cut the mustard these days. The only exceptions to this rule are:
"Curating" content, as long as you put a unique spin on your presentation

Read here for more information on content curation

Infographics and images can be used as-is, but consider adding a unique alt tag
Embedded videos from YouTube are not considered duplicate content
Framed written content, such as embedded SlideShare presentations or PDFs, is probably not considered duplicate content either
Take some time to check through your site for any instances of duplicate written content. Just because you have gotten away with it so far doesn't mean that Google will not crack down on your site at some point.
Lack of Internal Linking
Internal linking is often overlooked by many webmasters and bloggers as an effective on-page SEO method (but you're smarter than that, aren't you?!). By shaping the flow of traffic and link juice through your website using well-placed internal links that are keyword optimized, you can enjoy these tasty benefits:
Longer periods of time spent on your site by visitors
Greater chances of having your ads or promotional matter clicked because of the additional time spent on your site
Higher search engine rankings for your internal pages
Reduced bounce rate, which could potentially influence your rankings
Internal linking for SEO benefits is actually very simple. You just need to ensure that you have at least one link per piece of on-site content to another page within your site, preferably another content article. Use keyword-optimized anchor text to link the first page to the second.
For example, you can download Traffic Travis here.
Incorrect Image Alt Tags
No discussion of on-page SEO is complete without discussing image alt tags. By now you're probably familiar with these little critters, which allow you to tell Google / search engine spiders what an image is about (bear in mind that search engine spiders cannot read a page; they merely see it as a sum of its constituent parts).
Incorrect use of image alt tags is bad for SEO. While perfecting the ancient art of image tagging isn't going to skyrocket your site to the top of Google, every little bit of positive SEO tweaking helps in the long run. Good tagging application also boosts the chances of your images ranking in Google Image Search, which can bring some very impressive traffic for certain keywords.
Here's how to ensure you have set the right alt tag for an image:
Describe what the image shows
Include a primary keyword
Avoid "stuffing" multiple keywords in there
Keep it short and snappy
To help you understand image tagging best practice, take a look at this image: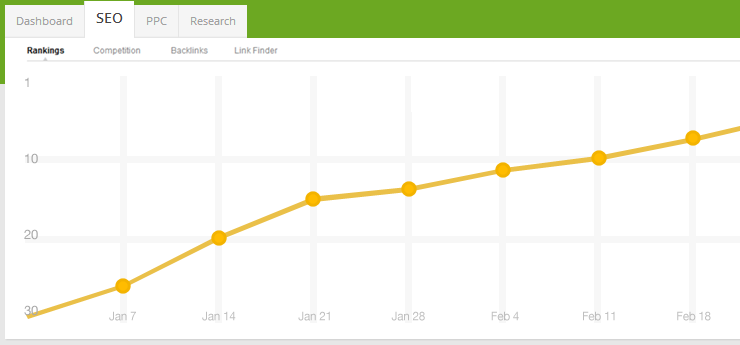 Which of these two alt tags would best describe this image?
"Traffic Travis SEO ranking module"
"Free SEO software, SEO software 2013, make millions online, seo boost"
Hopefully you guessed the first answer! It's short and snappy, describes the content of the image, and features a primary keyword. The second alt tag is reminiscent of something that many amateur SEOs would use, but it's only going to get you in trouble with Google.
Conclusion: Get Your SEO Ducks in a Row
In this blog post you have discovered some of the most common on-page SEO mistakes, as well as easy fixes and strategies for beating them. On-page SEO is important for high search engine rankings; while it's not the only way to get to the top of Google, it does have a big impact.
The easiest way to ensure that your on-page SEO is free of errors and properly sorted is to download Traffic Travis. Simply import your website into Traffic Travis and you will receive a detailed list of any and all on-page SEO improvements you can make, listed by page. SEO doesn't get any easier than that!