Written on August 4th, 2015 by
Simon Slade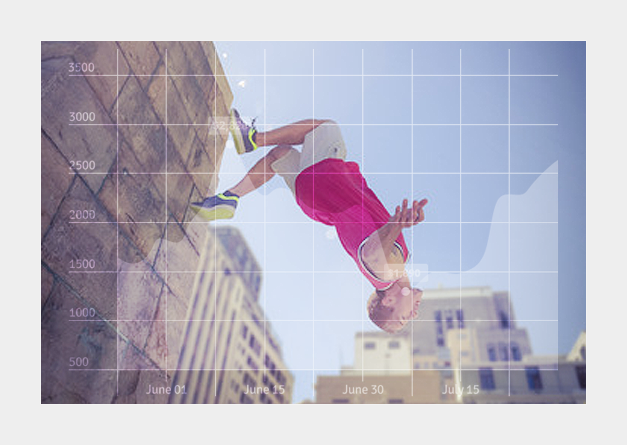 Parkour began in the 1980s when the first French traceurs decided to start treating cities like obstacle courses. Since then, it has become enormously popular thanks to its appearances in viral YouTube videos, famous action sequences like the opening scene of Casino Royale, and popular video games like Assassin's Creed (which has inspired the world's most impressive form of cosplaying).
Today, parkour is a well-developed practice with schools, teachers, specialized clothing and more. And whenever people need gear and information, there's an opportunity to make money online.
How Popular Is Parkour?
Interest in parkour climbed to the roofs in 2006 and hasn't paused for breath yet. The number of searches does tend to fall briefly during the winter months, but it usually vaults back up as soon as May comes around.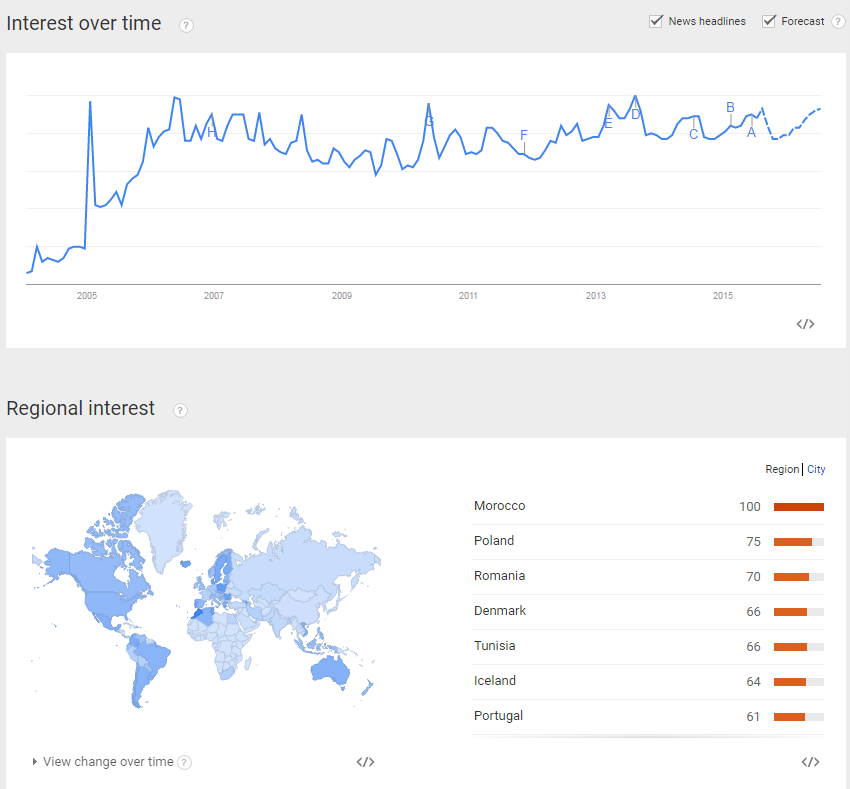 Screenshot of data provided by Google Trends.
Parkour knows no boundaries and appears to be popular everywhere from North Africa to Scandinavia. This niche could take off just about anywhere.
Parkour Keywords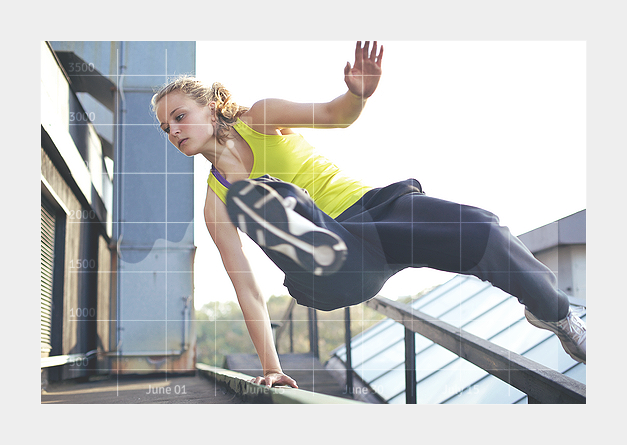 Is parkour really popular enough to supply the traffic needed for a profitable website? To answer that question, I used the Keyword Research tool in Traffic Travis to get some quick stats and suggestions. The first thing I saw made my jaw drop:
1. Parkour
Global searches per month: 450,000
Average CPC: $1.77
Global KEI: 6887.76

I think we have a new record for our highest-volume keyword! With such an immense number of searches across the globe, "parkour" can provide an incredible amount of traffic, even if you only rank locally.
2. Learn Parkour
Global searches: 1,300
Average CPC: $1.07
Global KEI: 2.32

While plenty of people searching for "parkour" are probably couch potatoes looking for a cool video, "learn parkour" specifically markets to your target audience. Aspiring traceurs might be willing to spend money to learn. And if you offer some free basic lessons on your website, you'll start attracting this potentially profitable crowd.
3. Parkour Shoes
Global searches: 8,100
Average CPC: $0.56
Global KEI: 110.64

You can't build a profitable website without products to sell. Traceurs need high-performance footwear and clothing that won't slow them down. At the same time, style plays a large part in parkour, so you can sell shoes based off of both their looks and performance.
One final note: With such a low average CPC, you might be able to make decent profits from AdWords ads. You don't always need to rank on Google to make money online!
What Hurdles Must a Parkour Website Face?
While AdWords and other paid advertising might be enough to turn you a profit, we're all about the free traffic here on the Traffic Travis team. So how hard would it be to rank for parkour keywords on Google?
1. Parkour
Difficulty: Very Difficult
Top competitor: Wikipedia

It looks pretty damn tough to rank for parkour globally or across the US.

If you're going to let obstacles like that stop you, though, then you just haven't adopted the parkour mindset yet! Google makes plenty of room on the first page for low-powered local websites. If you plan to open your own parkour school, just focus on local SEO and you'll leap right over the competition.
2. Learn Parkour

While a few of the top sites have rather high authority rankings, and all of them answer the searcher's question, only #9 has optimized for this phrase.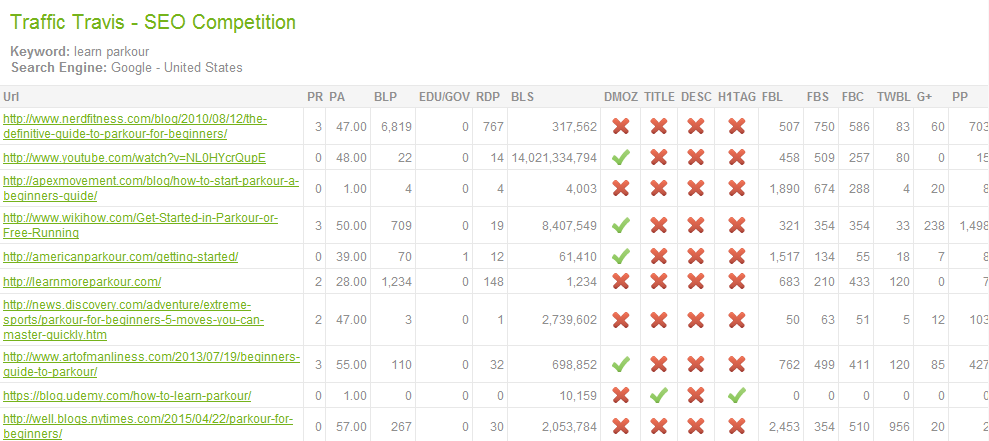 Most of these pages actually look quite weak in regards to their on-page and off-page search engine optimization. However, they make up for it by being social media phenomena: four of them have Facebook likes in the quadruple digits.
3. Parkour Shoes

From the looks of some of the pages below, it might take nothing more than some good on-page optimization and a handful of backlinks and Facebook likes to rank for "parkour shoes." This keyword could prove profitable with both free and paid traffic!

Bonus Parkour Keywords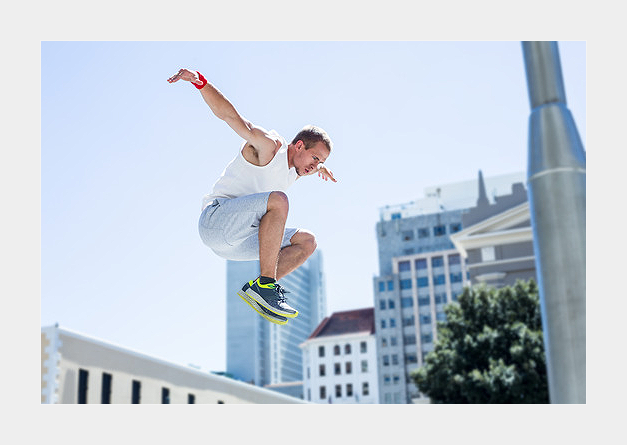 Easy Keyword #1: Parkour Workout
Global searches: 1,000
Average CPC: $0.03
Global KEI: 50.51
Difficulty: Easy
Top competitor: Apex Movement

If you try parkour with a beer belly, it's probably going to be funny to everyone except you. It takes a high degree of physical fitness to start a hobby like this one. Clearly, a large number of people have realized this, and they're looking for workouts specifically designed to get them in shape for parkour.
The competition has once again done next to nothing in the way of traditional SEO, but the top five webpages have all performed decently to magnificently on social media.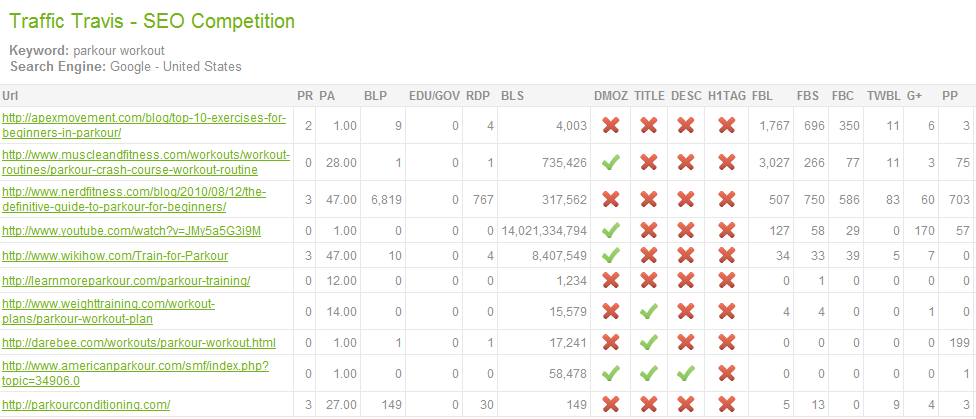 Easy Keyword #2: Parkour Pants
Global searches: 1,900
Average CPC: $0.17
Global KEI: 195.14
Difficulty: Easy
Top competitor: Take Flight Apparel

With lighter competition than "parkour shoes," "parkour pants" could make a better keyword for an inexperienced SEO. Also, parkour pants should sell well online, because most fall into an affordable price range of $20–$60.
The competition looks quite easy to beat. Just be sure to bolster your traditional SEO with a strong social media campaign to win the race to the top.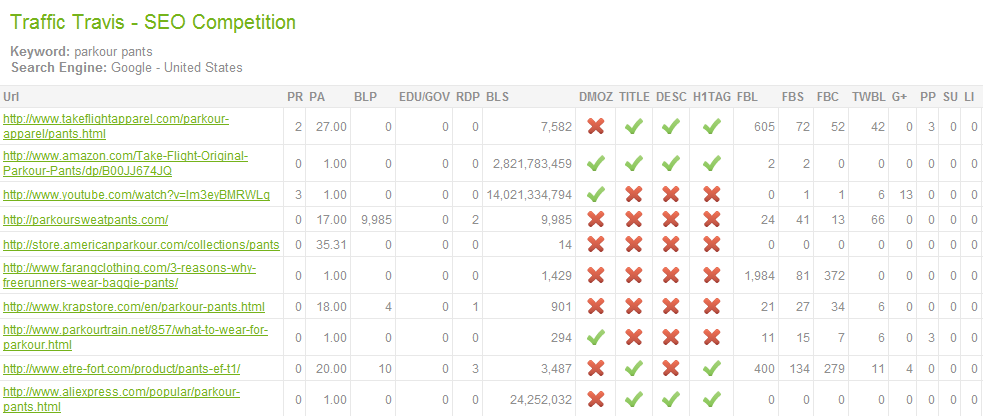 Should I Leap into Action?
Parkour is a global phenomenon, and its popularity shows in the incredible social media presence of its most successful websites. That popularity means two things: 1. lots of traffic, as we've seen above, and 2. a demanding audience. People searching for parkour-related keywords generally expect to have their minds blown.
I therefore doubt you could get away with a site built entirely of articles and stock photos here. If you want to outrun the competition, you'll need excellent content featuring footage of traceurs in action. The rest of your SEO should be a piece of cake if you can manage that.
So what are you waiting for? Put on your parkour pants, grab a GoPro and a laptop, and show the world what you've got!
You can find hundreds of additional parkour keywords in this file. Just read this FAQ to find out how to view them in your copy of Traffic Travis. And if you enjoyed this article and want more niche ideas like it, be sure to click on the Like button before you go!