Written on June 5th, 2015 by
Simon Slade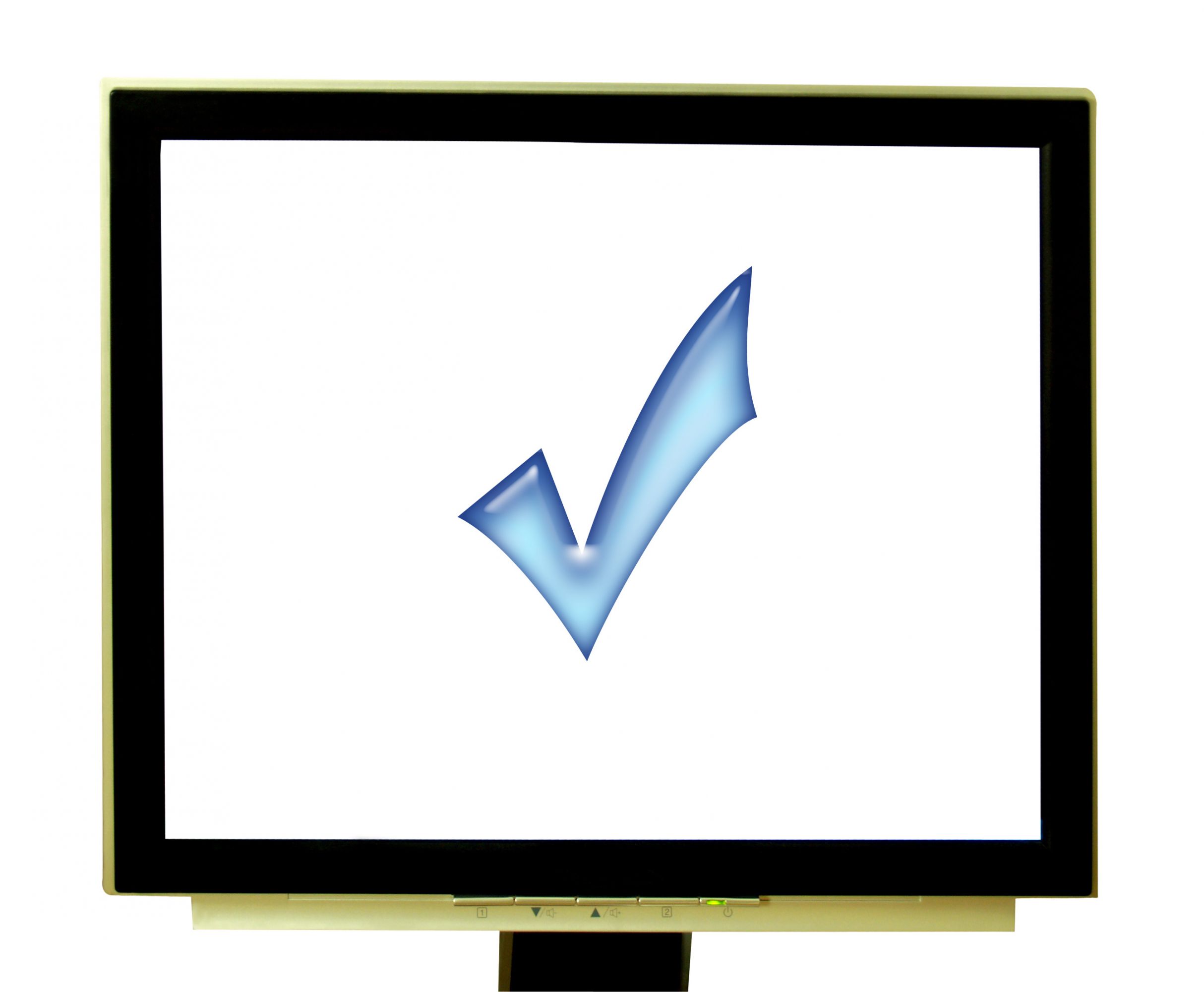 Every computer needs a registry cleaner. In my opinion, it's almost as essential as antivirus software. But a lot of people don't even know what one is.
Why There's a Market for Registry Cleaners
Registry cleaners perform the delicate task of picking out broken data from critical parts of your computer. This prevents or even fixes certain errors and improves performance. You think of your computer as a fish and these programs as cleaner shrimp, picking away gunk and parasites to keep it healthy.
If you get into the registry cleaner niche, you'll be selling an extremely useful product. And there's good news for affiliates: lots of big-name cleaners offer commissions ranging from 30% to 75%! A quick glance at some of the prices showed me that this will translate to about $10 per sale.
There's money to be made. But how big is the market, and how challenging the competition?
Well, this doesn't look good!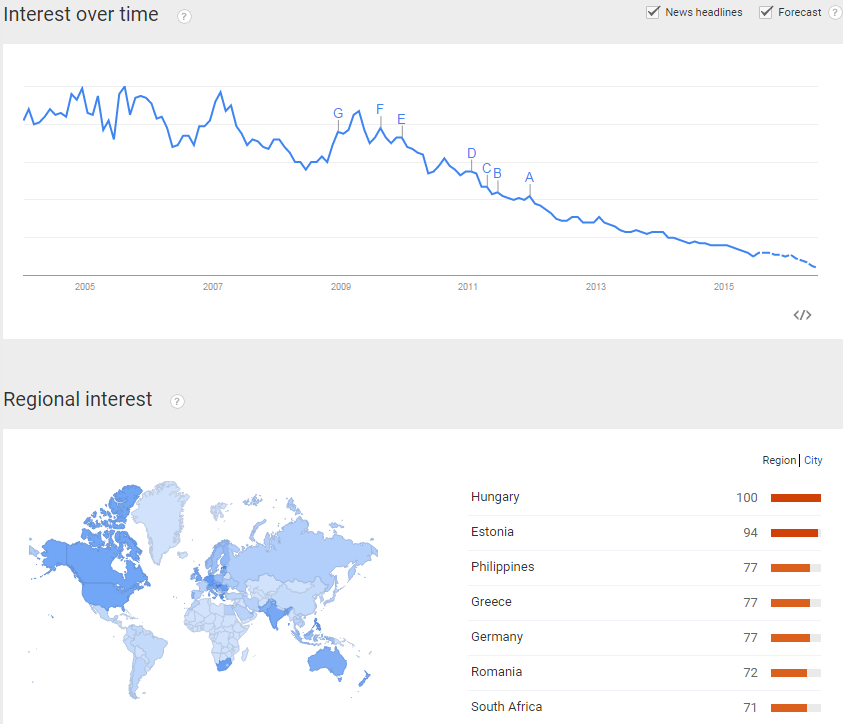 Interest in registry cleaners has plummeted since 2010, but that doesn't mean we should abandon the niche. People who need this kind of software might be searching more for things like speeding up their computers or getting rid of error messages.
Still, this doesn't give me much hope for this keyword. Without knowing anything else about it, I'd say it isn't worth ranking for. Searches may disappear entirely just when you start to climb the Google results.
How Many People Still Need Registry Cleaners?
Let's get a good feeling for the size of our audience by looking at a few keyword search volumes:
1. Registry Cleaner

OK, you know what? I might have to take back my previous statement. "Registry cleaner" averages 74,000 searches per month, and even with searches declining, that's a hell of a lot of potential customers.
2. Registry Cleaner Free Download
The keyword "registry cleaner free download" is surprisingly unpopular in the US, but it has 1,600 searches per month worldwide.
How can you make money off of it, you ask? Simple—direct visitors to the free trial version of a registry cleaner, then upsell them to the full version.
3. Clean Registry
"Clean registry" has 3,600 searches and significantly lower advertising competition than keyword #1. That makes it a great choice for PPC advertising.

It may also have lower organic competition, but we'll have to see what Traffic Travis's SEO Competition tool says about that.
SEO Competition Data
Just in case anyone in the audience doesn't know, the Traffic Travis SEO Competition tool assigns difficulty ratings for keywords based on how well-optimized and authoritative the competition is. You can try it out yourself by downloading the free version of Traffic Travis.
Keyword #1 Analysis
Our primary keyword has a rating of difficult. That's much easier than I expected, but still very hard.

​
Most of the competitors have optimized well and earned a Moz Page Authority of about 50.

I would go after this keyword if I had a powerful website and a sizable SEO budget on my side. That would give me a chance to benefit from the current high search volume for immediate return on investment.
Otherwise, I would probably steer clear. The competition will likely become more difficult even as searches continue to fall. Any website that needs numerous months or years to rank may succeed only to find that their efforts were not worthwhile.
Keyword #2 Analysis
This keyword has a higher difficulty rating despite having only a fraction of the searches.

The ranking pages have more direct backlinks, including more from .edu and .gov sites, and they also have a larger social presence. However, they have not optimized for this exact phrase.

​
Keyword #3 Analysis
It looks like we've struck gold with "clean registry!" TT gives it a relatively easy rating.

It looks like nobody has targeted this phrase, and three of the top 10 pages have fewer than 50 backlinks. A well-optimized page with a PA of about 30 could probably rank for this keyword.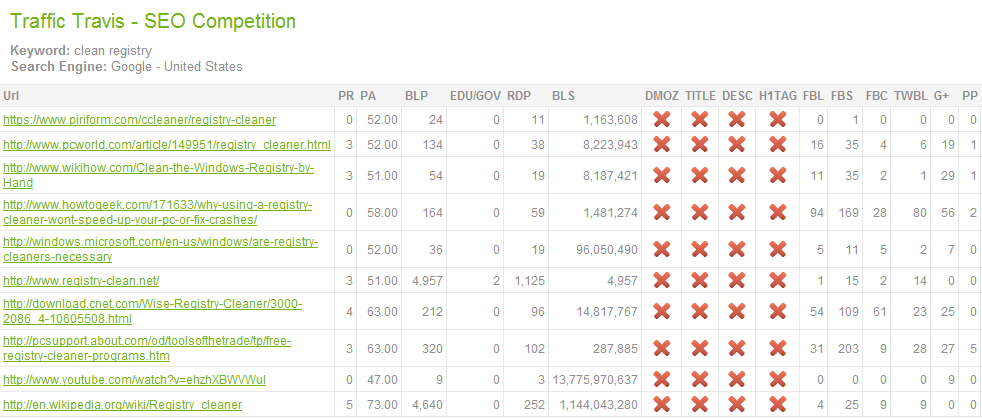 Easy Keyword 1: Registry Errors
Your website can also talk about how your software will fix certain registry errors. And I'd certainly recommend that you do, since "registry errors" has a relatively easy rating and 1,000 searches.
From the looks of things, just optimizing for this term and getting a few quality backlinks should land your site on the first page of Google. Warning: things will get challenging if you try to rank in the top few results.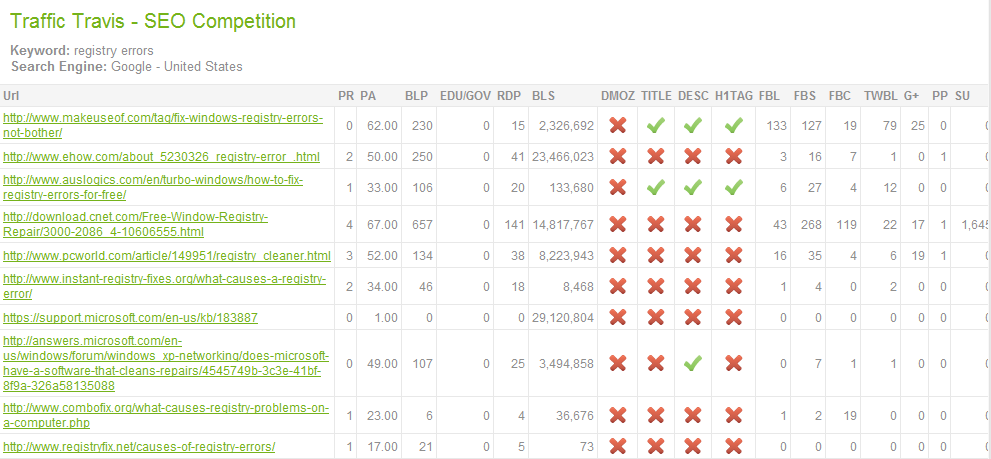 Easy Keyword 2: Make My Computer Faster
"Make my computer faster" has the same difficulty rating and the same number of searches.

To sweeten the deal further, nobody has tried to use this exact phrase. A skilled SEO could tear through the bottom four results like wet tissue paper. Once again, though, the top handful of pages would be pretty tough to beat.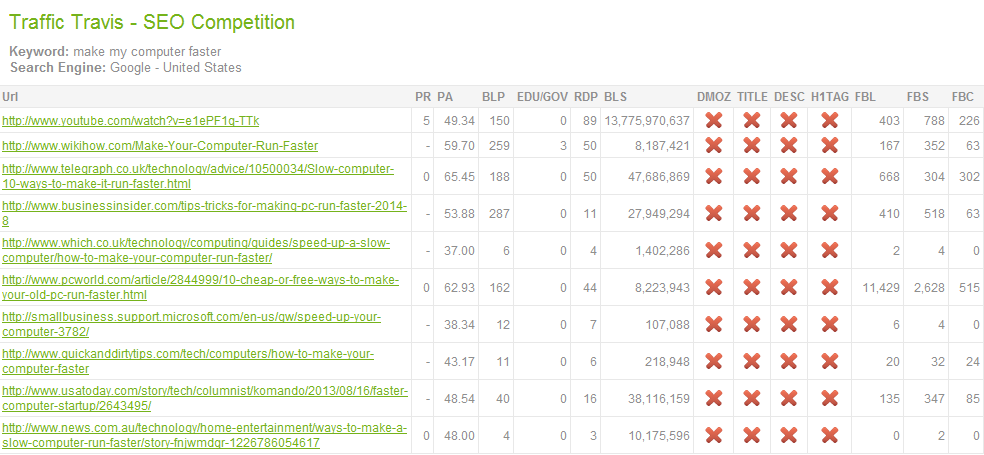 Think you can take on the head honchos? Consider making your own YouTube video to compete with result #1.
In Case It Hasn't Registered Yet . . .
This niche still has plenty of unexploited keywords that could turn into big moneymakers. I would say that outweighs the negative trends we saw at the beginning. If building a registry cleaner website appeals to you, you could easily make a profit from one.
Want to learn more about this niche? Download Traffic Travis if you haven't yet, then get my keyword research and upload it. Don't forget to press the Like button before you go!