Written on January 1st, 2015 by
Simon Slade
If you want to create an SEO marketing site, you need to be good at, well, SEO and marketing. Here are some tips for those just getting started.
1. Know Your Niche
Before I dive into this niche, I feel like I should answer an important question: what is SEO marketing? With people throwing around terms like SEO and SEM all the time, it's important to know exactly what we're referring to here.
SEO (search engine optimization) refers to any efforts made to acquire traffic organically, such as by optimizing for specific keywords.
SEM (search engine marketing) most commonly refers to purchased placement in search engines. It includes things like CPC ads.
SEO marketing means pretty much whatever you want it to!
From a purely grammatical standpoint, anyone looking for SEO marketing is probably looking for ways to market their business through organic SEO. This could be a great basis for your site's main angle.
On the other hand, I'd bet good money that many of the people searching for this keyword just don't know the difference between SEO and SEM. Your SEO marketing site should therefore have plenty of freedom to discuss both fields. That means there are a lot of keywords you could grab—far more than I could cover in this article.
Finally, you can do a lot with general online marketing. This does even more to widen your options.
In other words, this is a very broad niche that you can find a cozy little corner in.
2. Build for Steady Traffic, Prepare for Unexpected Dips
Google Trends seems to indicate that this niche will have high traffic for years to come. Like many other SEO niches, it peaked during the years of 2010 to 2012, but unlike many others, it has remained relatively stable since 2009.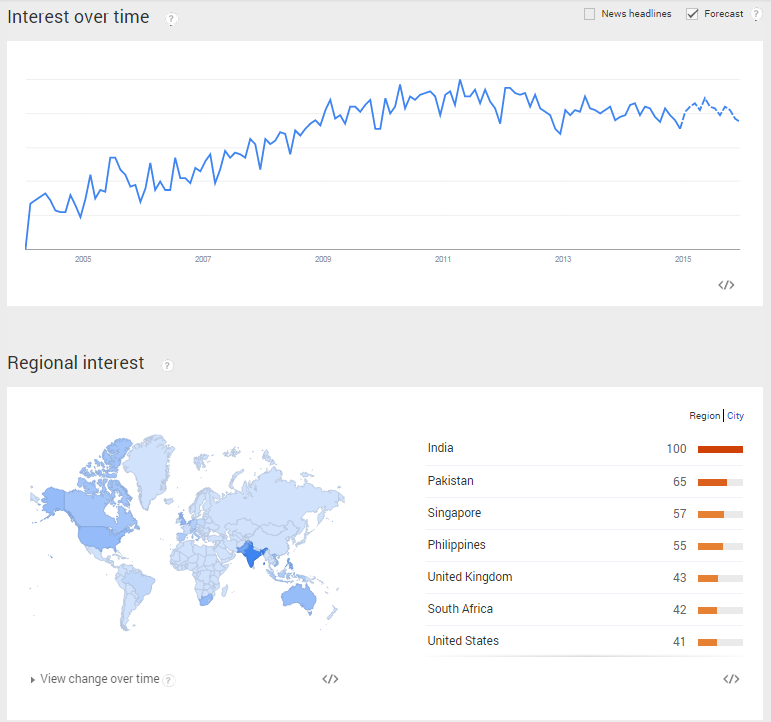 Another thing this has in common with other SEO niches is a tendency to lose its audience in December. Expect a dip in traffic during the last month of the year.
Overall, this niche seems like a relatively safe bet — something that would be worth working toward. We have always considered it best to pick an evergreen niche even when the competition is high. After all, it's well worth the initial efforts if you can count on your site making money for years to come.
Just be warned that there is a possibility that traffic will fall. Many other SEO niches have declined much more dramatically since 2012. Keep an eye on Google Trends as you build your site and try branching into secondary keywords that are experiencing growth.
3. Choose Hard-Hitting Keywords to Work On
This tip only really applies to experienced SEOs. If you're new to the game, you'll probably want to avoid most of the keywords in this section and the next. If you know you're doing and have funds at your disposal, though, then this is a good place to start.
If you can rank your site for a keyword with several thousand searches per month, it can easily get you dozens of new visitors every day. Provide the great content that will make people favorite your site and come back for more and that could rapidly translate into hundreds of daily visitors — all for one keyword. That's what makes it worth clawing your way through serious competition.
"SEO marketing" has 8,100 global searches per month. Getting a chunk of that traffic is certainly worth aspiring to — a website ranking in the top 3 Google results could expect about 90 new visitors per day from that keyword alone. The extremely high AdWords competition and average CPC indicate that it won't be easy to get there, though.

​
Luckily, as you can see in the image above, there are lots of long-tail keywords that incorporate your main keyword here. These could provide great inspiration for articles.
"Search engine marketing" has similar competition, but a remarkable 12,100 global searches per month. Just a member that readers searching for this keyword probably know a bit more about SEO than your average Joe. They will expect high-quality content.

​
Those of you who are willing to expand into the other branches of online marketing might find it worthwhile to pursue "digital marketing strategy" as one of your principal keywords. It has 4,400 global searches per month. The competition also appears to be a bit lower, although it does look like people are paying even more for CPC ads than they are for the other two keywords.

​
Ranking in the top 3 for any one of these keywords could easily provide your site with the bread-and-butter traffic it needs to turn a steady profit. Let's take a look at what kind of effort that would take.
4. Develop a Non-Organic Link Building Strategy
My competition research and Traffic Travis showed that, as expected, most of the keywords are tough to rank for. If you want to get anywhere with these, you'll probably need to have a strategy in place for building links before you get any organic traffic at all. Make sure you have an off-page SEO wizard on your team before diving into this niche.
If this isn't an option for you, skip straight to tip no. 5.
"SEO marketing" rates as very difficult to rank for. It even looks like it would be tough to rank for the long-tail keywords that include it—Traffic Travis marked just about everything with more than 10 searches per month as "difficult" or worse.


Judging from the details Traffic Travis has provided about the top 10 Google SERPs, you would most likely need to combine a Page Authority of 50 or higher with great on-page optimization just to break onto the first page. Do that, though, and you might shoot all the way to a top 3 position immediately.
"Search engine marketing" looks like it has even bitterer competition.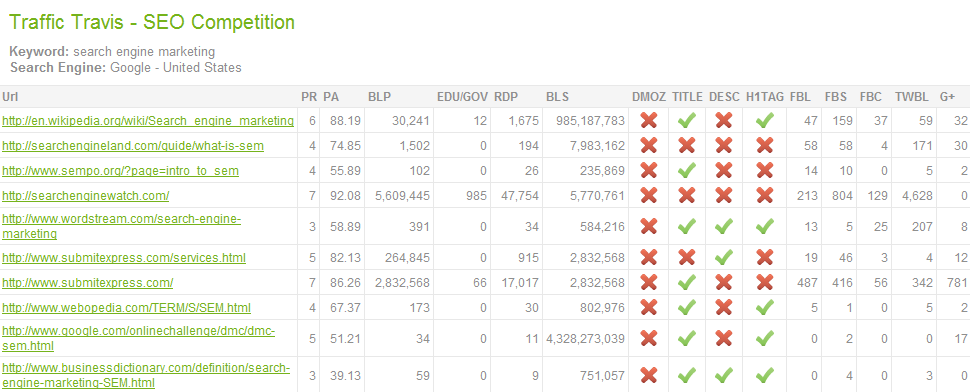 More of this keyword's top pages have great on-page optimization in addition to their absurdly high Page Authority. Getting to the no. 1 position would involve jostling with the Search Engine Watch homepage and a Wikipedia page.
The competition for "digital marketing strategy" is more relaxed, but only a little. The top pages have lower Page Authority than the other two keywords, and they haven't done quite as much exact-match optimization. Still, you'd have to be prepared to go up against the Huffington Post, Forbes and (yet again) Wikipedia.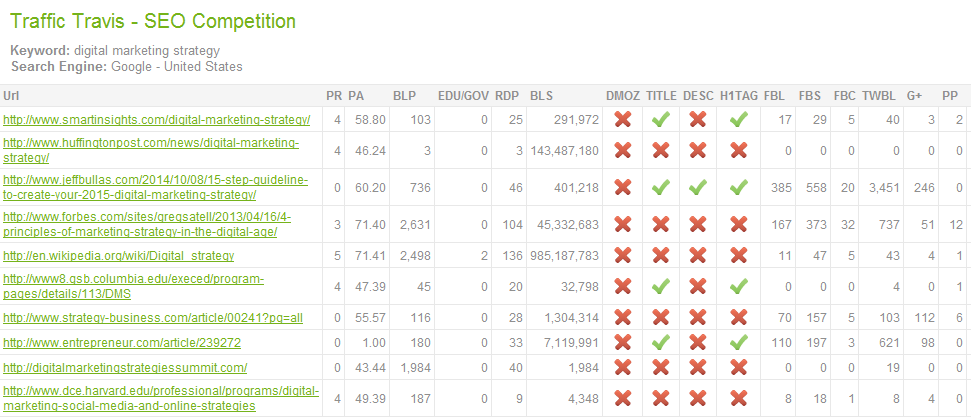 5. Take Advantage of the New Year
An interesting keyword that I'd like to point out is "SEO strategy 2014." Undoubtedly, interest in this keyword is about to disappear entirely as it is replaced by "SEO strategy 2015."
​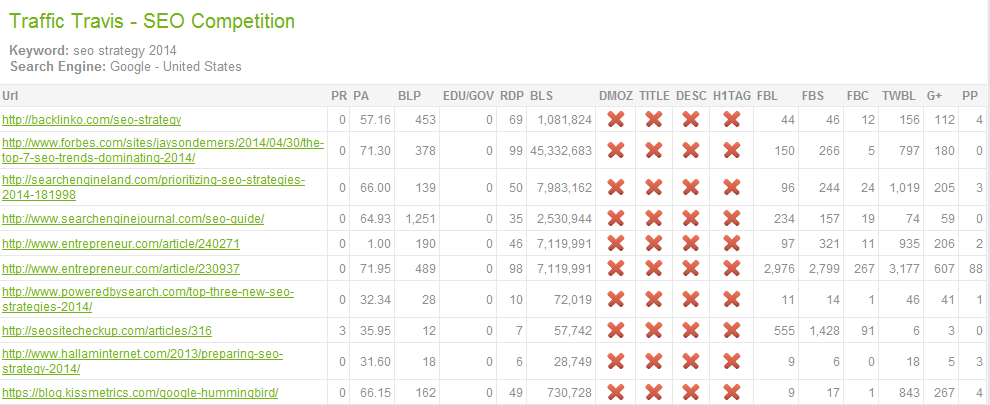 ​
At the very end of the year, this is still a relatively easy keyword to rank for with 590 searches per month. Jumping on the opportunity to create a 2015 article while the year is young could be a great way to get some new visitors.
6. Target a Sub-Niche
There are actually plenty of other relatively easy keywords in this niche. Many of them could be used to carve out a sub-niche for yourself. For example, there is a reasonably high amount of interest in SEO marketing with videos, for dentists, and in local areas.

7. Use My Research to Get Started
Before writing this article, I researched 1,000 niche-related keywords in Traffic Travis. To find all of the details on the keywords I covered in this article as well as hundreds more, simply download my research here and upload it into your copy of Traffic Travis. You might find more high-traffic keywords worth fighting for or low-competition sub-niches you could claim as your own.
Don't have Traffic Travis yet? Go ahead and download it for free here.
This is not an easy niche to enter, but it's not impossible either. If you're building a website from scratch, you could probably get in a few early wins by targeting some of the easier keywords. Just be ready for a serious fight if you want to get many visitors.
With that said, if you win those fights, you are going to get some AWESOME traffic!