Written on December 16th, 2014 by
Simon Slade
Last week, we covered the free SEO tools niche. This niche has some great keywords for Traffic Travis affiliates. We decided to perform some additional research that our partners might find useful and turned our attention to SEO software.
This seemed like a great keyword for our affiliates use to market Traffic Travis, as that's exactly what it is: SEO software. We felt like it might be a very high-converting keyword, and that the related terms could be extremely useful. However, we soon discovered that all is not well in paradise....
The 2012 Apocalypse
Before 2012, I would've called this an evergreen niche. Interest in it had been high since 2004 with little serious fluctuation. According to Google Trends, that changed in November 2012, when it plummeted to its lowest point in eight years.
Instead of following its normal routine of bouncing back from a bad month, interest continued to decline. The forecast doesn't look pretty, either.
Of course, declining interest in a single keyword does not necessarily mean a whole niche is doomed. It simply means that our primary keyword, SEO software, is no longer as valuable as it once was.
As with free SEO tools, the niche does not appear to be seasonal, but it does seem to do poorly during November and December. If you decide to try it, don't count on Cyber Monday and Christmas sales putting your business in the black. Consider going with a New Year's angle: "What better way to start the new year than by finally getting your website on the first page of Google?"
Did Any Keywords Survive the End of Days?
"SEO software" once had 8,800 global searches per month. It has declined significantly, but the numbers are still pretty impressive — 1,900 monthly US searches and 6,600 global.

Still, even that relatively high number of searches isn't enough to go around. Competition has been building up over the years, increasing the supply. When the demand suddenly dropped, it left an over-saturated market and there was no room left for those who had not already climbed to the top.
At this point, I'm predicting an extremely difficult ranking for this keyword. I'd already say it's best to avoid it. Let's see if there is anything else available, though.

"Best SEO software" has lower KEI, but also lower AdWords competition than "SEO software." It might be a little easier to rank for. It also incorporates the main keyword, which is useful if you are determined to rank for it.
"SEO keyword tool" could prove useful in a variety of long-tail keywords — just add "best" or "free" to the front of it or try running it through Ubersuggest.

One keyword that holds less value as an element in long-tail phrases, but could still prove valuable, is "SEO book." This has low competition on AdWords and 2,400 global searches. You could bring traffic to your site by offering a free SEO e-book as a bonus for downloading your SEO software.

SEO Competition in a Saturated Market
"SEO software" has a rating of extremely difficult just as predicted. It is still a marvelous long-tail keyword element, though. As you can see from the screenshot below, you can use it in numerous longer phrases, including some with medium or even easy difficulty ratings.

​
That said, if you want a top 3 position for this keyword, you'll have to go through us first. Traffic Travis currently holds the no. 4 spot for it.

​
"Best SEO software" looks a bit easier at just plain difficult. None of the top-ranked pages — including our own (hmm) — have optimized an H1 tag for this keyword. Most haven't made a direct SEO effort at all.
Another sign that it may be possible to break into page 1 for this keyword: result no. 9 has a PA of 1!

"SEO keyword tool" also rates as difficult, but at least you won't be competing directly with us! Just be aware that most of the competition has extremely high Page Authority.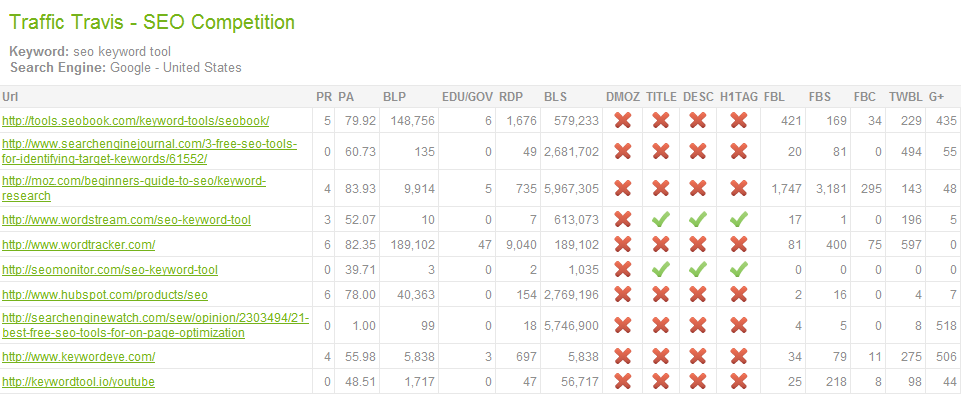 An interesting thing to note here: You can easily see the difference that good on-page optimization makes in the screenshot above. Pages with good SEO can beat pages with double their authority and infinitely more backlinks. A well-optimized page with a PA of 40 or higher should be able to break into this niche.
"SEO book" has a rating of very difficult — much tougher to rank for than the low AdWords competition suggested. You would have to beat seobook.com to rank very highly. That's a bit like trying to beat Amazon for the keyword "Amazon books."

​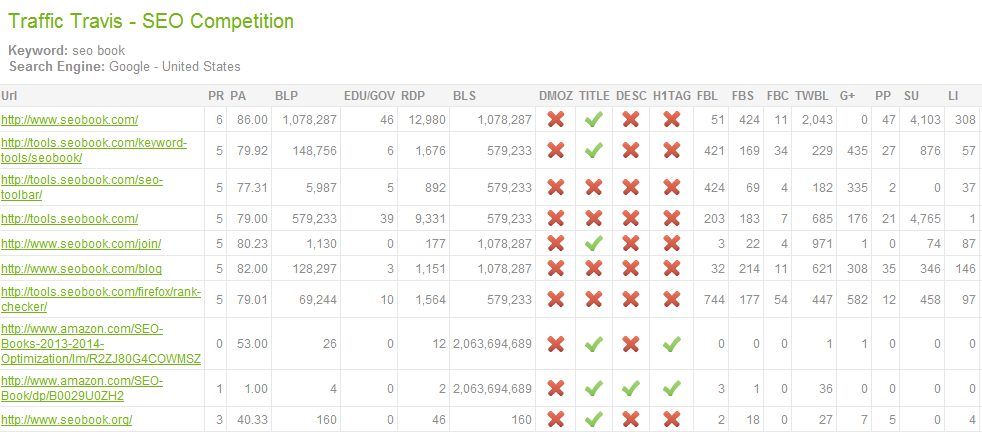 Speaking of Amazon, it does seem that a few listings for SEO books on Amazon have managed to sneak onto the first page. You might be able to get your own SEO book on here somewhere with good optimization and backlinking.
This niche has a fairly high number of keywords with easy to medium difficulty, but very few of them have a significant number of monthly searches. Take "SEO software reviews," for example:


The End Has Come
It appears that this niche no longer has much to offer newcomers. Market saturation and decreasing interest have eliminated much of the profit-generating potential it once had. Unless you already have an authoritative site, it would not be worthwhile to try to beat the well-entrenched competition in the hopes of winning over those dwindling searches.
For those of you who can't resist the challenge of building a utopia in a post-apocalyptic wasteland, I'd recommend the following strategy:
Formulate a high-impact backlinking strategy — and follow through on it!
For your primary keyword, pick something that has tons of long-tail keywords built around it, such as "SEO software" itself.
Create pages for each of the long-tail keywords to slowly build up your authority for your main phrase.
Combine this with exceptional on-page optimization and you may well cut through the competition and reach the top of page 1. Just be prepared for a long and challenging process. I would only recommend trying this if you are an advanced SEO and know you could get your site a PA in the 40+ range.
You can download my research on 1,000 niche-related keywords here to get started. If you aren't sure how to use Traffic Travis files, just visit the TT knowledgebase. Those of you who still aren't using the best SEO software around (our own, of course!) can download the free version of Traffic Travis here.