Written on December 26th, 2014 by
Simon Slade
So, you've put in a few years as an SEO. You've taken websites to the top of Google and have made some decent money doing it. You're ready to mix things up, though — so why not try training the next generation of SEOs?
The Internet Gold Rush
The Internet has been the target of a gold rush for years now. The idea of making a living from home appeals to just about everyone. Unfortunately, many of those who try fail due to a lack of training, dedication, or preparation.
During the California Gold Rush, hundreds of thousands of people moved into the middle of nowhere to find gold. Only a few of them struck it rich. It's said that the people who had the most reliable success were the shopkeepers—after all, all of those thousands of people needed food, clothes, tools and shelter.
If you set up a successful SEO training "shop," then you can let others take the big risks. While they're out mining and panning, you'll sit comfortably in your home office, collecting a reliable income in exchange for giving them the tools they need to (possibly) strike it rich.
Of course, all businesses have some risks. Let's see what they are:
Will the Gold Rush Continue?
The SEO training niche was at its best during the years of 2010–2012. Interest has dipped a little bit since then, but appears to have steadied itself at a fairly high level. Google Trends predicts it will have a few very high peaks in 2015.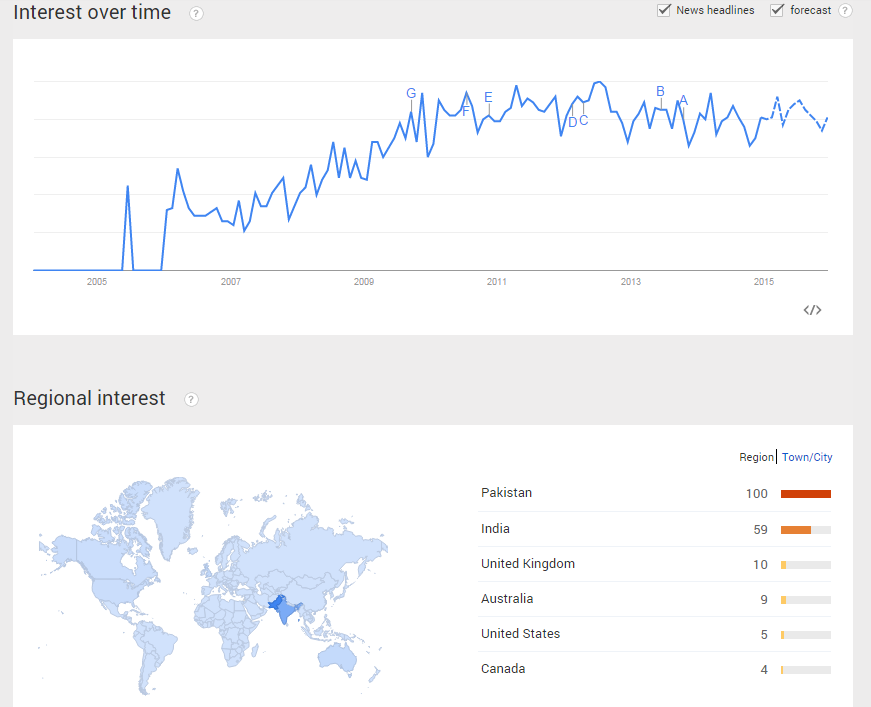 This niche does not appear to be seasonal. However, it often does especially well during March and July (with a few exceptions).
I would call this an evergreen niche with some reservation. It is possible that interest will continue to drop and cause this niche to become nonviable. I doubt it, though.
Returning to the metaphor of the gold rush, I find it more likely that an increasing number of people are done trying to strike it rich. Now they're settling down. While many have become disheartened and returned home, others have grown to like the place and are looking to build normal businesses — get-rich-slow websites.
These people still need to know how to get to the top of the search engines. As a result, SEO training should have a sizable market for a long time to come.
How Big Is the Market?
I started my investigation by doing some quick keyword research in the Research tab of Traffic Travis. My initial impression was that there was plenty of competition, but enough traffic for a clever SEO teacher to squeeze in and start making money.
"SEO training" has 6,600 global searches and 1,600 US searches. The average CPC of $11.14 suggests that you would have to work extremely hard to rank for it. Still, all of those searches might make it worthwhile.

​
"Search engine optimization tips" is a nice long-tail keyword that would be easy to write articles about. Its 2,400 searches per month may also make it worth fighting for.

​
"How to SEO" brings another 1,900 global searches to the table. It has lower AdWords competition than the other two keywords, but its 159 million SERPs indicate a much greater amount of organic competition. Ranking for this one would probably take more effort than ranking for either of the other two.

At this point, I'm predicting that most high-volume keywords in this niche will rate as difficult, very difficult or extremely difficult to rank for.
How Many SEO Training "Shops" Will Compete with Mine?
I decided to take a deeper look at the keywords from above by moving them into the Competition tab. Sadly, my predictions were accurate.
"SEO training" has some tough competition. Most of the top-ranked pages have gotten there by combining good on-page SEO with exceptional backlinking. Displacing them would take a lot of effort.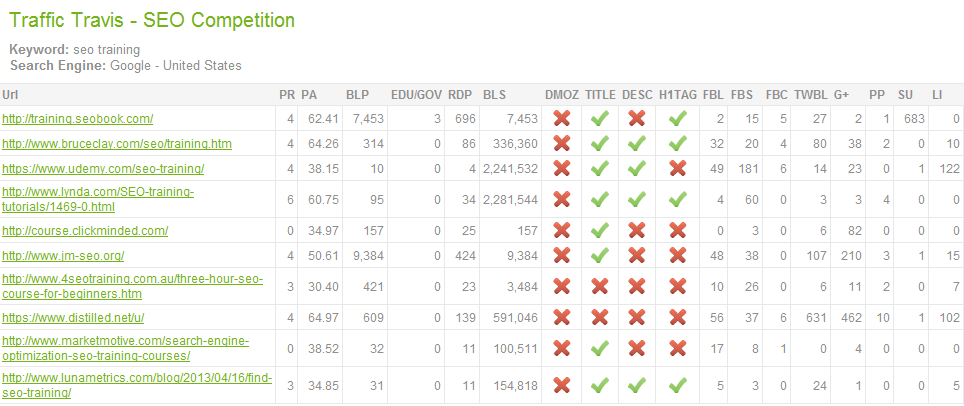 ​
On the plus side, it has plenty of related long-tail keywords that you could use to pick up a little easy traffic. This would enable you to start building organic backlinks relevant to your main keyword.

​​
"Search engine optimization tips" also rates as very difficult, but none of the top pages have optimized specifically for this keyword. Almost all of them are relying on monstrously high Page Authority. You might be able to climb to the top if you already have an established website and use some good on-page optimization.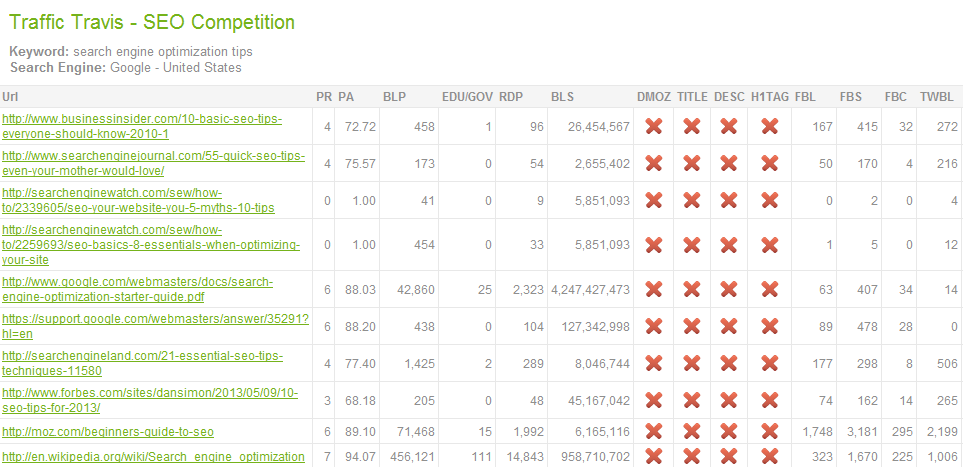 ​
After the other two, I had been expecting "how to SEO" to have a rating of extremely difficult, but it actually rates as very difficult as well.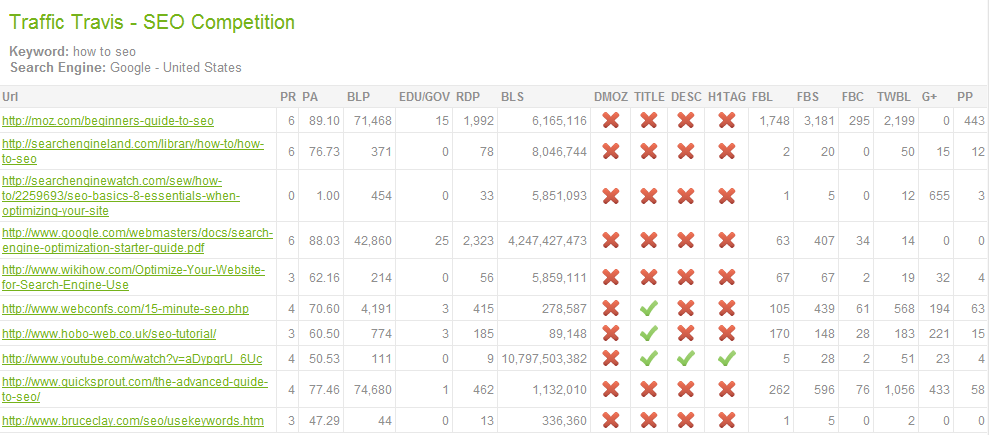 While few of the top 10 pages have done any on-page optimization for this keyword, it seems like exact-match optimization makes little difference here. Those that did optimize for "how to SEO" still needed extremely high Page Authority to get on the front page. I still believe this would be harder to rank for than "search engine optimization tips" or "SEO training," even though all three have the same rating in Traffic Travis.
All right, that's enough of near-impossible keywords. What kind of phrases don't have much competition?

Do you plan to offer such high-quality training that your students will graduate as SEO experts? If so, you might want to try the keyword above: SEO certification.
Some of the top results for SEO certification don't even have any backlinks going directly to them. If you can combine good on-page optimization with a Page Authority in the 30s, you'll almost certainly end up on the first page.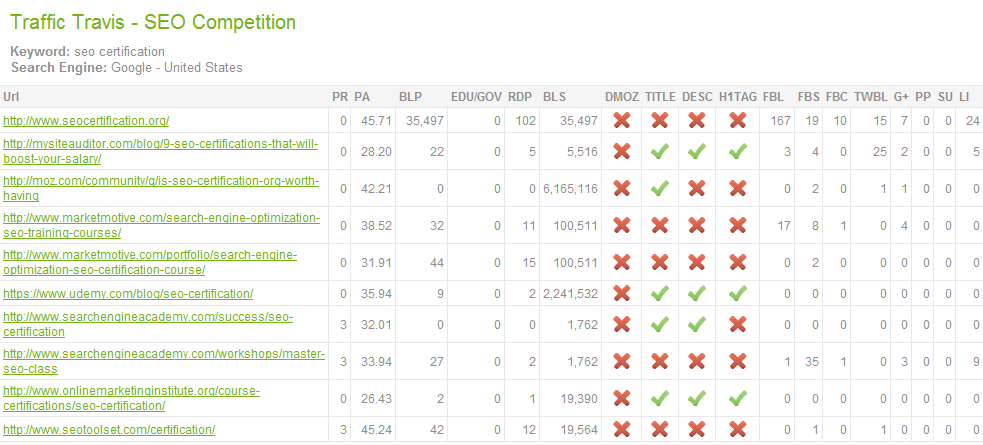 Despite a devilish CPC cost, "high quality backlinks" rates as relatively easy to rank for organically. Most of the top-ranked pages are how-to articles — easy enough to mimic on your own site. Just be aware that you will have to work your way through some competition and that there are only 480 global searches per month.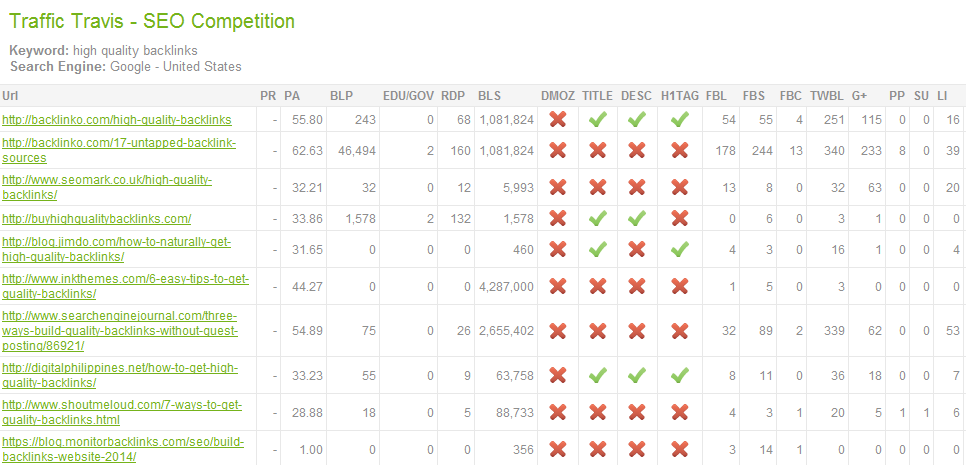 I found plenty of other relevant keywords with easy or relatively easy ratings, but most had only 100 or so searches every month. You can download my research for use in your own copy of Traffic Travis here if you'd like to see for yourself.
Is This Niche a Must, or Has Boom Become Bust?
If you'd seen this niche coming about five or six years ago, it would've been the perfect time to set up shop. You could have expected extremely high return on investment. Now, I'd say it's like most niches—it has room for newcomers to capitalize on, but serious success will take serious effort.
I would avoid this niche if you only have two or three years of SEO experience. The competition is nothing to sneeze at.
If you have solid experience as an SEO and feel like training new SEOs would be more enjoyable than your current job, then I would recommend giving this a try. The fact that you're doing something you enjoy will make the work lighter. You could grab some of the lower-competition keywords to start building an audience and a client list and work your way towards the top from there.
If you haven't tried Traffic Travis yet, it can be a powerful SEO training tool. Get the free version here. If you find yourself getting lost any point, simply consult our knowledgebase.