Written on July 28th, 2015 by
Simon Slade
DISCLAIMER: This week's blog post discusses explicit content and gets a bit NSFW. It also links to a few adult websites as examples of competition; we have run some quick safety checks on them, but you leave this page at your own risk and discretion. We recommend that our more sensitive readers take a pass this week.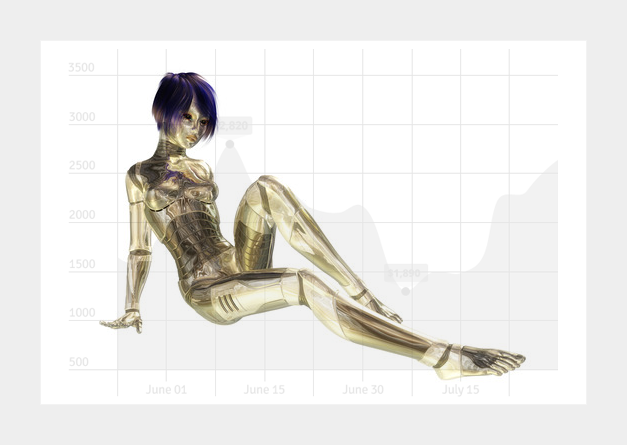 People love an arousing tale. This has been true for centuries, but the massive success of "50 Shades of Grey" in 2011 showed just how true it is. The paperback version sold faster than any other book in British history. It also turned us on . . . *ahem* to the fact that many aren't afraid to pay for sex. Er, books about sex.
While erotica is still selling well in the form of books, there's no question that the anonymity of the Internet makes it the first stop for all things erotic. Our question is: If you aren't afraid to, um, get your hands dirty, could you make good money off of a new erotic fiction website?
Sexy Trends
Other than an impressive upthrust in 2009, interest levels have stayed remarkably steady over time, with the same score of 33 in both May 2004 and May 2015.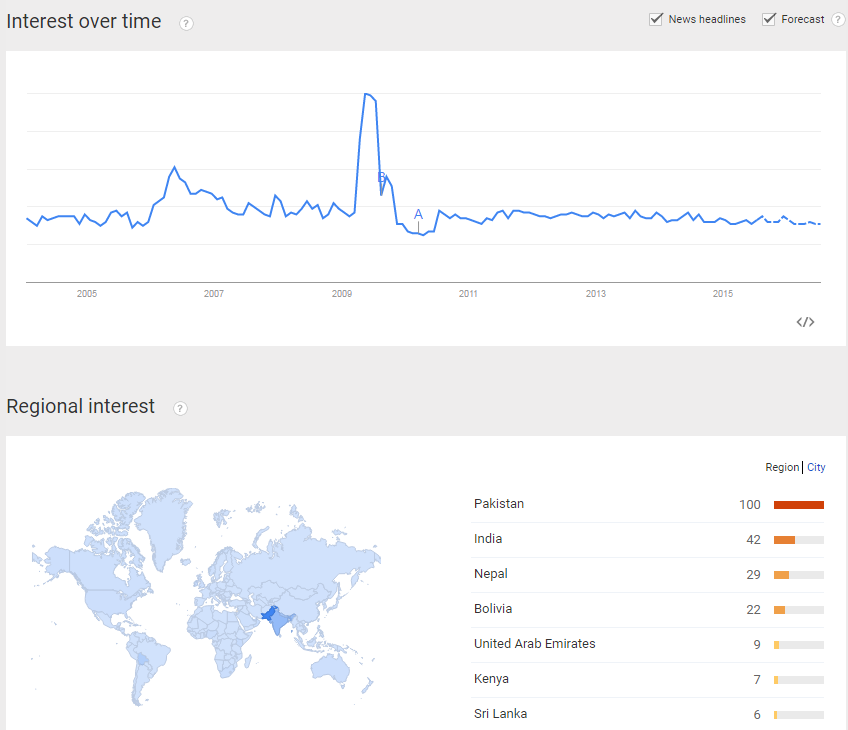 There seems to be little change from month to month. Apparently, the time of year doesn't decide when people are in the mood.
Geographic note: The countries that have the highest interest levels are interesting. I can understand India, home of the Kama Sutra, coming up as #2, but who would've thought Pakistan would be #1, or Nepal #3?
The Keywords Every Eroticist Needs to Know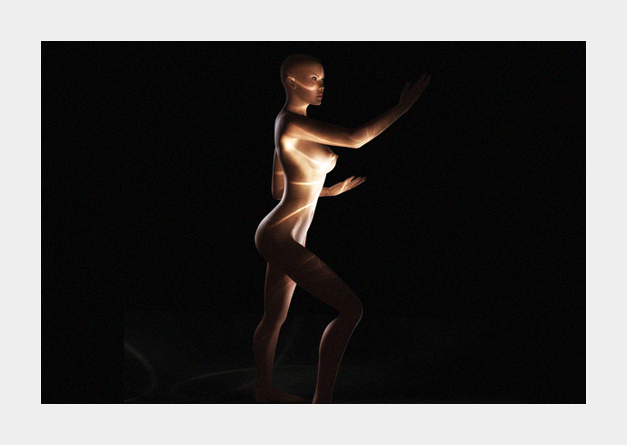 To save you the embarrassment, I have used Traffic Travis to barrage Google with erotic fiction keyword inquiries. Here are three that I couldn't resist taking a peek at:
1. Sexy Stories
Global searches: 201,000
Average CPC: $0.07
Global KEI: 935.21

With 201,000 searches for "sexy stories" coming from all over the world, it's amazing to see that most advertisers will only spend seven cents per click on an ad. Of course, advertising with this keyword would be tough, as AdWords does have restrictions on sexually explicit content. You may need to rely on organic SEO.
An interesting thing about this niche is that you can get a hint of the searcher's personality from the term they use. "Sexy stories" seems to be the most popular term. But one person's strip joint is another person's gentlemen's club, as shown by the people searching for . . .
2. Erotic Fiction
Global searches: 49,500
Average CPC: $0.20
Global KEI: 191.43

I would imagine that people searching for "erotic fiction" are just a little more educated or classy than people typing in "sexy stories." These are most likely noticeably different audiences, so it might take a different kind of content to leave this crowd feeling satisfied.
That isn't the only other take on this keyword. There's also . . .
3. XXX Stories
Global searches: 74,000
Average CPC: $0.09
Global KEI: 104.30

This one plainly states that the searcher wants something pornographic. I would assume that it is dominated by males, while the other two probably have a sizable female demographic.
Perhaps we'll find more clues about the kind of content that works in the next section. Why? Because we are going to take a very close look at some adult websites.
The Climax: How Hard Are These Keywords?
I know you've all been waiting a long time to find out how hard these keywords are. Ladies and gentlemen, I present: a keyword that generates over 2 million visits every year and is easy to rank for!
Analysis #1: Sexy Stories

Can you believe that not one of the pages ranking for this 201,000-search keyword has bothered to optimize for it? And forgetting that, four of them have fewer than 10 backlinks!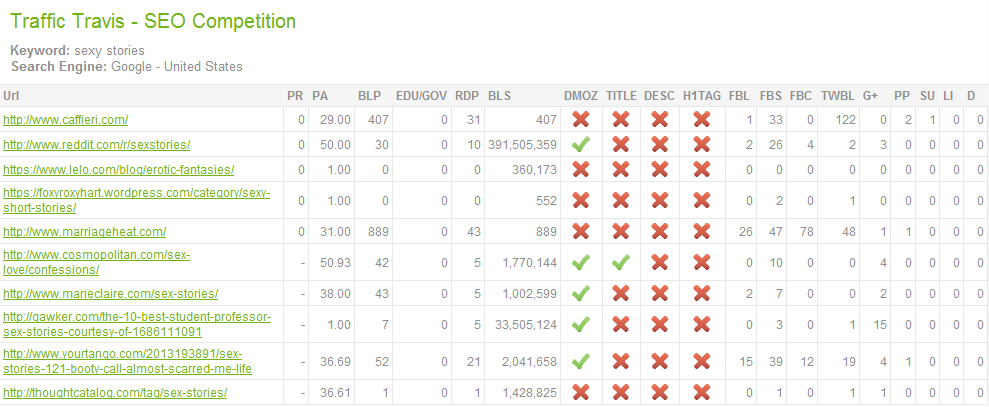 It's incomprehensible that nobody's trying to rank for a keyword with this much traffic. This is money just sitting in the street.
Well . . . maybe in the gutter.
Analysis #2: Erotic Fiction

It seems like the sites competing for this niche put a higher emphasis on class than traffic. Either that, or they just decided the name of their genre would make an appropriate keyword.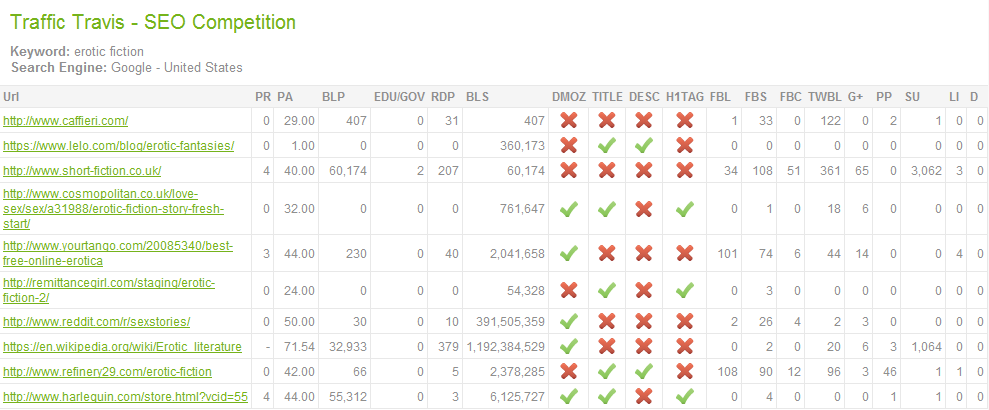 At least a few of the top pages have done some on-page optimization. Three of those optimized pages have ranked with no direct backlinks, suggesting that you might rank with nothing more than some pleasurable reads and skilled use of keywords.
Analysis #3: XXX Stories

Yeesh, some of these sites...

Most of the competition has not bothered to optimize for this keyword phrase. So what's hard about it?
The majority of the ranking pages are homepages. That means they have the full weight of their website's backlinks behind them.
Still, a few of those near the top look like they'd be easy to throw onto their backs. Ranking might be easier than it looks.
Bonus Keywords
Easy Keyword #1: Lesbian Stories
Global searches: 40,500
Average CPC: $1.03
Global KEI: 3961.96
Difficulty: Easy
Top competitor: Wattpad

Nearly half of the ranking pages have no backlinks and no on-page optimization. The talented author of Sapphic prose should have little trouble delivering their masterpieces to an appreciative audience.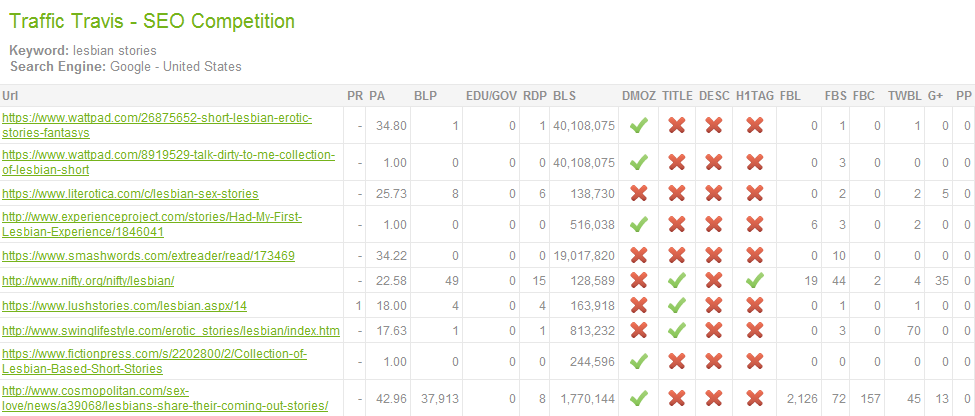 Easy Keyword #2: Bondage Stories
Global searches: 33,100
Average CPC: $0.31
Global KEI: 2711.91
Difficulty: Relatively Easy
Top competitor: Boundstories

Those aspiring to be the next E. L. James have a voracious audience to draw on. It looks like it wouldn't be too hard for you to secure the top position and make the other sites submit to you. Again, several pages don't even have backlinks . . . unless you're talking about handcuffs.

Should I Erect a Sexy Stories Site?
For obvious reasons, this niche isn't for everybody. But those willing to brave it will almost certainly succeed. Plain and simpl, I've never seen keywords so big that were so easy to grab.
Get your hands on the rest of the sexy keywords we researched and take a closer look in the privacy of your own copy of Traffic Travis. Just don't forget to hit the Like button before you go!