Written on January 23rd, 2015 by
Simon Slade
After last week's blog post showed some promising keywords, I decided to look into a variation on the same theme: social media analytics. It struck me as a better core keyword as soon as I ran it through Google Trends. Before I get into the juicy stuff, though, I'll explain the basics of the niche.
This phrase often refers to expensive programs that go deeper than the social media monitoring tools we talked about before. Using one, you might be able to:
Find out what people are saying about a brand on sites like Facebook and Twitter.
Determine whether the tone is positive or negative (a feature known as sentiment analysis).
Tell you which users are saying what so that you can respond.
With that said, a few searches on Google suggest that most people don't notice the analytics/monitoring dichotomy. You could probably use these keywords interchangeably.
Now for the good stuff . . .
A Bull Market
This keyword is in the middle of a boom. Interest has been climbing since people first started talking about it in 2008. In fact, it just reached an all-time high in February 2014 and is expected to do even better during this February and April.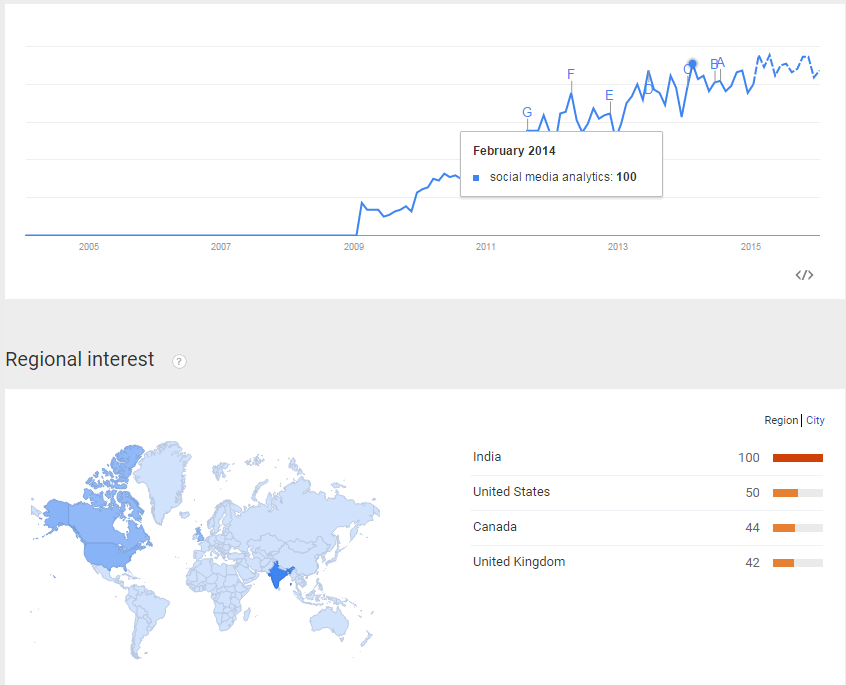 ​
Growing demand means more room for new suppliers. I'm confident that we will find some good keywords here!
Keywords People Are Bidding $30 For
"Social media analytics" has 8,100 global searches per month. On the downside, it has low KEI and high AdWords competition, and the nearly $30 CPC would instantly bankrupt most successful businesses. Let's reserve judgment until we see the competition rating, though.

Most of the big-name programs in this niche qualify as "sentiment analysis tools"—a keyword that has 1,000 searches per month. Much lower cost-per-click rates and SERP numbers indicate that this keyword should be an easier target.

​
"Social media statistics" looks great with 6,600 monthly searches and low AdWords competition. You could optimize for it while showing off how the program you're trying to sell can generate detailed stats. Alternatively, you could simply create an informative article to bring traffic to your site.

Which Phrases to Target
Surprisingly, "social media analytics" is only moderately difficult to rank for. That's why you should always use Traffic Travis to perform competition analysis before deciding to ignore a keyword!

​
While the competitors are pretty impressive, you could definitely beat them with a good mix of backlinking and exact-match optimization.
"Sentiment analysis tools" also brought a medium difficulty to the party.

Looking at the SEO competition, I would go so far as to call it medium-low. Most of the top pages just haven't put much effort into optimization.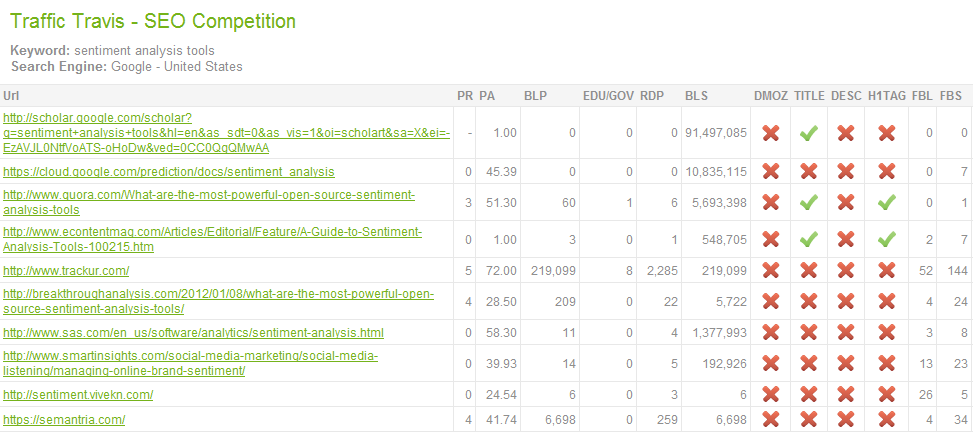 ​
As we've previously learned, AdWords competition says very little about the organic competition for a keyword. While "social media statistics" had far lower bidding competition than our other two keywords, Traffic Travis gave it a rating of Very Difficult.

It had a good reason. Most of the top pages have over 1,000 backlinks and a Page Authority of more than 70.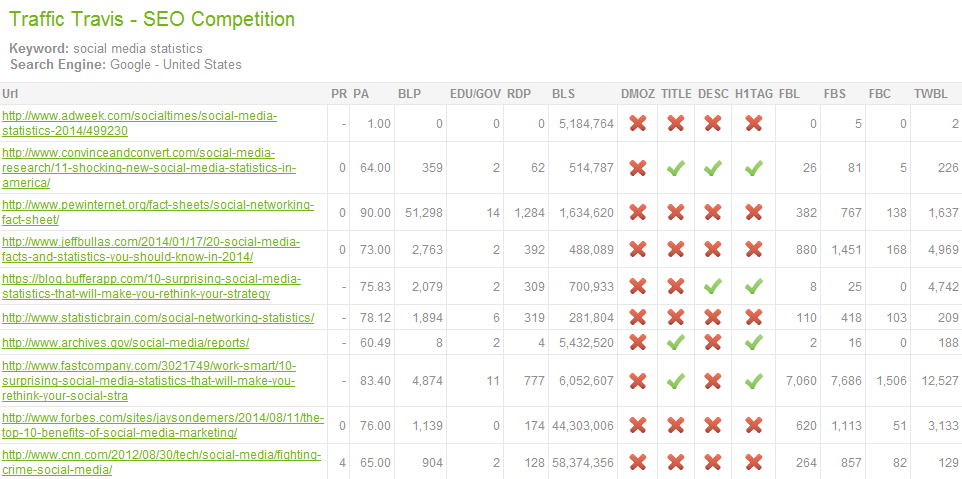 It won't hurt to write about the occasional "social media campaign," especially since that keyword has 2,900 monthly searches and a medium difficulty rating.

The competitors would put up a fight. Still, you could definitely beat them with the traditional one-two punch of backlinking and exact-match optimization.

If you don't mind going for keywords with fewer than 1,000 searches per month, this niche has a fairly wide selection of relatively easy phrases. You could use these to quickly get a foot in the door. Better yet, with interest on the rise, you can expect many of them to have higher search figures in the near future.

What This Means for You
Social media analytics looks like a great niche. With plenty of keywords rating at relatively easy or medium—and some of these with thousands of searches per month—most SEOs will have a fair chance at success.
If interest continues to rise, this niche could produce astounding amounts of traffic. Even if it tapers off, you could expect a steady stream of visitors for a long time to come. I strongly recommend giving this one a shot if you can find a good way to confirm the traffic into cash.
A word to the wise: Don't waste any time if you want to get in on this. This niche will see a steady rise in competition. Things will only get harder if you put it off. Climb to the top now, though, and you can expect to stay there for a long time.
Need help getting started? You can find my social media analytics keyword research here. See our online knowledgebase for instructions on how to use the file. Don't forget to leave a comment below!