Written on May 15th, 2014 by
Simon Slade
Social media is one of the biggest, most dynamic and fast-growing traffic sources for online marketers.
But taking advantage of this explosive growth is much easier said than done.
Long gone are the days where you could just have a Facebook page and call it a day. Even if you ignore the emerging social networks and just focus on the biggest players, you still have a lot of work to do. Managing Facebook, Google+, Twitter, Instagram and/or Pinterest accounts for your business or client could easily take up a big chunk of your day.
As social media become more accepted and used by diverse demographics, more specialized sites will pop up and gain popularity. That means more log ins, more account set ups, more posts and more content creation.
And don't forget, on top of administrating all of these accounts, you need to be engaging, follow-worthy and responsive. It's enough to make most marketers do an about-face and run!
Luckily, there are many great social media management tools out there that will help you work smarter, be more efficient and maintain a consistent marketing message across all of your social media profiles.
Unless you really love spreadsheets full of log ins, usernames and posting schedules, check out these five social media management tools:
HootSuite

If you have ever done social media marketing, chances are you have heard of HootSuite. It's far and away the most popular social media management tool and for good reason.
HootSuite has everything you need to start managing your social media profiles and campaigns all in one place. With this comprehensive tool, you can:
Post on multiple social media sites.
Schedule posts to go live at peak times your audience is online.
Bulk upload posts via a CSV file.
Measure engagement with analytics from Google, Facebook and more.
Track conversions, customer sentiment and trending topics at the click of a button.
Collaborate with other team members.
Like any good online marketing tool these days, HootSuite has a mobile app so you can do all of this on the go. If you want to be engaging and stay on top of your audience's feedback, then this is vital.
The site offers a free pricing plan but the most common is the Pro plan, which will run you a measly $8.99/month and is perfect for most small businesses and marketers. If you're part of a larger organization, HootSuite offers scalable plans to meet your needs.
Simply put, HootSuite sets the gold standard for social media management platforms.
Buffer

If HootSuite is no. 1 in the world of social media management, then Buffer is no. 1b.
The main differences between the two are that Buffer is better at scheduling posts and content at specific times but lacks the ability to "listen" to social media by monitoring conversations and other people's posts. In fact, some people use the two in conjunction with each other but if you're on a limited budget, this probably isn't a feasible plan.
While Buffer does offer a free plan, it is very limited as most free plans are. Expanded business/agency plans start at $50 a month, which can be a bit prohibitive cost-wise for some marketers.
If you do decide to go with Buffer's paid plan you will be able to:
Custom schedule posts.
Get detailed social analytics.
Post to multiple social networks.
Use more than 50 apps and extras.
Share media in all formats.
SocialOomph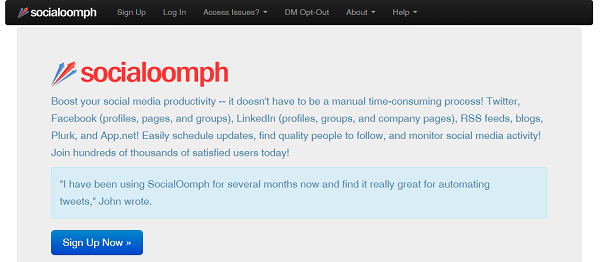 The next contender in our battle royale of social media tools is SocialOomph.
This tool allows you to schedule and post content to Twitter, Facebook, LinkedIn, RSS feeds, blogs, Plurk and App.net. Note the glaring absence of Google+.
SocialOomph is more focused on Twitter than other social networks. It's a great tool if you're looking to build a Twitter following, but lacks important features our previous two entries have. With this tool you can focus on Twitter by:
Scheduling tweets.
Viewing mentions and retweets.
Purge your DM inbox.
Auto-follow new followers.
And more...
If Twitter is your preferred platform, then SocialOomph needs to be on your radar.
Sprout Social

An honorable mention amongst social media tools is Sprout Social.
Like other tools, you can easily manage, post, follow and engage with all of your social media profiles. You also get solid analytics to help you improve your social media performance. What makes Sprout Social really stand out in our book is the inbox style layout.
HootSuite is great, but after adding all of your profiles it can be a little cumbersome to use. If that layout overwhelms you, then you need to check out Spout Social.
From the central hub you can see all messages that come your way, post to different profiles, search for content on Feedly. It's pretty cool.
But that coolness is going to cost you. Sprout Social plans come in $59 (Deluxe), $99 (Premium) and $1500 (Enterprise) versions. Not cheap, but take advantage of the free trials and see whether it works for you.
MarketMe

MarketMeSuite gets high marks for its easy-to-use interface as well. If you can use an email inbox then you can use this tool.
It's laid out just like Outlook, giving you a preview pane on the left and an area to the right where you can open the message to see more information, reply and much more. It also gets bonus points for an awesome built-in setup tutorial. Simply follow nine easy steps and you're ready to rock.
There is only one pricing plan for MarketMe and it's pretty competitive at only $15/month. However, it can be a bit limited on some features. The site also sells add-ons that range from $5 to $10 a month. Depending on your needs you might end up paying more than other services.
If you've tried your hand at generating social media traffic, you know how much time it takes to manage.
Start Managing
Yes, you can manage all of your social media accounts by hand. It's time consuming, though, and at some point you have to look at how much your time is worth to you.
If you're making some cash from your campaigns, break it down by hour. Then look at how much time you are spending on managing all of your social media profiles. Even if you're currently not generating revenue, consider what revenue-producing activities you could be doing instead of this busy work.
Chances are, it's worth it spend a couple bucks a month to have all of your social media profiles in one place, to easily post content to different sites and to engage with your audiences.