Written on January 17th, 2015 by
Simon Slade
Social media monitoring plays a critical role in web analytics. After all, Facebook, Twitter, and the other giants of the social sphere can direct huge amounts of traffic to your website — if you have the information you need to use them properly.
Dozens of competing companies have made tools to help businesses keep track of everything going on across their myriad social networks. This allows them to make intelligent decisions by simplifying huge amounts of data.
A quick Google images search shows us the sort of tools we're looking at: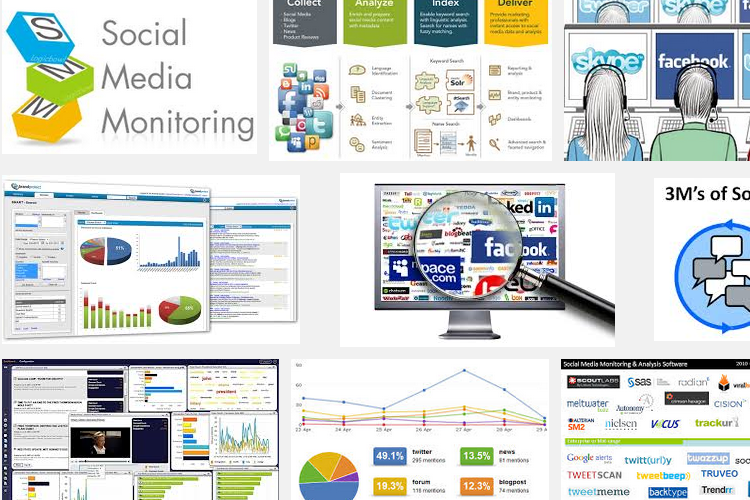 In a market this big, we SEOs can find plenty of business. Undoubtedly, many of the companies that made these tools have affiliate programs. Others will be looking to hire people like you to help take their business to the top of Google.
There's no question that there's plenty of money to be made in this niche. Let's find out if we have a chance of making some of it for ourselves.
The 2012 SEO Bubble Again
Google Trends shows us what has become an extremely familiar pattern: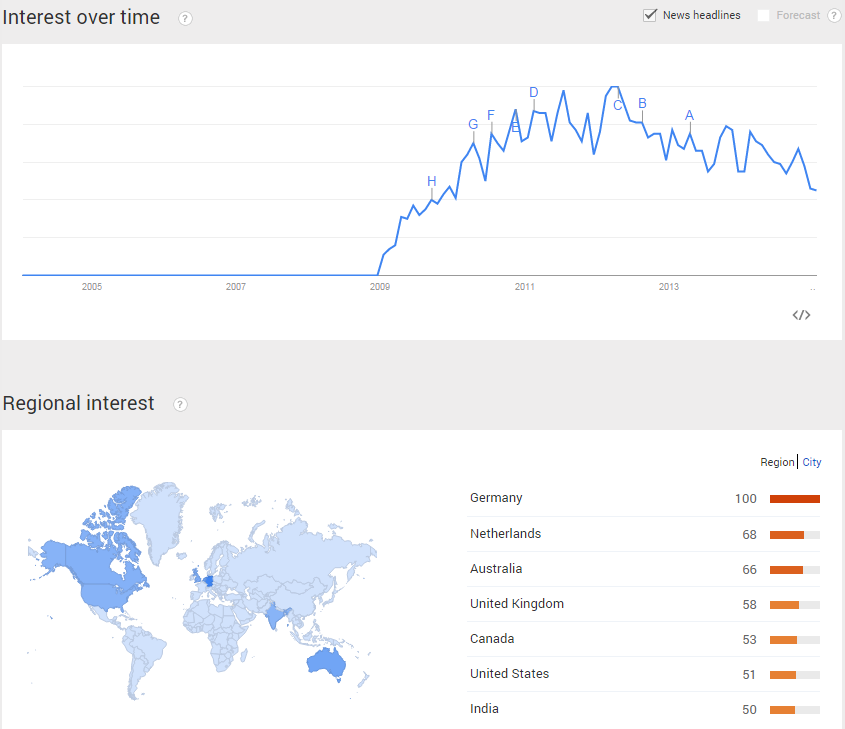 As with most other SEO-related niches, interest peaked in 2012 and fell off dramatically afterwards. It also experiences the commonplace poor traffic in December. This appears to be the case even in countries like Germany where interest is higher than it is in the US.
We may be in for another tough market this week.
Social Media Monitoring Keywords
"Social media monitoring" has 6,600 global searches, but it also has some of the worst CPC competition I've seen. Still, we won't rule it out until we've performed the competition analysis.

​
"Social media monitoring tools" makes a great long-tail keyword and a good second choice if you want to go after our primary keyword. Just take note that it also has very high AdWords competition and CPC rates.

"Social media strategy template" looks like a much better choice at first glance. It has a higher KEI than the other two keywords, low AdWords competition and 2,900 searches. You could easily use it to market the tools you're selling as part of a strategy, or you could give away an e-book containing your template as a bonus for signing up for your newsletter.

​
Glancing through the rest of my keyword research results, I came to the conclusion that this niche has a lot of traffic and a lot of competition. However, it also looks like a persistent researcher could find several high-value keywords with beatable competition.
The Competition
Traffic Travis rates our primary keyword as very difficult to rank for. Not surprising — the average site has over 123 million backlinks!

Even so, I couldn't help but notice that Google result #6 has a PA just over 22, no direct backlinks, and few social signals. This suggests that it's still possible to win a spot on the first page without spending a fortune.
This analysis also reveals that we can blame Wikipedia for the terrifying backlink average, with its more than 1 billion backlinks ruining the bell curve for the whole class.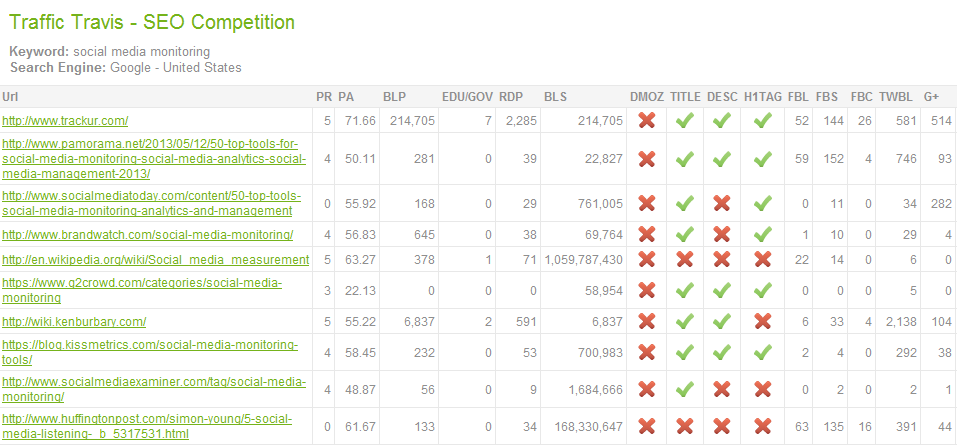 When you throw "tools" on the end, the situation actually looks bleaker. Six of the top 10 pages even have .edu or .gov backlinks. The only upside is that none of the top pages have performed thorough on-page SEO for this.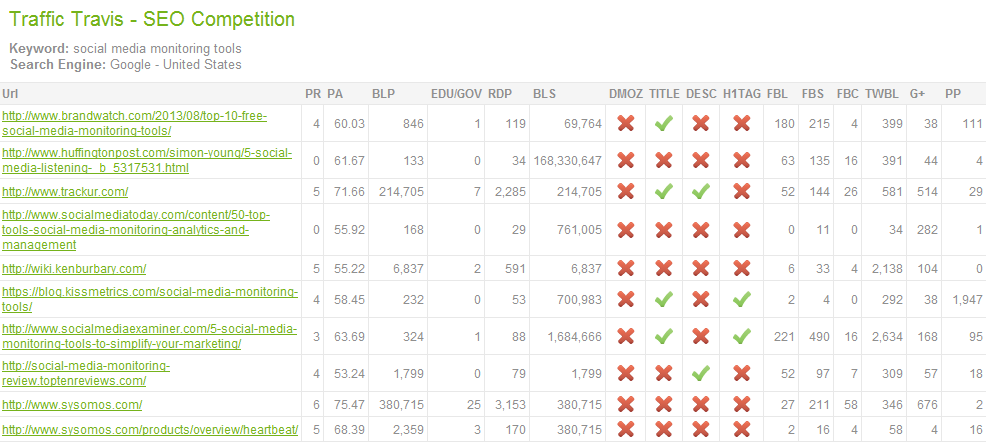 Things look much better for social media strategy template. TT gives it a rating of easy — what a relief!
If you do your on-page homework correctly and then get a couple of quality backlinks, you'll have pretty high odds of knocking some of these top 10 out of the way. Even result no. 1 only has 65 backlinks for the whole site and hasn't optimized for the keyword.
Make it to the top three and you could see 1,000 visitors a month just for this. Why you still reading this article? Go jump on this opportunity!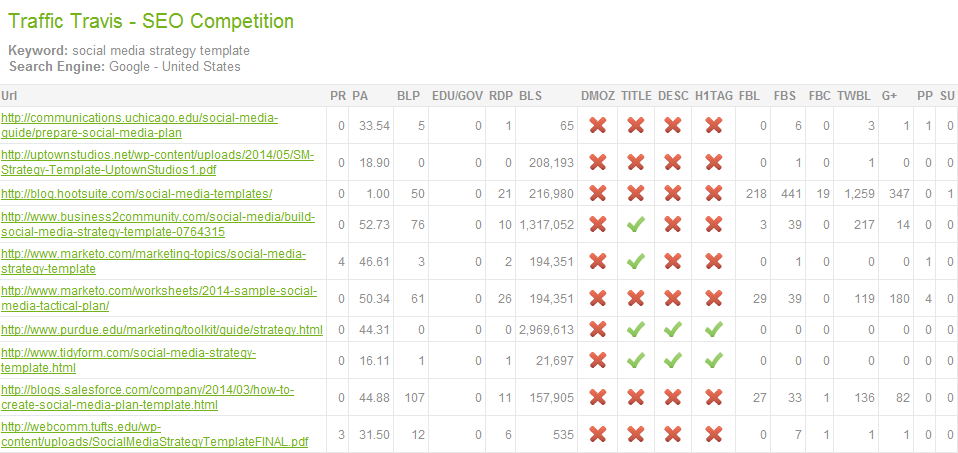 Let me give you another decent-looking keyword: "social media analytics tools." 1,300 searches and medium difficulty. Not bad!

I would expect to face a stiff fight for the top five results. Just look at their stats in the image below. If showing up on the lower half of the first page isn't good enough for you, I would consider this a very difficult keyword.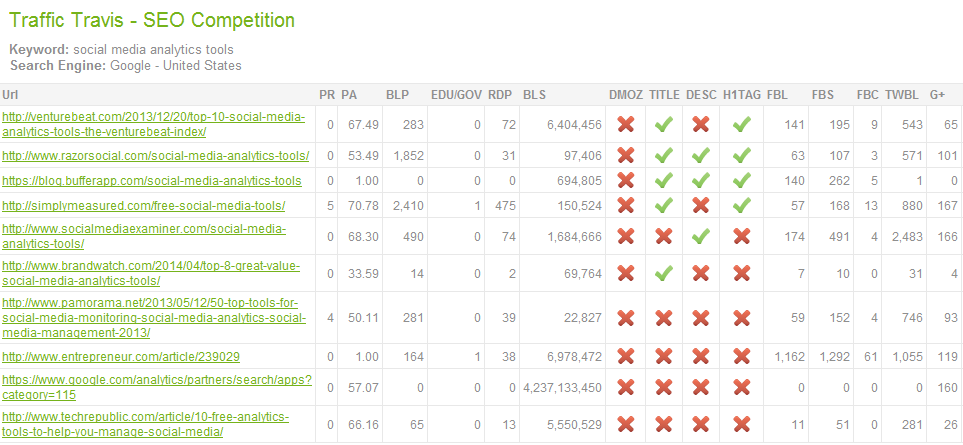 "Social media apps" has the same number of searches and the same difficulty rating. It could work great as an alternative. Few of the big fish in this pond have done much in the way of exact-match optimization, so you might be able to fight your way to the top.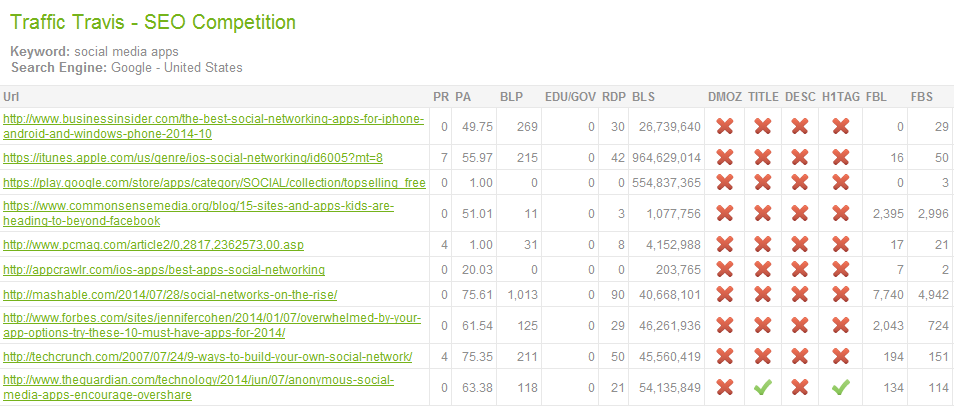 Overall Impression: Moderately Difficult
It will take some skill to succeed in the social media monitoring niche. If you go after keywords like "social media strategy template" and have the knowledge necessary to create high-quality content, you might build a following quickly. This may well be worth your time.
Going for it? Start off on the right foot by taking advantage of my social media monitoring research with the help of these instructions. You can also download Traffic Travis for free here.