Written on June 6th, 2014 by
Simon Slade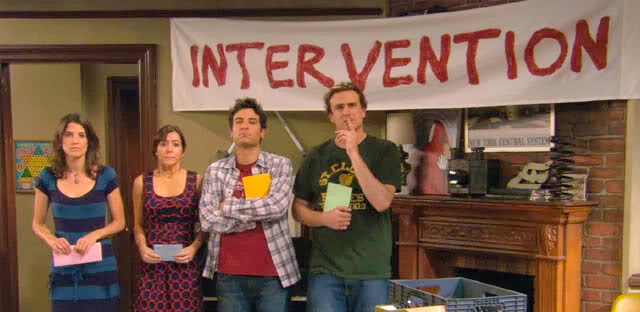 Do you have a social media strategy? If not, consider this an intervention, friend.
We're here to talk about your denial of the power and traffic potential of social media and how it's affecting your website. Remember, this comes from a place of love. We just want you to get better!
Whether you like it or not, social media is where it's at. Just consider some of these stats:
Number of Registered Users: Facebook - 1.15 billion, Google+ - 1 billion, Twitter - 554.7 million
70 percent of brands have a presence on Google+.
70 percent of marketers have used Facebook to successfully gain new customers.
43 percent of people ages 65+ use social media.
Twitter users aged 55-64 have increased 79 percent since 2012.
What does this tell us? Well, there are a ton of people and businesses using social media — and chances are your grandma is, too!
Immense traffic and business potential await you in social media land. But the importance of social media goes far beyond the sheer volume of people using it.
The Importance of Social Media
There are plenty of reasons why you need to have and implement a social media content strategy as part of your online efforts.
Here's a couple of the most important ones:
Reach: Simply put, it's where the people are spending their time online, so you need to be there too. Your competitors are most likely already using social media to get their (un)fair share of your potential customers. So why aren't you?
Diversified Traffic: Even if you're running a 100 percent clean, white hat SEO campaign, you probably still get mini panic attacks when you hear that Google has released a new search algorithm update. Having social media traffic flowing into your site gives you a certain level of immunity from Google updates and SEO/SEM slaps. Your whole business isn't dependent on one source for it's survival anymore.
Better Engagement: Done correctly, social media content tends to be more engaging than traditional website content. With less text and more images and video, social media grabs and holds people's attention much more effectively.
SEO Implications: There are hundreds of factors that search engine ranking algorithms look at when assembling their results pages, and social signals are one of them. They consider how many people have engaged with your content on social media (friends, followers, etc.), how much your content has been shared and many other metrics. Search engines aren't stupid. They know the power of social media too and know that serving users popular content is in their best interest, too.
So, if you want more traffic that is better engaged, diversifies your traffic sources and helps your SEO, then you need to make sure you have a social media strategy in place.
Social Media Strategy 101
Social media marketing involves so many pieces that it's often very hard to figure out where to start. So many platforms, so much content to create and a constant barrage of shiny new things to steal your attention away — it can be mind-numbing.
So, we decided to lay out a basic social media strategy that anyone can start up today. Take a deep breath, put one foot in front of the other and get going!
Hit the Big Three
If you're just starting off on your social media adventure, then your attention and resources need to be focused on the three biggest social media networks:
Facebook: If you have an online business, you need to have a Facebook page. There's no way around it. On top of the viral social traffic you can get, having a well-run Facebook page allows you to tap into their paid advertising, which can be an absolute gold mine!
Google+: I know the story; You heard Google+ wasn't as good as Facebook for marketing, so you decided to not bother. Huge mistake! Google is intertwining its social network with all of its other digital products, so Google+ is going to be important whether the world likes it or not. Get on board and ride the Google+ train to more traffic with integrated Authorship, a huge member base and new features like paid advertising. Remember that thing about search engines liking social signals? Which social network do you think Google's search engine trusts the most?
Twitter: Twitter is the fastest-growing social media platform out there. Whether you like communicating in 140 characters or not, you need to be planting your flag in Twitter's fertile soil.
Now the Next Two
Once you have profiles on the biggest of the social media platforms up and running, it's time to turn your attention to the next two in line.
Lucky for you, they are both image-centric, which makes your content creation process a lot simpler and more fun.
Start posting on these sites to start a following on the next two largest social media platforms out there.
Honorable Mentions
Depending on your niche and the type of content your audience enjoys consuming, you might need to consider these honorable mentions:
YouTube: It's not quite a social network, but has a lot of similar functionality. Add in how much people and search engines both love video as well as how much video can used on other social networks, and you're probably going to want to set up shop here, too.
LinkedIn: There are plenty of opportunities to connect with other professionals in your niche and spread your content even further. LinkedIn is not for every market, but definitely something to consider.
There has been more content written about these sites than you can swing a cat at.
If you want to delve deeper and get into the real nitty-gritty details on each, there are plenty of resources. But don't feel like you need to be an expert on each before you start.
Depending on the site and system, there are different specifics you need to address to optimize your social media efforts. But speaking generally, in order to start seeing benefits from your social media efforts you need to:
Set up accounts.
Fill out profiles.
Link back to your site.
Make connections.
Start posting, sharing and being social!
What to Post
There is a cardinal rule of marketing your business on social media that you absolutely must follow if you want to even sniff the sweet smells of success…
90 percent of your content should be focused on providing value to your audience. 10 percent can be devoted to selling.
Nobody wants to be sold to constantly. Just like with your SEO content marketing, you want to create content that elevates you to the level of "expert" in the eyes of your audience. Achieve that and they will come to you with wallets open!
Most importantly, be human. Ease up on selling and just try to engage with your followers and fans. Be helpful, just like in SEO, and people will want to do business with you.
Additionally, you will want to focus on visual content. Posts with images, video, infographics and other visual content get more engagement and will endear you to your audience even quicker.
Stay on Top of Social Newcomers
After you have your bases covered with the biggest five social media networks out there, make sure you keep your ear to the digital ground to identify up-and-coming platforms.
These two relative newcomers should be on your radar already:
You never know what's going to blow up next! If you can have a solid following on a social network before it gets really huge, you're sitting pretty!
Tip of the Social Iceberg
It's time to face facts about your lack of social media engagement.
It's not going anywhere, and unless you want to be left behind or depend on one source for your business's success, you need to get on the bandwagon!
This guide is just the tip of iceberg, but don't let that scare you. You're never going to completely master marketing on any of these sites. Even if you're the Neo of social media and can stop bullets Matrix-style, these sites are always changing.
Mastery is not necessary. Participation is!