Written on April 2nd, 2015 by
Simon Slade
A young man sets tomorrow's social media trends.
Having an excellent command of social media can dramatically boost a website's performance—and therefore its profits. However, each new generation of Internet users seems to reinvent the medium. Fail to keep track of the trends and you may become that one guy who's still advertising on MySpace.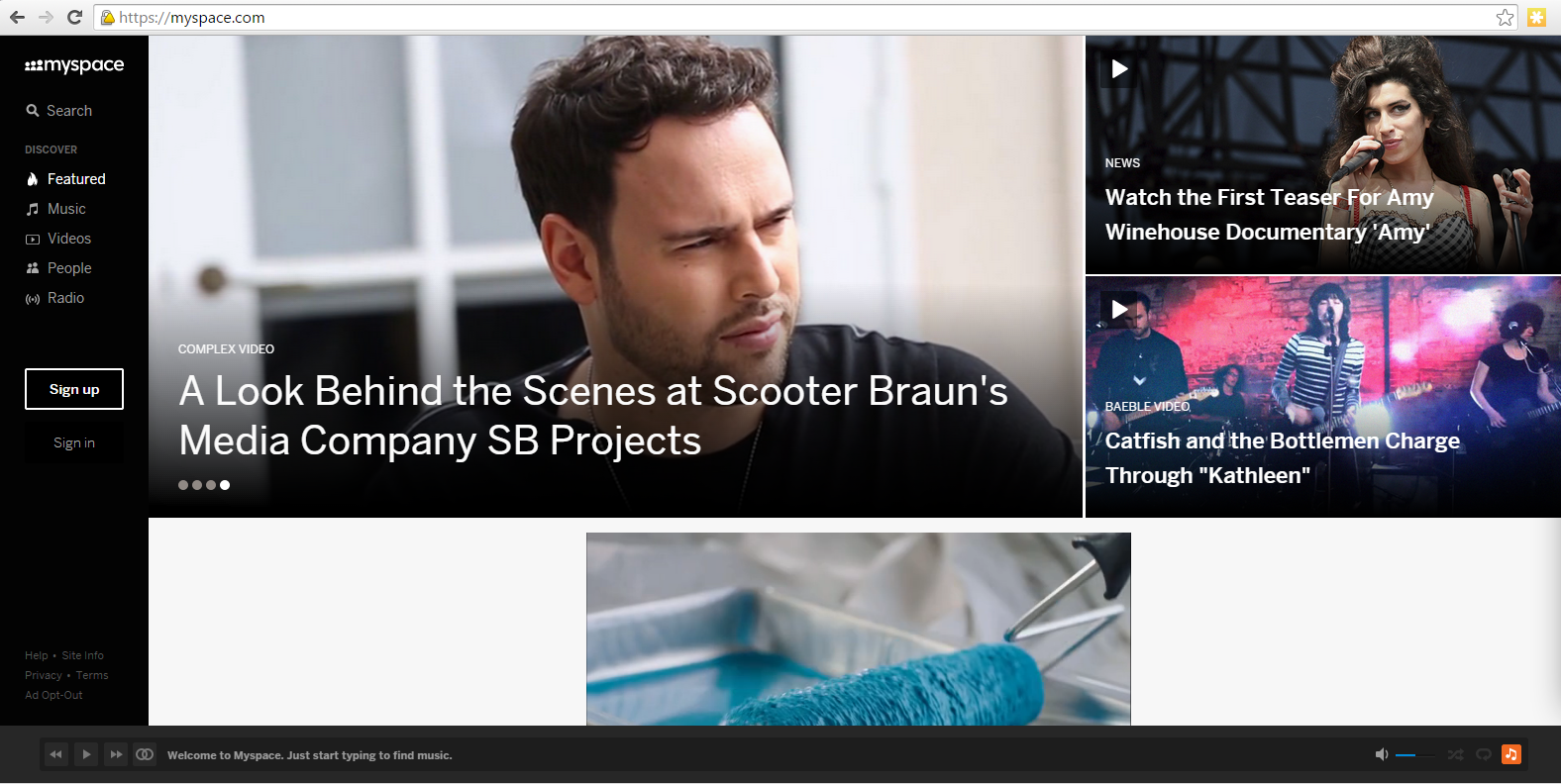 ​
Looking at you, Glidden.
Smart businesspeople have realized that any given hashtag—or even platform—could disappear tomorrow. Presumably, a large portion of them are the people typing "social media trends" into Google.
Think about that. A ton of powerful people with money to spend want info on these trends.
If that didn't immediately transform your eyes into dollar signs, then something important is missing from your entrepreneur's mindset. Well, that, or you're not a cartoon character.
Despite having what I would imagine is a large market of affluent customers, I doubt this niche has much competition. Why? Because putting together info on trends and making reliable predictions will take hard work!
Enough speculation. Let me find some facts for you guys.
Is "Social Media Trends" Trending?
Why use a keyword about trends if it isn't trending? As always, I turned to Google to find out.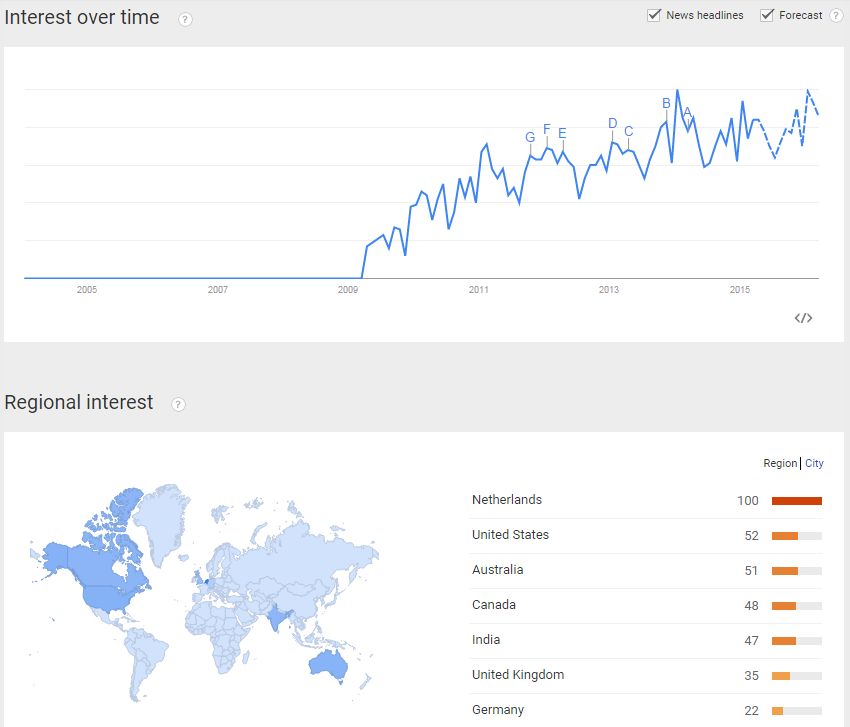 It appears interest has risen constantly since this keyword first gained popularity in 2009. The number of searches rises sharply at the beginning of each year, typically peaking in January and often doing very well in February. Interest falls to its lowest point in the summer.
While this keyword might not bring you tons of traffic at all times of the year, it should continue to draw more attention each year as long as the social sphere remains relevant. In business-speak, you can expect high YOY ROI.
The Numbers
"Social media trends" has great global statistics: 3,600 searches, a KEI of over 20, and low AdWords competition. We've seen far worse CPC bids, too. I think we have a good keyword here!

You need reliable statistics in order to provide good information about trends. "Social media statistics" has way better figures in both search count and KEI—6,600 and 106.50, respectively. The only downside is that the CPC is twice as high.

​
"Top social media sites" caught me by surprise. You'd think the answers to that question would be fairly obvious—just ask the three nearest teenagers which sites they used today—but another 6,600 people type that into Google every month. It also has better KEI, CPC and AdWords competition stats than either of our other two keywords.

I always get excited at this point. Of course, Traffic Travis's SEO Competition tool gives me bad news more often than not. Fingers crossed...
I Want YOU to Rank for These Keywords
Phew! Our main keyword looks as good as promised. It has a medium difficulty rating and most of the competition only went halfway to optimizing for it.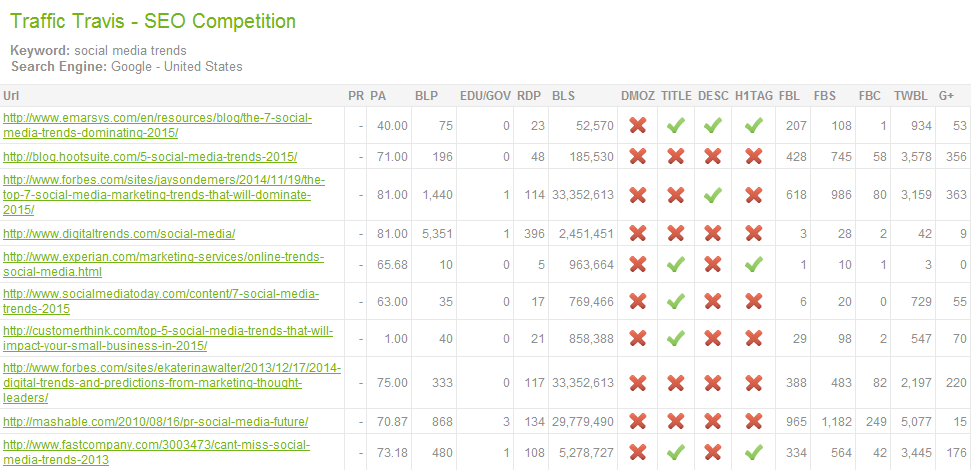 If the top result here tells us anything, you could probably rank with a Page Authority in the high 30s and some good on-page optimization.
If we tack "2015" onto the end of our main keyword, we get a long-tail phrase with 1,300 searches and an easier rating from TT.

Looking at the competition, I think that ranking for it would take roughly the same amount of effort. The ranking pages may only appear to be poorly optimized because they used grammatically correct variations of the keyword.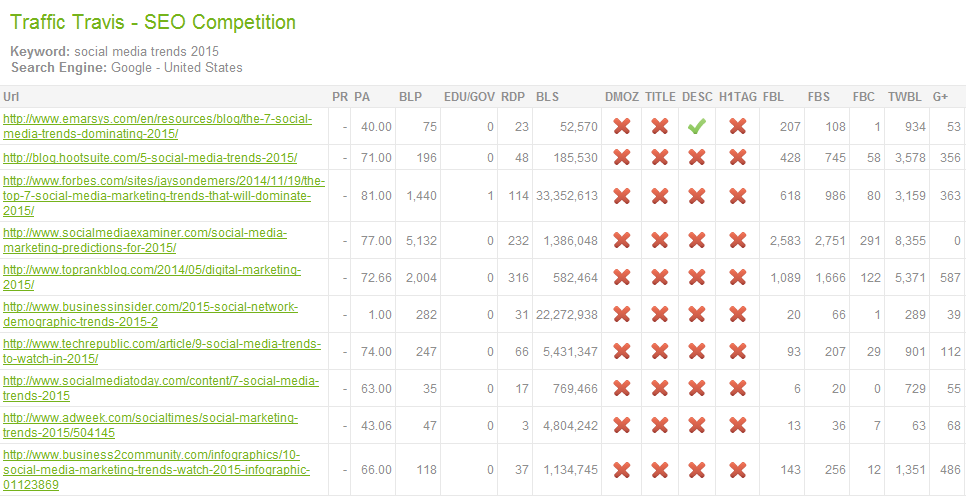 "Statistics" looks harder.

With its very difficult rating and a few perfectly optimized competitors, it would take its fair share of effort. If you succeed at ranking for "trends," though, then you will probably become an authority site in your own right. This would make a good keyword to follow up with.
"Top social media sites" has a difficult rating, but I think it's actually easier than "trends."

While the competitors have tons of backlinks, none of them have optimized for this keyword. Some of them don't even answer the searcher's question.

Google is just throwing out a few semi-relevant answers from popular sites. I believe a page that provided an accurate list of the top social media sites could climb all the way to the top with a PA in the 20s.
I may have mentioned this next one in another of my articles, but if I did, too few of you guys paid attention!
"Best social media campaigns" has a rating of easy. It also has 2,400 searches per month.

One of the top 10 pages has zero indexed backlinks. Zero! You know you can beat that.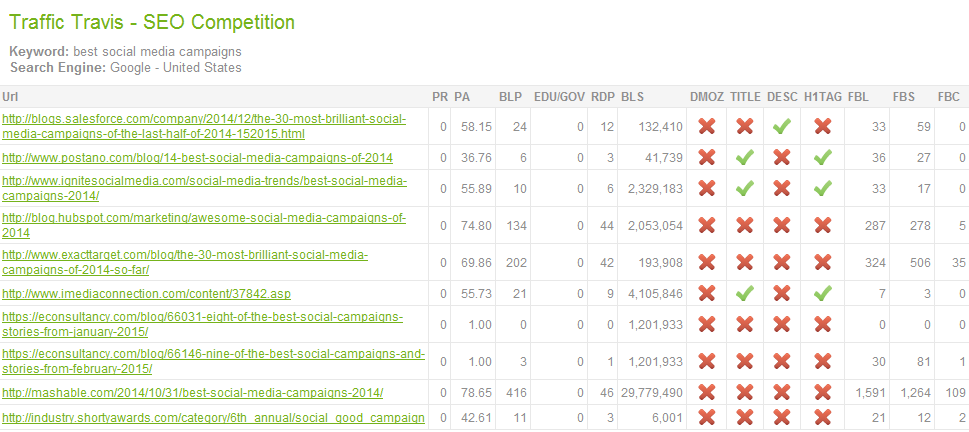 A Niche Waiting to Be Filled
Succeeding in this niche will take some careful analysis and perhaps even some reporter-style sleuthing. You have to know how to research well. You also need to write and present your website professionally, because your target market will likely consist of highly professional people.
If you can research well, generate some high-quality content and perform good optimization, then I see no reason why you shouldn't reach the first page of Google for some very valuable keywords. I highly recommend giving this one a try.
Get started by registering for your free copy of Traffic Travis and uploading my social media trends keyword research according to these instructions. Or, if you're looking for another awesome niche, check out the low-competition keywords for how to blog. Don't forget to like and comment!