Written on June 12th, 2015 by
Simon Slade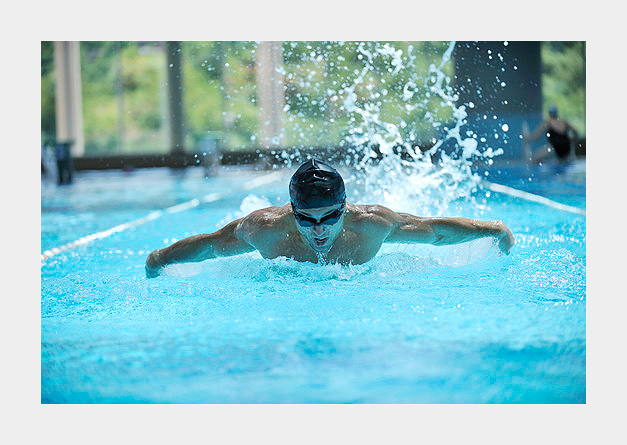 For most of the world's wealthier consumers, things are heating up right now. July is here and hotter days are waiting to come in August. A lot of people will be looking at a spot on their lawn and thinking man, I should really get a swimming pool.
When people want to buy something as big as a pool, they usually start by researching it online. Why not have your website be the first thing they see?
Pros and Cons of a Swimming Pools Website
Would a new swimming pools website make a splash, or just bellyflop onto the Internet and sink forever out of view of the search engines? Let's measure the good against the bad:
Pros
The expensive items should give you large profit margins
ClickBank has affiliate products for sub-niches like swimming pool maintenance and becoming a better swimmer
Some of the keywords have tons of searches
Cons
The competition seems high
Many people are wary of buying big-ticket items online
Before we get too judgmental, let's research further.
Trending in Waves
As one would expect, searches for swimming pools are seasonal. They peak in June or July and hit rock bottom in December. Those interesting spurs in the graph occur because of a small spike in traffic in January that falls back off a little in February.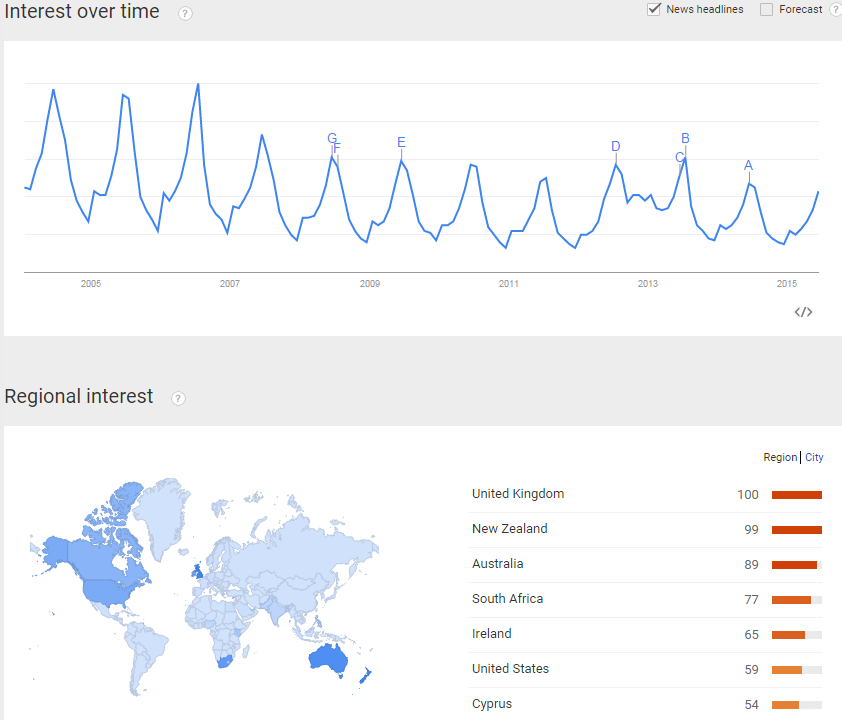 While traffic is trending downwards overall, there was a surge from 2012 to 2013. Searches fell off very little during the winter between those two years. In fact, searches in December 2012 were higher than in any other December in Google Trends' records.
I can't say for certain whether that means anything. But personally, I take it as an omen that searches may begin to rise again.
Cool Keywords
1. Swimming Pools
135,000 searches every month
Average cost of an AdWords ad (CPC): $1.68 per click
Global KEI: 155.77

This keyword sounds too good to not have a catch. Since it's very general, my guess would be that it does not convert particularly well.
2. Inground Pool Kits
6,600 searches
CPC: $1.73
Global KEI: 167.54
​

This probably converts much better. It's a specific type of product, so the customer is more confident and informed, and therefore more likely to buy. However, as inground pool kits are extremely expensive, many will be hesitant to order one online.
3. Above Ground Pool Slides
1,300 searches
CPC: 0.96
Global KEI: 12.71

You don't have to sell whole pools to make a living in this niche. Above-ground pool slides range from $70 (a great price for affiliate products) to nearly $3,000 (worthy of an ambitious e-commerce website). It's also a decent long-tail keyword, incorporating "above ground pool" and "pool slides."
Can You Outswim the Competition?
1. Swimming Pools Analysis
Difficulty: Difficult
Top competitor: Toys"R"Us

The competition for this keyword depends on where you live. Google likes bringing up local pools in the search results, as well as major retailers. Your odds of ranking will depend on whether you're happy ranking for your city or state/province, or if you won't be satisfied until you've taken over the world.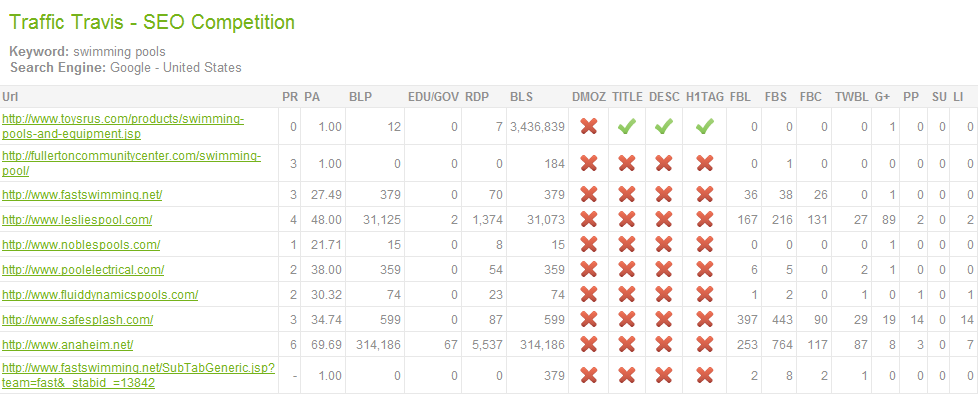 2. Inground Pool Kits Analysis
"Inground pool kits" looks like a great keyword. The competition has hardly bothered to optimize for it, and most of the ranking pages have fewer than 10 backlinks. You should certainly target it if you believe you can sell these expensive DIY kits.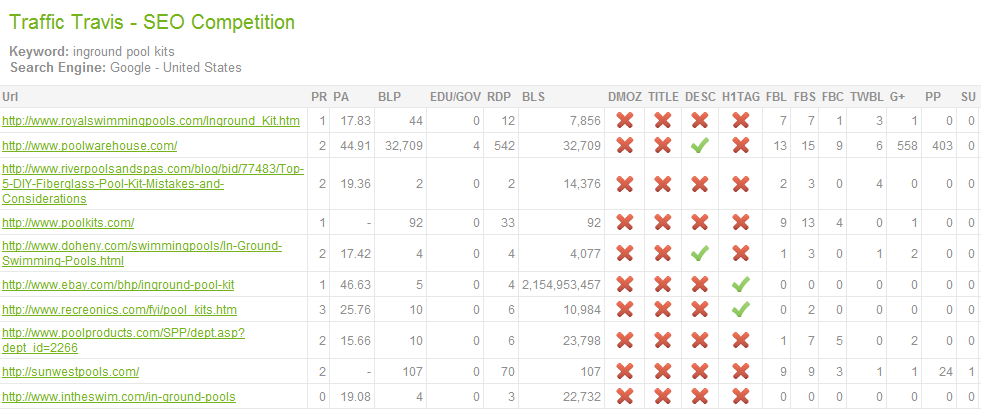 3. Above Ground Pool Slides Analysis
Difficulty: Medium
Top competitor: Amazon

This one looks a bit tougher. The ranking pages don't have much in the way of SEO skill behind them, but they do come from major online retailers like Amazon, eBay and Walmart.
​
The good news: Pretty much all of the results are sales pages. If Google places those at the top of the results, then you can bet that a large percentage of the people entering this keyword are looking to buy.
Easy Keyword #1: Above Ground Pool Ladders
3,600 searches
CPC: 0.98
Global KEI: 72
Difficulty: Easy
Top competitor: Walmart

This long-tail keyword is quite similar to #3 but has an easy rating. Above ground pool ladders cost between $100 and $200, so you should only face moderate buyer resistance when selling them online.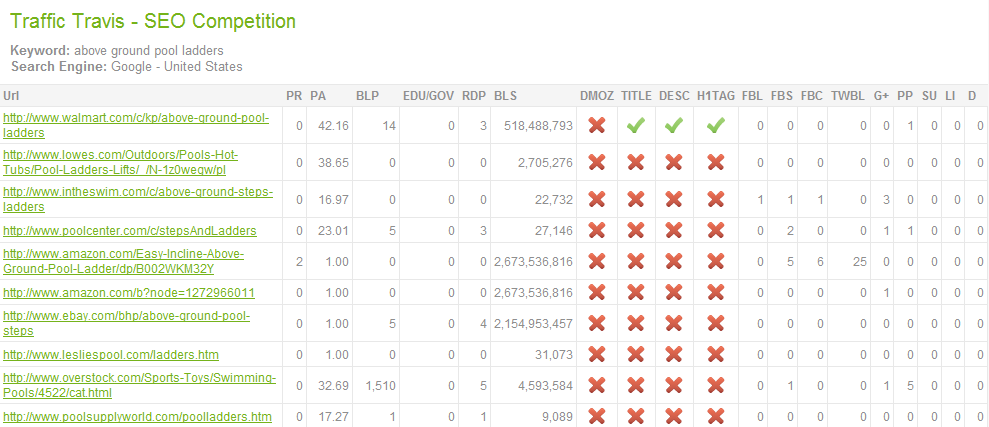 Once again, the primary competitors are reputable retailers who haven't done much to optimize their pages.
Easy Keyword #2: Kids Pools
3,600 searches
CPC: 0.67
Global KEI: 61.42
Difficulty: Relatively Easy
Top competitor: Walmart

An interesting side product (or even sub-niche) is kids' pools. Many inflatable models cost less than $40 and would be comparatively cheap to ship. The situation with the competition is similar to that of the last two keywords: you have to use quality SEO to beat the lazy authority of the big stores.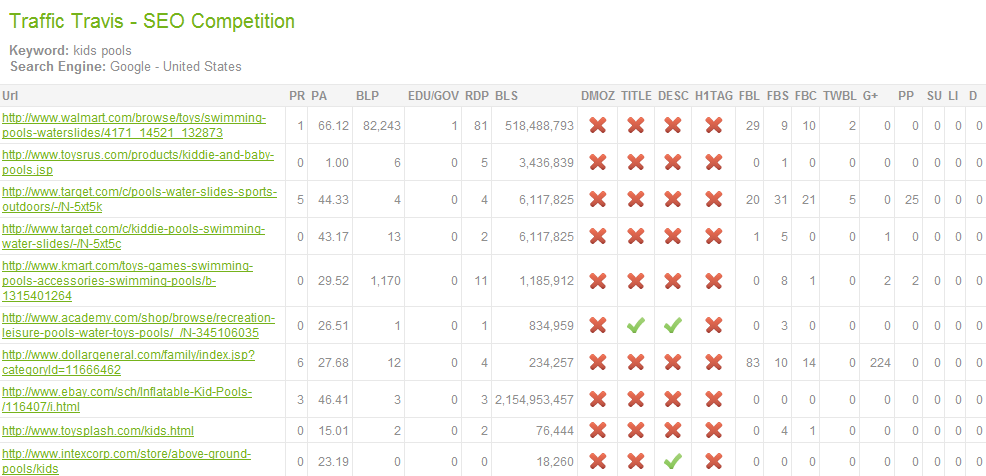 Is This Niche Off the Deep End?
This looks risky. The major retailers dominate the results and you'll have to work hard to earn consumers' trust before you can make any big-ticket sales. On the other hand, those big box stores are resting on their laurels and taking their top positions for granted.
With good SEO, you can shoot right past the halfhearted Amazon and Walmart pages and claim the very top spot on Google. With good salesmanship, you can turn those visitors into customers. Those who have both just may end up swimming in money.
I can't say the water's fine. Think before you dive in—and be ready to paddle hard if you do.
This week's 1,000 keywords are available here and instructions for using the file can be found here. You'll need to download Traffic Travis in order to access them. Be sure to leave a comment if you decide to take the plunge!