Written on July 22nd, 2015 by
Simon Slade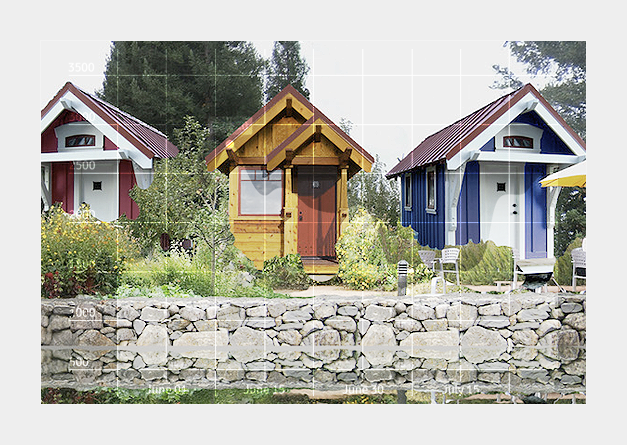 In many parts of the world, particularly the United States, interest in "tiny houses" (homes measuring only a couple hundred square feet) is skyrocketing. They offer solutions for homeowners tired of paying enormous bills, young people who can't afford a traditional housing, and anyone looking to reduce their impact on the environment. They're also easy to build and maintain.
How Can I Make Money Off a Tiny Houses Website?
You might ask, "How can I make money off tiny houses? I'm not a contractor or real estate agent!" Don't worry — it's easier than you think.
Between Amazon and ClickBank, affiliate marketers have tons of options. You can sell info products, books, or even seasons of TV shows about tiny houses.
That's just for starters. You can also promote the myriad of products from the age-old DIY and home-improvement niches.
This niche has serious profit potential. But is it really growing as fast as it seems to be? And do you have a chance at beating the competition?
The Mass Appeal of Miniature Homes
Searches are climbing fast! According to Google Trends, interest in tiny houses reached record-breaking levels in April 2014. By July, there were 2.5 times as many searches. Then the record got broken again in January!
October and November seem like the worst months for this niche, while July looks like the best. Not that it matters much! Searches have yet to drop back to what they were in April 2014, even at the worst times of year.
This niche is exploding. Whether tiny houses prove to be the way of the future or just a passing fad is in the hands of fate, but for now, there's a ton of money to be made.
Tiny Houses by the Numbers
Time to find some prime real estate using Traffic Travis's Keyword Research tool.
1. Tiny Houses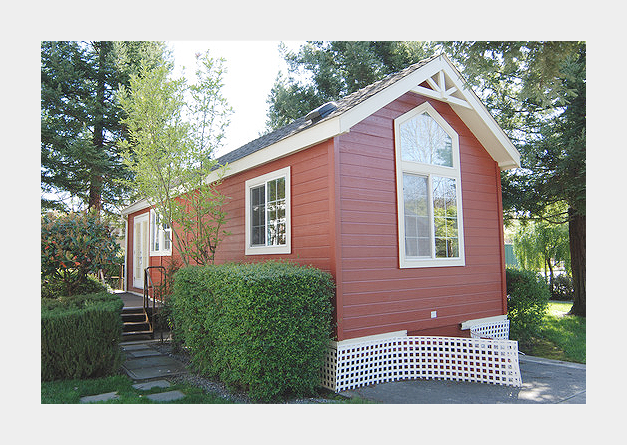 Global searches: 201,000
Average CPC: $0.38
Global KEI: 1787.65

Call me a huge nerd, but looking at figures like that is as awe-inspiring to me as looking into the Grand Canyon. The KEI is through the stratosphere and yet you can buy ads with nickels and dimes. This keyword looks like the Holy Grail of sheer traffic—but let's save the party until after we've seen the SEO competition.
2. Tiny Houses on Wheels
Global searches: 5,400
Average CPC: $0.22
Global KEI: 18.00

"Tiny houses on wheels" sound like adorable children's toys, but they make up a big part of the tiny house movement. Why? Well, I've heard that owners often manage to dodge property taxes—but don't quote me on that!
This long-tail keyword could make an excellent springboard on your journey to ranking for "tiny houses." You could also build an entire website catering to it as your sub-niche.
3. How Much Does It Cost to Build a Tiny House
Global searches: 1,300
Average CPC: $1.44
Global KEI: 0.22

The numbers look worse than for the two keywords above, but who cares? This is the king of long-tail keywords! It incorporates "tiny house" (135,000 searches) and "build a tiny house" (1,600 searches), and is a close match to a variety of keyword phrases about the cost of building a tiny house.
I would fight for this keyword even if it looked like an uphill battle. Time to see exactly how tough it would be!
Taking On the Tiny House Heavyweights
1. Tiny Houses Analysis

The pages ranking for this keyword come from towering authority sites and each has an incredible social media presence.

Even with great on-page optimization, you would probably need hundreds of backlinks and Facebook likes to get a decent spot in the top 10. Better to aim for easier targets unless you have a big budget.
2. Tiny Houses on Wheels Analysis
Difficulty: Relatively Easy
Top competitor: Tumbleweed Houses

Many of the competing pages have optimized for "tiny homes" or "small homes" rather than the "tiny house" variation we're going with. Some only have a few backlinks and a moderate-light social media presence as well. You'll have to work for this keyword, but you can certainly succeed.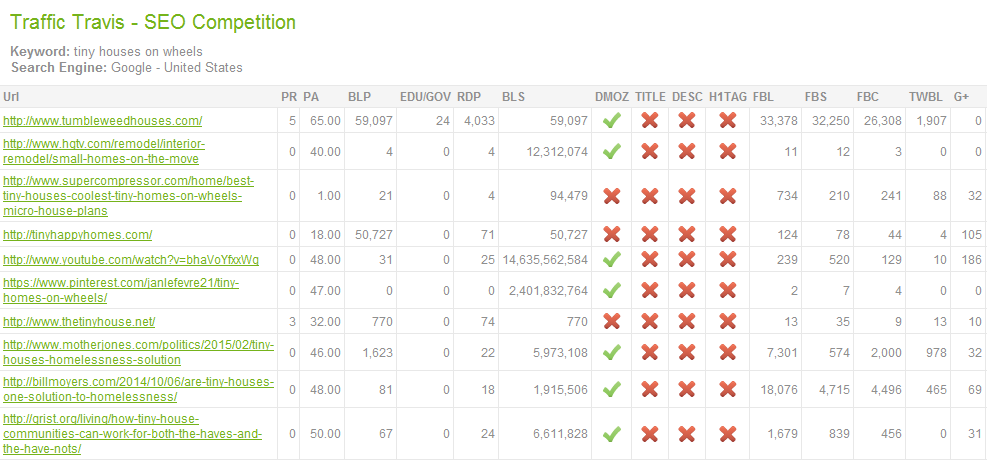 3. How Much Does It Cost to Build a Tiny House Analysis
Difficulty: Relatively Easy
Top competitor: Forbes

Only one of the top 10 competitors has optimized specifically for this keyword; the other nine have gone after different variations.
While a few have both the backbone provided by a high-authority site and a decent number of backlinks, standard SEO best practices would give you a great chance of outdoing them.
Bonus Keywords
Easy Keyword #1: Modern Tiny House
Global searches: 1,600
Average CPC: $0.30
Global KEI: 23.93
Difficulty: Easy
Top competitor: Pinterest

What makes a tiny house "modern"? I'm not sure, but this looks like a great keyword!
The competition seems to consist of backlink-free, user-generated pages on popular sites like YouTube and Pinterest, plus a few moderately well-optimized pages from smaller websites.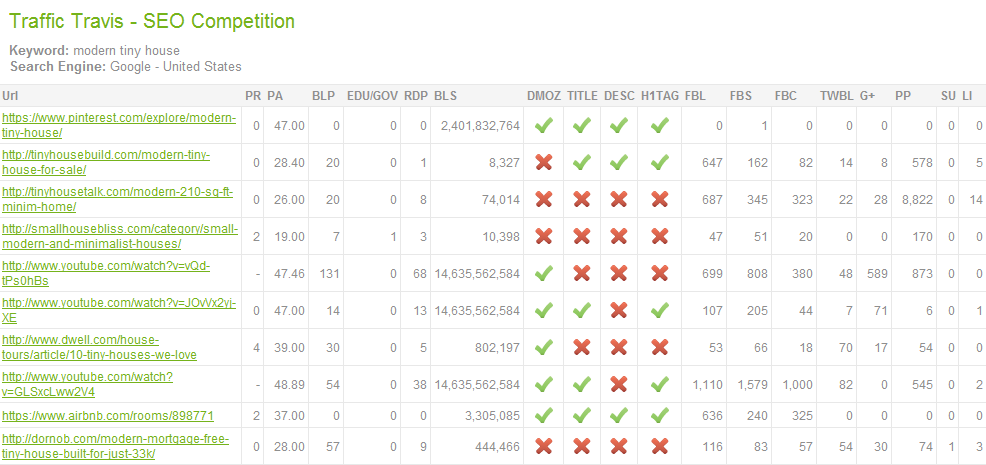 You will need to use good optimization, backlinking, and social media presence to climb the ranks, but if you cover all of your bases you can expect to get there.
Easy Keyword #2: Tiny House Furniture
Global searches: 1,000
Average CPC: $0.84
Global KEI: 8.70
Difficulty: Easy
Top competitor: Tiny House Talk

You have to wonder how many people have bought a tiny house only to discover that none of their furniture fits!
The competitors have either optimized poorly or gotten few to no backlinks and social media signals. Ranking for this should be a piece of cake.

Time to Move In?
This looks like a spectacular niche, with plenty of great keywords and products to sell. If it interests you, you'd be crazy to pass it up.
Don't wait around—it won't take long for industry giants to realize how much money there is to make here! Start building your site today and lay down the foundations for becoming a niche authority.
You can get all 1,000 of this week's great keywords here. If you've never done it before, you can download Traffic Travis for free and then follow these instructions to access them. Happy site building!