Written on May 24th, 2009 by
Simon Slade
Traffic Travis is proud to announce two exciting new features on both free and paid versions.
SEO Analysis Feature
SEO Analysis allows you to pull the top 20 results from Google (via any international Google homepage location, e.g. .uk or .au) and quickly assess various on and off page SEO statistics for each site.
For each site you can see:
Rank - Where they were placed in the Google search
Website - The url
PR - The Google Page Rank of that page
Age - The age of the domain in years
BL - The number of back links to that very page
BLS - The number of back links for that whole site
TLB - Top back links, these are backlinks from EDU and GOV sites
DMOZ - If the domain is listed in DMOZ
YAHD - If the domain is listed in the Yahoo directory
Title - If the phrase you entered is found in the title tag
Description - If the phrase you entered is found in the meta description tag
H1 Tag - If the phrase you entered was found in a h1 tag on the page
GCA - Age of the Googles copy of the page (in Googles cache)
CEXT - How many sites with the same TLD (ie .uk, .au, .nz) from where the initial search was done
This new feature will save you HOURS of searching and checking sites individually, and being able to select international Google locations allows you to specifically target regions, rather than just Google.com (US) results.
The only restriction on Traffic Travis free users is that you can't save the report.
Keyword Sorter Tool Feature
In addition, Traffic Travis now has an improved Keyword Sorter Tool (found under keyword tools). You can now search the list based on Phrase Match or Broad Match.
What does this mean?
Originally Traffic Travis only searched Keywords by Phrase Match. So for the following list of keywords:
christmas reindeer
sled friendly reindeer
santas helpers
friendly reindeer
reindeer for sled pulling

If you searched for 'reindeer sled', you wouldn't get any results, as none of the keywords have the words 'reindeer sled' side by side. Now you can search using Broad Match, which finds all keywords that contain both words, in any order. So we would get:
sled friendly reindeer
reindeer for sled pulling

Now you might be saying - why don't we just do that all the time?
Well sometimes you want the words to be together, imagine if you were searching for 'new york'. If you giant list of phrases contained 'new duke of york' then it would match that, and thats not very handy.
So you can now search by Phrase Match, where the words must be in the same order, or Broad Match, where it finds keywords that have all the words in any order.
The latest release also has minor code tidy-ups and fixes that should make everything run more smoothly.
Enjoy!!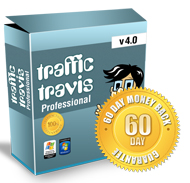 P.S. Did you know there is a Professional edition of Traffic Travis? While the free edition is packed full of valuable features, there is even more in the Professional edition and for a short time we are allowing you access to it for a $5 trial, access the trial here