Written on December 20th, 2010 by
Simon Slade
Hi all
It was only six months ago when we hit the 100k download mark on Cnet.com - now we've reached the 150k mark!
A big thank you goes out to all of our Traffic Travis users for sharing your love on our facebook page as part of the competition we ran. Here are the 15 lucky winners who won a copy of the Professional version of Traffic Travis (worth $99)!:
Ghadaffi Khalid
Tony Liddic
Peter Lawrence
Joy Deschaine
Rick Lapp
Greg Erickson
Carol Ross
Paul Scoplin
Rio
Noorazimah Taharim
Mark Whitney
Chuck Summers
Kevin Rockwell
Lilian Liew
Peter Guilano
Congratulations to you all!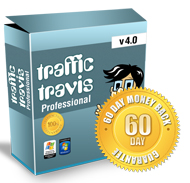 Thank you to all those who entered. If you weren't a winner this time, you can purchase your own copy of Traffic Travis Professional today.
The Traffic Travis Team