Written on April 13th, 2011 by
Simon Slade
Hi all
Exciting news! On the 2nd of May we will be releasing the brand-spanking new Traffic Travis v4.0 to the world.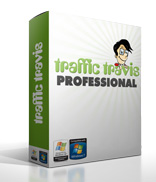 It's been in the works for a long time now, and the developers are hard at work putting the final touches on this bigger, badder and better edition of the traffic software we've all come to know and love.
For more details about the launch head over to the launch blog. Right now you have the opportunity to go in to the draw to win one of 5 copies of Traffic Travis v4.0. Plus we've got some really cool stuff lined up over the next few weeks leading up to the launch, so make sure to keep an eye out for updates.
In other news, Traffic Travis has hit the 200k download mark at Cnet.com - it was only late December when we hit 150k, so a big thanks to all of you for your help in spreading the word.
If you haven't already got your FREE copy of Traffic Travis v3 then head over to the launch blog now to get your copy and go in the draw to win Version 4 Professional at the same time.
All the best,
The Traffic Travis Team